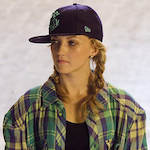 It doesn't seem like many people read my reviews of these 21st century competitive street dancing movies, but I have a fascination with them, so here we are. STREETDANCE 3D is a UK entry in the subgenre and it's from 2010 – six years after YOU GOT SERVED, four years after STEP UP, two years after STEP UP 2 THE STREETS and a few months before my favorite of all of them, STEP UP 3D. I don't think it made an impression over here (I definitely never heard of it at the time) but it was the highest grossing UK production of that year, it got a sequel and even a 2019 French remake. For the record, I had to watch it in 2D (a 3D version was included on the rental, but it's a DVD, so it's the crappy red and blue Freddyvision). But it didn't have that same "Man, I have to see this in 3D" energy that STEP UP 3D has.
This is the first in its series, but at first I thought it might be a sequel because the opening montage seems like flashbacks as our protagonist Carly (Nichola Burley, DONKEY PUNCH) narrates about growing up with "The Caliente Crew" (?). She's actually introduced half naked doing a sexy dance for her boyfriend Jay (Ukweli Roach, Blindspot), leader of their crew who have been preparing for a big competition, hoping to beat the cocky national champions, Surge. It's kind of a cool surprise that she's the main character – I didn't know that was her doing the voiceover and she seems like she's just the girlfriend or even the one-night-stand who gets ditched like in the opening of YOU GOT SERVED: BEAT THE WORLD.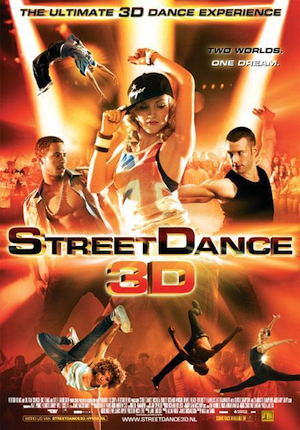 In fact Jay does leave her – after practice he abruptly announces that he's "taking a time out" from the crew and the relationship and going out of town, and this leaves her in charge of the crew. Disillusioned that they lost their leader and that she didn't know she had to pay for their rehearsal space most of the team whines and quits.
But Carly works at a sandwich shop (just like Special-K was a cafe waitress in BREAKIN') and one day she's delivering to Helena (holy shit, that's Academy Award nominee Charlotte Rampling, BABYLON A.D.), a teacher at a snooty ballet school. Making conversation, Carly jokes about wanting to use the classroom as rehearsal space, and though clearly not believing Helena's interest is genuine, invites her to come see her crew dance at the mall. Though they get chased away by security guards and even more of the crew decides to quit, Helena is impressed and invites Carly to rehearse at the school.
So, like the way BREAKIN' has a modern dancer learning from breakdancers, but more like the way STEP UP has a street dancer and modern dancer learning from each other for a school project, this is a story about a ballet class forced to help a dance crew prepare for a competition, and they end up each learning from each other, coming up with new ideas, creating a hybrid style, bonding, etc. So it has everything I want in a movie of this type: satisfyingly formulaic story, some unintentional cheesiness, corny fashion/slang/music, a positive attitude about friendship and self expression, and attractive people doing tons of dancing in varied locations.
It also has a pretty good (though definitely underdeveloped) villain. Surge is an all male, hyper-synchronized crew who walk into clubs wearing sunglasses and blank expressions like they all are convinced they're Diddy. They're the cocky and unfriendly champs but there's no reason to believe they're bad people until, (BIG PLOT TWIST SPOILER) during a dance off with our heroes, they dramatically reveal that Jay is now a member of the group!
Let me back up a little. Remember, Jay is Carly's boyfriend and former leader of her crew, who said he needed to "take a time out" and that the crew would be fine without him. Carly's friend Shawna (Teneisha Bonner, a dancer in MAMMA MIA! HERE WE GO AGAIN and MARY POPPINS RETURNS) has been trying to get her to forget about him and hook up with ballerina Tomas (Richard Winsor, Hollyoaks), which she seemed down for in a scene where she spied on him rolling around shirtless in the dance studio, but then Jay showed back up in town and she immediately forgave and slept with him again. The next day he reveals his sinister plan that he didn't think his team could beat Surge so he lied to them and just joined Surge and then also slept with Carly just to make the betrayal ten times worse. Unfortunately his only comeuppance is in the dance competition, but still. That's a guy and a team we can all root against.
This brings up an issue. It's kind of funny to me how angry and competitive people are in some of these movies. I'm sure there's some truth to it, there are egomaniacs in every discipline, but it works better when they make a strong reason for a rivalry because otherwise any cool dancer should respect other dancers for being good and be able to appreciate their work. I was thinking about that early in this movie when the crew strutted into the ballet class with their sideways caps, baggy pants, exposed midriffs and what not, and as they and the ballerinas take turns showing off they turn their noses up and snootily scoff at each other. And I was pretty sure in reality they would be impressed and complimentary.
There's a nice moment when you can see the ballet students starting to be impressed by the acrobatics, smiling slightly, moving a little bit, feeling out how to do some of these moves. But they still call each other fake dancers and there's a big confrontation in the cafeteria that erupts into a savage food fight.
Here's why this is a feel good movie: Rampling brings all her powerful presence to Helena, and she looks like she could be the tough critic who's only won over at the end; instead she's the subversive among the faculty, always supportive of these outsiders and the idea that their spirit needs to rub off on the ballet students. When these "riff raff" (as the ballet asshole in BREAKIN' 2 would classify them) come in and get into a huge, messy fight with the paying students, she could temporarily lose faith in them or be forced by her boss to kick them out and then they have to prove themselves again or something… instead she tells them all to go out and have fun together, get to know each other. And it cuts to them that night, outside of school hanging out together, and it's that easy! They have decided to get along now, and that's that. I love it!
It's fun to see throughout the montages as the ballet kids slowly start to change their clothing style to be a little like their new friends, or as the street kids attend a ballet class wearing, like, a ridiculous hat. One scene that takes advantage of the premise is when the streetdancers bring their new friends to see a dance battle exactly like the ones in YOU GOT SERVED and STEP UP and the two ripped male ballerinas decide to take their shirts off and do a bunch of ballet moves in the middle of it. I think there's a mixture of befuddlement and awe in the crowd, but I like how confident they are about it. They don't give a fuck.
The combined forces of the students and the crew are called Breaking Pointe (get it?) and the artistic respect goes both ways. Helena convinces Carly to come to a ballet with her. She wears a nice dress and rhinestone covered puma high tops. She realizes from the way everyone treats Helena in the lobby that she's a legendary and respected former dancer. And they're all nice to Carly.
My favorite supporting character is Isabella (Rachel McDowall, "CIA Flight Attendant," QUANTUM OF SOLACE), a ballerina who towers over everyone Elizabeth DeBicki style and at one point confides in Carly about how people treat her for being tall. She looks cool doing both styles of dancing. I also liked seeing Stephanie "Lil Stef" Nguyen – who would play one of the main characters in YOU GOT SERVED: BEAT THE WORLD a year later – as one of the dancers who you see often, but I don't think she has dialogue.
Burley is a good lead, in the tradition of the female leads in the STEP UP series – very sincere, good at dancing, cute, and prone to outfits that combine sportiness with exposed belly buttons. Like, hey, look, I'm just wearing a baggy flannel unbuttoned over a bikini top thing, because that's what's comfortable.
I guess some of the dancers in the movie were known (to people who know this sort of thing) for being on Britain's Got Talent. This includes dance crews Diversity (who play Carly's friend's crew) and Flawless (who play Surge) and a young man named Eddie Sampson, who plays Carly's goofy co-worker at the sandwich shop who (surprise) turns out to be a great breakdancer. He's sort of the Moose character. Anyway, that's why the poster says GEORGE SAMPSON FLAWLESS DIVERSITY on it.
I think it would be cool if this takes place in the Billy Elliotverse, but I don't know how that would be established.
Directors "Max & Dania" (a.k.a. Max Giwa and Dania Pasquini) are, of course, music video directors. They did a bunch of Craig David and Westlife videos, if that means anything? They returned for the sequel and also did the 2014 feature WALKING ON SUNSHINE, which is "set to the music of popular hit songs from the 1980s" and seems to be to MAMMA MIA what STREETDANCE 3D is to STEP UP.