With THE AVENGERS still going around punching the shit out of every box office record stupid enough to make eye contact with it maybe it's time to take a look at the other important Marvel Comics films. Obviously we've already gone over the most culturally and historically significant ones (BLADE, BLADE II, THE PUNISHER, THE PUNISHER, and THE PUNISHER'S WAR ZONE), but one that we have not addressed is 1986's HOWARD THE DUCK, from the creators of STAR WARS and AMERICAN GRAFFITI. I don't see how this one could wrong.

Obviously Howard the Duck sounds like some awesome guy with high tech water assault gear, but actually he's not human, he's "a duck from outer space." His name is Howard. I guess he's not technically a duck, he's kind of a duckman, sharing some of the physical characteristics of both duck and man. This was before Sam Jackson started showing up to recruit all the different Marvel characters, so it's not made clear where he fits into the larger Marvel universe, other than obviously being the most important character by far (only Peter Porker Spider-Ham offers any competittion) and most beloved cultural icon of all time to all comic strip fans and the reason they get up in the morning every day, in my opinion.
I guess Howard the Duck was a '70s Marvel character introduced in the comics book  MAN THING. The HOWARD THE DUCK movie is basically the same story as the THOR movie: Howard is a being in another world (Duckworld instead of Asgard) who is zapped through some type of portal to a shithole on Earth (Cleveland instead of New Mexico) where he falls in love with a human girl (Lea Thompson instead of Natalie Portman), has help from a scientist dude in a lab coat (Tim Robbins instead of Stellan Skarsgard), is captured by the authorities (cops instead of S.H.I.E.L.D.) and does battle with a powerful being that follows through the same portal he came from (a "Dark Overlord of the Universe" instead of "the Destroyer"). And like Thor he is torn about going home 'cause he's fallen for this girl. The major difference besides him being a duck is that instead of abandoning his love to go home he sacrifices his ability to return home in order to save the world. So it's more dramatic.
I know alot of people didn't like THOR, and here we can see how maybe it could've been better, if instead of having to say goodbye Thor decides to stay on Earth and it ends with a big rock concert where he plays a guitar solo on a song about him written by Thomas Dolby and George Clinton. This ending would also work really good for E.T.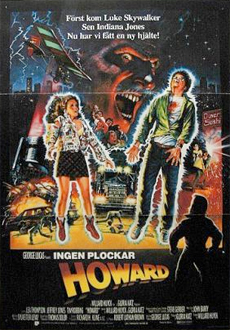 The opening of the movie is probly the best (?) part, because it takes place in Howard's home of Marshington DC, Duckworld. In what plays like an opening scene to a Moonlighting episode, an unseen Howard comes home to his apartment after a long day of work as an advertising copy writer. The things in his apartment tell us about him: the bowling trophy, the photo of his doo-wop group Howard and the Heartbreakers, the photo of him in some kind of karate outfit, and the one in a hippie outfit. He enjoys movies enough to have framed posters of SPLASHDANCE and BREEDERS OF THE LOST STORK, which is "Coming to Duckworld this summer." I thought that was funny because our posters would never say "Coming to Humanworld this summer." They would just say "Coming to the Planet Earth where Humans Live this summer," or something like that. I should check an actual poster to be sure what it says.
It seems like Duckworld has equivalents for everything on Earth. Much later Howard yells "Tora! Tora! Tora!", indicating that either there is a duck version of the movie TORA! TORA! TORA! and it doesn't have a changed title, or that there was an attack on Duck Harbor that was a major turning point in Duck War II, or most likely both. Duckworld also has the Italian language, because the phrase "Ciao for now, Howie" shows up. So there is a definite possibility of there being a Benito Goosalini in their history. And since we see he's an ex-hippie we can assume he was protesting some sort of water fowl version of the Vietnam War. These ducks can't swim, so they would still need swift boats.
Also interesting to note, he has an aquarium, with fish in it, and he feeds them. So fish are not people on Duckworld like ducks are. They're just fish.
Howard reads Playduck Magazine, and when he's sucked through the portal he crashes through some of his neighbor's apartments and we see a female duck in the bath with her duck titties hanging out. I don't know, this is probly covered in the comics and graphic novels, but I'm wondering if this means Duckworld is really more of a Platypusworld. A platypus does lay eggs but it's a mammal because it nurses its young on milk. Then again a platypus transfers milk through its pores, it doesn't have mammaries. I looked it up. So it's hard to say what these ducks really are. This is one of those movies that really makes you think.
Howard lands in Cleveland, which apparently had a thriving glam rock scene that got left in the dust when Minneapolis blew up. Howard saves Beverly (Thompson), the singer for the struggling all-girl band Cherry Bomb, in the traditional crimefighter rescuing-woman-from-punks-in-alley scene. He has no powers but is a self-described "Master of Quack-Fu." I don't know if you get it but that's a play on the Chinese martial art kung fu. Only instead of kung (or gung, it can be translated different ways, gung fu is actually what Bruce Lee called it) what they did is it says "quack," which is how we describe the sound that a duck makes although to be honest it's not exactly "quack" that they say, it's hard to really translate that particular sound into English, but we call it a "quack." Anyway, I hope you can see why "Master of Quack-Fu" is so funny.
Beverly feels sorry for Howard so she brings him back to her apartment. I know what you're thinking, that's a little fast, but it's not until later in the movie that she lays in bed with him in her underwear, kisses him and almost takes her top off but he turns her down, even though as I've already explained  this type of duck does like boobs.
Beverly wants to help him get home, so she brings her to her friend Phil (Academy Award winner Tim Robbins), who is an assistant at a museum but also one of those dipshit movie scientists that's always yelling about how he's gonna be famous for his discovery. Of a duck. They figure out what it was that brought Howard to Earth and they try to reverse it, but fellow scientist Jeffrey Jones gets zapped accidentally and starts to slowly be taken over by an evil being from another dimension, and only Howard can stop him. I guess. I don't know.
But this one's not really about the narrative, it's about the characters. And what the fuck is up with this character? It seems like there were alot of this type in '80s movies, these guys that are supposed to be cool but they're just assholes, and in retrospect I can't really tell what's supposed to be cool about them. I mean, he smokes cigars, he wears sunglasses sometimes, he calls Phil "Philsie" over and over again, he tries to bite a social worker's fat ass, he calls women "doll" or "toots," he wears camouflage pants sometimes, he goes into a diner and whistles at the waitress, yells "Hey, honey. Yo!"
What archetype is that based on, what is that supposed to be? Have you ever known a guy like that? Did you think he was cool? I guess he's kind of like a lamer version of the early Bruce Willis characters. The voice kind of sounds like Richard Dreyfus, but it's an uncredited Chip Zien (UNITED 93).
There's a weird inconsistency to the way earthlings react to Howard. Or, what mean is, he's like a poem or a painting, everyone interprets him differently. Some assume he's wearing a costume. Some are scared of him like he's a monster. But punks in alleys or rednecks in diners see him and immediately surround him and try to bully him. You know how those punks are, if they see a duckman they break into a sinister grin and start cracking their knuckles. Cleveland is dangerous for anyone, but especially a 3'2″ talking asshole duck who thinks he's the shit.
"Diner" isn't really accurate. It looks like the same old fashioned diners from all movies, but it's called "Joe Roma's Cajun Sushi." You get it? Satire. Because what's up with sushi, am I right?
Another running joke: when somebody's turning into a monster or something somebody will say "I think he needs some coffee." Because we all need our coffee in the morning, huh? Tell me about it! Don't even get me started! Caffeine! Funny.
There's actually a couple lines in the movie that made me laugh:
1. Howard is trying to get work, and a social worker thinks he's pulling a scam: "You think by lookin controversial you're never gonna find a job and just go on collecting unemployment." I don't know why, I just love wearing a duck costume being described as "lookin controversial."
2. The waitress (Jorli McLain) at the, uh, cajun sushi place is pretty good, and when the possessed Jeffrey Jones is freaking out on her she gets upset and says, "Y'know, hostility is like a psychic boomerang."
Maybe you had to be there. Not that I'm telling you to be there. I mean, you could. It's your choice.
The director is Willard Huyck, who wrote the script with his wife Gloria Katz. They're the team that made that weird horror movie MESSIAH OF EVIL. They were friends with George Lucas at USC, helped him out a little with STAR WARS and wrote AMERICAN GRAFFITI, INDIANA JONES AND THE TEMPLE OF DOOM and RADIOLAND MURDERS for him. So I guess he called them up when he had this sweet gig of this duck movie he was producing.
In my opinion HOWARD THE DUCK is not as good as STAR WARS (yes, including the prequels you fuckin babies). The one aspect that does seem George Lucasy is that the special effects are pretty great. I mean, Howard is obviously an animatronic duck mask worn by a little person, and kind of looks like he escaped from Show Biz Pizza Place during a smoke break. But I thought they got a surprising amount of expression out of him, I accepted him as a character.
I don't like his look though. I know they just didn't have the technology, but it kinda bothers me that this duck doesn't have a neck. Necks seem like a pretty important part of ducks. This is why Disney/Marvel MUST reboot the HOWARD THE DUCK saga using the motion capture technology from RISE OF THE PLANET OF THE APES to create a believable duck neck. Also there would be room for more sophisticated Quack Fu choreography. Give him some solo movies to set him up for leading the Avengers as he did in the comics probly (no time to research). Or he could team up with some of the other great Marvel Comics characters that have had movies such as Fantastic Four Rise of the Silver Surfer or Garfield.
But the truly great effect is the stop motion Dark Overlord of the Universe monster at the end. It's done by the great Phil Tippett and has a really impressive amount of detail and personality in its movement. It almost looks digital, in a good way. I love this fuckin thing:
Unlike THE AVENGERS, HOWARD THE DUCK was a notorious flop. It barely made back its production budget in theaters, got vicious reviews and caused the head of production at Universal to get replaced. Uh, probly 'cause it was marketed wrong? I can't see any logical explanation for why people wouldn't want to see it…
According to interviews on the DVD, Katz and Huyck "knew pretty well early on we were a fried egg" so they flew to Hawaii and didn't read any reviews. Decades later they're still kind of in denial. Katz describes what they wanted as "kind of very film noir with this absurdist element" and then busts out the ol' "it's not supposed to be Hamlet" defense:
"I don't know if it was before its time, or it was misunderstood, but, I mean listen, this is a movie about a duck from outer space. It's not supposed to be, you know, an existential experience here. We're supposed to have fun with this concept. But for some reason reviewers weren't able to get over that problem."
See, I got that it was about a duck from outer space. That was explained in the movie. But if there's a way to make a good movie about a duck from outer space, this sure as shit isn't even close to it. I mean come on, lady. Have you watched it?
But if he would've hit that it would've been a perfect movie. I don't know why he's so racist. Beverly got over her hangups and she has alot more to offer to him than he does to her. Alot of ducks now days think they're real progressive because they were hippies back in the day, but they're alot more conservative and establishment than they realize.
This entry was posted on Tuesday, May 15th, 2012 at 12:05 pm and is filed under
Comic strips/Super heroes
,
Reviews
. You can follow any responses to this entry through the
RSS 2.0
feed. You can skip to the end and leave a response. Pinging is currently not allowed.