July 31, 1991
HOT SHOTS! is the story of one Topper Harley (Charlie Sheen, THE ROOKIE, NEVER ON TUESDAY), legendary former jet pilot for The Navy. When Lieutenant Commander Block (Kevin Dunn, BLUE STEEL, MARKED FOR DEATH) tracks down Harley living in a teepee and breathing helium through a pipe, he agrees to return to the S.S. Essess aircraft carrier and join a team for Operation Sleeping Weasel, a mission to blow up a nuclear power plant. But he'll have to contend with sabotage from high up and his own PTSD about his father causing a crash that resulted in a deadly hunting accident.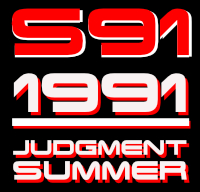 Of course not one second of this is done with sincerity, because it's AIRPLANE! co-director Jim Abrahams doing a parody and/or spoof of the popular IRON EAGLE ripoff TOP GUN with co-writer Pat Proft (POLICE ACADEMY, REAL GENIUS). Abrahams was a writer and executive producer on the first NAKED GUN and then producer on the sequel released earlier in the summer. (Both were co-written by Proft.) This was Abrahams' followup to WELCOME HOME, ROXY CARMICHAEL, which I don't think I ever knew was directed by him, and that makes me more curious about that largely forgotten movie seen and thought to be pretty decent by all people of a certain age who felt a certain way about Winona Ryder.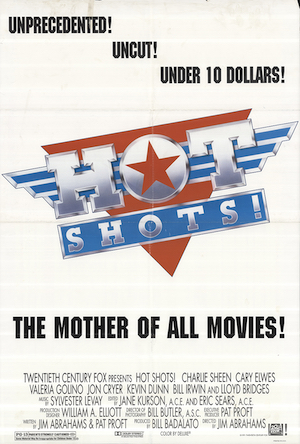 Since TOP GUN is not really a genre like disaster movies or old cop shows it's a little odd when this doesn't directly follow the original plot. It feels like they did it wrong. The traumatic flashbacks seem like AIRPLANE! leftovers (maybe they came with the exclamation point?) and, of course they throw in scenes referencing a selection of popular movies (DANCES WITH WOLVES, COCKTAIL, THE FABULOUS BAKER BOYS, ROCKY, GONE WITH THE WIND, SUPERMAN, 9 1/2 WEEKS), like the comedy equivalent of a wedding cover band. "You guys recognize this! Isn't this fun?"
There are definitely smiles or light chuckles at least every 5 or so minutes, and even a laugh or two. I think for me the biggest one was after Wash Out (Jon Cryer, DUDES) confesses to Kent Gregory (Cary Elwes, THE BRIDE, also NEVER ON TUESDAY) that his dad was the hunter who mistook his father for a deer and shot him, when he adds, "If it helps, I didn't have seconds." Also I chuckled a little when soon-to-be-love-interest Ramada leaps off of a horse and does gymnastics on a tree branch – the ridiculousness got me despite not understanding it was some kind of OFFICER AND A GENTLEMEN reference.
There are many jokes about planes being like cars – they have rear view mirrors, they can back up, that kind of stuff. There are jokes like a guy cooks a hot dog in the fire from a jet engine. And etcetera. Like NAKED GUN 2 1/2 it has completely non-political political topicality, like "Read my lips, no new taxes" showing up in a flashback (okay, that's kind of amusing), and impersonators playing Pope John Paul II and Saddam Hussein. And just as NG 2.5 had a very basic environmental message in the villain's plot, this one has kind of a military-industrial complex thing that wasn't present in the feature length recruiting commercial TOP GUN (Block is trying to make the mission fail to convince the government to buy jets from a guy he has a deal with). There are a bunch of pop culture references to things we still remember but that aren't really funny: The Brady Bunch, Paul Abdul, Tom Jones playing Vegas, Elvis sightings, Don King, that commercial that said "I'm going to Disneyland," and of course that timeless observation "Latoya, Tito and Jermaine are funny names. Can you believe it? Latoya!? What were they thinking?"
Sheen does good at the totally deadpan thing, as does Valeria Golino (BLIND DATE) as his psychiatrist who unethically falls in love with/fucks him. Lloyd Bridges (JOE V. VOLCANO) is maybe the most classically AIRPLANE!esque in that he's a now-gray-haired veteran actor doing total buffoonery with a straight face. Some – maybe most – of it is pretty funny, and some of it is banging his head into things. In a smaller part, Kristy Swanson (later in THE CHASE with Sheen) is as likable as she was in MANNEQUIN: ON THE MOVE as Kowalski, with the kind of cute joke that she seems to be allowed to be a fighter pilot just because nobody notices she's a woman, even when everybody is shirtless and she's in a bra.
The best bit that's specifically about TOP GUN is the character Dead Meat (William O'Leary, LOST ANGELS), who exists as a running gag about the heavy-handed foreshadowing of Goose's death. Before his fateful flight Dead Meat tells his wife (Heidi Swedberg, KINDERGARTEN COP) he has a solution for global warming and the answer to who assassinated JFK, and he almost signs a life insurance form but the pen doesn't work.
It's not nearly a slick enough movie to capture TOP GUN's style, but cinematographer Bill Butler (JAWS, ROCKY II, III and IV, CHILD'S PLAY, GRAFFITI BRIDGE) does get some good orange haze going a couple of times. They also got TOP GUN aerial consultant Richard T. Stevens (FIREBIRDS) to shoot some flying sequences.
I don't think this assessment will be met with broad approval, but I was surprised to find that NAKED GUN 2 1/2 held up as surprisingly funny and this much more beloved movie really did not. The former proves that an onslaught of random dumb silliness can still make me laugh in spite of myself, but the HOT SHOTS! version of that just is not effective on me. Most of the jokes just aren't of a very high quality, and they're also too tempted to cram in ADR lines that shit all over the flow of their other jokes. Like, at the end of a sequence about a plane crash where the pilot miraculously survives, only to be bumped by a jet and fly through the air and die, why would he say "Oh no!" and then half a second later "Wendy, I can fly!" Well, obviously because it made them laugh when they decided to add it in after staying up too late working on the sound mix or whatever. As is their right. But to me it's an unfunny joke stepping on the punchline of an okay one. Maybe that lack of discipline is part of the charm of these movies, but it's not enough for me.
HOT SHOTS! opened at #1, knocking T2 to #2, and it stayed in the spot for a month. It made $69 million – quite a bit less than the NAKED GUN sequel, but enough to come in #12 at the 1991 box office and get its own nonsensically numbered sequel.
Since HOT SHOTS!, Abrahams has only directed its 1993 sequel and JANE AUSTEN'S MAFIA! in 1998. He also co-wrote SCARY MOVIE 4, but I assume they didn't use all of his stuff otherwise it would be called SCARY MOVIE QUATRO!.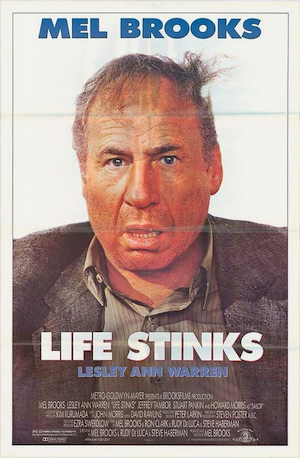 One of the movies that HOT SHOTS! obliterated at the box office was Mel Brooks' LIFE STINKS, released July 26th. I often have a hard time reviewing straight up comedies, but I've already done SWITCH, MANNEQUIN: ON THE MOVE, CITY SLICKERS, DON'T TELL MOM THE BABYSITTER'S DEAD, THE NAKED GUN 2 1/2 and PROBLEM CHILD 2 (plus the fancier HUDSON HAWK and BILL & TED'S BOGUS JOURNEY) for this series, so for historical purposes I figured I should extend that courtesy to a movie that attempts to address a social issue of the time (and forever) and that, as the third to last movie directed by a comedy legend, shows a shift going on as we entered the '90s.
I actually saw LIFE STINKS in the theater at the time, and it's about as I remembered: not as awful as everyone said at the time, definitely well-meaning, also not good. It's Brooks' followup to SPACEBALLS, and his only movie that's not parodying some other type of movie. Instead it's a SULLVAN'S TRAVELS type premise, or a rich man's bet story like TRADING PLACES or BREWSTER'S MILLIONS. Brooks plays Goddard Bolt, a super-rich building-making asshole who dreams of redeveloping a particular Los Angeles slum. In order to do it he must buy the land from another rich asshole named Vance Crasswell (Jeffrey Tambor, CITY SLICKERS), which leads to a bet that he can't survive on the streets without money for a month.
Brooks does a good job of setting up an exaggerated (or maybe not) picture of the class divide. He opens with his character riding through the slums listening to news radio talking about rising unemployment, and the title pops up over a freeze frame of three homeless guys his limo just splashed puddle water onto.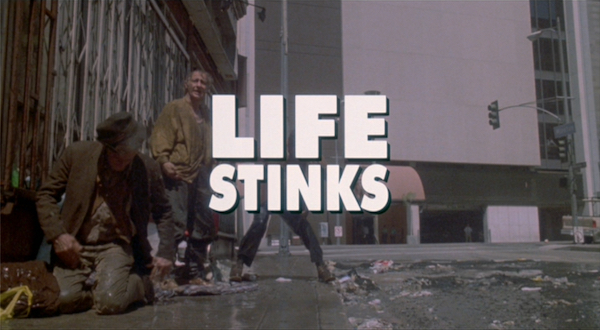 We then watch Goddard's feet march through the lobby of his building and to his office, followed by an entourage so sycophantic that when he slips and catches himself on someone's spilled coffee each of his companions do the same.
In his board room he is cartoonishly evil, for example making a heartless joke about an indigenous tribe that would be displaced by his plan to clearcut some Brazilian rain forest. And I like that he apparently hired someone to create a meticulously detailed model of the slum neighborhood just so he could crush it under the model of what he wants to build there.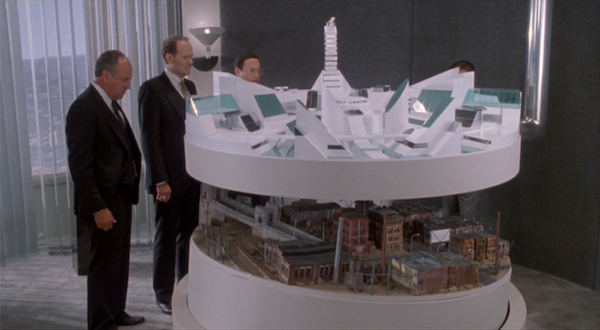 When he agrees to the bet his lawyers try to talk him out of it, reminding him that "You've never eaten out of a garbage can before, you're used to a hearty breakfast!" There's some funny stuff here.
So it's a little jarring when, after sleeping in an alley, being nicknamed "Pepto" by a guy who pisses on him (Howard Morris, SPLASH), and being served at a soup kitchen by Carmen Filpi (last seen eaten in the sewer in ALLIGATOR II: THE MUTATION), he immediately starts seeming like a sweetheart. There's something kind of nice about 65 year old Brooks playing a leading man – he even looks kind of handsome – but it doesn't seem like the same character at all, and I certainly don't buy the idea that the greedy developers getting rich by ruining cities would have a change of heart after one day of temporary hardship.
Of course, the most condescending aspect is that the homeless community of 1991 all seem like Depression era hobos, wearing dirty suits and old timey hats and stuff. And though the movie is always on their side (Goddard even falls in love with the possibly mentally ill so-called "bag lady" Molly, played by Lesley Ann Warren [BURGLAR]) it treats them as people with no interest in dignity, always covered in filth to the point where it's even used to Stick It to the Man when they bum rush an event for Crasswell's rich friends. Ha ha, those uptight jerks have to be near smelly gross people, the movie seems to say.
Of Goddard's new friends, the most subtle is played by Teddy Wilson (COTTON COMES TO HARLEM, CARNY, THE HUNTER), and then you find out his name is Fumes and he can drink alcohol that would kill anyone else. At least he gets to tell Goddard "Man, you throw a mean face" after he gets beat up by Brian Thompson (FRIGHT NIGHT PART 2) and Raymond O'Connor (HALLOWEEN 4: THE RETURN OF MICHAEL MYERS).
In a retrospective featurette on the DVD, Brooks talks about Reagan closing clinics and says "It's always nice to say something about the social dynamics of a time instead of merely having fun with human foibles." And the movie seems very sincere. Has he ever done another movie with something as heartfelt as him finding his friend dead on the sidewalk? Not that I know of. But maybe that's why he goes a little too heavy-handed, with a seen-it-all storeowner character yelling "The guys is dead. He's blocking my place. You know 'im, get 'im outta here!"
Soon there's a sweet scene about spreading the deceased friends' ashes in the L.A.river where John Connor and the Terminator got chased by a semi. And the ashes blow into their faces much like later happened in THE BIG LEBOWSKI (though the latter executes it better).
Maybe the scene where Brooks' heart is most firmly attached to his sleeve is when Molly – said to be a former Broadway dancer – performs a whole dance number in some kind of abandoned garment factory. Then they're about to fuck on a pile of clothes and it fades to black!
(choreographer: Jeffrey Hornaday, FLASHDANCE, ROMANCING THE STONE, STREETS OF FIRE, CAPTAIN EO, TANGO & CASH, DICK TRACY)
A less cutesy flight of fancy is the climactic excavator duel, with creaking metal sounds that make it play like a dinosaur fight.
This is, of course, not the most highly researched depiction of life on the streets. But we see them face violence, starvation, lack of health care, lack of access to shelter during extreme weather, lack of respect when, for example, all of Molly's belongings are set on fire and a witness refers to them as "just a bunch of junk." But this is also a fantasy world where LAPD officers show up to stop Goddard from fighting with another homeless guy (co-writer Rudy De Luca, THE RETURN OF COUNT YORGA) and they actually just split them up. They don't rough up either of them, not even a little! It's weird that it shows the head doctor at the hospital he gets dumped off at is much more disrespectful and threatening to him than the cops.
It's supposed to be a happy ending, with Goddard and Molly getting married and planning to rebuild the neighborhood with free housing and clinics. But it's ironic that it ends with the two leaving their wedding in a white limo without mirroring the opening by splashing mud on some rich guys somewhere. Instead Goddard gets in another altercation with the same mentally ill homeless guy from earlier, and it freezes on that. The status quo has not changed.
I can't find LIFE STINKS on the box office charts. It reportedly made $4.1 million on a $13 million budget. Reviews were mostly abysmal too, though Roger Ebert gave it three stars and wrote, "It has its laughs, but it's a more thoughtful film, more softhearted toward its characters. It's warm and poignant."
In 1992 Michael Medved – the critic who popularized making fun of Ed Wood in the Golden Turkeys book, then was a Siskel & Ebert replacement with Jeffrey Lyons on Sneak Previews – published the book Hollywood vs. America: Popular Culture and the War On Traditional Values. I checked it out from the library way back then and for some reason it stuck with me that he was really offended by the title LIFE STINKS, which he took to be a straight forward nihilistic message despite what a fucking idiot you'd have to be to watch it and not notice that it's arguing the opposite. Medved goofily holds up the movie's box office failure as proof that America rejects Brooks' life stinking agenda. The book was asinine enough to land Medved a guest host spot on Rush Limbaugh, which led to him having his own long-running radio show broadcast from here in Seattle. He was still sore about LIFE STINKS decades later, as seen in this CNN piece about the 2010 Oscar ceremony.
After the poor reception of his sincerity in LIFE STINKS, Brooks returned to parody, as he may well have done anyway. But it's worth noting that his two subsequent directorial works, ROBIN HOOD: MEN IN TIGHTS and DRACULA: DEAD AND LOVING IT, are headlined by HOT SHOTS! co-star Cary Elwes and NAKED GUN star Leslie Nielsen respectively. Even the director of YOUNG FRANKENSTEIN eventually seemed like he had to follow the lead of the AIRPLANE! dudes. So I respect that in '91 he put himself out there and tried something riskier.
This entry was posted on Wednesday, July 28th, 2021 at 2:10 pm and is filed under
Comedy/Laffs
,
Reviews
. You can follow any responses to this entry through the
RSS 2.0
feed. You can skip to the end and leave a response. Pinging is currently not allowed.