In further Halloween leftovers I have a double feature of "cursed movie" movies.
After seeing THE SUBSTITUTE and PORKY'S 2: PORKY IS NOT IN THIS ONE THOUGH I wanted to catch up with all the other movies Alan Ormsby had anything to do with, and POPCORN seemed like a good choice for Halloween. It's about some film students who put on a big vintage horror marathon complete with William Castle style gimmicks. It happens at a big old style movie house and the patrons come in costume and ready to be obnoxious.
But the most obnoxious is a mystery maniac who's terrorizing the place, possibly for reasons related to a "film cult" whose unfinished last film POSSESSOR these students happened to find a print of. Apparently this cult leader/auteur named Gates showed the movie before burning down a theater… and they never found the body. Not sure if that is relevant but thought I'd mention it just in case, I don't know. Might be an unnecessary detail.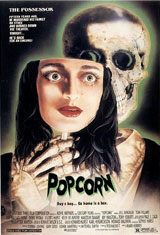 It's a cool idea I think, but honestly most of the fun comes from the festival itself, the movies-within-the-movie, which I think I heard Ormsby directed, but if so he's not credited for it. There's MOSQUITO, THE AMAZING ELECTRIFIED MAN and a dubbed Japanese one called THE STENCH. I was really impressed by that last one because Godzilla movies always get parodied (and martial arts movies if you want to lump in other Asian cultures) but I don't think most filmatists know about (or expect us to know about) the non giant monster Japanese horror of that era like GREEN SLIME, MATANGO and all that stuff. So it gives it some movie nerd cred and authenticity. I also thought alot of (but not all of) it felt fairly accurate to the feel of a real good festival of this type. Actually this would've been a pretty spectacular event to attend for the most part – a relatively small number of people get killed. So 99% of the moviegoers I think had a good time and probly didn't regret going, unless they can't appreciate old campy movies, in which case fuck 'em.
Bob Clark somehow consulted the makeup department, and there are in fact some pretty cool illusions of a burnt up monster putting on masks of the other characters.
The movies aren't really funny exactly, they're just cool "what if" alternate cinematic history and if they really existed you can see how fun it would be to watch them late at night with that huge crowd and electrified seats and all that. So that makes it enjoyable. The movie itself is watchable, but not great.
Ormsby is credited for writing the screenplay, and it's directed by Mark Herrier, the guy who played Billy in the PORKY'S saga.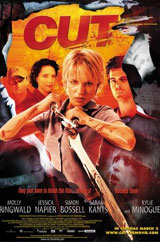 After POPCORN I watched this Australian SCREAM-era (2000) meta-slasher called CUT. You get it, because a director yells "cut" and a maniac cuts you. Double meaning. Just like POPCORN and that newer one THE HILLS RUN RED this involves a cursed horror film. It's an '80s slasher abandoned two different times when real murders took place on set. Now a hot-prospect film student ("she's supposed to be the next Jane Campion") convinces the star (Molly Ringwald) to return to Australia to give it another go, and of course the murders start happening again.
The film references aren't too obnoxious, and it's kind of cute to see it from an Australian perspective. They even mention MAD MAX 4 being about to happen. They don't hide from SCREAM either, mentioning both it and Wes Craven in the dialogue. The heroine looks a little like Neve Campbell too, and has a secret connection to the murders through her mother. And it uses similar pop music on the soundtrack.
I thought it was kind of cool that it was a woman director in the movie. Genre tradition takes precedence over the reality of the industry power structure. The actual director of CUT is a man though, Kimble Rendall. He hasn't done much else as a director but seems to have made a good career as second unit director on big Hollywood productions that film in Australia. He did the MATRIX sequels, I, ROBOT and KNOWING. And, uh, GHOST RIDER. But, you know. Food and electricity cost money.
In CUT (and the movie within-the-movie) the killer wears an adequately creepy full head and neck mask. The "kills" are okay. I like the part where he kills the guy playing the killer in the movie – it's not every day you see a masked slasher get his rubber throat slit.
It seems to be solidly in that whodunit slasher mold revived by SCREAM, with all the red herrings and possible motives and what not. At one point it looks like it's heading for a SCOOBY-DOO type ending. But (SPOILER) in the end it turns out to be supernatural. I didn't see that coming. So he's silent stalker and burnt up supernatural being, like if you took off Jason's mask and he was Freddy underneath. And this guy's death is great, involving some fantastic latex effects and crying so horribly I almost felt sorry for him.
I didn't feel sorry for Ringwald though. It's cool to see her again, but her role is kind of lame. She just plays the cliche of the bitchy primadona star, and not even well written enough to get many laughs out of it. There are a few moments when she's portrayed as a human being, but there oughta be more. Maybe they were waiting for part 2.
I guess Kylie Minogue is in there too, but I didn't know which one she was. I've heard the name but don't really know who she is.
Darth Irritable suggested this in the "homework assignment" thread, and I think maybe someone else had been trying to push it on me too. It lived up to the recommendation: nothing special but fairly enjoyable.