"Viggo Mortensen is… AMERICAN YAKUZA." That's what it says on the trailer. This is a rare early Viggo lead role and it's pretty much a straight up action/crime movie. In the tradition of AMERICAN NINJA, AMERICAN KICKBOXER, AMERICAN SAMURAI and AMERICAN BEAUTY, Viggo is an American white guy who earns the trust and acceptance of the Yakuza, complementing their traditions and rituals with his own American spirit. When they drink sake he drinks Bud Light or Wild Turkey. But don't worry man, he's cool. I'll explain.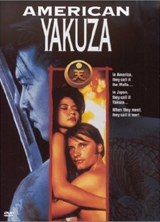 It all starts when Viggo, fresh out of the joint, gets a job driving a forklift in a warehouse. One day he sees some guys sneaking in with guns, and a massacre ensues. He intervenes with a badass forklift maneuver, impaling the windows of an occupied car, lifting it up, smashing and dropping it through a window on the side of the warehouse. Then he grabs a survivor, brings him to a hotel and finds an underworld doctor to pull the lead out of him. He ends up getting fired from the warehouse job (lied about his record on the application) but hired by the Yakuza who run the place (saving the boss's life is a helluva first impression).
So what the hell, he goes along with it, which pisses off the rank and file who resent this gruff American so easily entering their inner circle and not even understanding their traditions. It's not too fun for him either. In one of my favorite scenes he goes along on some deliveries and pickups. The other guys obnoxiously sing along to a tape of Japanese pop music, purposely annoying him and making him feel left out. When they stop and get out he ejects the tape and hears some crappy American rock on the radio – it's like he's going up for air. But they're back right away and pop the tape back in, and start singing again.
At the next stop he ejects the cassette again, pulls the tape out of the cartridge and shoves it all halfway in so it'll get eaten up when they try to play it again. You see that? That's the kind of ingenuity and quick thinking my man's got. They didn't know they were dealing with an American Yakuza.
It's funny how these movies make you sympathize with the white dude not fitting in, as if those guys really had an easy time making it in this country and it's just not fair that a white dude gets the cold shoulder from them. But it doesn't matter because Viggo's so cool you're gonna side with him no matter what.
I can't really go on without SPOILERing a major plot twist. So I'm gonna do it. Get ready. We soon learn that Viggo is actually an undercover FBI agent. It works for the story, setting up that classic undercover dilemma, the torn loyalties, the guilt of betraying someone who trusts you, the temptation to switch sides. And that fits the John Woo influenced style (note: you never see Viggo jumping across a counter firing two handguns in any of the LORD OF THE RINGS movies. But you see it in this). But I have to admit I was disappointed that Viggo was a cop. I was enjoying it as what I call a Blue Work Shirt action movie – the ones where the hero is just a down on his luck working class stiff, just looking for work at a dock or construction sight, stumbles across something or other that leads to violence. It would be cool for Viggo to be that guy, but it was a fake out.
On the other hand it's kind of cool that this early Viggo vehicle has parallels to his Oscar nominated EASTERN PROMISES (his best performance so far in my opinion). He doesn't get the tattoos though. I thought he would, but he didn't. Anyway, the good news is this undercover business leads to some real good macho male bonding, enemies who earn each other's undying respect and all that. I love that shit.
This was 1994, Viggo had already had some big roles in PRISON, TEXAS CHAINSAW 3, THE INDIAN RUNNER, BOILING POINT, CARLITO'S WAY. But being the title character in a DTV cop action thriller deal isn't something I expect to see on his filmography there.This is an unusual one.
It's not the kind of layered performance EASTERN PROMISES was, but he's really fuckin cool in it, and funny too. Another part I love is when he's told the boss needs to talk to him and he's driven to this place where he finds the whole gang standing waiting for him in matching suits and in a ritualistic formation on the stairs, some kind of initiation ceremony. The boss asks if he wants to join and he croaks, "Hahem. Yeah." You don't really think of Viggo as a funny actor, but I think he can be.
The director is Frank A. Cappello, a guy who wrote SUBURBAN COMMANDO. He was also one of the writers of CONSTANTINE, which I kind of liked. As a director he did NO WAY BACK starring Russell Crowe (maybe I'll check that out) and HE WAS A QUIET MAN, the Christian-Slater-is-a-psycho movie that somebody told me was kind of good. Hmmm.
If I got one complaint it's that it seems a little easy to me. Yeah, he saved the guy's life, but maybe he oughta do more to earn their trust, or he should have more close calls at blowing his cover. It doesn't feel as real as an undercover movie like DONNIE BRASCO. But it's solid, man – great lead performance, enjoyable story, some good action, good visuals, unusual touches, brief appearance by Robert Forster. I'm really surprised how good it is, actually. Young Viggo should've made more movies like this.