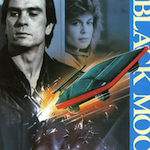 I've been curious about BLACK MOON RISING (1986) – and many of you have recommended it to me over the years – for the specific reason that it's based on a script by John Carpenter. According to the book John Carpenter: The Prince of Darkness by Gilles Boulenger, he wrote it in 1974 and sold it in late 1975 to producer Harry Gittes (GOIN' SOUTH, ABOUT SCHMIDT), who does not have a credit on the movie. A decade later it ended up being directed by Harley Cokeliss (BATTLETRUCK, studio second unit director of THE EMPIRE STRIKES BACK) and rewritten by Desmond Nakano (BODY ROCK, LAST EXIT TO BROOKLYN) and William Gray (THE CHANGELING, PROM NIGHT, HUMONGOUS, THE PHILADELPHIA EXPERIMENT). They used Todd Ramsay, editor of ESCAPE FROM NEW YORK and THE THING, but otherwise it's not any of Carpenter's crew. Still, there aren't too many fresh Carpenter-related projects out there for me to experience, so I went for it.
And I'm happy to report that it's much more like a John Carpenter movie than THE EYES OF LAURA MARS, while having enough of its own thing going on to not feel like a Dollar Store knock off. It's elegantly simple, using some standard thriller ideas but not the usual good guys, and it has that precious quality of feeling edgy and slightly futuristic by the standards of a long past era. Most of all it has 1986 Tommy Lee Jones as a cool, mysterious anti-hero who seems all alone, hated by his bosses and former colleagues as he works as a "freelancer" one last time. It was Jones's follow up to THE PARK IS MINE and Billy Joel's "Piano Man" video, where he plays "a real estate novelist who never had time for a wife" (unless IMDb is wrong and that's just a guy who looks like him).
The McMuffin is a tape containing corporate tax information. The FBI needs it for a grand jury so they hire Sam Quint (Jones) to steal it from a high security facility. He gets shot at, flees to a gas station in his damaged car, and tries to hitch a ride with some random guys, Earl (Richard Jaeckel, STARMAN), Billy (Dan Shor, TRON) and Tyke (William Sanderson, FLETCH) at the gas station who are transporting a prototype to a car show in Hollywood. They turn him down, so in desperation he hides the tape on the back of their car. That way he doesn't have it on him when the security goons, led by some guy he used to work with but has no respect for (Lee Ving, AMERICAN POP, FLASHDANCE, STREETS OF FIRE) catch up with him, and then he heads to Hollywood to get it back.
Before he can get it in his hands, though, an organized gang of car thieves steal all of the cars in the show. Not Quint's parked nearby, so he tries to give chase, but that old hooptie's no match for Black Moon, the low, sleek concept car with fire-spewing jet engine fueled by tap water it converts to hydrogen. It doesn't seem like lead car thief Nina (Linda Hamilton, who only did a TV movie called SECRET WEAPONS between this and THE TERMINATOR) realizes that's what she's getting into or what's gonna happen when she pushes that button. Turbo boost. Super-NOS.
It's a pretty simple heist set up. Quint determines that the car is in the fortress-like basement between twin office high-rises called Ryland Towers, and tries to convince those car nerds who wouldn't give him a ride to team up with him to steal back their revolutionary invention and his tax info tape. The main villain and head of the car theft syndicate is the rich business motherfucker who named those towers after himself, Ryland (Robert Vaughn in the same year as THE DELTA FORCE). He has a chop shop under there, keeping the nicest finds for himself and selling the others, meanwhile passing for a respectable legitimate capitalist.
Along the way Quint gets to meet his car chase rival Nina, who we learn was sort of raised by Ryland but is turning against him because he's mad at her for stealing this prototype that he could never possibly sell but he won't let her just keep it. Bad decision. Also bad: having secret cameras in her cool HIGHLANDER-like loft, taping her having sex with Quint and showing it to her. (Yes, In a gender reversal of Tom Atkins and Jamie Lee Curtis in Carpenter's THE FOG, she picks Quint up for a ride and suddenly they're in bed together.)
Ryland decides she's a traitor and locks her up. Quint breaks in and rescues her along with Black Moon, and there's a cool chase in the parking garage. They get locked in and their solution is to crash through the window of one tower into the other, surely the inspiration for that scene in FURIOUS SEVEN.
The movie doesn't make as big of a deal about the high-tech car as you'd think. They seem to realize that yes, we get it, it's a fast car. And its technology could change the world (sadly, we know now, it did not) but that's not really relevant to Quint, so it's not really relevant to the story. He just needs that tape, which means he needs the car, and he needs to escape, which the car also seems useful for.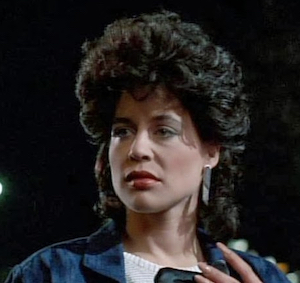 It's fun to see Jones and Hamilton (who we did not yet know as fully formed Mother of the Resistance Sarah Connor) playing these types of anti-heroes. Hamilton, by the way, is introduced with goofy giant hair that thankfully turns out to be a disguise. Carpenter wrote the script not too long before he wrote ESCAPE FROM NEW YORK. It's a very different movie but there are obvious parallels in that it's a cynical, cool former government operative who has lost all respect for authority and is on a mission he will see through even though he doesn't really believe in it.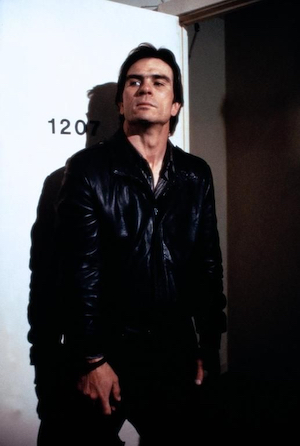 So both the corporation and the agency trying to bust them come across as villains. Quint has an FBI handler named Johnson, played by Bubba Smith, who uses his size for menace instead of contrast like he did in the POLICE ACADEMY series (he was between parts 2 and 3). There's a funny scene where he meets with Quint in a men's room and makes some poor guy leave in the middle of pissing. The guy doesn't ask any questions.
I like the sparse look of the movie – kind of a slick, simple elegance to it, like the car itself (which was based on a 1980 Wingho Concordia II designed by Bernard Beaujardins and Clyde Kwok of Montreal's Wingho Auto Classique – good work, Canadians). The score is by Lalo Schifrin and it actually gets more high tech and synthy than you expect out of him, but you also got your orchestra and your cheesy slap bass and saxophone and shit that absolutely would not be in a Carpenter movie. But I'm not complaining. It works. This is not trying to be a John Carpenter movie exactly. Just a cousin or neighbor or neighbor's cousin of a John Carpenter movie.
Producers Douglas Curtis (director of THE SLEEPING CAR!) and Joel B. Michaels (THE SILENT PARTNER, UNIVERSAL SOLDIER) had already produced THE PHILADELPHIA EXPERIMENT, which also came from a Carpenter script. That seems to have been more heavily rewritten, and he's only credited as an executive producer on it. I haven't seen the movie and actually never realized there was a connection until I found out the German electro-disco group The Splash Band covered the theme song and disengenuously called it "John Carpenter's Das Philadelphia Experiment." (The original score is by Kenneth Wannberg).
BLACK MOON RISING director Cokeliss followed this with the pretty enjoyable Burt Reynolds action movie MALONE (1987), then a horror movie called DREAM DEMON (1988) before becoming mostly a TV director, including on Hercules and Xena.
This entry was posted on Tuesday, November 16th, 2021 at 6:58 am and is filed under
Crime
,
Reviews
,
Science Fiction and Space Shit
,
Thriller
. You can follow any responses to this entry through the
RSS 2.0
feed. You can skip to the end and leave a response. Pinging is currently not allowed.