STEP UP 2 THE STREETS is one of those impressive sequels that re-invents the whole thing and gives it new life. Because the main character is a girl, instead of a guy. Totally different.
No, seriously though, first time director Jon M. Chu had to deal with an all new set of characters except for a torch-passing guest appearance by Channing Tatum, hooking up a Maryland School of the Arts audition for his old family friend Andie (Briana Evigan [daughter of the guy from My Two Dads that's not Paul Reiser]) to avoid her frustrated legal guardian (Sonja Sohn from SLAM and some TV show) sending her to live in Texas, where fewer people step up. When she gets to the school she has to put together a REVENGE OF THE NERDS super team of the school's most talented outcasts. They're frowned upon because they have big teeth or don't speak very much English or are weirdos but they have unique styles that haven't been properly displayed to the world. Together they just might be able to win the legendary underground (somehow illegal) dance competition called, uh, "The Streets." Yeah, I think the title came before the screenplay on this one. But it was worth it.
That's her new crew. Her old one was "the 410." In the opening scene they do a flash mob type performance on a subway, disguising themselves as unaffiliated commuters ranging in class from Business Man to Homeless Guy Wrapped in Filthy Blanket. Then, one by one, they put on masks and dance around inside the subway cars.
Chu portrays the dance as threatening. Before it starts an old white man watches a black dancer nervously, as if he expects a mugging. Afterwards police chase them. The news reports it as an "attack" and says the 410 "claimed responsibility." That may sound silly but keep in mind the murder rate in Baltimore has gone way down since it was first called the Murder Capitol. So these dancing incidents are a big deal. That's what got Sonja Sohn so concerned.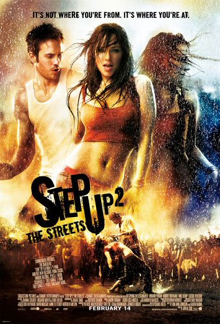 But then she gets kicked out of the 410 because she's missing rehearsals, spending too much time at "your little fancy new school." It's kind of a funny reversal because it's Tuck (Black Thomas), the guy from the fun after school activity, who's being a hardass, not a teacher or a coach. And he's disappointed in her for going to school. He becomes the villain 'cause he's an asshole who tells her her crew sucks and tries to keep them from being allowed to enter The Streets.
I like that this is more openly absurd than part 1. It has a bunch of gimmicks to make the dancing more exciting, for example when Andie and Tyler battle, the floor of the club opens up to reveal trampolines for them to use in their routines. It's like the dance movie equivalent of Jean-Claude dipping his forearms in resin and broken glass in KICKBOXER. The cleverest part of the movie is when they have to make a video and they decide to secretly film Tuck in public while they do dance routines behind him, unseen. Then they dance inside his room while he's gone and put a rotten fish in his vent.
Without Channing Tatum in the lead it's less macho than part 1. Andie is the main focus and her love interest (Robert Hoffman) is a hip hop loving ballet dancer with blond tips who looks way older than the other high school kids (and is – he was 28 at the time). He kept reminding me of Jay Mohr. He's supposed to be the popular kid, but the rest of them are geeks. They're not concerned about manliness or sexuality like Tyler was.
But I think you could also argue that this movie is more hip hop. It opens with archival footage of legendary breakdancers like the Rock Steady Crew (footage taken from THE FRESHEST KIDS, according to the credits) and has way more of a breakdancing influence on the choreography throughout the movie. I noticed Andie has Run DMC, Public Enemy and Wu-Tang Clan posters in her room. This is kind of like in GET RICH OR DIE TRYING, 50 Cent's character had a Public Enemy poster in his room and I thought that was supposed to be a symbol for "he has more of a brain than he demonstrates in his words or actions." In this case it's not a period piece so maybe it represents that she has an appreciation for the classics. Or that the set dressers just can't bring themselves to put a bunch of modern bullshit on the walls.
I pretty much hate most of the music on the soundtrack, though. I mean, I'm just old. It's that fuckin jiggly laser sounds and robots singing while some dirty south dude chants a bunch of fuckin nonsense, I got no idea what the fuck that shit is. There is one particularly horrible piece of sonic garbage that they play a couple times, sounded real familiar and then I figured out it's because it's the song that fat suit Tom Cruise dances to at the end of TROPIC THUNDER. It's a song about how there was a girl at the club that had a giant ass and it was awesome and he had Hennesy and cola also which was something that he enjoyed. Just a great story to share with everybody. Kinda inconsistent in the imagery though 'cause first she's wearing "them apple bottom jeans, boots with the fur," then 2 seconds later it's "them baggy sweat pants and the Reeboks with the straps." Maybe Flo-rida is presenting some sort of a fractured reality or multiple timelines or something, I don't know. Then at some point he's just going on and on about how much money he spent at a strip club. That guy's gonna need a Public Enemy poster on his wall too I think 'cause his lyrics are making him look like a fuckin nitwit.
One thing that was original about the first STEP UP was that the school was a good place, there was no uptight faculty trying to stop kids from expressing themselves. This one goes the opposite route, putting a snooty male ballet dancer in charge, with a prejudice against Andie and a mission to stop students from entering The Streets. Andie only gets into the school because her future boyfriend is on the jury. We know he's the only one who's down because he wears a cap and hoodie. They do explain the shift from part 1 with a couple people mentioning some unpopular "changes at MSA."
I like the dancing in this one better than the first one. Part 1 was about preparing the choreography for one big performance, this one has a couple different battles and a ton of outtakes on the end credits. They find an excuse to have the characters salsa at a party and the climactic dance is done outside in pouring rain so they can splash all over the place.
Although Andie and her boy are good looking Hollywood type people the rest of the cast seem to be chosen because they were dancers, which is kinda cool. Most of the MSA crew have limited dialogue except for this guy Moose, a skinny mop-headed kid with a geeky, awkward sort of charm. He's not at the school for dancing but when he does some Michael Jackson moves to make Andie laugh she recruits him for their crew.
The subtext of the movie is kind of funny. It's basically about how the kids from the private school shouldn't be excluded by the kids from the ghetto. Oh boo hoo. It's kind of funny to see the white girl standing up and making an inspiring speech about how just because they're not from the streets doesn't mean they shouldn't be able to co-opt The Streets.
But that's not really fair. We know from part 1 that they're not all rich kids, most of them are on scholarships, and Andie is an orphan. We also know from the director's cut of the "Bad" video that some kids gotta take a really long subway ride to their private school and then when they finally get home Wesley Snipes gives them a bunch of shit about it. Furthermore, De La Soul were from the suburbs but were clearly way better than most of the more "keepin it real" rappers of their era. Besides, what the hell is an art-school cat supposed to look like? Miles Davis, Tupac, Mobb Deep – those cats went to art school.