Believe it or not, I kinda consider myself kind of a Shang-Chi guy. As in, I dig that comic book character, before there was a movie. That's definitely overstating it, because I don't know that much more about his history than the next guy, but I'm attached to him because of my fascination with the period that created him, just a couple years before I was born, when American pop culture was catching on to the existence of kung fu and kung fu movies, and trying to cash in.
Shortly after Luke Cage debuted in June 1972 as a super hero response to SHAFT (both SUPER FLY and the coinage of the term "Blaxploitation" happened a few months later), Shang-Chi was conceived as the Marvel Comics version of the hit TV show Kung Fu, and he debuted in the midst of ENTER THE DRAGON mania. He showed up one month in Special Marvel Edition, and two issues later it was retitled The Hands of Shang-Chi: Master of Kung Fu. I can't resist titles like that – that's why I also know about the DC character Richard Dragon, Kung Fu Fighter (as seen in BATMAN: SOUL OF THE DRAGON) and why I was introduced to Shang-Chi by buying back issues of The Deadly Hands of Kung Fu.
T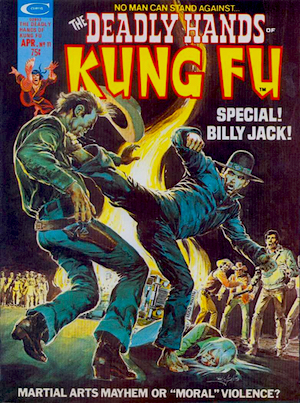 hat's a '70s Marvel Magazine, the type you know is gonna include a full page ad for a "complete audiovisual home study course in dynamic KUNG FU & KARATE" for less than 16¢ a lesson with a 10 day no risk money back guarantee. But it's mainly black-and-white comics about martial arts characters including Shang-Chi, Iron Fist and The Sons of the Tiger interspersed with crude martial arts-related articles. In issue #1, writer J. David Warner visits the Fred Hamilton All-Dojo Martial Arts Tournament, reviews THE CHINESE MECHANIC starring Barry Chan, and has a news column previewing upcoming Shaw Brothers and Golden Harvest releases, as well as western movies with co-stars from Asian cinema, like YAKUZA, STONER and PAPER TIGER. It also mentions WHEN TAEKWONDO STRIKES, GOYOKIN, and Ken Russell "preparing for production" of a martial arts movie called KARATE IS A THING OF THE SPIRIT. (If that had gotten off the ground I'd probly obsess over it the way people do THE DEVILS.)
My favorite issue is #11 (above), only because the cover is a Neal Adams painting of Billy Jack kicking a dude. Look at that beauty! Billy Jack does not appear in comics form, and he for sure would've called bullshit on the both-sides moralizing and insulting depiction of left wing activists in the story where Shang-Chi gets in the middle of a Kent State style shooting while attending UC Berkeley. But this magazine got me thinking Shang-Chi was cool enough that I once bought myself a Shang-Chi, Master of Kung Fu drinking glass at the Emerald City Comics Con. While I waited in line surrounded by walls of Spider-man, Batgirl and Punisher tumblers, two guys in front of me noticed one of the Shang-Chis and joked about it.
"Who would buy that!?" one of them laughed.
I didn't say anything, but the answer was me! I would! And I did! But if that doesn't earn me "I liked them before they were on a major label" status, may I submit to you that I designed the logo of this very websight as an homage to The Deadly Hands of Kung Fu?


Of course, that's all a relic of a different time, my fondness for mass-marketed cultural appropriation surely makes me suspect to some people, and the new movie SHANG-CHI AND THE LEGEND OF THE TEN RINGS is a totally different take on the character that attempts to rectify some of that history. It's set in the modern world, with any cinematic nods more to modern Chinese fantasy cinema and '90s Jackie Chan than to anything from the '70s. (I'm okay with all that, but my fingers are crossed for him to grow his hair long and wear a headband in part 2. It's a style that people don't really do anymore and I just think that would give him some don't-give-a-fuck-what-you-think swagger.)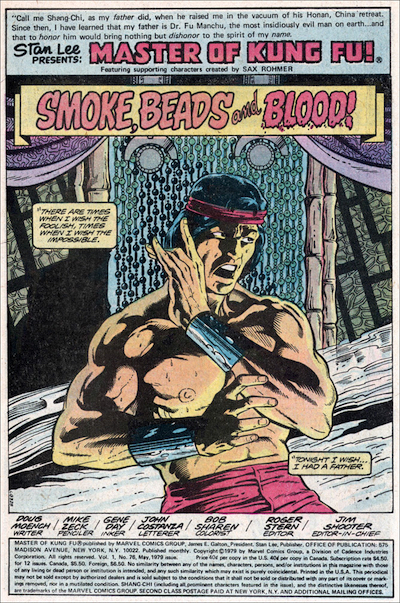 I want to take a moment to compare Shang-Chi (Simu Liu, recurring role, season 1 of Taken) to other Marvel heroes. Iron Man is a spoiled rich playboy who turns himself around and makes something of himself. Thor and Black Panther are sons of kings who struggle to prove themselves and live up to expectations. Captain America and Spider-man are working class New Yorkers who make something of themselves, but only after gaining super powers. Shang-Chi is interestingly in the middle – he does not have super powers, but he is the son of a thousand-year-old magic warlord, who had him trained from childhood to be an elite assassin. But when we meet Shang-Chi he has run away from that, immigrated to the United States, works as a valet at a hotel in San Francisco, lives in a garage, takes the bus to work, hangs out with friends, and seems satisfied with that. He seems close to the mom, grandma and little brother of his best friend and co-worker Marvel's Katy* (Awkwafina, OCEAN'S 8), but they have no idea about his own familial issues. They only know him as Shaun.
*the package for her action figure calls her "Marvel's Katy" and I love that so that is what I will call her
Things change one day when Shaun is commuting to work with Marvel's Katy and some menacing thugs demand the pendant his late mother gave him. It's clearly not a normal mugging because it's five guys who know kung fu and one of them (Florian Munteanu, Viktor Drago from CREED II) has a giant blade for an arm. And Marvel's Katy realizes she doesn't really know her friend because he starts doing moves like he's some kind of, you know… Master of Kung Fu. I don't think she even knows he does push ups.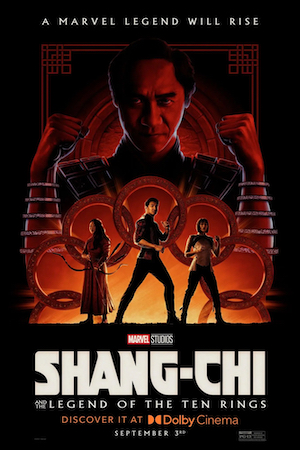 People who don't like SHANG-CHI might hold this fight sequence against it, because it's hard for the rest of the movie to live up to. But for me, a person who enjoys Marvel movies but thinks they tend to fuck up the work of their talented action units in post, this scene is a breakthrough. The great fight choreography (deeply rooted in late lamented supervising stunt coordinator/second unit director Brad Allan's history as a member of the Jackie Chan Stunt Team) works well with a sophisticated combination of stunt work and FX depicting the bus careening and crashing, with some really cool action and camera moves on the outside of the vehicle – for example when it pans along the outside of the windows following Shang-Chi as he works his way to the back of the bus fighting each of the guys. This kind of hybrid stunts/FX vehicle mayhem has been done really well recently in THE VILLAINESS and WIRA, and I wouldn't say this tops them, but it's finally an area where Marvel's vast financial resources and FX experience can give their action a boost (and not just look like animation).
It's also a fun character moment – Shang-Chi's anonymity and fake ordinariness are exploded in the middle of his commute; Marvel's Katy's heroic act of commandeering the bus is possible because of the valet job her family gives her shit for. I do have to note that we already got an A+ bus brawl in NOBODY, but as a martial arts fan/public transit rider I'd be okay with more.
Shaun reveals that he's really Shang-Chi and must go find his estranged sister Xialing (newcomer Meng'er Zhang) before his father gets her pendant too. Marvel's Katy insists on accompanying him to Macau, where they find Xialing's massive underground fighting facility crammed into a skyscraper. As long as we're in the Marvel Cinematastical Unicron it's cool that one of the fights is between pre-existing MCU characters. Xialing is estranged from their father as well, but she takes after him in that she's an underworld figure with goons and stuff, and she still resents Shang-Chi for leaving her behind and breaking his promise to come back for her. So they have at best a reluctant partnership when the dad's henchmen rappel in.
I think there are a bunch of things that are special about this movie, but arguably the one that gives it the biggest leg up over most Marvel movies is the way it uses Shang-Chi's father (who seems to be too legendary to even require a name, until he says that some call him Wenwu) as the antagonist. We've seen the backstory of how he got the Ten Rings (magical objects that act as bracelets, super-weapons and life extenders) a thousand years ago and used them to conquer lands and build an army instead of help people. But when he met his wife Ying Li (Fala Chen, TURNING POINT) upon trying to enter the hidden magical kingdom of Ta Lo, she must've seen something good in him. When her kingdom rejected him, she left with him, he put away the rings and they started a family. It seems like it was good for Shang-Chi and Xialing until their mom was killed, their dad went back to his old ways and started training Shang-Chi to avenge the murderers.
(By the way, as far as we see, this is not like LORD OF THE RINGS – the rings themselves don't cause Wenwu to become what he becomes. He's just an asshole. So the implication is that maybe power doesn't always corrupt, maybe power just attracts assholes, and maybe if Shang-Chi's not an asshole then he can use these things to better the world. And maybe if you got powerful and became an asshole you can't blame the power, you just gotta face that you're an asshole.)
What's great is that when the family is forcibly reunited, the complications of their relationships are visible. We've heard about him as this tyrannical threat, and that's all true, but when he greets Shang-Chi as his son, not his enemy, Shang-Chi embraces him. He calls him "Dad." Dad talks to them in a friendly way and it isn't the ol' "talking in a friendly way to be even more intimidating." It's sincere. And what we will find is that his plan is more tragic than evil. He believes their mother is calling to him, that she is locked behind a magic gate in Ta Lo that they must open. But he would have to attack the people of Ta Lo to do that, and Shang-Chi also learns that opening the gate will not only not bring back his mother, but will unleash a world devouring demon called Dweller-in-Darkness.
There are probly plenty of actors who are good but would sink the movie because they couldn't really sell that "charismatic guy with some evil qualities and some good ones and in this case sadly misguided" kinda character. But one guy who can knock it out of the park is Tony Leung. He's of course a superstar in Hong Kong, but I feel like the release of this movie has inspired a real moment in the U.S. zeitgeist, with everyone wanting to honor and celebrate his status as a great actor, Hall of Fame sex symbol (CHUNGKING EXPRESS, IN THE MOOD FOR LOVE, LUST CAUTION) and action legend (BULLET IN THE HEAD, HARD BOILED, THE GRANDMASTER, RED CLIFF). I don't think you'd have to be aware of that history to feel the weight of his presence as this character who has put Shang-Chi and Xialing through so much but who they still love and really want to be able to forgive. Somehow likable even though he's so arrogant that he walks away from Michelle Yeoh in battle and lets his underlings deal with her.
Yes, Michelle Yeoh plays Shang-Chi's aunt, a nice mentor part with some great training scenes and other opportunities to show off her moves.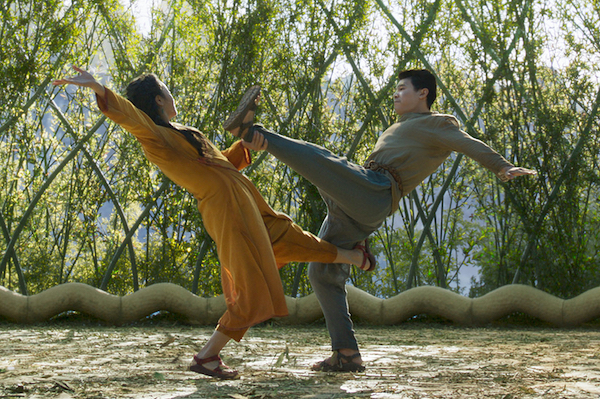 Shout out also to o.g. Yuen Wah (FIST OF FURY, HEROES SHED NO TEARS, THE MASTER, SUPERCOP) as another Ta Lo elder and up-and-comer Andy Le (THE PAPER TIGERS) as a masked henchman called Death Dealer.
The key lesson that Shang-Chi must learn (KEY LESSON SPOILER) is to take what he's inherited from his mother and from his father, and to make it his own. I love this type of theme in martial arts movies, and I relate to it in life. I do see some of it in the martial arts styles of the climactic fight, when Shang-Chi combines his mother's flowing, natural movements with his father's blunt power – that reminded me of themes I love in TAI CHI MASTER and SHADOW. But to be honest I'm not totally clear how he's supposed to have manifested this lesson at the end – particularly how he made it his own. I'm sure it's there, but I didn't pick up on it.
I do, however, see how the movie itself follows the lesson. It's a hybrid of homages to two different genres of Hong Kong/Chinese cinema. His father's side is the contemporary crime/action type – shadowy organized crime goons chasing a "regular guy" through a city, battling on moving vehicles, on the side of a skyscraper, etc. And his mother's side is the wuxia, SORCERER AND THE WHITE SNAKE type side of it with a timeless fantasy world, robes and staffs and magical creatures, twirling, tai-chi-based fighting styles in harmony with nature, causing mini-whirlwinds of leaves.
And how does Shang-Chi make it his own? Some might say by being in the MCU. SHANG-CHI is both of the aforementioned genres, but it's also a modern American super hero movie, following Marvel's continuity and popular recipe of wisecracks and earnest character development, plus post-credits set-ups for future crossovers and what not. But I would argue much more than that, SHANG-CHI's distinction is in being Asian American. In his living space, along with a KUNG FU HUSTLE poster, Shang-Chi also has posters of THE WARRIORS and Stankonia. He collects Air Jordans. When he dons the traditional Ta Lo outfit left for him by his mother – his super hero uniform – he doesn't put on boots. He keeps the Jordans. But the camera doesn't make a big deal about it. It looks natural. The movie speaks not just to reclaiming one's Chinese heritage, but to living as an American, both for those who were born here like, if I'm not mistaken, Marvel's Katy, or came here by choice, like Shang-Chi. Both feel torn between the expectations of their parents vs. what they want (or don't want) to do with their lives. Shang-Chi struggles with whether to or how much to assimilate, and with a shyness and embarrassment about where he comes from, but he's not just the kid who grew up in a temple punching dents in a wooden pole. His experiences as an American are equally a part of him.
I suspect some of that was personal to director Destin Daniel Cretton (SHORT TERM 12) and screenwriter David Callaham (THE EXPENDABLES, GODZILLA, MORTAL KOMBAT), American filmmakers with Japanese and Chinese heritage, respectively. (Cretton's frequent writing partner Andrew Lanham is also credited.) Although I'm sure I would've eaten up previously planned SHANG-CHI adaptations from Stephen (BLADE) Norrington or Yuen Woo Ping, I think it's a blessing to have it ultimately come from this point-of-view, largely shut out from Hollywood films. I'm rarely gonna love Hong Kong inspired American movies quite as much as the real ones, but SHANG-CHI's Asian American perspective is why it would be missing the point to dismiss it as just Hong Kong-lite. (If that's not important to you, you just want to see an awesome martial arts fantasy spectacle based in Chinese culture, then yes, DETECTIVE DEE: THE FOUR HEAVENLY KINGS is the best one I know of.)
White boys are allowed to contribute, though; the aforementioned stunt coordinator/second unit director Allan was Australian, remembered by many as a gweilo opponent to Jackie in GORGEOUS (he also worked with him on MR. NICE GUY, WHO AM I?, SHANGHAI NOON and KNIGHTS, THE ACCIDENTAL SPY, RUSH HOUR 2 and 3, THE TUXEDO, THE MEDALLION and CHINESE ZODIAC). I have to admit some ignorance about Allan's career, but once I realized he oversaw the action in SCOTT PILGRIM VS. THE WORLD and KINGSMAN: THE SECRET SERVICE I knew he was some kind of genius. Both have actors doing long, complex fights with such a cool style I wasn't even sure what I was looking at – how much was "real" and how much was digitally stitched together.
SHANG-CHI (which is Allan's next-to-last film, followed by THE KING'S MAN) stands as a great testament to his talents, working with some Jackie Chan veterans and collaborators from SOLO: A STAR WARS STORY and the KINGSMAN movies, including action designers Joseph Le, Vi-Dan Tran (BLEEDING STEEL), Christopher Clark Cowan and Yung Lee, plus fight coordinators Andy Cheng (6 UNDERGROUND) and Guillermo Grispo (THE LEGEND OF HERCULES). In addition to the bus fight, my favorites would be the night time chase down skyscraper scaffolding (it's no CHOCOLATE, but the complexity of the camera moves makes it stand on its own) and the meet-cute sparring between Wenwu and Ying Lee, which establishes their conflicting fighting styles/philosophies and also their romance, as the fight almost literally becomes a dance.

I've heard people say that SHANG-CHI starts out cool but, like so many super hero movies, turns into a C.G. blur by the end. I'm more into the urban fights than the magic battle, but I was pretty invested in this climax, with its cool dragons, lions and demons and its combined action/emotional climax as Shang-Chi stands up to his father.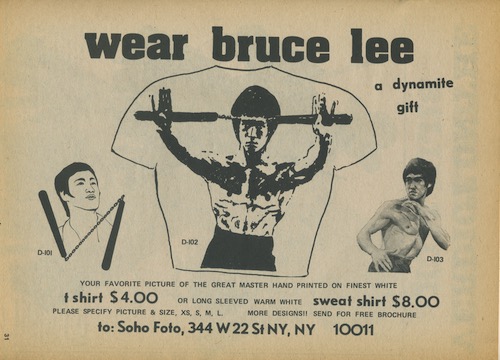 Consider this pop culture trajectory: Having made a splash as the sidekick in Green Hornet and guest star on Longstreet, Bruce Lee pitches Warner Brothers and Paramount an idea for a TV show called The Warrior, where he would play a martial artist in the Old West, but he finds no takers. Frustrated by Hollywood's failure to give leading roles to Asian actors, he leaves for Hong Kong to star in movies. Stateside, Warner Brothers produces the suspiciously-similar-to-The-Warrior show Kung Fu starring not-at-all-Chinese David Carradine as its half-Chinese lead. The show is so popular Marvel wants to make it into a comic, but they can't get the rights, so they make up their own kung fu hero. To make him more marketable they license pulp author Sax Rohmer's Fu Manchu character to be the hero's father and antagonist. Meanwhile, Warner Brothers finally gives Lee a starring vehicle, ENTER THE DRAGON, and it makes him a worldwide phenomenon… except he tragically dies before its release. Soon the artist of Shang-Chi starts drawing him to look more like Lee, while Deadly Hands of Kung Fu features the actual Lee on many a cover story and hocks Bruce t-shirts and tribute books in its ads. But he's not around to star in any more movies and few are allowed to follow in his footsteps.
Four decades later, Asian American actors still struggle in Hollywood, but Lee's TV idea has been turned into the cult-popular cable series Warrior, and now there's a hit Shang-Chi movie. Fu Manchu was long ago renamed in the comic when the license ended, and has since become known as a racist stereotype. Even his Marvel counterpart The Mandarin had to be renamed and reinvented to make sense as Shang-Chi's father in a modern movie. So a little-known Chinese-American Canadian TV actor is headlining the biggest movie franchise in the world, and one of the highlights of his movie is an intimate emotional scene with one of the greats of Hong Kong cinema playing his complicated father. I would've liked the movie regardless of any historical importance, but that seems worth celebrating.
Further reading:
I liked this three-part series on inverse.com about the history of the Shang-Chi character and Asian American representation in pop culture. It has some good quotes from Callaham especially about where he was coming from and how he tried to avoid stereotypes in updating the story.