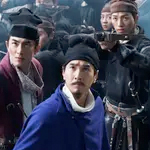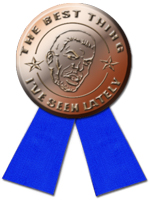 As much as I enjoyed the first two Detective Dee pictures (MYSTERY OF THE PHANTOM FLAME and RISE OF THE SEA DRAGON), the third one, DETECTIVE DEE: THE FOUR HEAVENLY KINGS, far surpasses them. It has the same kind of fun characters and storytelling, but the FX and design are much improved, it has more action and spectacle, and it's more packed full of weird factions and creatures with cool costumes and gimmicky weapons, often elegantly gliding around on wires. It's a total blast.
They've dropped the "Young" from the title, even though it's continuing the prequel story starring Mark Chao. I guess the moment he gets his rank and trademark weapon he becomes a man. That's where it starts: the end of RISE OF THE SEA DRAGON, with our hero receiving the Dragon-Taming Mace and the duty to keep the imperial court in check, at which point Empress Wu (Carina Lau, PROJECT A PART II, the only actor in all three movies) conspires to have the mace stolen from him. This is one thing I love in period martial arts movies: when a specific weapon is treated with reverence, even though it's just a piece of metal, not some doomsday device. There turns out to be a really good explanation for why she needs to get it away from him, but it wouldn't matter to me if there wasn't. All I need is that it's a legendary badass weapon like the Green Destiny Sword, so they can't let him have it.
And, credit where credit is due: the modern period martial arts movies are always trying to invent cool new flying guillotines and shit, but I don't know of a recently made-up weapon with as solid a concept as the spinning piece that creates vibrations that shatter rock and metal. Especially because there's a delay to it. He hits their sword and there's a couple beats and then it falls to pieces. The timing of it is musical.
The players in this mystery include (but are not limited to) a sect of vengeful masked sorcerers called The Wind Warriors, a disfigured ex-tyrant called "Faceless Lord" who advises the Empress from his sewer-like dungeon, and a self-exiled Buddhist master (Ethan Juan, THE GUILLOTINES) who rides on the back of a giant white gorilla and speaks through a huge goldfish. The movie culminates in the ape fighting a giant monster with blinking eyes tucked into the gnarls of its golden flesh while the good guys chant sutras that grow trees to block tentacled demon attacks. So in some ways it's pretty different from, say, MURDER ON THE ORIENT EXPRESS.
Empress Wu commands Dee's rival/friend Yuchi (Feng Shaofeng, TAI CHI 0) to hire illusionists to steal the mace, an assignment he takes somewhat reluctantly and gullibly. Dee has help from his medical assistant pal Shatuo (Lin Gengxin, THE TAKING OF TIGER MOUNTAIN) with hiding the mace, figuring out who they're up against and how to beat them. Dee's tricks include going in disguise as an underling. I like when he pulls off the latex chin he was wearing over his goatee.
My favorite subplot is about a new character, Moon Water (Ma Sichun, SAVING MR. WU), a cool assassin villain who we first see hidden in the empress's shadow and sort of bubbling out of the ground like a ninja T-1000. Later she wears face paint and swoops around on roof tops watching the battles, noticing things other people don't. When she ends up poisoned and hiding in a stable, Shatuo hides her and brings her to a cabin to treat her. She at first tries to fight him, and their eventual bond is hard-earned. One thing cooler than a hero is a hero who used to be a villain, and man is it satisfying to see them all standing together looking badass when the shit is about to go down.
Also, I just like her attitude.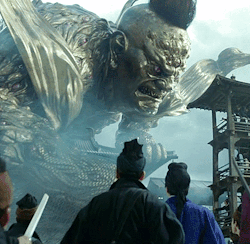 This time Tsui has found a way to make me really believe in his stylishly artificial-looking world. The digital creatures look more "real" than in some Hong Kong films, but by basing them so specifically on traditional Buddhist mythological art they avoid any requirement of photorealism. Even within the story many of them are supposed to be illusions, so it's okay for them to be animated characters through and through.
I love that Tsui at age 69 seems to have the energy and enthusiasm of a young Sam Raimi when it comes to playing with camera moves and visual language. You better believe there's a sequence where Dee investigates the scene of a crime and visualizes a reverse engineering of each clue he finds, determining what happened, a new danger and that it's all a distraction from something else.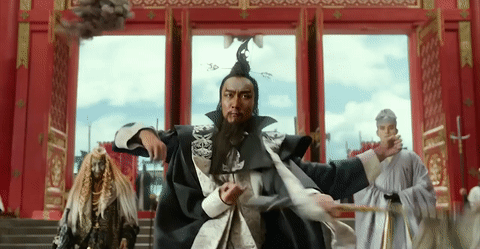 There's almost a Star Wars level of detail in the weird characters who just show up and do their thing without overly explaining what their deal is, leaving so much to our imagination. Check out the dude with the four arms (or who creates the illusion of four arms, I think) who both makes me wish I'd seen this in 3D and reminds me I want to see STEP UP 3 in 3D. And he pales in comparison to the weird laughing hunchback lady who seems like a witch from SPIRITED AWAY or something. She's so cartoonishly proportioned and haggard, but she can fight and run around on roof tops.
There are just so many cool scenes. Like the one where Dee is forced to take a seemingly impossible physical test to keep his job, and it involves climbing up a rope with a swarm of very aggressive scorpions chasing him. Or where he has to prove to the whole court that they didn't actually see a giant golden dragon statue come to life, fly around the room and burst through the ceiling. Or the introduction of a "weapon from Hell" that's like a flying guillotine except it locks around your head and supposedly can't be re-opened.
You know what this movie really reminded me of, with its catalog of gimmicky clans, colorful costumes, inventive weapons and fantastical fighting styles? THE MAN WITH THE IRON FISTS. It made me dream of how great RZA's world would be if combined with Tsui's much higher level of craftsmanship. So I am using The Secret to try to get Tsui to direct THE MAN WITH THE IRON FISTS 3.
A relatively minor scene that blew me away involved the sorcerers floating around in their billowing robes, swinging with boney insect-like extra limbs. The arms are a special effect but I believe composited over real stuntwork, so they're a cool spectacle that retains the elegance of great martial arts choreography. I couldn't help but think about the state of the art Hollywood movies, with animated Iron Man and friends flying and fighting. People often complain that c.g. action like that is too weightless, but that's not the difference here – DEE's real fighters are meant to be floating! But they manage to combine FX show-offery with the beauty of agile body movement in a way that their American counterparts don't.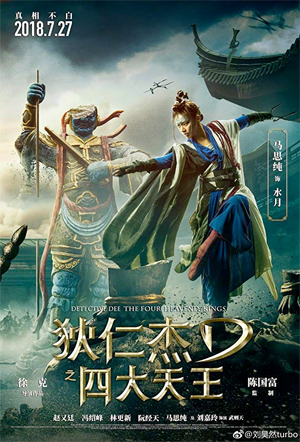 I like that this follows up on the theme RISE OF THE SEA DRAGON set up about the importance of an independent justice department. It turns out to be weirdly relevant to the U.S. right now. We really could use a guy like Detective Dee whose only agenda is truth and justice and who knows how to maneuver through the various pressures and schemes from the corrupt leadership while also protecting the country from outside harm.
But some of it feels a little less righteous. The whole thing turns out to be a complex conspiracy by an exiled minority seeking revenge on the Tang Dynasty for their violent mistreatment. There's a good illustration of why they have to let go of the anger for their own good, but it's still kinda uncomfortable when there are flashbacks of them having their faces forcibly tattooed and then the monk lectures them about what they're doing. I mean, obviously they must be stopped, but I wish he wasn't so sanctimonious about it. They seem to have a pretty fuckin good reason to be angry.
Oh well. I still love this movie. And it sounds like Tsui knowingly put extra elbow grease into it. An article in the South China Morning Post quotes him saying, before the script was finalized, that it was taking a long time because "I want to finally pull off what we didn't manage to do in the first two films." I think he did! I wonder if he'll do it again?
This entry was posted on Tuesday, September 17th, 2019 at 2:57 pm and is filed under
Action
,
Fantasy/Swords
,
Martial Arts
,
Monster
,
Reviews
. You can follow any responses to this entry through the
RSS 2.0
feed. You can skip to the end and leave a response. Pinging is currently not allowed.