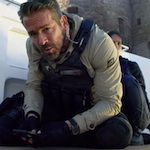 "There's a lot of priceless stuff in this movie, like where we have cars flying between an obelisk. Why they allowed me to have flying cars by an obelisk that's 800 years old, I don't know." —Michael Bay
By popular demand I watched 6 UNDERGROUND, Michael Bay's mysteriously straight-to-Netflix movie starring Ryan Reynolds (R.I.P.D.). Not that I was against watching it when it came out in December, but I had other shit to do, and you know how it is without a theatrical window – less urgency.
I say "mysterious" because I really couldn't figure out why Bay – who has spent his entire career with pretty much no other goal but to make the biggest, loudest, fuck-you-est, blockbuster spectacles he can manage – would be willing to make a DTV movie. The explanations I heard were not convincing:
1. "For the money." I just cannot believe that Bay needs more money than a studio will pay him
2. "They'll let him do what he wants." Having seen TRANSFORMERS: THE LAST KNIGHT I also cannot believe that anyone ever says "no" to him.
But now that I've seen it I guess I sort of get it. Other than an opening that earned a seizure warning – Bay intentionally trying to be disorienting is a hell of a thing – his messy action plays well on the small screen, and it's nice to see him applying his anti-social tendencies to R-rated action again. As long as he for some reason doesn't mind skipping theaters, and Netflix continues to have a magic money tree to dump into expensive things that nobody pays extra to see, they make a good team.
What I'm trying to say is that I enjoyed 6 UNDERGROUND in sort of the way I enjoy a xXx or a video game adaptation or something, and definitely way more than a HAS FALLEN. It's openly stupid and crass, and would not be improved by not being so. It's Bay applying the meticulous FX detail and reckless abandon of his TRANSFORMERSes to a gory "adult" movie he probly wishes was there for him to sneak into when he was 12. And because it's Reynolds and his DEADPOOL writers Paul Wernick & Rhett Reese, the constant interjections of juvenile humor have a higher success (or at least not-total-failure) rate than the vast majority of Bay's movies.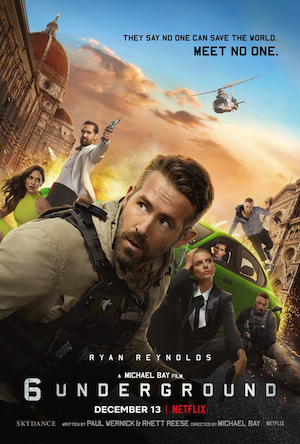 Reynolds narrates and stars as a guy known only as One, who was a rich, vapid asshole until one minute after poor people got gassed while he was pretending to do charity work for a "social media" photo. (I was ready for them to keep mentioning "social media" like they do in Hallmark movies, but it only came up one more time.) Then he decided to fake his death and recruit a team of others willing to be "ghosts" to perform black-ops vigilante missions against "truly world class evil motherfuckers."
So it's a squad of sexy genius warriors with a bawdy, smartass rapport. They include ruthless spy Two (Melanie Laurent, INGLOURIOUS BASTERDS), funny doofus hitman Three (Manuel Garcia-Rulfo, THE MAGNIFICENT SEVEN, SICARIO: DAY OF THE SOLDADO, WIDOWS), doctor Five (Adria Arjona, TRIPLE FRONTIER) and expert getaway driver Six (Dave Franco, IF BEALE STREET COULD TALK). I saved Four (Ben Hardy, BOHEMIAN RHAPSODY) for last because of how excited I was when they introduced him standing on top of the Florence Cathedral and I thought "oh shit, do they have a parkour guy?" and the answer is yes, they totally have a parkour guy. That was when I realized I might like this.
The peak of the movie, admittedly, is the first half hour or so. It's a street-chase-and-shootout through Florence, filmed partly on real Florence streets, and it's Bay-ed out to the point of extreme gotta-hand-it-to-'im-ness. Lots of corny jokes about the nuns, baby and puppies they almost run over, sure. But also Five is doing extremely gory bullet surgery in the backseat while the patient, Two, is firing her own bullets out the window, hitting a motorcyclist in the head, blood spraying out of a hole in his helmet, he crashes, bounces, flies through the air, hits the front of their car, rolls over it, falls dead in a shower of sparks and falling motorcycle wreckage. (When the bullet comes out yes, it is dropped with a bit of a clink, although I don't think there's a metal container there.) Also, there's a whole thing I won't explain involving a guy's eyeball in the front seat.
The car crashes here are A+ and I honestly expect and hope them to be influential in the genre. An SUV jumps down stairs, doesn't land right, sends its passengers through the windshield, they roll across the street, get hit by the 6undergroundmobile, fly and bounce off a wall, all in one shot I believe. Another one crashes, flips through the air, tears in half, you see a guy flying out in mid-air and then half of it lands and skids to a stop and another dead guy falls out. Now that I think about it some of these have to be high level animation, but I took them as real car stunts with digital enhancement. Whatever they are, they're great.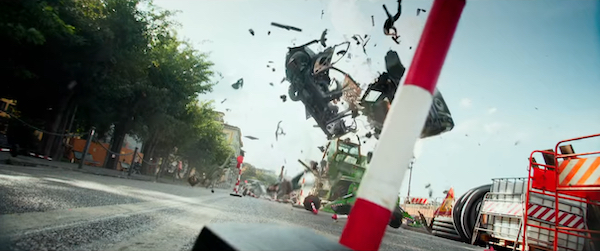 Throughout the movie Bay takes similar glee in devising new ways for bullets to graphically rip through bad guys' cigars, eyes, whatever. There's a great bit where a rocket gets fired into a car, clips a guy's lip, causes him to spit blood in slow motion, then blows up inside the car, catapulting him through the windshield. When a guy's head is blown up by a flash bang he's hidden from view around a corner but don't worry, he'll fall down and you'll see a hell of a messy head stump.
I should mention the ultimate Bay stretch of that chase, when Six decides he has to drive through the Accademia Gallery to escape a helicopter. We can all enjoy a good indoor car chase, but the point of the sequence is to tease the potential of wrecking great works of art, and to make fun of Michelangelo's David for having a small dick. (Not the last dick size joke in the movie, by the way.)
This is gonna be a HUGE FUCKIN SPOILER but Dave Franco as "Six" does not survive that opening.  He's like Drew Barrymore in SCREAM was like Janet Leigh in PSYCHO. Rug pulled right out from under you. Breathtaking. END DAVE FRANCO SPOILERS. And that's kind of the inciting event because One replaces him with Seven (Corey Hawkins, who will always be Dr. Dre to me), whose Delta Force never-leave-a-man-behind ethos clashes with One's I'm-not-here-to-make-friends,-the-mission-is-the-only-thing code. Hawkins is very good in the silly role of a soldier struggling with guilt for not being allowed to kill enough people.
(It's never addressed that they needed a new driver and instead hired a sniper.)
They shift to a mission to replace Rovach Alimov (Lior Raz, OPERATION FINALE), the "Turgistan" dictator responsible for the gassing incident, with his nice brother Murat (Peyman Maadi, A SEPARATION, 13 HOURS). Along the way there are two over-the-top (not graphic) sex scenes, many violent deaths, a surprisingly fast revolution (as soon as Murat is freed and goes on TV there are people in the streets with signs already made), and a respectably ludicrous third act battle on a magnetized yacht. (One offhanded joke scene near the beginning established that One made his fortune by being a magnet genius.)
It almost seems refreshing that that's all it is – a huge battle on a yacht with tons of gunfire and visual FX to make people fly through the air and stick to walls and get stabbed by all the knives that are also attracted by the magnet. Not a citywide battle to stop a doomsday weapon or something. Compared to all Bay's movies about robots trying to end humanity and hump the pyramids and shit this seems kind of charmingly quaint. But it's still a hugely expensive movie shot all around the world. It's not like the trademark Bay dick-waving excess had to be trimmed for home viewing.
Of course it's tinged with Bay's usual acrid worldview. Even in his cutesy flashback of One winning the science fair as a kid he has him gloating that his invention is going to make him rich. And the jokey fun time jarringly switches to bloodthirst at the end when they drop the begging-for-his-life dictator into a mob and watch hornily as he's beaten to death. The dumb epilogue is more fun. Only in a Michael Bay movie would the sentimental love-conquers-all message be represented by the hero deciding to look up the hot bartender he had a one night stand with while stalking a world leader. (And it's sillier than that – I won't ruin it.)
There's a couple attempts by the writers to self-critique or subvert the usual Michael Bay shit. I guess I can't blame them for trying to stay above it, but it comes across as the old "if I point out that I did it it counts as not doing it, right?"
As they attempt to escape in a ludicrously neon green escape vehicle, somebody has to criticize Six for buying a ludicrously neon green vehicle for escape
In another scene they're disappointed by the car they have and it's explained that they blew their car budget on a Ferrari they drove earlier
A shitty rock song pumping up one scene turns out to be diegetic, and One complains about how bad the song is
That third one is the weirdest because then the song continues and seems to be meant to be taken seriously. By this point there have already been several rock songs in the movie – I wasn't actually sure if they were separate songs or the same one repeatedly – that I thought sounded like they were designed to be used on ads for sporting events. It turns out there are four separate songs ("Glory," "The Fear," "Legend" and "Bulletproof") by a band called The Score, who were signed after their song "Oh My Love" was used in a supermarket commercial and then in ALVIN AND THE CHIPMUNKS: THE ROAD CHIP. Other The Score songs were used in POWER RANGERS, The World Series of Poker, a Jeep Grand Cherokee commercial, NHL 18 and Asphalt 9: Legends video games, an episode of Riverdale, and yes, the home game promos for Premiere League football team Norwich City F.C.
Are there bands that are really just soundtrack and advertising speculation rackets? If so, I'm sure they're Bay's favorite bands.
Why did I used to hate Bay's movies so much, and now I get a kick out of them? Many reasons. I think his action has improved, and/or my brain has mutated from years of exposure to the chaotic style he popularized. I have also changed and mellowed out. And his status has changed – it's easier to laugh along with a dumb straight to video movie that was savaged by critics than a garbage blockbuster people at the time are hailing as the best of its type. At least for me it is. And also I think his persistence has made him more interesting. Since he's developed his style for more than two decades, getting deeper into his fetishes and technically more proficient, but only occasionally seeming like he might have grown in any way as a human, makes for a pretty fascinating body of work.
If you don't see it that way, you're not wrong. But if you do, try this one. If we are to acknowledge that Bay has certain talents, isn't this the best use for them?