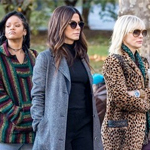 Before seing INCREDIBLES 2 and JURASSIC'S 5 I wanted to catch up with OCEAN'S 8. It's that all star ensemble heist movie that came out in theaters a month ago. I know whatever conversation there was has already died off, but I wanted to see it.
Debbie Ocean, who kind of looks like Michael Jackson and is played by Sandra Bullock (SPEED 2: CRUISE CONTROL), gets out on parole with nothing but forty-some dollars, a glittery party dress and a master plan for stealing millions of dollars worth of jewelry. So she's in good spirits. Plying her trade of theft and scams she gets herself a fancy hotel room and amenities (the fancy lady's version of Porter building himself back up from nothing at the beginning of PAYBACK) and then goes to find her old partner Lou (Cate Blanchett, HANNA). Lou claims to have not known she was in prison, just thought she changed her number, and she says it so dryly I didn't know at first if she was joking. I like these two.
Much like OCEAN'S ELEVEN, we get to meet the Mission: Impossible team of heisters in their regular lives as the two go around recruiting them. They rescue jewelry expert Amita (Mindy Kaling, A WRINKLE IN TIME) from working for her mom and Tammy (Sarah Paulson, THE SPIRIT) from suburban boredom. They hire hacker Nine Ball (Rihanna, BRING IT ON: ALL OR NOTHING) and three-card-monty hustler/pickpocket Constance (Awkwafina, CRAZY RICH ASIANS). Most crucially they trick movie star and soon-to-be Met Gala host Daphne Kluger (Anne Hathaway, HOODWINKED!) into hiring past-her-prime former fashion design legend Rose Weil (Helena Bonham Carter, PLANET OF THE APES) who they've gotten in on a scheme to get Kluger to wear a ridiculously valuable Cartier necklace that would otherwise be in a vault.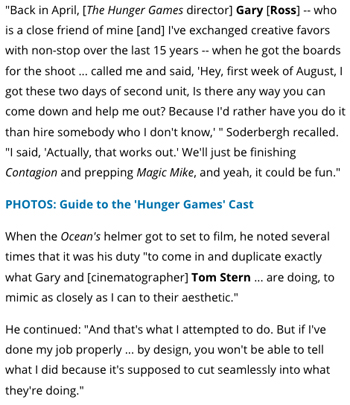 The big difference between this and OCEAN'Ses ELEVEN, TWELVE and THIRTEEN, obviously, is that Steven Soderbergh is only a producer. Director Gary Ross wrote BIG and MR. BASEBALL and DAVE and etc. and wrote and directed PLEASANTVILLE, SEABISCUIT, THE HUNGER GAMES and THE FREE STATE OF JONES. He's had a long friendship with Soderbergh, who produced PLEASANTVILLE and even did him the favor of directing second unit for THE HUNGER GAMES, so it makes sense that he ended up doing this one. He wrote the screenplay with Olivia Milch, who directed a movie called DUDE starring Awkwafina, and is currently attached to write the BARBIE movie starring Hathaway.
It's not a remake or reboot. There are connections to characters from the previous movies, including that Debbie is Danny Ocean's sister. They say that Danny's dead, but everyone seems only about 98% convinced that it's true. My only problem with this is that SPOILER? it made me keep thinking he was gonna show up at the end, which is not the case. I think they're just using the drama of Debbie dealing with the memory of her brother without denying the obvious possibility of them bringing the character back some day if those guys get nostalgic. I mean, they could do OCEAN'S 9 and 10 with Debbie, then unite members of both casts for OCEAN'S FOURTEEN. Or even OCEANS FOURTEEN (no apostrophe) where there's a whole team of Danny and Debbie Ocean and their relatives.
(By the way, is it fair that the "based on characters by" goes to George Clayton Johnson and Jack Golden Russell of the original Frank Sinatra movie rather than Ted Griffin, who wrote the one with the characters these are connected to? I guess they did make up the name "Danny Ocean.")
My biggest complaint with the movie is not a big one – it's that maybe they do too good of a job of mimicking Soderbergh's movies rather than establishing a separate identity. I mean, it doesn't look as stylish as his, but it very much captures their playful, ten-steps-ahead-of-everybody-else fun, with the team having ridiculously clever workarounds for every hitch that comes up in their already ridiculously clever plan. And composer Daniel Pemberton (of THE COUNSELOR, THE MAN FROM U.N.C.L.E., MOLLY'S GAME and KING ARTHUR: THE LEGEND OF THE SWORD [honestly a great and under-recognized score]) does a good job working in the funky, eclectic vein of David Holmes.
I have this thing that I kinda forget Sandra Bullock is good until I see another one of her movies. Maybe it's residual suspicions about her falling on her ass and being cured of racism in CRASH, or maybe it's a snobbishness toward the type of comedies she's been most successful with. It's not fair because I should consider her an action icon just for SPEED and DEMOLITION MAN, and I thought she was great in GRAVITY, and I love her in THE HEAT.
I'm not into Rihanna's music, but she has a great presence in movies (BATTLESHIP, VALERIAN AND THE CITY OF A THOUSAND PLANETS), and this is no exception. Awkwafina I guess is a rapper who I never heard of, but she's my favorite in the movie, a sort of inscrutable weirdo who reminds me of some of the characters in STEP UP 2 and 3.
(Update: I'm listening to one of her albums now and she just bragged about watching A LEAGUE OF THEIR OWN on laser disc. I'm into it.)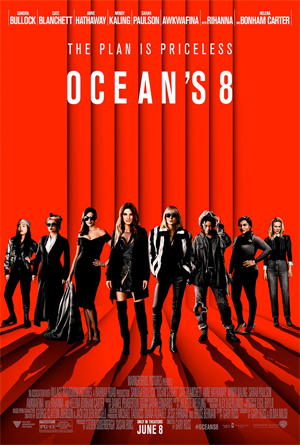 One odd thing about OCEAN'S 8 that I'm pretty sure no one else has picked up on is that the cast is mostly women. You don't always get that, in my opinion. Debbie rejects one of Lou's suggestions for the team because "he's a he," but otherwise gender is never discussed, and it's not about fighting against sexism or even being underestimated. But comparing the elements of ELEVEN and 8 you can see a difference. Both have their Ocean secretly motivated by a relationship gone bad. In Danny's case he's getting revenge on the guy who "stole" his girlfriend, and also trying to "win" her back. In Debbie's case the blame is placed squarely on the ex who screwed her over (Richard Armitage, THE HOBBIT trilogy), not some other woman, and he's gonna get his not by losing money and a woman but by taking the fall.
More importantly there's a masculine/feminine contrast to the venues of their scores. You couldn't name many places more bro-y than Danny's playground of Las Vegas, land of showgirls, prostitutes, "what happens in Vegas," cigars, boxing matches and the adrenaline high of slapping your dick on the table in the form of money that you are likely to lose but take the risk because either you're addicted to the thrill or you're too rich for it to matter. It's all glitz and outlandish opulence designed to lure you in and take your money. It's gross and it's fun.
The Met Gala is in some ways the opposite. It's not a moneysucking enterprise run by organized crime, it's an annual fundraiser for the Metropolitan Museum of Art's Costume Institute, and it's built around creativity, as it's mainly known as an event where celebrities compete for the most attention-getting clothing based around the theme of that year's costume exhibit.
This is where the parallels come in: the event has become a sign of status for celebrities and rich people. This year's guests for the real event included Jared Leto, Donald Glover, Selena Gomez, Chadwick Boseman, Jaden Smith, Madonna, and various Kardashians and Jenners. I like some of those people, but Tina Fey once said "if you had a million arms and all the people you would punch in the whole world, they're all there." Former WWE villain Donald Trump proposed to his third wife Melania at the Gala in 2004.
The New York Times called the yearly event "the gold standard of parties" and "the ultimate global celebrity/power cocktail" and says it's known as "Oscars of the East Coast," which they parenthetically explain is "mostly because of the star quotient and the elaborate red carpet, where guests pose on the grand entrance stairs to the museum." They say that tickets this year were $30,000 each and tables about $275,000. I'm not sure if that includes processing fees, shipping & handling and all that. But not everybody buys a ticket – they also invite hot new fashion designers as guests, and clothing brands will get celebrities to sit at their tables to promote their shit.
But there's even more elitism to it than that: "Unlike other cultural fund-raisers, like the New York City Ballet gala or the Frick Collection Young Fellows Ball, the Met gala is invitation only, and there is a waiting list. Qualifications for inclusion have to do with buzz and achievement (and beauty), a.k.a. the gospel according to Anna, more than money. Ms. Wintour has final say over every invitation and attendee, which means that even if a company buys a table, it cannot choose everyone who sits at its table: It must clear the guest with her and Vogue and pray for approval."
Just like the Bellagio in ELEVEN, this required some cooperation with the real organization. There are brief sightings of famous people like Kim Kardashian-West, and it plays with celebrity in an odd way: Hathaway and Dakota Fanning play fictional movie stars, while Katie Holmes appears as herself. The real Rihanna has attended many times, co-chairing this year and famously wearing a pope hat, but her character seems out of place there and mostly stays in the van. All this reminds me of the scene in ELEVEN where Topher Grace, playing himself, is mobbed by adoring fans who ignore Brad Pitt, playing a character, standing next to him.
I think that each Ocean's choice of mark acknowledges the silliness of excessive wealth. They don't mind robbing them because it's not gonna ruin their lives, and it's kinda fun to make them upset, like some uptight dean in a frat comedy. But at the same time the Oceans and their numbers also clearly enjoy dressing up and taking part in that lifestyle. And, I mean, their goal is to steal millions of dollars. They're not trying to work for a living.
OCEAN'S EIGHT is more of an OCEAN'S sequel than I expected, less of a reinvention, but as someone who enjoys those and is happy to see one with a fresh new cast, it's a good time at the movies.
This entry was posted on Thursday, July 5th, 2018 at 11:18 am and is filed under
Comedy/Laffs
,
Crime
,
Reviews
. You can follow any responses to this entry through the
RSS 2.0
feed. You can skip to the end and leave a response. Pinging is currently not allowed.