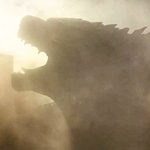 Godzilla is one of those great icons who's been around for fuckin ever because he re-invented himself many times over the years. Like the Madonna of Japan. He started all depressing and black and white in the '50s, then he got crazy in the '60s, kinda psychedelic in the '70s, a little bit preachy about the environment in the '80s, kinda garish again in the '90s. There was that one movie in 1998, Godzilla's iguana period, a laughable mistake like when MC Hammer tried to go gangsta rap. In my opinion that movie doesn't even exist anymore since they used the exact same title for this one. Technically there can only be one American movie called GODZILLA, so they had to delete the other one to get this one.
Director Gareth Edwards, who did that found footage movie called MONSTERS that I still haven't watched but heard was pretty good, is responsible for the one and only American GODZILLA. I think he has the right idea: treat it serious, no wackiness, but let the situations be humorous sometimes. The gloomy, often ashen-gray cinematography and Spielbergian sense of awe (lots of dollying in on kids that notice something dangerous approaching before the adults do) makes me suspect he was going for a little less silly than what he came up with, but I dig what he ended up with anyway. It's a straight-faced movie where survivors of massive devastation aren't scared that the giant radioactive dinosaur they're standing next to is still alive and about to stand back up, because they know he's the good guy. And I respect that they weren't ashamed to use Godzilla's trademark energy breath (though I'm not sure why they didn't want to build up to it, like he gets some source of radiation that powers him up to be able to use it at a crucial moment).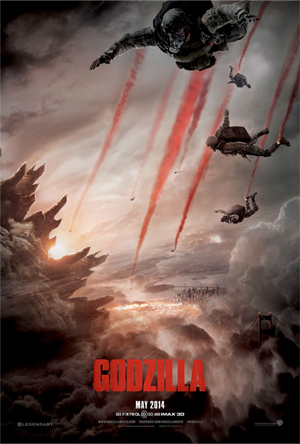 The character types are pretty standard both for giant monster movies and for American blockbusters. You got scientists (Brian Cranston, Juliette Binoche, Ken Watanabe, Sally Hawkins) figuring out what's going on and a soldier (Aaron Taylor-Johnson) getting involved while trying to reunite with his family (this generation's greatest cinematic crier Elizabeth Olsen). Early on there's some pretty effective tear-jerkery, but at the end I felt like they were fooling themselves by ending on the emotional reunion. That would be cool if that was what we ended up caring about, but no dice, in my opinion.
By the way, hats off to Taylor-Johnson's character for pulling a pistol on Godzilla. That might be an homage to the greatest human moment I've seen in a Godzilla picture, the part in FINAL WARS where UFC legend Don "The Predator" Frye sees the monster approaching and reaches for his sword. Like he's gonna stab him in the toe or something. I like a Godzilla human character who's willing to give that a shot.
These guys have only a little more depth than Frye's character and not even half the mustache. They're all acceptable characters but not great ones, and I feel Watanabe especially gets short-changed. I couldn't help but think this great actor was just there so they could have a Japanese guy say what the monster is called.
(One scene missing: Watanabe hearing David Strathairn say "Godzilla" and trying to explain that no, he called it "Gojira.")
It's hard not to compare this to PACIFIC RIM, the only other giant monster movie to come out in a long time. Story-wise GODZILLA is much more basic and generic. PACIFIC RIM is packed with colorful gimmicks and not restrained by quasi-realism. But in the crucial area of giant monster fights, Edwards delivers where in my opinion del Toro didn't. Del Toro shot his monsters mostly in closeup, mostly at night, mostly in the rain, and never stopped cutting from them to the interiors of the robots, constantly interrupting the flow of the action. Though del Toro had way more monsters, way more fights, and the bonus of giant robots, Edwards is much better at staging his big guys for maximum awe. He pulls a PREDATOR with Godzilla, keeping him unseen, or parceling out glimpses of a tail here, a scaly fin there, before you start seeing the full monty later on. But even when he pulls the trick of cutting away before the first big monster fight he gives us a quick look at news footage that for me was more satisfying than most of what you get in a PACIFIC RIM or, of course, a TRANSFORMERS.
You see monsters approaching from far away, rising up from beneath water, flying down from above, appearing from behind. You get to see them in pieces and as a whole, in the distance and closeup, a fat sac of glowing eggs dangling above us as the mother crawls overheard. Gulp. When they fight you get to see the participants in full, the way a human action scene should also be shot.
There's some pretty good destruction and peril and what not. For those keeping track, this is indeed one of the disaster movies where a dog escapes. In one scene Johnson falls off a bridge into water, chased by both a burning, wrecking train and a flying monster. While some of the command center discussion scenes seem almost as stilted and stiff as the '90s Godzilla movies, the set pieces are mostly pretty inspired and well directed.
Famously, Ishiro Honda's GOJIRA: KING OF THE MONSTERS (1954) used the monster as a symbol for the devastation of the bombing of Hiroshima, and at least a few critics have argued that doing a(nother) Hollywood blockbuster version disrespects that serious subject matter, or something. Yeah, well, that's nice, but I don't know if they've actually seen GOJIRA. I saw it in a theatrical re-release years ago, and it's good, and it bummed everybody the fuck out. I was actually worried when that first teaser for this one came out that it was gonna be some kind of depressing 9-11 parable or something. Nobody wants to see that shit. With all due respect, none of you motherfuckers writing that shit would even know there was such a thing as a Gojira if he'd only ever been used in a parable about Hiroshima in the '50s. You're gonna pretend you never heard of the 60 years worth of sequels? No, Godzilla still exists because he fought a gold three headed dragon, shot death rays out of his mouth, did a flying dropkick, had a son he taught to blow smoke rings, fought against a robot duplicate of himself piloted by martians, dated a giant moth, etc.
(And if it's really such a big deal to you please note that the same point about Hiroshima is made in this one but actually spoken out loud so Americans can understand it without having to interpret metaphors.)
A more silly complaint I've seen from some of my militant purist friends is that it's an outrage to make a movie that has a computer animated Godzilla when before he was done as a guy in a rubber suit. Now, I am strongly in favor of a guy in a rubber suit (for a movie, not a fetish thing, come on now) but this is just such a superficial view of movies that it makes me sad. Do you like Godzilla for the character and the concept, or for the specific materials that he's built out of? If it's the second one then I gotta say buddy, it sounds like you actually don't like Godzilla.
I mean, I wonder where you draw the line anyway. Does it have to be the exact same technique from before, or does it just have to be outmoded? If they did it with a rubber puppet that looked like the old movies, but was not a guy inside, would that be a violation of the sacred trust or would it be acceptable? What if it was a guy in a suit but with animatronics so advanced it almost looked like computers? Would that be okay if you read how it was done, or bad because it looked too convincing? What if it was a guy in a rubber suit but CG augmented, and if so would they have to do a bad job with the augmenting or would it be okay to knock it out of the park?
And also, don't you think this probly was a guy in a mocap suit? What if the mocap suit was rubber? How do you know this wasn't a man in suit?
Personally, I think it is a good computer animated rendition of the character and destruction of Godzilla. If I need to see a guy in a suit smashing models I am secure in the knowledge that there are about 30 of those movies already in the Godzilla series alone. It's okay to try something new once or twice every six decades in my opinion.
Godzilla's enemies in this one are not any of the old classics. Just like an EXPENDABLES movie they feel they have to make the dinosaurs share the screen with some young pretty faces. They're called Male Muto and Female Muto, and they're pretty cool, they look like what would happen if Cloverfield fucked Gamera's enemy Gaos.

They're good opponents for Godzilla because they're physically opposite. They have long skinny limbs with extra joints, he has short stubby arms and fat ass thighs. They're slim and angular, he looks like he's been eating more than his share of cupcakes. One of them has wings and can fly, he does not have wings and cannot fly because he does not have wings. They're trying to settle down and start a family, they fight as a couple, he's still single and wild.
Edwards also does a little bit of my favorite thing in a monster movie: giving them some moments where they're just animals. The movie seems to think they're bad guys, but they're just following their instincts, they just think they're a male and a female looking to have some pups. A giant monster fuck scene where they smash a bunch of buildings that catch on fire and it looks like they have a bunch of candles around and then they go at it from like four different positions. Would be a good scene to have, but instead we just have to put two and two together that they were fuckin. But anyway they are lovers and we see them nuzzle each other, there is a real funny joke in this scene but it still humanizes the monsters, or monsterizes them. And when the female returns to the nest and finds that (SPOILER) the guy from KICK ASS aborted her entire brood she starts to cry, both because of this terrible thing that has happened to her family and because she remembers how everybody hyped up KICK ASS so much but she really only liked Nicolas Cage's performance and a few other aspects.
It took me a minute to figure out where Godzilla is coming from in this one. What does he have against the Mutos that he wakes up out of his slumber to kill them before they can have babies? Is he the King of the Monsters or is he just a huge fucking asshole? Did he have a thing for Female Muto back in the day and if he can't have her nobody can? That's fucked up, Godzilla. You need help bud.
Those monsters aren't doing anything wrong. They're just protecting their kids like all the human characters are trying to do. They don't know humans have feelings, they're just walking around, trying to have a family, trying to live the American Dream. Why the fuck does Godzilla want to protect the humans anyway? Is he the giant monster equivalent of an animal rights activist? And doesn't he remember that the humans tried to kill him, they dropped a bunch of nuclear bombs on him?
Then I realized that was the answer. They dropped bombs on him but he only absorbed their energy and became more powerful. He thought the humans were feeding him! That's why he loves us so much. That's how part 2 is gonna happen is he'll eventually get pissed off that nobody's bombing him and have to start smashing people to get results. Then they'll have to build Mechagodzilla because weapons make him more powerful, he can only be defeated by punching.
I don't think this is one of the Summer Popcorn Movie Classics, but it's a pretty impressive big budget debut and a solid Godzilla do-over. Welcome back big fella.