FIST OF FURY aka THE CHINESE CONNECTION is Bruce Lee vehicle #2. This one is a period piece with much higher production values than THE BIG BOSS. Bruce comes into town wearing a white suit (looking like today's pretty boy Korean pop stars, to be honest) and discovers that his master has just died. Bruce is playing the fictional character Chen Zhen, student to the real historical figure of Huo Yuanjia, who has become fictionalized in movies and legends. (For one version of Huo Yuanjia's life story see FEARLESS, where he's played by Jet Li.)
It's ironic that this story comes out of speculation over Huo Yuanjia's death, because speculation about Bruce Lee's own death would pretty much become its own subgenre. But that's later.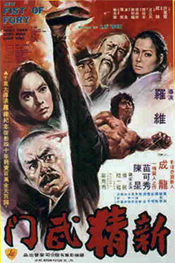 Chen does not take the death well. At the funeral he throws himself into the grave, even though he's getting the white suit muddy. Any time you have to get dragged away from a funeral because of your behavior it's pretty embarrassing, believe me. You regret it later. But Chen doesn't care, he just sits around brooding and refuses to speak or eat. If it was a different place and time I bet he would lock himself in his room and listen to The Cure.
It doesn't help his mood when some pricks from a Japanese dojo show up and tease the master's school with a gag gift sign that calls Chinese people "Sick Men of Asia." See, this is during Japanese control of Shanghai, so there's alot of tensions and mistreatment. So Chinese don't take kindly to Japanese guys coming in saying they can fight better or giving them unsolicited signage or calling them sick men. Also, it is possible that something is lost in the translation of that sign. "Sick men"? I don't know.
Whatever the deal is with "sick men," it makes Chen fucking furious. You can see it, he has Face of Fury. But the master said not to go around starting shit. (Rule #1: Don't go around starting shit.) So during the whole long confrontation Chen stands still lookin like steam's gonna come out of his ears Yosemite Sam style, but he doesn't fight.
Well, until a little later. Without telling anybody he's gonna do it, Chen goes by himself to the dojo and returns the sign. They can't believe the balls on this guy, but it's a "you have dishonored me" type of not believing the balls, not a "I like you, you should come work for me" type. He claims to be the master's worst student, then proceeds to kick the ass of every last motherfucker there, including the sensei. If there were people there fixing the thermostat or replacing the roof tiles he would've beat them up too. He debuts the nunchakus, which sound about as loud as a helicopter when he spins them. Then he makes a couple of those chumps literally eat the sign.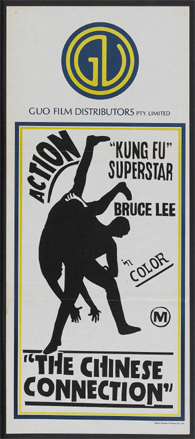 (It's funny, Japanese people also liked to tell these legends of somebody going into a dojo and challenging and defeating all of them in one session. Sonny Chiba did it in one of those KARATE BULLFIGHTER movies, for example, and he was playing his real life karate master. But he was doing it more out of cockiness and not really in response to any signs or other gifts.)
So you see,  it really is a fist of fury. The guy needs to calm the fuck down. I mean okay, I can't deny that it's completely awesome that he was able to take on all of those guys. But it speaks of a serious anger management problem. All this over a mean sign? Well, I guess not exactly. 'Cause he has a hunch – and he's right – that these fuckos poisoned his master. In fact, back on home turf he overhears some traitors talking about poisoning the master. He should go to the police or at least tell the others. Instead he kills these two, hangs them in the street and leaves.
Now he's a murderer, but even before that he had caused a huge mess. Beating up that entire dojo was pretty cool at the time, but they felt differently about it so they retaliated, wrecking Chen's school, beating up his friends and threatening to get the school closed down if they don't turn Chen over to the police.
The girl character finds him camping out at the master's grave munching on some animal he apparently caught and fired up. But nobody else knows where he is. He's in hiding. And he goes after the plotters CIA style, wearing disguises. He picks up one victim while disguised as a rickshaw driver (and lifts the entire rickshaw by the handles!), spies on the boss while pretending to be a nerdy telephone repair man, hides on the street wearing grey wig and mustache, reading a newspaper. The guy is serious. He's the Punisher.
There's a famous scene where he wants to go into a park but a guard stops him and points to a sign that says "NO CHINESE OR DOGS." But then he lets a dog in! It's the dog part of the policy that they're lenient about sometimes, not the human part. And this story takes place way before THE BIG BOSS, so it's not reparations for Bruce kicking a dog in that one. Bruce disagrees with the policy so he jumps up, kicks the sign off the wall, then kicks it again in mid-air and smashes it. When he lands he's crowded by a mob of admirers.
That seems like a good scene of a guy standing up for his people, but I wonder if it was actually kind of corny in the context of the time and place? That Shanghai shit happened a long time ago, maybe it was dumb for them to be obsessing over these anti-Japanese themes? That's why I kind of like THE BIG BOSS better. Its class themes are more timeless and universal than this pro-Chinese jingoistic stuff.
Also, come to think of it, this is the second offensive sign that he has defeated in this movie. This is really a movie about Bruce Lee vs. Signs.
We know from FEARLESS that Huo Yuanjia was a Chinese hero because he competed against fighters of other nationalities and defeated them. One of the famous opponents was a Russian wrestler, although in real life he only challenged Huo Yuanjia for publicity, did not fight him and actually apologized. Still, Bruce follows in that tradition and fights a Russian named Petrov. He fights him while Petrov is wearing a bow tie so it's pretty cool that he defeats him by punching him in the neck. Using that thing as a bullseye.
"Who says knight errantry is dead?" That's the translation of the lyrics in a song that plays at the end. Chen gets revenge for the master and is sure to take the fall for it so the whole school doesn't have to suffer. When the cops show up there's dead bodies all over the place. Chen gives himself up, probly figuring he will get to do a sequel along the lines of THE TRIAL OF BILLY JACK. But when he comes out of the building there's a line of soldiers waiting for him with guns, so he gets the Face of Fury again and jumps toward them, freeze framing in a permanent pre-death kick.
This is a real good movie, but this character is a nut. I wish he could've kept his cool. He only briefly practices his master's non-violent beliefs, and has to make a show of not enjoying it, like a kid pouting his way through church. Then he's all about getting in fights. I mean he literally must fight over a hundred people in this movie. He murders three of them and hangs them from lamp posts like they hung up those sharks they caught in JAWS. His actions cause the deaths of many of his friends and colleagues as well as massive property damage and potential legal troubles for the school for years to come. I mean, maybe there was a better way to handle all this, is what I'm suggesting. No offense, Bruce.
This entry was posted on Friday, April 23rd, 2010 at 2:07 pm and is filed under
Martial Arts
,
Reviews
. You can follow any responses to this entry through the
RSS 2.0
feed. You can skip to the end and leave a response. Pinging is currently not allowed.