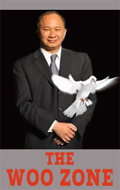 Some of you young kids might not know about The Curse of Van Damme. It was an early '90s phenomenon named after (but not necessarily caused by) our favorite Belgian kickboxer/actor because of his track record for personally delivering talented Hong Kong directors to Hollywood. They'd come over, inject our action movies with a very small watered-down dose of what they had been doing back at home, then their bodies and minds would be completely drained by the studio beasts, leaving them hollow husks whose names on movies were no longer desirable. I mean you got John Woo – who used to wear his heart on the back of his director's chair, who used special cameras powered by liquified male bonding and typed his scripts in inks made from tears of passion – directing a movie so obviously for a paycheck that, in my opinion, it was even titled PAYCHECK.
But the curse can be broken. Six years and no theatrical releases later John Woo returned home, filming a Chinese movie for the first time in 17 years, and what he came up with was a motherfucking masterpiece. The damn thing is so powerful somebody tried to chop it in half and it just grew into two complete movies. Whoever did it I bet they just ran away because they knew if they chopped those in half you'd have four RED CLIFFS and they would conquer the earth, guaranteed.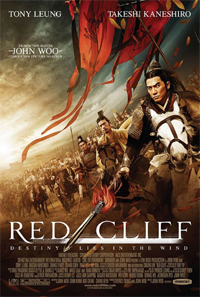 These came out in '08 and '09, so there's been plenty of time to watch them. But some of you guys probly haven't seen 'em, and can relate to me on this: I was intimidated. I mean I heard alot of good things, but you know, it's a Chinese historical epic, and it's 2 hours and 20 minutes just to get to the halfway mark. It's one of those things you want to do, you plan to do, but you rarely feel like doing it. Like working at a soup kitchen. But then I watched those BETTER TOMORROW movies again and I promised a return to the Woo Zone and I decided it was time to bite the bullet. Or I guess in this case the arrow, there aren't guns in this one. Maybe that's all Woo had to do to reinvigorate himself, switch up the projectiles.
I gotta tell you, it was tough going at first. This is a movie based on very famous Chinese history and legends, stories and characters that Chinese audiences are familiar with, that you and I never fuckin heard of. And there are a couple different factions and a whole bunch of different characters and although they do a good job of distinguishing them from each other visually I wasn't able to remember which name was which face, so then when they're talking about each other I don't know who they mean and I get kind of lost.
So about an hour into the movie I was thinking okay, this looks beautiful and has some really cool scenes and stuff but I don't think I'm gonna be able to get through this whole thing yet. I'll just struggle through part 1, return it and rent it again for part 2 some other time.
But then the battles started, the crazy fuckin battles. I don't know how much this is supposed to be based on real shit, but it seems even more exaggerated than 300, and with a bigger scope. The first big battle is like an endless parade of inventive action. Remember the phalanx in 300, where they hold their shields together to form kind of a metal wall? In RED CLIFF they do it in tortoise formation, a giant circle of interlocked shields, and at one point the camera actually pulls back as the phalanx morphs into a giant tortoise. They use their shields to block opposing soldiers inside one big metal corridor, then joust them. They trap them inside a big circle, toss in a bunch of nooses and drag them out of the circle so they can spear them. You know – the ol' noose 'n stab. When the bad guys form a little tortoise themselves the good guys loop around them with a rope with metal things strung onto it and just crush the whole fuckin turtle shell. Squoosh. Super Mario formation.
By the time part 1 ended I was on much more comfortable footing, I felt like I mostly understood who was who and what was going on and I abandoned plan A (return DVD to store without watching part 2) for plan B (immediately put in disc 2 and find out what happens because this shit is awesome). And part 2 begins with a little "previously on RED CLIFF" type recap that makes it all seem so simple, I wondered what I was so confused about.
But you won't even have the same trouble because I want you to see this movie so bad that at the end of this review I prepared the visual guide I wish I had had to help me understand who was who during that first hour. You know how at an opera they give you a thing that tells what the story is, and you're familiar with that before you watch the opera? Yeah, me neither, but I think I read that somewhere. Anyway, if you're intimidated just use my cheat-sheet below and you'll be fine.
* * *
I'm pretty sure RED CLIFF is the HUGEST fucking movie John Woo will ever make, but he's still John Woo, so he spends alot of time focusing on the small and intimate things too. That's the visual theme I noticed most: zooming in on small things while GIGANTIC things are happening in the background. The opening scene is all about the Emperor focusing his attention on a bird in his throne room, while he's clearly ignoring the drums of war. The drums are metaphorical, the bird is literal, and he sits and whistles and smiles at this little bird that flew into his huge throne room while his entourage seems embarrassed and uncomfortable. The Emperor is very feminine and gussied up like Queen Amidala from the Star Warses, and his gruff war hero chancellor Cao Cao stomps in ahead of his troops and yells at him and guilts him into letting him go start some war. You can tell the Emperor doesn't want the responsibility of knowing the right way to handle this guy. He'd rather be playing with the bird.
That type of imagery keeps coming back, for example when Zhou Yu holds up his feather-fan to compare to his troops standing in "goose formation." The story focuses on this group of leaders and strategists in the middle of giant armies, it's about the tiny within the huge. And the shot at the end of part 1 demonstrates this the most: it's an incredible 2 1/2 minute continuous (heavily digital but very real looking) shot that follows a messenger pigeon flying from Red Cliff, across the river, over entire armadas, down to the river bank over the armies on horseback, through a stadium where a soccer-like game called cuju is being played, and then Cao Cao says that "for the Battle of Red Cliff I am ready…" It's an awe-inspiring shot (apparently one of the most expensive CGI shots to date) that's a metaphor for the whole movie, a map of the locations for part 2 and a heart-pounding Oh Shit It's On cliffhanger… all at the same time.
(if anybody ever ends a part 1 out of 2 in a similar fashion again it will be called a redcliffhanger)
Another way that John Woo gets intimate is with the badass juxtaposition. And there are alot of badass characters in this movie so there might be a world record amount of badass juxtaposition. We got the guy whose wing-fan "keeps him calm." We got warriors who bond by jamming together (I wrote down that the instrument is called a "quim," but the internet doesn't seem to back me up on that). We got a guy who weaves sandals (both a calming hobby and a symbol of weak grass working together to become strong). We got a guy who takes care of the messenger pigeons and carefully bathes them.
There's a long section of the movie where my man Zhuge Liang first helps out a peasant whose water buffalo was stolen by soldiers, then somebody runs in yelling "It's a breech birth!" and next thing you know he's helping deliver a baby horse! He names it Meng Meng and has to promise it won't be used as a war horse. There should be an animated spin-off about the Young Meng Meng Adventures.
There is talk about tea ceremonies. In Part 2 they say that Cao Cao wouldn't appreciate the art of tea, and sure enough he gets a chance to show he's not that interested. On the other hand he is into poetry. It's partly in an aggressive way ("I am still waiting to carve my poetry onto that cliff!") but also he uses it ceremonially, like he recites poetry while they burn the bodies of plague victims.
But in order for there to be badass juxtaposition there has to be a proportionate amount of badass. Otherwise you just got a lime wedge or a maraschino cherry in a big empty glass. Some of these epic battle movies bore the shit out of me because they're just a crowd of dirty dudes yelling and running at each other with swords, they don't got enough moves to keep my interest. Not RED CLIFF. This is part 1, only the preliminary battles, but it still tears through a long list of clever war maneuvers and superhuman asskicking techniques. There's stabbing a guy with an arrow by hand, there's yanking a guy off a horse by the flag, there's the scene where they flip their shields around to reveal reflectors that shine sun into the eyes of the horses and make them all crumble to the ground, there's FONG SAI YUK type overhead crowd walking, all kinds of shit. In a coincidental tribute to the most iconic image in HARD BOILED, there's a scene where a guy carries a baby through a massive sword battle. In part 2 there's another John Woo staple: a Mexican standoff. But with swords. A Han Dynasty standoff, I guess.
Let me give you one small example of the level of awesomeness in this movie, courtesy of Zhang Fei. This guy doesn't even need a weapon, he can run through a platoon of armed men, beat the shit out of them, ruin their weapons, and ram a horse:
One of the top uses of horse-ramming in modern cinema. And that's not even the end of the scene. After that he steals the horse and takes his side's flag back.
Once I got into the Woo Zone RED CLIFF was the most exciting movie I'd seen in a long god damn time. To me it was a similar feeling to watching the LORD OF THE RINGSes. It's every bit as cool without even the aid of monsters or wizardy magic of any kind. Of course it reminds me of other movies with armies and epic battles and martial arts and swarms of arrows, like HERO. But it also kept reminding me of STAR WARS. Well, mostly the prequel ones, but bear with me here. The heroes of this movie are just like the Jedis, larger-than-life warriors running around leading these huge battles, knowing all the crazy moves, putting themselves on the line, also wearing robes and using swords. And I know it's based on actual history but I was still impressed by the wide selection of vehicles, weapons, armor style, etc. There's alot of nice things to look at.
Part 2 doesn't immediately launch into battle like I kind of expected, but by this time I was really into the characters so I was kind of glad it didn't. In this part Sun Quan's sister Sun Shangxiang, having convinced all the dudes that it is okay for a woman to go out and do shit, goes undercover as a soldier on the other side of the river. In her armor she passes for a guy, MULAN style, and turns out to be real good at cuju. She makes friends with a moronic prince, they even have a nickname for themselves together Pit and Piggy. But she's not really fat enough to be called Piggy, she just looks fat because she's wrapped in the detailed maps she's drawing of all their side's military formations. She's taking advantage of his stupidity and willingness to help her, but she obviously likes him and feels that old bonding and guilt familiar from most John Woo movies and all undercover agent movies.
There's other unexpected friendship and betrayal going on. There's a guy from Cao Cao's side allowed to visit the Red Cliffers because he was childhood friends with one of them, he tries to convince them to surrender and instead they send him home with false information. But they feel bad about it, even though he tried to screw them. "I have lost an old friend."
Part 2 is alot of fun because it's so full of clever strategy and tricks. Stuff like predicting the other side's plan based on what they think the weather will be, and defeating that stategy based on superior knowledge of weather prediction. Inventing firebombs made of eggshells, fish oil and gun powder. My favorite part, maybe old hat for Chinese people but I never heard of this one, is the part about Zhuge Liang's promise to get 100,000 arrows. He has a really clever way of getting the arrows, and when a miscount makes it seem like he's a mere 400 short of the 100,000 he's fully prepared to honor his bargain, i.e. let them chop off his head. They get pretty fuckin close. Would've been a mistake. Glad they didn't fuck that one up.
Cao Cao has some good moves too, like when his men start getting Typhoid fever so he floats their corpses over to the other side. Pretty fuckin harsh. Hey, could you guys take care of these bodies? He's shown not to be 100% evil though, too. He feeds a sick man, and talks to him about his son. He has a heart. In fact, that might be his biggest weakness. When his guys figure out that the war has something to do with him having an old crush on a girl they seem pretty pissed.
There it is again, the small and intimate inside the huge and epic. And it's kind of the point. All this war, all this death, all this heroism and sacrifice, all this cunning and bravery, all because some stupid asshole saw a pretty girl one time and missed his window and never forgot about it. If it happened to most people it would just be an embarrassing thing they might get over with help from their therapist. But this guy is in a position to start wars over it. In his mind I'm sure he convinces himself that it's not really about that, it's these two warlords, they gotta be stopped! But if there was no girl involved, let's be honest, he would've thought of something else to do with his time I bet. And we've loved watching these warriors and all the cool things they do, but we realize they're not really fighting for a cause. They're just fighting against some bullshit.
They shouldn't even be put in that position. They should be left alone to play music and cuju and make sandals and shit. Cao Cao could come over and say his poetry at their jam session, and learn more about tea if he wants to. And then the pigeon guy could talk to the Emperor about birds, and Zhuge Liang could become a veterinarian. These guys all ought to be friends.
It started with a bird and it ends with a horse, returning to Meng Meng. He's able to just be a horse, not a war horse. And hopefully all the humans were able to go on living without having to be war humans.
Even if this movie weren't as great as it is it would be satisfying just to see John Woo get a chance to spend this kind of money to put this type of hugeness on screen. I mean, it's not even his biggest budget – according to IMDb's estimates it cost $80 million, about $45 million less than MISSION: IMPOSSIBLE II. But if you were just gonna go by what appears on screen, RED CLIFF looks like about 75 times the budget of that one. As hard of a time as he has working in Hollywood there's no way this one was easy, with all these gigantic scenes, whether working with hundreds of extras or faking it in computers, it all must've been a nightmare. Not even including all that stuff about how they were having to rewrite the script and Chow Yun Fat backed out at the last minute and all that. This is a once in a lifetime movie by a genius director somehow climbing back to the top of his game years after everybody gave up on him ever making a halfway decent movie again.
It just goes to show you shouldn't completely give up on anybody. In the movie there's a point where Lui Bei feels he has to back out for the good of his people, and everybody is bummed but they understand and say their goodbyes. But then he shows up again when he's most needed, with a "you didn't really think I would abandon you?" type of attitude. And that's just what John Woo has done to us. Ladies and gentlemen, John Woo was back. I'm not gonna say he is back because if I were him I would go take a nap for about 20 years.
Clip and save my unofficial RED CLIFF VISUAL GUIDE!
Disclaimer: Contains spoilers. Might be hard to follow along with while watching movie.  Outlawvern.com not responsible for damage to computer monitors caused by overly literal interpretations of instructions