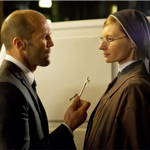 REDEMPTION, huh? 'Bout time somebody made a movie about redemption.
Okay, this might tie WAR for "most generic Jason Statham title" (except in the UK, where it has the more-distinctive-for-a-Jason-Statham-movie title HUMMINGBIRD), but the movie itself is something else. Written and directed by Steven Knight (the guy that wrote EASTERN PROMISES), it's in the BLITZ category of serious-minded British crime dramas where Statham gets to beat the shit out of a couple people without it really being an action movie. They hired him more for acting than action on this one.
Stath plays Joey, a.k.a. Crazy Joe, a homeless crackhead who was an elite commando in Afghanistan until he lost it, committed war crimes and went AWOL. You think that's different from most Statham characters, wait 'til you see his long hair!
Fair warning: part of what I enjoyed in this movie is not knowing at all where it was going. Not like there's plot twists or anything, it just is surprising what he does and where the movie puts its emphasis. I guess alot of people wouldn't like it anyway, maybe they should know what they're getting into.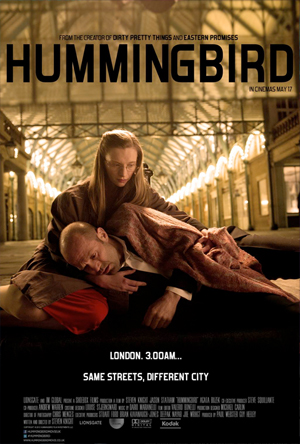 One day Crazy Joey is on the run from some organized crime guys that harass the people living in boxes in this one alley, and he finds sanctuary in a fancy apartment where nobody happens to be home. He ends up figuring out that the owner is gone for the summer, also he finds a new debit card and PIN number in the mail. So, hey, treat yourself. He decides to live here for the summer. Cornered by neighbors, and having noticed homoerotic art on the walls, he tells everybody that he's the home owner's boyfriend.
There might be some self-reflexiveness in there somewhere. There's that whole thing in the TRANSPORTER movies where you can read him as being gay, and now here's Statham playing a straight guy playing a gay guy. And it's a modern idea of a gay guy. The owner of the apartment is a wealthy artist, apparently liked by his neighbors and the art community. Neither the artist himself or Joey's portrayal of his fictional boyfriend are effeminate drama queens or any other kind of minstrely stereotypes like you would have in, say, a movie by the CRANK guys. He just acts polite, that's how he acts gay.
So he's got this nice crib and seemingly endless pool of money, but he still wants to work for a living. He has a job in the kitchen of a Chinese restaurant, but everybody there knows what a badass he is so they get him to come out when a bunch of soccer hooligans gotta be 86d for being too hooliganistic. This ends up getting him discovered for a high paying job as an enforcer and dirty worker for the Chinese crime family that owns the place.
As he rises from long-haired junkie bum to high living Transporter, Crazy Joey also has this idea of wanting to be "a good man." He focuses most of these efforts on sister Cristina (Agata Buzek), a nun he knows from a soup kitchen. He gives her money, delivers her 45 full restaurant meals, personally cooks her dinner on the street, whatever he can do to feel good about himself.
Buzek is far from the typical female lead. On her IMDb page she looks like some twiggy fashion model, but in the movie she really looks like she could be a nun – not bad looking, but birdy and unglamorous, even when wearing the fancy red dress he buys her. The movie hooked me early on when it took an odd detour from Joey to deal with Sister Cristina bringing the money he gave her to the Mother Superior (Ger Ryan) and struggling with the ethics of accepting it. She's more uptight about it than her boss is. But later we get to know her better and she is very flawed and human and relatable.
This isn't a high concept type of story, like "he has to find out who framed him for murder so he can defuse the bomb in time" or whatever, but there ends up being a goal (find out who killed his homeless girlfriend Isabel and go after him) and alot of ticking clocks. There's the date when the real owner of the apartment who is not actually his boyfriend comes back. This is also the date of a ballet that Sister Cristina has tickets for and wants Joey to go to, so you know that's gonna be important. Also the police are closing in on AWOL mafia troublemaker Joey. And also Sister Cristina is planning to get transferred to Africa to get away from all this. Nothing personal. It's not you, Crazy Joe, it's me.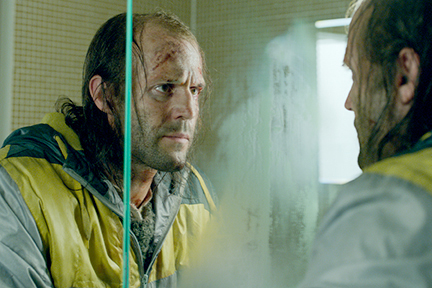 I'm sure some people will say this isn't what they want from a Jason Statham picture. It takes longer than expected to turn into a story about a guy going to revenge the shit out of another guy. But to me that's why it's cool. It's a surprise to see this type of relationship he has with the nun, and for that to be a bigger part of the movie than breaking people's wrists. In some ways this Joey is more fucked up than previous Statham characters, yet he seems genuinely sweet the way he looks at her, and he even smiles sometimes. He's revealing his soft side to her, against her wishes, but we also see him threatening innocent, hard working families over protection money. He even helps out with some human trafficking ("the job nobody wants" even within the crime organization), without showing any signs of guilt. So he's complicated.
It makes sense that this is from the EASTERN PROMISES guy. It's a quiet, character-driven crime drama, it has an immigrant crime family working out of a restaurant in London, a good man deep in the crime world getting to know an innocent woman. In a way it's lighter – some of their crimes they're able to run away laughing like kids. On the other hand this Crazy Joe is darker than Viggo Mortensen's Nikolai, more fucked up and convinced he's doomed.
If Statham keeps doing movies like this every once it'll be easy to forgive him for the mediocre ones.