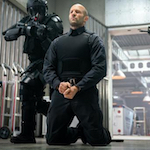 WRATH OF MAN is a pretty different type of Guy Ritchie movie. It certainly shows some of his interests, his directorial chops, and his long relationship with filming Jason Statham. And okay, it also has some of that lightning quick snappy banter between the fellas, some of which I couldn't follow at all. And it has Josh Hartnett playing a character called "Boy Sweat Dave." I'm not sure I can picture that being in somebody else's movie. Guy Ritchie is the Boy Sweat Dave type.
And yet this is a different style (a more calm and controlled type of flashy) and tone (less flippant, more foreboding, and even mythical) than what we expect from him. It doesn't have freeze frames with character's names as they're introduced, but it does have four sections with pretentious chapter titles. A trend I very much approve of.
It's a remake of a 2004 French film called LE CONVOYEUR (or CASH TRUCK), which I could only find on VHS with no subtitles (update: I got to see it on a Region B blu-ray so here's my review). But this seems to me like it's playing off of two American traditions: pulp crime novels, and movies that try to be like HEAT. I can enjoy both.
Statham plays H, a new hire at Fortico Security, an armored car service that not so long ago had two of their guards killed in a robbery. We watch H calmly and quietly go through the firearms and driving testing and training from Bullet (Holt McCallany, MONSTER TRUCKS), never excelling, but not being self-deprecating about it. We know something's up because this is fuckin Statham in serious mode. He's not acting like just some dude, but he's testing like one. So he must be holding back.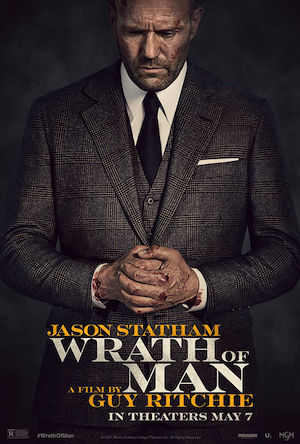 And of course our hunch was right. Ritchie slowly lays out implications, then flashbacks, that form a picture of the backstory. He has a personal grudge stemming from the aforementioned robbery; it also killed his son Dougie (Eli Brown, Gossip Girl), a bystander, and he's on an undercover mission to find the shooter and the mole inside the company. And there's more to it than that, too.
To be honest, in the early scenes where the boys at headquarters and in the locker room are all bantering, I had trouble following what the fuck anybody was talking about. And H has some line about Impossible Meat that I think indicates he's vegan? I'm not sure why. The point is that it didn't matter. Don't try to understand it. Feel it. I can get a kick out of Guy Ritchie stuff, but it's once the Guy Ritchier stuff is out of the way that this one really digs its claws in.
The verification that this is early-Deckard-Shaw Statham and not hooked-up-with-Hobbs Statham comes early on the job when their car gets held up and previously tough-talking Boy Sweat instantly melts into a mumbling mess. H ignores all protocol and, with the precision, composure and economy of movement that movies use as shorthand for "this guy is a professional," rescues Bullet and executes all the thieves. In a funny touch that explains how one guard could suffer numerous armed robbery attempts, H is assigned therapy and desk duty but the idiot CEO overrides it because he thinks he's awesome. But the movie is still novelistic enough to skip over a few months before the next incident. Obviously this shit doesn't happen every day.
The opening scene, the robbery gone wrong that kicks off the whole story, has a cool directorial touch: the camera stays in the back of the truck the whole time, watching the guards from behind, sharing their perspective through the windshield as a construction crew blocks them in, hearing the threatening voice over the radio, seeing the thieves as they cut into the side of the truck, hearing gunshots outside and panicked discussion over the radio. But as the movie progresses the story slowly pulls out wider to show us more context and more points-of-view – even ditching H for a while to tell us who the armed robbers are, like a Parker novel – and when we eventually return to that robbery we're on the outside of the truck this time and we have way more information. We know what the thieves are thinking, which one of them fucked up, why H's son was there, and why he got shot.
Two other sorta show-offy directorial touches I like:
#1: When we see the robbery through H's perspective he runs in after his son and gets shot, and as he lays on the ground he stares at the shooter's eyes, which completely fill the screen. We know those eyes, because it looks like a Sergio Leone closeup of Clint Eastwood's eyes. Because it's Clint's son Scott Eastwood (TEXAS CHAINSAW 3D, FURY, SUICIDE SQUAD, THE FATE OF THE FURIOUS).
#2: Ainsley (Jeffrey Donovan, CHANGELING, J. EDGAR, SICARIO), the ringleader of the thieves because he was their general in Afghanistan, has a loving wife and daughter who must have no clue what he's doing, and he acts normal and ushers them out the door the morning before the risky climactic Black Friday score. The camera stays on his back as he hugs his wife extra long and tells her how much he loves her, and we see her face over his shoulder, wondering for a second if something is up, then letting it go and heading to work. Seconds later the ladies are out the door, the house is quiet, and the general's on his phone calling in that he's ready to start.
Ainsley and Eastwood's character Jan end up sort of at odds – the guy who, yes, is a thief but is disciplined and loves his family and seems to sincerely want to provide for his men who he feels deserve more for what they did in combat, vs. the young arrogant guy who's too trigger happy and greedy, and spends his money on flashy shit against the orders of Ainsley, who knows that could call too much attention to them and take them all down. I have historically had a soft spot for Eastwood just because he looks so much like his dad (but shorter), and here he's got the western beard and everything. But this character plays into the more negative view some people have of him, which I think is a smart idea. He's all smirking and muscly, he's got an amazing place in an old building, and he wears a bathrobe and pours himself a glass of Scotch – you really want to see this fucker go down.
This is a strong movie – full of thrills, and some laughs, but grimmer and meaner than you might expect. It's stylish and well-directed but neither in a trendy way or as a throwback. It shows that Ritchie and Statham are both still very capable of doing interesting work without exactly repeating what they've done before. So, good news – Statham and Ritchie (and Hartnett) already shot another movie together, a spy movie called FIVE EYES. Statham's character is named Orson Fortune. I'll be there.