I've been writing Expendables-related reviews for weeks because to me that was the movie event of 2010. That's just the way I was raised. But according to The Internet the most important and historic release last weekend, possibly this year, possibly in our lifetime, most likely within this epoch, and almost for sure within whatever is a hundred times bigger than six epochs, or at least since KICK ASS… is this movie for the youths called SCOTT PILGRIM VS. THE WORLD. It's based on a comic strip of some kind, which explains why it's so historically inaccurate. They don't even mention the Mayflower once, and it's a total whitewash of what we did to the Native Americans. To be fair it does take place in Toronto. Maybe their pilgrims were different, I don't know that much about it.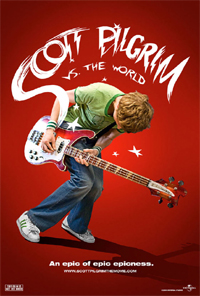 Michael Cera (Skander Halim's I Was a Sixth Grade Alien) plays Scott Pilgrim, a 23 year old unemployed (?) individual who plays bass in a living room band and dates a 17 year old high schooler (not sure what the Canadian laws are about that) named Knives, but then he has a dream about a blue-haired girl with goggles and rollerblades and then he meets her in real life so he becomes obsessed with her and gets her to reluctantly hang out with him and it seems like she doesn't like him at all and one could hardly blame her but then I guess they're in love or whatever so he finds out he has to fight (and kill) all of her ex-boyfriends, who have super powers, and also there is some sort of a battle of the bands.
The movie has a funny Clinton-era magic realism where everybody can do sped up cartoon kung fu fighting with Nintendo sound effects and powers and in one part suddenly their lives are scored with the Seinfeld music, but none of this surprises anybody, they're used to it. The blue-haired girl is American, and when she tries to explain that she was in his dream because she has the ability to travel through his mind as a short cut, she says "I forgot you guys didn't have that here." And I like that the movie just lets that go as if Canadians need to accept that there really is such a thing in the U.S. Too bad it's just kind of a random throwaway thing that doesn't come back again as far as I could tell.
To give you an example of how much this is like a video game, when Scott defeats (i.e. brutally murders) the ex-boyfriends their heads explode into a bunch of loose change, which he collects. I assume it's Canadian change, but I couldn't really see it clearly. I don't think they ever specify what he spent it on. If I were him I'd problay spend it on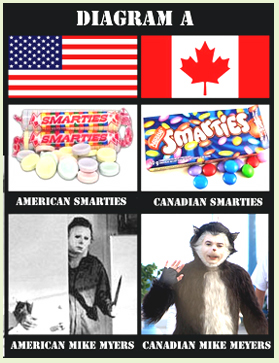 Smarties, which are a good candy they have in Canada that's completely different from the American candy that's also called Smarties. Theirs is a chocolate M&M type of candy. I mean really, if you think about it that's proof that Canadians and Americans are totally different. Judged only on that basis – the Smarties basis – Canadians are superior to Americans. Fortunately we have other strengths to even it out (see diagram).
The appeal of the movie is in the style and the high level of absurdity. The director is Edgar Wright, who gave no hint in SHAUN OF THE DEAD or HOT FUZZ that he could make a movie this visual. It's extremely well put together, obviously storyboarded left and right because there's so much thought put into the cuts and scene transitions, and the way dialogue continues from location to location. Also there are many visual effects to cartoonify things – floating text boxes, sound wave lines, stars and lightning bolts floating out of musical instruments. Kinda reminds me of those cartoon rock videos by The Gorillas.
Every once in a while some of it goes by too fast for my old top floor to process, but for the most part it's good visual communicationing, not just frantic hyperactive bullshit like most people would do. Tony Scott won't be able to make heads or tails of this one, it's too clear and sensible.
I'm sure there's specific video game references that are too recent for me to pick up on (I haven't got past Ms. Pac-Man yet), but there's all kinds of Nintendo-y sound effects, even a video game version of the Universal logo and theme. And it gets laughs and smiles from casually revealing new ridiculous video game realities, like if he matures ever so slightly he gets more powerful and a magic sword comes out of his chest. Man, it's a good thing I watched all those Mortal Kombats and Street Fighters and what not so I had some idea what was going on. Shoulda brushed up on my Mario brothers too.
It's a pretty funny movie. Not hilarious, but there's some goofy characters and some good lines, and a very positive vibe. My favorite character would have to be Knives, the high school girlfriend who he dumps. She has a naive enthusiasm where she worships this dude and his stupid band because to a high school kid that kind of bullshit seems impressive. She's hard not to like, like a little puppy who doesn't shit all over the floor or anything and you don't have to remember to feed her. Just all the positive aspects of the puppy.
SCOTT PILGRIM is a very unique and well-crafted piece of filmatism. I would say I liked it overall, but I don't think it has enough under the hood. Maybe on another day all the style and silliness would be enough, and that would be legit. But it is about this kid and his love life, and he sort of announces sitcom-style that he learned a lesson at the end, so it seems like you're supposed to relate and connect to it emotionally a hell of alot more than I did. It didn't really seem like she liked him much, and I don't see why she should. He's kind of a self-absorbed dick, so I didn't really feel sorry for him either. I'm sure there are plenty of nerds like him who pined after a blue-haired girl but didn't get to sleep with her like he did. So cry me a river, kid.
I'm not exactly sure how to describe the fighting, but it's perfectly executed for what it is. The actors zip through from exaggerated pose to exaggerated pose, and have super-powered punches and jumps and stuff. I'm not even sure how they shot it, it's all very artificial looking but fits in well and didn't seem like it was hidden by quick cuts or anything. It creates a good video game feel. But for some reason to me it doesn't have the action movie thing of watching to see what'll happen or for the beauty of the movements and momentum, or even getting excited at the prospect of a fight coming up. I definitely never though "oh boy, I'm so glad there are still five more ex-boyfriends to fight!"
I guess I didn't care about his love life or if he got beat up and it's not supposed to seem real, so there's no tension. To me it comes across more like an amusing joke than a traditional choreographed fight. You smile to see that kid moving like that, then it's time to move on to the next joke. So I gotta admit I was getting a little bored by the last couple fights.
Trying to put my finger on my reaction to this I thought about the C's A's movies (dir.: McG) and TORQUE (dir.: J. Kahn). They're just as purposely silly and style-over-substance, and probly much stupider, but in those I didn't care that I didn't care about the characters. I think the difference is that they're intentionally empty, and I don't think they'd be as amusing if the characters had more humanity. With SCOTT PILGRIM I think they're supposed to have human emotions in a cartoon world, that you're supposed to care about the relationship. I mean that's all there is, that's what the whole thing is structured around, to the extent that there's any structure. I think I'd enjoy the movie way more if I cared about these kids, and that's the difference.
I got a theory about the internetical coverage. My theory is that Edgar Wright is a real cool guy, and everybody who meets him wants to be his buddy. These guys all meet him at the Comics Con and the set visits and the press junkets and promotional screenings and they want to please him. He's one of those directors who got issued a watermarked Geek Pass signifying "he's one of us" approval from the boys and unwavering support for any movie they do. Harry, Drew, Devin, Beaks and all those guys have been hyping this for a year or more based on set visits, interviews, rough footage, even covering celebrity twittering about rough footage. I'm not trying to call them out, those are just the websights I read so I noticed them all doing it with this movie and KICK-ASS. They would've liked the movie anyway, but from the outside here it looks like their closeness to the production and inside knowledge of what the filmatists were trying to accomplish whipped them into a frenzy and magnified it from unusual little movie to mind-blowing, pants-wetting masterpiece (or as Drew put it, "a genuine, no-joke, out-of-the-ballpark masterwork, a pure expression of voice in service of a potent metaphor, an amazing ensemble comedy that works on the emotional level of the most joyous and romantic of the great Hollywood musicals… a jaw-dropping visual experience, and a sonic assault of pure pleasure…" and that's just the first paragraph of his review).
"The Expendables may have kicked its ass over the course of three days, but that movie will vanish from the minds of moviegoers within a couple of years (at most), while Scott Pilgrim will retain a following for decades to come." —/film". . . . . . . . . . "There are movies opening this weekend that nobody will care about in a year; people will be packing theaters for revival screenings of Scott Pilgrim vs the World in 20 years. This isn't just a great movie, it's an important one." —ChudAt least two of my internetting colleagues are convinced this will be a beloved classic in 20 years. I don't know, I guess it could happen. But my guess is they'll lower their grade to about a B- in 2 or 3.
I noticed that a couple of the reviews talking about the deep themes and powerful love story of SCOTT PILGRIM are by reviewers who also did set visit reports, and I don't think that's a coincidence. There's not a quid pro quo there, I'm not saying that. I'm just saying that you and I will need to travel through time and to Toronto and watch them film some of the scenes and conduct interviews with the director and cast in order to get the full understanding of the movie required to love it that much. If you aren't willing to do that kind of legwork of course you're not gonna 'get' this movie. Come on, lazy bones. Get off your ass and do the set visit and interviews.
But that's just my theory, I might be wrong. I should keep in mind that I never seem to dig on these Edgar Wright pictures as much as the rest of the world, anyway. I'm happy with "Hey, that was pretty funny," and the rest of the world says 'THAT IS THE GREATEST MOVIE OF ALL TIME, I ORGASMED FROM BEGINNING TO END, I'M GONNA WATCH IT EVERY DAY UNTIL I DIE!!!!!' (–Ain't It Cool News). So maybe it's got nothing to do with interviewing the director and cast members about their intent in making the movie. For some reason SHAUN OF THE DEAD and HOT FUZZ just don't hit me right on the button like they do for some of you fellas. Maybe it's just genetics? I don't know.
Hey, I did notice that the guy who played Superman, the guy who's gonna play Captain America and one of the three Punishers have small parts in this movie. So that's kind of like a comic book reference. That was a pretty good observation, right? I wonder if I could get one of them Geek Passes, just in case I need it for something, you know? Probly not, they probly do a background check. Oh well.
Anyway, on this one I could just be projecting my own hangups on those other guys. I've emailed a director or two in my time (hello Albert Pyun – good to see you here). But I feel weird about all that because as soon as I realize the director of a movie might actually read my review I think "oh shit, I hope I didn't say anything mean." You get self conscious, you want to be cool, you want to be the guy that really gets it. I'm not a comic strip collector but I think Edgar Wright seems cool too. I know when he came through Seattle to screen HOT FUZZ he also brought a print of BULLIT, and I think he's presented more than one screening of our beloved DEATH WISH 3. He also has read some decent books now and then judging from this twitter Ellie from Titan Books forwarded me a while back.
And as soon as I read that I thought "oh shit, I hope I didn't review one of his movies in there." I don't know, maybe I should watch SHAUN OF THE DEAD again. I mean I did like it, but people always… I mean I just didn't–
ah shit, there I go, see? You get self conscious, man.
So here's the only thing I can do. I'm not gonna ever do set visits and all that shit, but I would like to be his internet buddy in order to prove that you can do it without blowing a bunch of smoke up his ass about how he created a "milestone in cinematic language." To prove that you can just tell him his movies are funny and not the funniest. I want to be the one guy that twitters him to say
"@EdgarWright Hey dude saw your new movie, it was pretty good, pretty funny in parts. overall somewhat recommend to some people. thumbs up"
I bet he could handle it. So Edgar Wright, if you ever read this (and believe me, there's no shame in having a Google Alert for your name. Albert Pyun has one for example), I have a hyperbole free message for you: you got some talent there, buddy. Hey, way to show effort! Way to show improvement. It was very… unique. So keep practicing, Edgar. Don't give up, champ. It wasn't that bad. I enjoyed it! No, really, it was, you know, pretty good! Remember that part in DEATH WISH 3 where he had that girl in the car and then it just rolls backwards down the hill and then blows up? Well, gotta go dude catch ya later
Seriously though bud, you're getting good with the filmatism. But don't let those goofballs give you a big head. They just get excited, you know.
. . .
. . .
. . .
DISCLAIMER 1: alot of the reviews and comments I've read seem to have strong opinions about "hipsters" or "hipsterism" in this movie. I've seen this come up before, I know it has something to do with the arch nemesis of nerds, some new super power who I guess have replaced their primary enemy of the 1980s, jocks and Ogre. But I still have no clue what this "hipster" is that they fear so much, so I might not understand that aspect of the movie.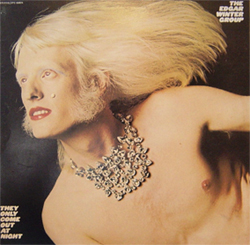 DISCLAIMER 2: If there was anywhere in this review where I wrote "Edgar Winter" instead of "Edgar Wright" then I apologize. I genuinely wasn't trying to be funny, but every time I go to type his name that's the first thing that comes into my head.
This entry was posted on Thursday, August 19th, 2010 at 6:23 pm and is filed under
Comedy/Laffs
,
Reviews
,
Videogame
. You can follow any responses to this entry through the
RSS 2.0
feed. You can skip to the end and leave a response. Pinging is currently not allowed.