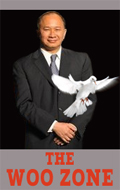 I don't think I've seen John Woo's BULLET IN THE HEAD since the early '90s. It was a double feature with HARD BOILED, and I remember seeing a guy walk out during a scene involving American P.O.W.s. I thought it was crazy that after the unparalleled gun violence of HARD BOILED there would be violence in the next movie that somebody couldn't take. But obviously with the historical context it cuts a little closer to the bone, especially if that guy was a vet. That's what's amazing about this movie: made after THE KILLER but before HARD BOILED, it has the fun, brotherhood and crazy action of the best Woo while feeling more personal, more emotional than any of them.

It starts out like one of these nostalgic period pieces directors always make about the era they grew up in, like an AMERICAN GRAFFITI. Tony Leung Chiu-Wai giving dance lessons in a church. Slicking his hair back, photo of Elvis (and JFK?) on his wall. Big smiles and bicycle races. All this intercut with a knife fight, a gang rumble. It's full of energy, almost like a dance number, but people are getting their heads through glass and shit.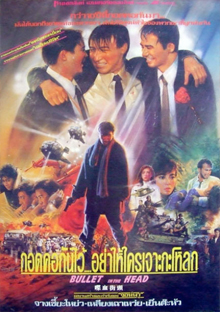 This is the story of three life-long friends (Leung, Jacky Cheung, Waise Lee) reaching adulthood. Tony marries his girlfriend (Fennie Yuen) and there's a beautiful night time reception with family and friends at an outdoor market. But these are not rich people, so Jacky has to borrow a stack of cash from a loan shark to pay for the reception, and on the way there he gets jumped by some asshole named Ringo. (This movie is an Elvis man, not a Beatles man.)
Well, Jacky's not about to let his friend down so he makes it to the wedding with the money and tries to act like everything's fine even though he's extremely late and is bleeding from a head wound.
You talk about a bros before hoes policy, well when Tony figures out what happened he takes Jacky to go get payback on Ringo. Remember, this is on his wedding night. There are other things he could be doing, in my opinion. They go to find Ringo not with anger, but with a mischievous smile, and this neighborhood violence suddenly escalates to awesome martial arts movie with people fighting and swinging around on chains and shit and next thing you know Ringo is dead.
Whoops. Maybe ditch the new marriage, head to Vietnam and become smugglers? Why not?
So at an age when some people are going to college or entering the job market these three friends become criminals in a dangerous war zone. Back at home there were the rumbles and the riots against British rule of Hong Kong, but as soon as they hit 'Nam they get their car and their goods blown up by a suicide bomber, they see riots, they get lined up with a bunch of other guys, cops holding guns to their heads threatening to execute them. (A nun with a bunch of orphans who have witnessed all of this chooses then to say, "Inside, children." What, you waited until now?)
This is like a way better version of Tsui Hark's A BETTER TOMORROW III, and for good reason: when the two disagreed about how to do that prequel Woo went off and made this instead. But in a way this is like a prequel to all of Woo's movies. Okay, so it doesn't show the doves being hatched or learning to fly real slow, but it does show the moment when the characters realize that they need guns. "As long as we have guns, the world is ours," Waise decides.
It's not until 37 minutes in that they finally get guns and go rob a store – it's a big deal, like in JUICE. But as dangerous as New York of the '90s was it's nothing compared to Vietnam of the '60s. The military shows up and our boys surrender before realizing that those guys don't care about them at all, they came to steal not just the till money but all the jewelry. As the friends lay on the ground in surrender the bullet casings fall all over them. Bigger guns mean bigger loot.
They eventually make it to the night club where they were supposed to deliver the goods to a gangster named Leong (Chung Lin), and they're shocked to see Sally Yen (Yolinda Yam), a famous singer from Hong Kong, in the house. Tony especially is outraged that this gangster they're supposed to work for is obviously turning her out and won't let her leave. They also meet Ah Lok, the Chinese Tone Loc, played by Simon Yam. As handsome and suave as Tony Leung is, Ah Lok is clearly the coolest guy in the movie. As they're introducing themselves to him he excuses himself to go hand the piano player a cigar in exchange for a gun.
Well, you know how it is, before you know it our three friends plus Ah Lok decide to declare war on Leong and his gang, rescue Sally, shoot hundreds of people, blow shit up and steal a crate full of gold. Waise in particular is really into this box of gold, the other guys quickly sense that it's threatening their friendship, but the motherfucker is lugging it around like Chow Yun Fat lugs a baby. And he would definitely change its diapers if he had to.
I'm a little confused because I read that Leong forces them to drink piss, like the story that was told in A BETTER TOMORROW. There's a scene where one of them has to drink from a bottle, so I thought the subtitles didn't make it clear that it was piss. That makes it alot more of a feat that he chugged the entire bottle, and understandable that he's upset that his buddies didn't drink any in solidarity. They could've been piss brothers. But then on Youtube I saw a deleted scene which is from the same part of the movie but has them having to drink piss from glasses. Not the same thing I saw.
In more happy news, we find out something interesting about Ah Lok's cigars. See, at one point he pulled open his jacket to reveal he had a whole bunch of them, like one of those sleazy watch-dealers you see in the cartoons. I thought this was telling us that he was gonna be getting alot of guns from the piano player. No, even better: they're actually dynamite that ignites when you split them apart. And he gets to use them.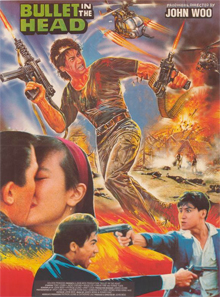 The battles are long and varied and always uphill, sometimes even literally. It seems impossible that they could fight their way out of that mansion, but they make it by the skin of their teeth. Then they're gonna catch a boat but the military shows up, and how are they gonna get out of that? Can they really fight all those guys and get away with both the gold and the singer? (Hint: they lose one of them, and it floats away like a beautiful flower petal.)
There's alot of blood. It gets on Sally's poster of Catherine Deneuve in BELLE DE JOUR – not a good omen. It gets on the camera lens – probly not even on purpose.
The title brings to mind any one of the many, many, many people that get shot the fuck up in this movie. Or maybe it brings to mind the soldiers holding guns to people's heads, in the movie or in history, or in that infamous photo. But the titleistical bullet in the titleistical head is not a fatal one. It's one that turns the poor motherfucker into an invalid, a deranged junkie. He makes it back home to Hong Kong and alternates between shooting up junk and shooting up the neighborhood. The bullet in the head is not just a slug. It's the violence that stays inside them, damages their brains, makes them hate themselves, makes them rage against others. As long as they have guns the world is theirs, as long as they have a bullet the world is shit. Try hanging onto your box of gold, try forgetting that they shot your favorite singer, none of it matters.
BULLET IN THE HEAD may or may not be Woo's best movie – I'm a HARD BOILED man, as I'm sure many of us are – but it's for sure his definitive statement on violence. He makes it beautiful and fun and then he proves to you that it's the opposite.