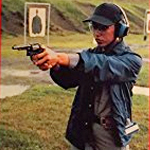 (a.k.a. JOHNNIE GIBSON F.B.I. if you go by the VHS tape)
JOHNNIE MAE GIBSON: FBI is a TV movie directed by Bill Duke. It aired on CBS in October of 1986 against a World Series game. I found a New York Times review from the time lamenting that it was routine TV formula. Accurate, but thirtysome years later the routine TV formula of 1986 has a certain retro appeal.
It's a premature biopic of a respected FBI agent (Lynn Whitfield, JAWS: THE REVENGE) who was still on active duty at the time. Only the fifth ever African-American female agent at the bureau, she was known for extreme cool under pressure in undercover assignments and a high arrest record, many from "old dog" cold cases they dumped off on her.
We see her rise from a childhood in rural Georgia, poor family, sick mother (Veronica Redd, The Young and the Restless), mean father (Henry G. Sanders, REBEL, CHILD'S PLAY 3, ROCKY BALBOA). One scene involves a white family offering them a Thanksgiving turkey, her father refusing it, and her getting it anyway and surprising the family with it. her dad throws a fit and knocks it onto the floor. So much is established in this scene: Johnnie's fearlessness and insistence on doing her own thing, her lifetime of dealing with angry men, but also her dad's attempt to instill self-reliance into her, and the idea that her willingness to engage with white people makes her an outlier. (read the rest of this shit…)
VERN has a new action-horror novel out called WORM ON A HOOK! He has been reviewing movies since 1999 and is the author of the film criticism books Seagalogy: A Study of the Ass-Kicking Films of Steven Seagal and Yippee Ki-Yay Moviegoer!: Writings on Bruce Willis, Badass Cinema and Other Important Topics as well as the crime novel Niketown.