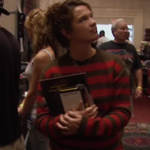 These days most horror fans have heard of the concept of the Final Girl, whether or not they know where it comes from. But they at least know it's the heroine of a horror movie, the one that's left standing at the end, like Laurie in HALLOWEEN or Sally in TEXAS CHAIN SAW MASSACRE or… the ones in the FRIDAY THE 13ths.
There are few as iconic, and almost none as pro-active, as A NIGHTMARE ON ELM STREET's Nancy Thompson, played by Heather Langenkamp. She's the all-American girl next door (or across the street in Johnny Depp's case), she gets terrorized by a supernatural dream killer, the adults don't believe her, not even her overprotective cop father (John Saxon, ENTER THE DRAGON, THE GLOVE). But this is not a heroine who only manages to scrape it out and survive. Nancy gets shit done. She goes to the library and researches, figures out who Freddy is, uncovers his connection to her and her friends' parents, teaches herself to build booby traps and comes up with a clever plan to go into the dreamworld and pull him out and try to kill him. And then she figures out the next step after that.
And Langenkamp returns as a wise adult Nancy with a grey streak in the best sequel, DREAM WARRIORS, not to mention as herself in the other best sequel, NEW NIGHTMARE. Even if there were more iconic horror protagonists to choose from I think she'd be one of the greats.
Some actors and actresses who become primarily known as horror royalty end up working largely in other genre movies, supporting roles and cameos capitalizing on their status. Langenkamp did a few of those (a bit part in Wes Craven's SHOCKER, for example) but also she had a stretch of TV success on Growing Pains and Just the Ten of Us and playing Nancy Kerrigan in the TV movie TONYA & NANCY: THE INSIDE STORY. Eventually, as the roles she was offered weren't satisfying to her, she started working more behind the camera with her makeup artist husband David Anderson and their studio AFX. So you may notice her name on the credits of DAWN OF THE DEAD and CABIN IN THE WOODS and I think that's also how she ended up in a tiny part in STAR TREK INTO DARKNESS.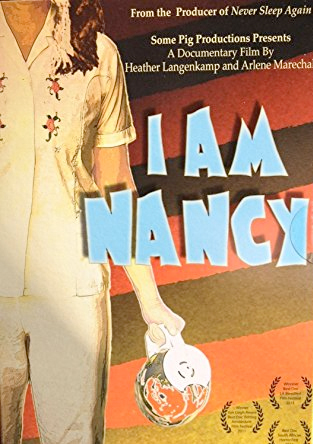 If you find her story as interesting as I do, I highly recommend I AM NANCY, a documentary directed by AFX Studio crew member Arlene Marechal, with Langenkamp credited as "creative director" and producer. It's very much one of these fandom documentaries, taped mostly at horror conventions and with way-too-cutesy cartoon transitions and shit, but it's also an enlightening view into Langenkamp's life, personality, and insights about her place in horror history.
She seems as warm and likable as Nancy would've been if she'd grown up unhindered by dreamstalkers. She's fascinated by the idea that everyone loves the demonic child killer, and loves to razz fans about it, both in self-deprecating and provocative ways. The movie starts in a tattoo shop with a new AFX employee and horror super-fan adding Freddy to the many horror icons depicted on his skin. Langenkamp makes him hilariously uncomfortable by asking if he would consider a Nancy tattoo. Of course it's not a fair thing to ask of somebody, but his response is still telling.
Much of the footage follows Langenkamp at her convention table talking to fans, signing Freddy dolls and asking if there was a Nancy doll next to it on the shelf when they bought it. She gets excited whenever she gets to sign a cover that features Nancy on it somewhere instead of just Freddy. She does find a few sculptures and things that include her, and she jokes about their crude likenesses. She looks through a Freddy board game that doesn't have a Nancy piece or card, just generic high school archetypes!
I love the scene where she talks to a fellow convention VIP who played Jason (I believe it's Part III's Richard Brooker). He nods in polite fake-recognition when she says her name and character, but when she says ELM STREET he lights up, starts looking around saying "Oh, where's Robert?" Just like the tattoo thing it's understandable because of course Freddy and the Jasons must know each other from events like this, but it also lays bare his and so many other peoples' total disinterest in the good guy (or the woman).
Langenkamp herself seems completely enamored of Englund after donning a red and green sweater and buying a bunch of Freddy dolls so she can get his autograph for the first time. He's a cultured guy with many thoughts about the genre and their movies' place in cinema history, and she watches him with a mix of been-through-the-trenches-together bond and little-sister admiration.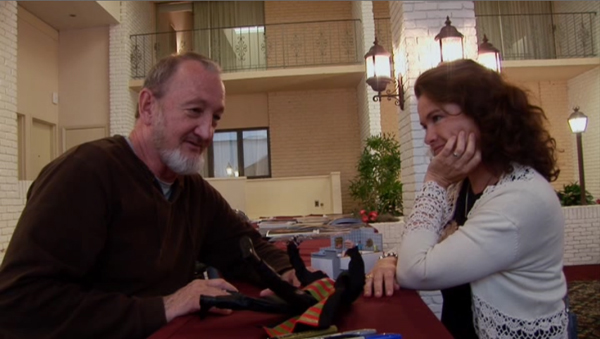 At other times she turns to the camera to comically pout as the lines for her onscreen nemesis twist all around the convention floor while she waits for someone, anyone, to come to her table. But this loneliness makes for funny and sometimes intimate talks with the fans who do approach. Even little girls seem to be more into Freddy than the heroine who dissolved him from reality by telling him "I take back every bit of energy I ever gave you. You're nothing. You're shit." But a few say really moving things about what the movie and the character mean to them. I attribute this to what I was going through at the time I watched this, but I got genuine tears from one of the conversations near the end.
Since this was made before Nancy and Freddy creator Wes Craven passed, it culminates with Langenkamp going to his house to interview him. We see her the morning before and she's nervous, intimidated by his genius despite a long working relationship and friendship with him. He gives typically deep and professorial answers, but when he tells a story about his daughter Jessica, when she was very young, saying something that stuck with him, Marechal and Langenkamp branch off to an interview with the now-grown-up daughter. She has funny stories about Johnny Depp – apparently her and her friends' fawning got him the role – but has particularly surprising and bittersweet comments about a love-hate relationship with the movies. She spent her life feeling they took her father away from her, and only in retrospect understands the ways they show his love for her.
After you seek this out, or before, or I also recommend last month's Shock Waves episode with Langenkamp, where she talks more specifically about her career and dorky things she does now including pseudonymously DJing on a low-watt local radio station!
This entry was posted on Tuesday, December 5th, 2017 at 11:46 am and is filed under
Documentary
,
Horror
,
Reviews
. You can follow any responses to this entry through the
RSS 2.0
feed. You can skip to the end and leave a response. Pinging is currently not allowed.