FACE/OFF is a crazy one-time-only deal, a strange collision of people and movements that could only really exist in that specific place and time. Not before, and definitely not since. On that day the wave of late '80s Hong Kong action cinema crashed and exploded against the rocky shores of Hollywood, spraying sideways and soaking Nic Cage and John Travolta, who happened to be standing there. It's not the only American John Woo movie I like (we'll always have HARD TARGET and BLACKJACK), but it's the only one that seems like The Real John Woo. It takes that old Hong Kong John Woo we loved, with all his emotional sincerity and unhinged sense of stylized action, and combines him organically with big budget Hollywood, achieving a smooth balance where the Hollywood bullshit side doesn't overpower the other one.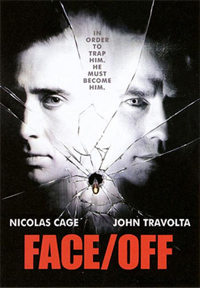 This movie has several big shootouts, an SUV vs. jet vs. building chase/gun battle, and an incredible high speed boat chase that includes some done-for-real crashes and explosions shot just as beautifully as they'd be now when carefully faked frame-by-frame in a computer. It also has some high quality acting by Nic Cage, of both the regular and mega varieties, as he plays the bad guy and the good guy pretending to be the bad guy and especially when he's playing the good guy inside the bad guy trying to explain that he's really the good guy. And it has big absurd sci-fi concepts made even more far-fetched by Woo changing a futuristic sci-fi script to present day 1997. But despite all this Woo's main interest is in the characters, their relationships and unexpected turns, the bad things the hero does and the good ones the villain does.
Holy shit, this movie really does have everything, doesn't it? If you start naming random things most of them will be in it. Margaret Cho as a government agent? Yes.  CCH Pounder burned alive? Check. Little bowl-cutted moppet shot dead on a merry-go-round? Yep. Nic Cage dressed as a priest doing Mick Jagger poses at the L.A. Convention Center? You bet. How 'bout him just beating the shit out of one of the kids from That '70s Show? You got it, pal. Joe Bob Briggs cameo? Uh huh. Barefoot waterskiing in a suit and tie? Of course.
In the beginning it's Travolta vs. Cage. Travolta plays Sean Archer, covert counter-terrorism task force supercop. Cage is Castor Troy, insane terrorist-for-hire who killed Archer's son six years ago and now is dressed as a priest and groping choir girls shortly after planting a bomb. Soon Castor ends up in a coma and the authorities decide that the only way to find out where the bomb is before it goes off is to transplant Castor's face onto Sean and have him go undercover in prison with Castor's awkward weapons-designer brother Pollux (Allesandro Nivola). Good plan, right? Unfortunately Castor wakes up, forces the doctors to give him Sean's face (I mean, it was just sitting there) and kills everybody who knows about the operation.
So I guess come to think of it this is John Woo's version of one of those body switching comedies like FREAKY FRIDAY or LIKE FATHER LIKE SON. The terrorist is in the cop's body, pretending he's trying to bust himself, having fun sexing up his enemy's wife (Joan Allen) complete with a huge but not quite DESPERADO number of candles. (Romantic dudes in movies always light like 150 candles before fucking.) He also pays more attention to Archer's daughter, although in a sleazy uncle kind of way, smoking with her, giving her a butterfly knife, beating up the boy (Danny Masterson) who doesn't understand that no means no. That last one seems a little hypocritical considering how many women Castor sexually harasses in this movie, but I guess in his defense they do seem to succumb to his evil charms, not actively fight him off like this girl does to this kid.
Meanwhile Archer is a cop in a criminal's body, so he gets to do fun stuff like rot away in a high tech prison, talk to Thomas Jane, etc. Once he gets out his only possibility really is to pretend he's Castor Troy and go gunning for fake Sean Archer. He teams up with the director of THE NOTEBOOK and with Gina Gershon reprising her RED HEAT/OUT FOR JUSTICE role of Tough But Nice Girl Affiliated With Villain Who Doesn't Deserve the Treatment She Receives From the Cop Protagonist. She's the real Castor Troy's girlfriend, but not close enough for him to tell her about the body switch. So Archer-as-Troy has to improve their relationship just as Troy-as-Archer is improving his marriage.
There's always this tension like Archer might be found out while he's undercover, and Pollux Troy keeps giving him suspicious looks. But I don't really get that because he's not Darkman, his skin's not gonna melt soon. Is there really some danger of Pollux thinking "My brother's been acting strange since he woke up out of his coma. I bet he's not my brother at all but in fact a cop whose had my brother's face transplanted over a high tech mask, had his body and hair surgically altered and a microchip implanted in his vocal chords to re-create his voice"? No, I don't think he's gonna think of that one. So the implausibility of the whole thing makes the secret more plausible.
Alot of this is about putting people in awkward situations. Archer-as-Castor has to protect the kid he threatened to get taken away from Gershon. Troy-as-Archer has to visit the grave of the son he murdered, or accept condolences for the deaths of people he killed. Also a doctor at the end has to talk to Archer about his original body's bullet scar without saying "I have no idea what you're talking about – remember, the original doctor who did the surgery got burned alive along with your best friend Tito."
So it's larger-than-life characters shrunk down to regular life-size by being given human flaws and strengths. The terrorist pays more attention to Archer's wife and daughter than he does, but the cop pays more attention to Troy's girlfriend and son than he does. (In fact, the real terrorist doesn't know it's his son, only the impostor knows). Troy gets colleagues killed but he's way more fun around the office. They switch bodies, lives and sons. They're the same! Like a John Woo movie.
That might not be enough substance to power a low budget drama, but combined with top notch (and comprehensible, which was expected back then) action and style it's pretty potent. Woo does all those things people started making fun of him for: double-pistoled side leaps, Mexican standoffs, birds (this time it's pigeons and seagulls) flying during a shootout in a church, slow motion hero shots of dudes with sunglasses and long black coats blowing around in the wind, nice suits for all men. It's probly Woo's nicest looking photography because it's the look he was using at his peak but when he could afford better lighting and film stock.
Other people were imitating his style back then, but nobody could fake his tastes. I don't think another director would've insisted on Joan Allen to play the wife, or if they did I don't think they would've done a leering shot of her butt. Or what about the scene where Gina Gershon's son is caught in the middle of a gunfight and the best Gershon and Nick Cassavetes can come up with to protect him is to put headphones on him, so he watches a bloodbath while listening to a cover of "Somewhere Over the Rainbow"? I'm not sure it'll cut down on the therapy he'll need in later years, but it does make for a distinctive shootout.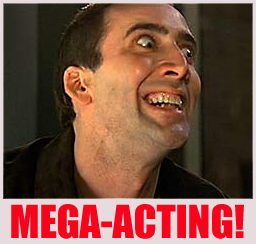 Then of course there's the unmistakable Nic Cage touch. This is probly in my top 5 favorite unCaged performances under BAD LIEUTENANT, MATCHSTICK MEN and VAMPIRE'S KISS because he does some really emotional scenes as Archer but also gets to go full-on Mega for Castor Troy, and even gets to be Archer trying to go Mega to pass himself off as Troy. He's a cool iconic character because he has two beautiful gold and black guns with dragons on the handles, and I'm guessing it was Cage's idea that the case he keeps them in is always stocked with a pack of Chiclets.
Travolta is also fun in the movie, going mega because he's imitating Cage. I'm sure they worked together to come up with how the character should act, but it's the Cage characteristics that are most noticeable. When Travolta takes off his coat, carefully folds it up while prancing around as a pre-bomb-defusing ritual you definitely gotta be reminded of Cage. I wish Travolta would've tried some of those silent film monster facial expressions though, that would've been funny.
Two random things that make me laugh in this movie:
1. At the end the daughter, whose father doesn't really understand her or pay enough attention to her, switches back to normal hair and makeup, as if she now agrees with the blaming-the-victim statement  "you dress up like it's Halloween and ghouls will try to get down your pants." What are you doing there, John Woo?
2. It seems to me like they really don't need to do the hair at the same time as the facial surgery. I mean, I know they're in a hurry, but I just think it would be better to have a stylist take care of hair dos after the surgery is complete.
FACE/OFF is as schizophrenic and mixed up as its characters. It's a silly action movie but also a 138 minute straight-faced melodrama. It expects its audience to care about adult relationships and emotions but also to accept this ridiculous bodyswitching technology and superhuman gun and stunt skills. I can see why it might be too crazy for some people, but for me it's just right. The act of making FACE/OFF probly blew out all of Woo's filmmaking fuses, but at least we got this one last distinctive John Woo movie.