You know what movie gets a bad rap, or unfairly ignored? Well, you probly already guessed it's gonna be the one I wrote the title of above and then there's a picture of it to the left. Maybe this is not the best format for a guessing game of this type, now that I think about it. If that's your answer then you are correct, THE PHANTOM from 1996 starring Billy Zane gets a bad rap or is unfairly ignored.
I'm sure in its darkest moments THE PHANTOM believes that nobody understands it, but it doesn't care. It knows what it is. It's comfortable with itself. I mean, I don't know how you guys feel about slamming evil, but THE PHANTOM is all about slamming evil according to the American poster, and I think it does a good job of making the slamming of evil entertaining.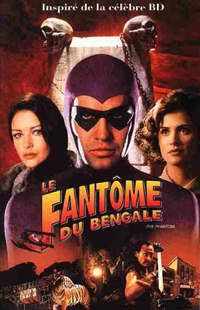 Billy Zane plays Kit Walker, better known as The Phantom or The Ghost Who Walks. Apparently he was once an ordinary American college student, but when his father (Patrick MacGoohan) died suddenly he "took over the family business," which in this case means he moved into a skull-shaped cave in the jungles of Bengalla where one of his ancestors was shipwrecked, taken in by Natives and given a skull ring. Since then each generation of the Walker family has put on purple tights and a mask and fought piracy and evil, creating the legend of an undying hero, a purple pirate puncher.
The Phantom is awesome because he's so unashamedly old fashioned. He doesn't try to be high tech or sophisticated. He's straight out of an old serial or the cover of a pulp magazine, swinging punches or carrying two pistols. His repertoire mainly consists of fisticuffs, climbing or swinging on ropes, jumping over and onto things, ducking or crawling, hanging off of pontoons, with an occasional somersault. He is adept with horses and seaplanes. He has a pet wolf named Devil and a horse named Hero. When he goes to New York City he jumps across moving cars like he's in Frogger, swings on a tree branch, hides in the tiger cage at the zoo, then gives the tiger a hearty pat.
Like Wesley Snipes in BLADE, Zane pays special attention to super hero poses and movements. And although he avenges the murder of his father during the course of the movie this is one super hero who has no interest in brooding or beating himself up. He smiles and flirts with women and seems like he's having fun, even when he's being chased and shot at.
I've talked to alot of people about this movie and they say they haven't watched it because they just don't like Billy Zane. Well, number one, apparently you haven't heard of a little movie called SNIPER, but number two, this is clearly the role Billy Zane was born to play, unless there's ever an Arnold Vosloo biopic. Zane is great in this movie and just the fact that it's a role he's passionate about easily makes up for that dick he played in TITANIC. According to my source (the internet) James Cameron actually cast Zane in TITANIC because he saw him in THE PHANTOM. In fact it's too bad the movie takes place around 30 years after the Titanic disaster, because I don't know about his dad but this Phantom could've definitely saved everybody if he heard what was going on over there.
I think it's fair to say THE PHANTOM is not a product of its time. Ever since Tim Burton's BATMAN in 1989 comic book movies were supposed to be "dark" and highly stylized. DICK TRACY (1990) didn't have the dark but it was designed as a primary colored live action cartoon, and even that one tried to have a psychologically troubled hero. He was struggling with mid-life lady and child problems. THE CROW (1994) was an angry, violent revenge story drenched in shadows, gothic architecture and composited night skies. THE PHANTOM was closer in tone to two less successful super hero throwback movies, THE ROCKETEER (1991) and THE SHADOW (1994), but unlike those it took place in a mostly real world, shot on location and mostly in daylight, with minimal model shots or matte paintings and no exaggerated cityscapes. THE PHANTOM says Yeah, I know it's 1996. Fuck you. I'm wearing a purple skintight suit riding a white horse. I get tips from children and animals. I don't give a fuck what you think. Why would I even want your approval? I don't need your respect. Do you know who I am? I'm the fucking Phantom.
The supporting cast is pretty good too. Treat Williams (THE SUBSTITUTE 2-4) is Xander Drax, the power-mad New York businessman trying to find three skull-shaped treasures that when combined will shoot lasers or something. Because he's Treat Williams he treats all this with sarcastic glee. After a RAIDERS OF THE LOST ARK type supernatural event he chirps, "Wow!" Later he asks the corrupt police chief, very sincerely, "Did you hear the exciting news? We're going to the Devil's Triangle!" He's got more than one "Just How Evil Is He?" scene, one where he de-eyes a snitch and one where he throws an antique spear at a mobster who, because of his Catholic upbringing, is hesitant to get involved in all this evil magic shit.
There's also James Remar (THE WARRIORS, MORTAL KOMBAT: ANNIHILATION) as Quill, a treasure hunter with a fedora that reminds me of some other cinematic adventurer, I can't think of which one it would be. Although The Phantom is also a white dude he's not down with all this colonial treasure hunting shit. In fact, when he sees one of the skulls on display in a museum (with completely inaccurate labeling, he notes) he breaks the glass and tries to take it, saying "I represent the original owners."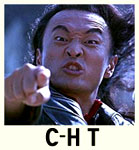 The least memorable villain is the leader of the Phantom's arch-nemesis pirate clan, but he's played by Cary Hiroyuki Tagawa, and if C-H T is your weakest villain then you're doing something right, in my opinion. Because he's always a good villain.
Kristy Swanson is likable enough as the feisty ahead-of-her-time love interest Diana, but I gotta say if I was the Phantom I would go for super-hot 27 year old Catherine Zeta Jones as Sala, leader of an all female air pirate brigade. Sure, she works for Drax and tries to kill The Phantom at first, but she later turns into a good guy when Diana asks "What is wrong with you? Why are you so mean? Don't you care about anything?" Sala has that to think about during one of those flight-around-the-world montages they have in these types of movies, and that's all she needs to switch sides because "I figure us girls need to stick together."
One thing The Phantom does that I don't think happens in any other comic book movie, he has help from animals. In maybe my favorite scene he escapes from the pirates in a stolen sea plane. When he takes off his wolf friend Devil runs over to his horse Hero and barks at him, then the two run into the jungle together. They somehow are way ahead of everybody and know that the plane is shot up and leaking fuel and the Phantom is gonna have to jump out onto the horse just before the plane crashes into a cliff and blows up. And I mean it's true, wolves are supposed to be very intelligent. I'm not even talking about Wolfen, I mean just regular wolves.
I'd like to see The Punisher have a wolf and horse that talk to each other. It's just not gonna happen. Nothing against the Punisher but I'm just stating the facts. Only The Phantom has the wolf-horse connection in his arsenal.
The Phantom is also down with indigenous cultures. When outsiders chase him through the jungle the Natives love to help him out, throwing ropes around the intruders. The Phantom is their neighbor, they know he's a cool guy and good with animals. They'll take care of these palefaces for him.
Of course, The Phantom character is an example of this weird old tradition of a white hero in another culture. It's like everything from The Man Who Would Be King to The Last Samurai, Enter the Ninja, or Avatar. It could just be a story about samurai or whatever but they gotta put a white man in charge. I think The Phantom is an interesting spin on it though because he's a guy pretending to be a ghost. I don't know if the Bengallians are supposed to be African or what exactly, but I do think they're taking advantage of his paleness. Hey, get that whitey to pretend to be a ghost, that'll freak everybody out. Also consider that everybody believes the same Phantom has lived for hundreds of years, when really it's different Phantoms. But they fall for it because all white people look the same.
By the way, although the Ghost Who Walks is not really a ghost, this does take place in a world where ghosts are real. His dad appears and talks to him sometimes in his cave or in a taxi. The phantom ex-Phantom. This is the one element of the movie that is actually a little too goofy for me. I draw the line at ghostly pep talks. But they go by quick. Still, you gotta wonder why the test screen audience was against wrestling a snake but for exchanging barbs with the ghost of Patrick MacGoohan.
I've heard from Aussies that The Phantom is supposedly the most popular comic book character there. Is that true? This was partly filmed in Australia by Australian director Simon Wincer (FREE WILLY) from a script by Jeffrey Boam (who wrote INDIANA JONES AND THE LAST CRUSADE and LETHAL WEAPON 2). Before Wincer it was gonna be directed by Joe Dante, who later claimed in an interview that it was written as a comedy and "disastrously played straight." He said it was test-screened and a bunch of stuff had to be cut out because people were laughing at it. I wish I could Phantom-punch those knuckleheads at the test screening because now I'll probly never get to see the scenes where he wrestles a lion and a snake.
Despite what Dante says I think they played this one just about perfect. It's got a smile on its face and some light-hearted quips (occasionally too corny, but not a big deal). I can't picture the comedy version being very good at all. I'd rather laugh with the Phantom than at him. This is definitely my favorite of the period piece super hero movies.
This entry was posted on Thursday, September 23rd, 2010 at 1:16 am and is filed under
Comic strips/Super heroes
,
Reviews
. You can follow any responses to this entry through the
RSS 2.0
feed. You can skip to the end and leave a response. Pinging is currently not allowed.