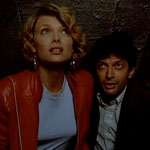 A while back, when I reviewed INNOCENT BLOOD and got into a bit of a John Landis run, I realized I'd never seen his 1985 movie INTO THE NIGHT. Didn't even know anything about it. I guess you could say it's kind of a thriller, but of the happening-over-one-night variety, and with some humor. Ed Okin (Jeff Goldblum, DEATH WISH) is a regular boring aerospace engineer guy who's unhappy and doesn't know why. He hasn't been able to sleep for a long time and he feels disconnected from his wife (Stacey Pickren, RUNAWAY TRAIN). Then he starts dozing off at work, getting himself in trouble, so he decides to go home for a nap, and I think we are all familiar with what happens in movies any time somebody goes home in the middle of the day when their spouse doesn't expect them. It's just like in TOY STORY how the toys are always having meetings and playing games and shit whenever you're out of the room. Similar thing with movie spouses when you're at work.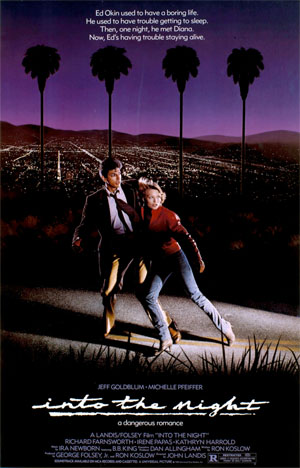 But he doesn't confront her. He keeps going through the motions. Then at night he gets up and drives to the airport. He's probly thinking of going to Las Vegas, something his dickhead friend at work (Dan Aykroyd, RAY) told him to do when he has insomnia. Actually that might be a good idea, but before he can get that far he finds something else to do.
Diana (Michelle Pfeiffer, SCARFACE) comes running through the parking garage, falling on the hood of Ed's car, running from a bunch of gunmen in suits. He lets her in and drives her out of there and then is stunned when she doesn't want to tell the cop at the security gate that anything is going on. But he ends up giving her a ride.
His night turns into a series of helping-against-his-better-judgments, reluctantly giving in and agreeing to get dragged further and further into a mess he has nothing to do with, until after he's finally dropped her somewhere she thinks is safe, when he makes a conscious decision to stay and make sure she really is safe. That's a classic turning point in many action or horror movies, but this one is precipitated by the hottest innocent-hug-and-kiss-goodbye I ever saw. So he may have ulterior motives. Pfeiffer is so fuckin cool in this, a tough and persistent lady who has gotten in with a bad crowd of rich people and made some poor choices but is a good person and wears a cool red leather jacket.
Vincent Canby's review at the time has a good line: "It may say something about the priorities of 'Into the Night' that its production notes carry more biographical material about Deborah Nadoolman, who designed the "red Napa calf jacket" Miss Pfeiffer wears much of the time, than about Ron Koslow, who wrote the screenplay."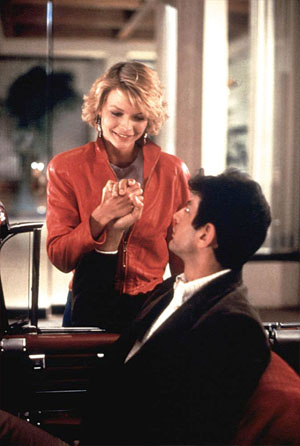 I found said notes on a Michelle Pfeiffer fan sight and he's correct, because there's nothing about the writer other than his name. About Nadoolman it actually doesn't say that she's Landis's wife, but gives the more important information that it's "the third leather jacket created for the screen by costume designer Deborah Nadoolman. She designed Indiana Jones' aviator's jacket for 'Raiders of the Lost Ark' and Michael Jackson's red and black jacket worn in 'Michael Jackson's Thriller.'"
But since he asked, screenwriter Ron Koslow's previous work included LIFEGUARD (starring Sam Elliott as a lifeguard) and FIRSTBORN (the Michael Apted thriller starring Corey Haim). He'd soon create the TV series' Beauty and the Beast (starring Ron Perlman and Linda Hamilton), Roar (starring Heath Ledger and Moonlight (about a vampire P.I.).
Anyway, my point is that she looks cool in that jacket. Its power has not waned over time, so I believe Nadoolman has prevailed over Canby's comment.
For a while Diana is secretive about what she's into and where she's trying to go. So he sorta gets dragged along for a tour of Hollywood weirdos as she desperately searches for friends and acquaintances who can help her and tries to hide whatever it is she has that they want. She brings him to a film set, where he is awkwardly in the way and breaks some things. She also tries going to an ex's yacht, but fitness icon "Body By" Jake Steinfeld (HOME SWEET HOME) is using it. I love when she brings Ed into an apartment that she acts like is hers and it's decorated from floor to ceiling in Elvis memorabilia – as if she could be this into The King and not have shown any signs before. Turns out she's staying with her brother (Bruce McGill, TIMECOP), and he's an Elvis impersonator. There's a good gag where they need a vehicle to escape in and it cuts to them in a Cadillac convertible with "THE KING LIVES" emblazoned across the side in giant gold lettering. Might be conspicuous.
I could not have correctly guessed the vibe of this one. The original poster exudes kind of an L.A.-version-of-Miami-Vice-atmospheric-night-time vibe with cool '80s paint brush script kinda like CAT PEOPLE or FLASHDANCE. This doesn't necessarily lead me to picture that it has a soundtrack with B.B. King performing "Into the Night," "In the Midnight Hour" and "Lucille." And I didn't know it had a gimmick of taking Landis' fondness for dire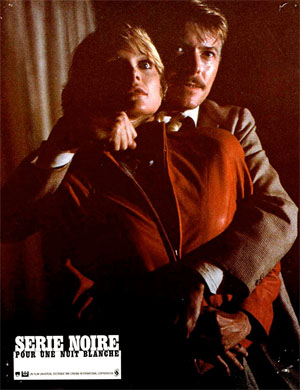 ctor cameos into overdrive. I can't think of another movie that has more bit parts for famous behind-the-scenes Hollywood people. There are the ones you'd expect: Landis himself is one of a group of Iranian hitmen in suits and shades. David Cronenberg is Ed's supervisor. Paul Bartel is a doorman. This doesn't have Frank Oz, like so many Landis movies, so instead they have a much rarer Jim Henson cameo. Honestly I didn't recognize most of the other ones, but they include Jack Arnold, Rick Baker, Jonathan Demme, Richard Franklin, Carl Gottlieb, Amy Heckerling, Colin Higgins, Lawrence Kasdan, Jonathan Lynn, Paul Mazursky, Daniel Petrie, Waldo Salt, Don Siegel and Roger Vadim. You also have Carl Perkins in there and, most memorably, David Bowie as a hitman.
There's also a good appearance by Richard Farnsworth (HIGHWAY TO HELL) as a bed-ridden millionaire who's central to the whole thing, and Vera Miles (PSYCHO) plays his wife.
INTO THE NIGHT was Landis' first box office failure. I was surprised and a little perplexed by the negative reviews. It has a 38% on Rotten Tomatoes, and many critics at the time complained about the numerous cameos. Roger Ebert (who gave the movie one star) called it "a home movie," a "family reunion" and "cinematic auto-eroticism." I guess if you recognize all of them you might be more distracted than I was, but to me it just seems like a fun added gimmick to an already enjoyable (if slight) movie.
I suspected some of this was bad will toward Landis by people who felt him responsible for the fatal accident on the set of TWILIGHT ZONE: THE MOVIE, which Landis was ordered to stand trial for three weeks into shooting of INTO THE NIGHT. A friend of mine pointed out that this could also explain the harshness toward the cameos – he remembered people assuming those directors appeared as a gesture of support for Landis. Which makes sense.
On the other hand, TRADING PLACES came out less than a year after the accident, got great reviews and was a big hit. So maybe it's just the movie. And it's not in at the top of my list of Landis movies – that would be THE BLUES BROTHERS running simultaneously with AN AMERICAN WEREWOLF IN LONDON, obviously. Still, I enjoyed INTO THE NIGHT. Watch it some time on a red eye flight to Vegas.