PSYCHO II is the best sequel ever made to a Hitchcock movie, better than THE BIRDS II: LAND'S END, NORTH BY NORTHWEST: RETURN TO RUSHMORE or even VERTIGOS. That's faint praise though, since I actually haven't seen the first one and the other two don't exist as far as I know. What I'm trying to say is, no matter how prejudiced you might be against somebody sequelizing a classic like PSYCHO, this is actually a really enjoyable sequel, a clever and suspenseful tribute to Hitchcock and to the character of Norman Bates as portrayed by Anthony Perkins.
It's 22 years after the events of PSYCHO. Norman Bates has been in an institution, having been found not guilty by reason of insanity, but is now considered fully rehabilitated. Against the petitioning of Lila Loomis (formerly Crane, and still played by Vera Miles) Norman is released. His doctor (Robert Loggia) seems to truly care about and believe in his mental stability, but regrets that cutbacks prevent society from having more social workers to look after him. For Norman's sake and for ours.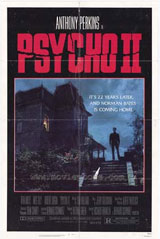 So Norman returns to the scene of the crime, the Bates Motel still in operation, run by Dennis Franz and mostly used by prostitutes and junkies. To stay in touch with humanity or something Norman is set up with a job at a small nearby diner, where he meets young Mary Samuels (Meg Tilly). When she gets in a fight with her boyfriend and has no place to stay Norman tells her about how he owns this motel with plenty of vacancies.
Ah shit, Norman! Not this again. I know you mean well. I know you're genuinely trying to help this girl. But what the fuck, man. If you're an alcoholic you shouldn't hang out at bars, if you're on a diet you shouldn't go to the all you can eat buffet, and if you're Norman Bates you shouldn't invite pretty young girls to stay in cabin 1. That's just how it is, man. Don't tempt yourself.
Of course he starts thinking about mother, he starts seeing things. Is he losing it already? Is someone trying to make him lose it? If so will he actually lose it? There's plenty of things to be tense about in this movie.
Tarantino has infamously said he likes it better than the original, but he's just showing off. He's allowed to do that because he directed a bunch of great movies, but I haven't done that so I'm not gonna go that far. I do think you could argue that it holds up better as a suspense-creating-machine, just because of the particular mysteries it holds and the less iconic status it has in pop culture. I always remember what happens to Marion and what you find out about Norman at the end of PSYCHO, but somehow this is the third time I watched part 2 and I couldn't remember the details. So it kept me guessing until the end. And it's a great ending.
What makes it great though is this time you know from viewing #1 that he's a psycho, and you root for him anyway. According to some people (both critics and fans) '80s horror was all about cheering for Jason to kill stupid characters you didn't like. But here's one that's all about rehabilitation and second chances. You want Norman to prove people wrong by staying sane and not killing anybody. Come to think of it that would be pretty cool if there was a Jason movie where he had gone through years of therapy and now he's just working as a landscaper or something and trying to keep his urges in check. That's a freebie, Platinum Dunes, I'm sure you can do something with that.
The only messed up part is that poor Vera Miles comes across as a bad guy. That's not really fair, I mean the guy did murder her sister. It is kind of weird though that she married her sister's boyfriend after bonding with him over trying to find her when she was missing with the money. And that she apparently (SPOILER) gave her daughter the same fake name that Marion used to register at the motel with when she was murdered. But I'm not gonna judge her. She's been through alot.
I'm so glad they didn't just give PSYCHO II to some chump. Instead they got Richard Franklin, the great Australian director who was more obsessed with Hitchcock than even Brian De Palma. If you haven't seen it yet you really should see his "what if REAR WINDOW and DUEL fell in love and had a baby?" movie ROAD GAMES. That was the best of many gems I saw during my recent Australian film marathon. Franklin apparently pushed writer Tom Holland (director of CHILD'S PLAY) really hard. He talks a little bit about it in this interview Mr. Beaks did for The Ain't It Cool News.
PSYCHO II is an honest to God great sequel, because this really is a character you want to find out more about, and it makes perfect sense for it to take place all this time later when he returns to society. It's completely respectful of the original while having a very different feel just from being made in a different era, on color film, and with the audience already knowing Norman's story. It goes to show that you can't be a purist about everything. You can imagine the fury that would go on in talkbacks if somebody proposed making a sequel to a Hitchcock classic now. But here's a case where they would've been wrong.