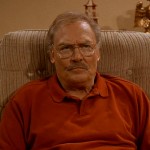 After watching DARK AGE and ROGUE recently I started thinking about other Australian pictures, but without giant crocodiles: MAD MAX, RAZORBACK, CHOPPER, WOLF CREEK. And I thought holy shit (American for "crikey") I gotta see some more Australiama or whatever it's called. Actually, I have since learned that a documentary on Australian exploitation cinema played in Austin recently and got all my Ain't It Cool colleagues excited about "Ozploitation." I'm not ready to accept that term, that seems pretty forced. How bout if we call it "cinemarang." Or "cinemaroo." Or "Australian cinema" would be another good one.
Anyway I decided to watch this one by Richard Franklin, best known in the states for the surprisingly decent PSYCHO II. He did that one because he was obsessed with Hitchcock, studied all his movies, even got him to come speak at his film school. Can you believe that shit? "Good evening kids, I'm Alfred Hitchcock. Questions?" I wonder if he hung out in the dorms at all.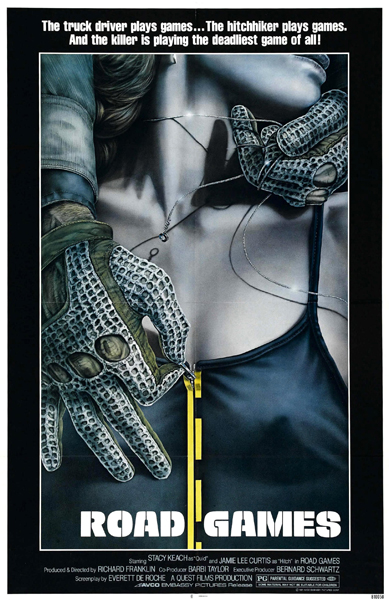 Anyway ROAD GAMES is definitely a Hitchcock homage, specifically it's REAR WINDOW but crossed with Spielberg's DUEL. Stacy Keach plays a truck driver who spends most of the movie talking to himself, or at least to his pet dingo. He makes up names for the people he sees on the road, and imagines what they're up to. He has to play these "road games" to survive the long drives.
But then he sees a guy in a van pick up a hitchhiker, and then the same guy digging a hole. He decides this guy is the killer they've been talking about on the radio. Of course he tries to find out more and ends up getting into trouble. In one scene an old man seems to think he's the killer, and there's a very destructive vehicle chase with boat in tow. Jamie Lee Curtis shows up as a hitchhiker who's as interested in following the guy as he is. Her name is Pamela but he just calls her "Hitch." It could be called DINGO AND HITCH but luckily it's called ROAD GAMES.
It's a good story and it's extremely well directed, with an old fashioned score by Brian May, the guy who did MAD MAX and who it turns out is not in Queen. There are 3 or more scenes that are almost unbearably suspenseful. Franklin knows how to build and then give you enough information to scare you but not enough that you can be positive what's going on. You're not even 100% sure this is the killer. But you know there's danger and then he leaves you just… sitting… there… waiting… to see… what will… AAAAHH!
I mean it, this is a movie worth seeking out. I recommend alot of movies, but this is a red alert, everybody should watch this one. It has the visual appeal of the Australian open road, the precise mechanics of the best thrillers, a couple intense action scenes, even a dollop of the ol' horror movie gore (apparently forced on Franklin by Avco). Maybe most importantly it has Keach in an appealing lead role. I never really thought about it but it's nice to see him as the guy you're rooting for to be happy and not die and all that.