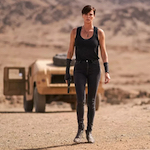 THE OLD GUARD is a pretty good Pandemic Summer blockbuster, because I'm sure it would've felt underwhelming if it had been advertised for months and played on the big screen, but as a movie I read mentioned once or twice and never saw promoted until shortly before it dropped on Netflix, it was enjoyable.
In the opening scenes it almost seems like another one in the tradition of CLOSE and EXTRACTION – militarized elite mercenaries or whatever, all geared up with their guns and armor and headsets, on a mission to rescue kidnapped kids in a Muslim country (South Sudan this time). But there are little hints that something else is up – wait, is that guy carrying a sword? They have a team, too, instead of one burnt out loner who's messed up about losing a kid. Their leader is Andy (Charlize Theron, with hair and physicality that reminded me she was AEON FLUX), who thinks they should be laying low, but reluctantly agrees to meet with this ex-CIA guy Copley (Chiwetel Ejiofor, TRIPLE 9) for intel.
It turns out to be a trap. They breach the place and the walls close in on them and some guys come out and machine gun them. A minute later is when we get to the real premise – the team wake up, the bullets drop out of their wounds, they heal and they stand up and kill those motherfuckers with that sword and a cool ax and some kung fu and shit. (Fight coordinator: Daniel Hernandez, xXx: RETURN OF XANDER CAGE, AVENGERS: ENDGAME, VENOM.) (read the rest of this shit…)
VERN has been reviewing movies since 1999 and is the author of the books SEAGALOGY: A STUDY OF THE ASS-KICKING FILMS OF STEVEN SEAGAL, YIPPEE KI-YAY MOVIEGOER!: WRITINGS ON BRUCE WILLIS, BADASS CINEMA AND OTHER IMPORTANT TOPICS and NIKETOWN: A NOVEL. His horror-action novel WORM ON A HOOK will arrive later this year.