Hey, have you guys ever noticed how alot of these so-called action movies they do now days make no effort to show any action in their action scenes? I think I might've mentioned something about that before, not sure.
Okay, it's getting old for me to write about, and I'm sure it's even worse for you to read about. But I feel like if we stop mentioning it it's like we're saying it's okay. Whether it's Michael Bay's ridiculous edits or Paul Greengrass's wobblecams that opened the floodgates, something happened, and old fashioned notions like geography, coherency, and visual storytelling got buried. The language and standards of action cinema that have evolved and developed over generations have been thrown out the window and it's become acceptable to just have a quick smear of photography that sort of loosely implies the fights and chases that audiences used to pay money to actually see with their own eyes. I think there's gonna be a backlash against this type of movie pretty soon, and it's bubbling up in this new wave of DTV action we've all been enjoying. But still, you can't just let it go. You gotta say something.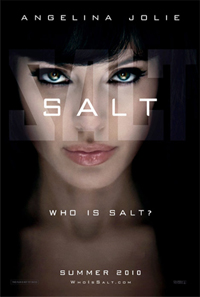 SALT is obviously not the first or worst offender of this type of deal, but it's definitely guilty. Evelyn Salt (Angelina Jolie) is a badass superspy who kicks ass, and this we know because in one part near the end the camera actually holds steady on a pretty hardcore dangling-over-a-ledge finishing move she does. I'm also 90% sure she ran up a wall and did a kick like Milla Jovovich would do, but other than that most of her physical feats I can only guess at.
I've decided that this must be mentioned every time but it shouldn't take this many words, so I think I have the right term to describe this type of movie: post-action. Post-action movies are about the same subjects as the action movies we love, they use many of our favorite action movie tropes, but they're not about the action. The parts of the story that involve action are more of a hassle they want to hurry past than a highlight that they want to display and celebrate. CASINO ROYALE, with its breathtaking parkour chase, is an action movie. QUANTUM OF SOLACE, with its eyeball-punishing car chase, I consider post-action.
As far as post-action movies go, though, SALT is pretty enjoyable ludicrousness. Salt is a CIA agent working as a well-dressed business woman out of a fake office building. She's about to leave work early to celebrate her first wedding anniversary when a mysterious Russian dude shows up, knows this is really a front and starts telling a story about a Russian baby raised to be a sleeper agent to kill the Russian president at an upcoming state funeral. He claims that Salt is that baby (the alleged sleeper is supposed to be grown up now by the way, not still a baby) so her bosses Pepper (Chiwetel motherfuckin REDBELT Ejiofor) and Butter (Liev Schrieber) try to lock her up for interrogation. She's worried that somebody's targeting her husband so she makes a run for it and tests out the whole On the Lam Trying To Prove My Innocence routine. And along the way gets involved in assassination, nuclear war, etc.
(wait, I just checked IMDb and the bosses' names are actually Peabody and Winter, respectively. Outlaw Vern dot com regrets the error)
It's definitely a little bit of THE BOURNE FEMININITY, but what I like about it is that it only makes a minor surface effort to seem plausible. It doesn't fake reality, it pushes it, and pushes it real good. It keeps a straight face the whole time but can't possibly expect you to take it as seriously as the Bourne movies want you to. It takes no time getting to the improvised explosives (she makes an excellent rocket launcher thing using only basic office and cleaning supplies) or the scene where she hops between the roofs of multiple moving vehicles on a freeway. (And you said a FROGGER movie was impossible.) The story also has twists that aren't mindboggling or anything but are at times ballsy and definitely not what I expected based on the trailer.
You know what, here's how to explain what this movie is like. As Salt escapes she ditches her pumps and ends up running through city streets with bare feet. But we've all seen DIE HARD before so the filmatists are sure to inconvenience her even more than McClane. Early in the movie she's climbing on the outside of a building with bare feet, a skirt with no underwear, and a backpack with spiders in it. And later you find out there was also a dog inside the backpack.
They even give her a sort of super hero backstory. Her father was a wrestler, her mom was a beautiful chess champion, she was kidnapped and raised by a brainwashing master spy. So she's got good genetics and upbringing for the sort of thing she does, and if you need to know all her proficiencies then be ready for the scene where they're listed on Redbelt's Blackberry (I only caught something about "edged weapons.") As far as I know this is a new form of Just How Badass Is She?, putting it on a handheld device and not reading it out loud. I like it.
I appreciate the dedication to absurdity, because it makes Jolie the perfect casting for the role. If it had tried for something gritty and believable her cartoonish beauty might've been a problem. Early in the movie, during the U.S.-MARSHALS-but-with-Jolie-instead-of-Snipes portion, it's funny that she can run around and not be spotted. I mean, the girl is stunning. Not as stunning as when she ate food and had curves, but still. A woman like that goes on the subway or in a crowd, people turn and look at her. I don't care if she switched from blonde super model hair to brunette super model hair and put in weird contacts, she's gonna be easy to spot. Later in the movie she has some more elaborate disguises that I can go along with, and if there's a part 2 hopefully she'll take it further with a fat suit or old man makeup.
You also gotta suspend the ol' disbelief to accept that a girl like that is gonna fall for the creepy-looking German spider expert. In my opinion. I mean I guarantee you that creepy-looking German spider experts are watching this movie, looking over at their wives and shaking their heads. Saying come on Hollywood. Nein.
Like many of the higher quality post-action movies there are a few moments of energy and badassness that manage to squeeze through the cracks. For example the part where her enemy is on the other side of a bullet proof window. She unloads her gun into the glass, inches from the guy's face, and he doesn't even flinch.
There's also an urban foot chase scene that isn't anything great but to be fair I guess it pretty much follows standard action movie language. If you're wondering, and I'm sure you are, Salt's fleeing etiquette is pretty middle of the road. She doesn't go out of her way to be polite to her fellow pedestrians (like Schwarzenegger when he keeps apologizing to everybody in TRUE LIES) but at least she's not one of those assholes who messes up kiosks and shit, throws O.P.P. behind her to slow down her pursuers.
To be frankly honest the foot chase really doesn't need to be mentioned in this review, but I brought it up because I've been itching for an excuse to go off on a tangent about sidewalk etiquette. Bear with me ladies and gentlemen. This is gonna by some real Larry Seinfeld type shit, it's gonna blow your mind. Observant, funny, petty, sad, etc.
This rant stems from a brief, insignificant incident a few months ago. An associate and I had just left my apartment and were groggily walking down the sidewalk when a voice yelled from behind: "ON YOUR LEFT!"
It was a woman out for a morning run, coming up behind us, and in retrospect I know that what she wanted was for me to be aware that she was about to run past me to my left. The problem is that it was 10 am, early morning for me, and I was on a city sidewalk, not a trail or a track. I had just woken up, was 10 feet from my residence and was not prepared for athletic commands to be shouted at me from behind. I tried to do the right thing, but in that moment I wasn't sure what she wanted. Who's left is she on? Does that mean to my left, or to my companion's left, which is to my right? Or does she want me to move to the left so she can get through? Is she even shouting at me, or is there somebody else she's on the left of? Could I be on that person's right? What do I do?
These were not answers that were coming to me within that half a second so what I did was, I turned around to look. But this put me in the young woman's path and caused her to almost crash into me. Whoops.
Lady, you don't know me from Adam. You come up behind me, you don't know if I'm drunk, if I have earbuds in, if I'm completely deaf. Although I guess if I was it would've been fine, I wouldn't have heard her and wouldn't have turned around. But in my opinion if somebody runs up behind you and yells at you, it is a natural and expected reflex to turn around to see who the fuck is yelling at you and why. This woman disagreed. Instead of saying "sorry" or even just ignoring it and continuing, she yelled "JEE-ZUSS!!!" in self righteous fury. To her I was the asshole, I had really put her out by not properly translating sudden unexpected shouted commands on a public sidewalk.
Don't worry, I didn't yell or run after her or anything, but man it got my blood boiling, and has haunted me ever since. I mean, aren't I right about this one? If I was playing sports and somebody yelled out something to me about where to go or what to catch, that would be fair. There would be a mutually agreed upon relationship and set of goals. It would be in context. If I was on a trail for bikes and jogging that would also be acceptable, because I would be there with the understanding that biking and jogging are the trail's primary uses.
But my own city sidewalk where I live? No. I've had this problem before and actually it's usually worse because it's usually people on bikes who are shouting from behind. And so far I've kept my cool but I know one of these days I'm gonna lose it and I'm gonna grab somebody and yank 'em off of that thing. I haven't had a car since the early '90s so I don't hate bicyclists like alot of drivers do. But it pisses me off when they don't have the balls to ride among cars but think it's okay to throw their weight around on the sidewalk.
If you're on a bike you can and legally should ride in the streets. We wheel-free pedestrians can't and shouldn't walk there. Therefore, the sidewalk belongs to pedestrians. Since we are polite we are willing to welcome you as our guest, but don't be an asshole. If you you are biking or running at a speed where you're gonna run into pedestrians unless you shout out a command at them then that means you're doing it wrong. That means you're being an asshole. You're on the same level as the purse snatchers in movies and TV, who push people out of their way and knock things over. When you drive I'm sure you knock over innocent fruit carts.
I'm not gonna lie, I've run on sidewalks before. Good for the heart, sometimes required for catching buses, or sometimes a man needs to evade capture, right? But you steer clear of innocents. If I was that runner I would've just stepped out into the street, which was completely clear of traffic and parking, and if traffic did come it would've been facing her. It would've been so much easier to just avoid us than to try to warn us she's buzzing our tower. I feel strongly that I was an innocent victim here, and she was the one who fucked up. But I didn't get mad or yell the Lord's name at her. So she shouldn't have. Learn your sidewalk etiquette, lady. Salt would never do that shit.
. . .
Okay, good. Sorry about that. But I needed that off my chest. Now hopefully I can forget about the whole thing, just like the filmatists here forgot they had Andre Braugher playing the Secretary of Defense, and gave him like one or two lines.
So anyway, here's another attempt at a female James Bond or Jason Bourne. She does all the good secret agent business: shooting, bombing, punching, running, climbing, disguising, poisoning, deceiving. She passes the test. What she doesn't get to do is fuck. She has a husband who she loves, but you're not sure why she thinks he's a really really good man, and he's not in the movie much. Bourne gets to fall in love, Bond gets to get it on, but Salt just gets to look good. She doesn't talk about sex, or all the good times and bad times that may be. It seems unfair since she's the female counterpart to those male hoes. But I kind of like it too, because she can be very capable without falling as much into the sexpot trap as most of our female asskickers. And actually I'd rather the screen time be spent on her tricking people and blowing up buildings than on meeting dudes and falling in love. So maybe the women are ahead of the men on that one.
The skipper for SALT is former action director Philip Noyce (BLIND FURY), the writer is former action writer Kurt Wimmer (ONE TOUGH BASTARD), and Brian PAYBACK Helgeland did the "we're switching it from Tom Cruise to Angelina Jolie" uncredited rewrite, meaning he wrote the part where she took her panties off to block a security camera. One of the two credited editors is Stuart Baird, director of EXECUTIVE DECISION and, strangely enough, U.S. MARSHALS. The musical score is by Spinderella.
Whoops, wrong again the score was by James Newton Howard. And Pepa doesn't have a cameo. But keep it in mind for the sequel, fellas. Speaking of which, I hope this does become a series as long as they increase the silliness in each installment. I'd like one that's an EASTERN PROMISES rip-off, with a tattooed Salt going undercover in the Russian mafia. Also there should be an underground fighting tournament one where she has to fight Oleg Taktarov. Or maybe they could even make that one a crossover where she meets Ivan Drago and/or Uri Boyka. Anyway, welcome back, Cold War. We missed you.