SOMEWHERE is a quiet, simple little thing, like a haiku or a bowl of strawberries. In a movie I usually like to see things like plot, momentum, music, etc., but this isn't that kind of party. It's Sofia Copolla trying out a new minimalistic style kind of like what seems to be her own personality: soft spoken and shy, but showing a subtle wit. Some of you would fucking hate it. I liked it though.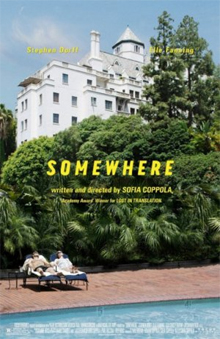 Stephen Deacon Frost Dorff plays Johnny Marco, famous actor and failed male-female relationship participant. He's between movies, staying at the Chateau Marmont, which I'm guessing is expensive. His time off seems to be mostly a series of encounters with beautiful women. Alot of times they want to fuck him, but he can't always judge correctly. He's feelin pretty cool at an outdoor cafe with his shades on, getting eyed by two young women, then he gets a private text that asks "Why are you such a fucking asshole?" He gets that alot.
He's paranoid about paparazzi. Sometimes he seems annoyed about being recognized, and you think "Well, maybe you shouldn't be driving around in a Ferrari then, asshole." His life is best summed up by my favorite scene where he watches two buxom twins do a pole dance in his room. They bring their own portable poles and the music comes from their little radio. It's not shot to look glamourous or sexy at all, just straight on and awkward and you can hear all the squeaks of their hands and legs sliding across the poles. By the time they're upside down he's dozed off.
So that's how the other half lives? I don't even spring for the pay-per-view porn.
Into this light breeze of mundane sin comes his innocent 11 year old daughter Cleo (Elle Fanning), dropped off by an unseen ex. Coppola does a great job of conveying the meaning this relationship brings to Johnny's life without once making it feel like a Hollywood high concept "unlikely guy takes care of an adorable kid" movie. They'd have a hard time doing a "guy pissing" poster for this one.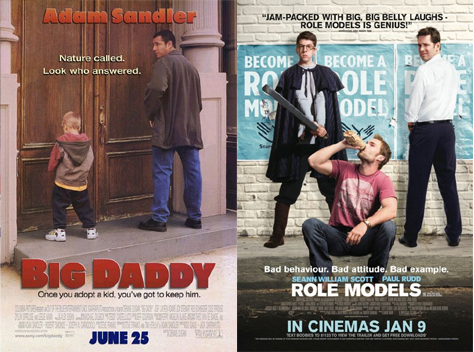 There's emotional shit going on between the characters but it goes mercifully unstated. You see it in their expressions and actions and don't get a big monologue or a dramatic argument about it. There's no scene where he fucks up and she's mad at him and he has to make it up to her. Those possibilities are there but it's subtle, like life. When he goes to her ice skating practice he does keep looking at his phone, but also he watches most of it. He's not always doing the best he could, but sometimes he is. When he tries to be open with her he does a laughably inept job, but he seems sincere. It doesn't make up for everything, but it helps.
There's also something going on here with the innocence of this skinny little girl, sitting out in the hallway waiting for her dad, not clear if she understands what's going on with his multiple sex partners. She seems to hate having breakfast with this one lady, but she doesn't say anything. Coppola draws a visual parallel between watching the pole dancers and watching his own daughter ice skate. Their outfits are similarly skimpy, but obviously with different meanings in these contexts. I like to think it makes him conscious of the way he looks at women, but that's up to interpretation. It's all done very lightly.
The whole movie has a naturalistic feel. It's obvious that alot of it was just filming the actors hanging out together playing video games, swimming and shit like that. Chris Pontius, "Party Boy" from Jackass, has a small role as Johnny's friend (brother?) and also hangs out joking around and drawing with the little girl.
Those Fanning kids are ridiculous, they're too talented. Elle, at least in this movie, doesn't seem as creepily adult-like as her sister Dakota. But I have a feeling that the scene where she prepares eggs benedict for everybody was real. And the ice skating. Although it's possible that some little girl ice skating double is gonna come out and call her a fraud like Natalie Portman's ballet double.
Maybe the most impressive achievement of the movie is how likable it makes Stephen Dorff. I'm used to him playing these brash hotshots like he did in BLADE, CECIL B. DEMENTED and CITY OF INDUSTRY. Here he gets to play that but you see how it's a front. He has this vulnerable doofus underneath. He struts around squinting behind rock star sunglasses but he can't help but look at his daughter with gentle Matt Damon eyes.
The visuals are really raw and drab compared to Coppola's previous movies. Lots of static shots and very little scoring, so you can hear airplanes flying overhead and stuff like that. And a BROWN BUNNY type opening where a camera on a tripod just films him driving his car back and forth for a couple minutes. It's a great choice for this movie because even while they're going to these extravagantly expensive hotels and stuff there's no glamour, they're just regular people trying to enjoy a lazy day and hopefully overcome the mistakes they've made in life.
Any time there's a story like this I get a little twinge of jealousy. I wish I had the luxury of worrying about my relationship problems while taking long vacations from work and being able to travel anywhere in the world without worrying about how much it costs. His biggest responsibility is getting back from staying in a palace in Italy in time for his daughter to go to camp on the 10th. The point of the story is that money and fame don't make up for his human flaws, and in fact probly make them way more of a problem. And yet I'm sitting here thinking "That's the life right there! That's what I want!"
But Sofia Coppola obviously grew up in this world. I'm not sure if you know this, but she's the daughter of the guy who directed THE GODFATHER and CAPTAIN EO. Her cousin is an actor we love whose version of disastrous financial problems is that Leonardo Dicaprio outbid him for a dinosaur skull and he has to sell some of his mansions. That's where she's coming from, so I'm glad she's telling these stories she knows instead of, like, CRY OF THE LONELY DITCH-DIGGER. And it never seems like she's saying "Oh, woe is me, what a difficult life I live!" She's just giving us a peak into the lives of people we might not have seen portrayed as humans on screen before.
Coppola will probly make a bunch more movies, and this won't be the one you'll dig out to watch every couple of years, but it's pretty much perfect for the modest little thing it is.