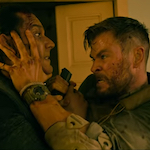 EXTRACTION seems to be getting good promotion as far as non-awards-contender-made-for-Netflix movies go. And there aren't movie theaters at the moment anyway, so it was the hot movie to see this weekend. I'm glad they figured out a way to get people interested – I've been anticipating it for a while, but "it's the first movie directed by the stuntman who did the action direction for ATOMIC BLONDE and WOLF WARRIOR II" maybe doesn't have the same currency with normal people as it does for me.
Sam Hargrave has been the Captain America stunt double since the first THE AVENGERS, and a Marvel fight/stunt coordinator/second unit director since CAPTAIN AMERICA: CIVIL WAR, so he was well known to "visionary directors" Joe and Anthony Russo, who used their Marvel money to start the production company/studio AGBO. And they were wise enough to get him as director for this movie based on their 2014 graphic novel Ciudad (written with Ande Parks, adapted for the screen by Joe Russo).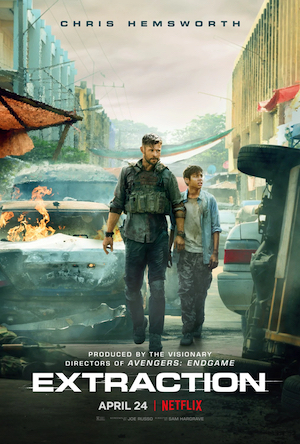 I guess that's also his connectcion to Chris Hemsworth (A PERFECT GETAWAY), but in my opinion he completely forgot about Thor and cast him strictly because he thought it was fucking bullshit that BLACKHAT didn't become a franchise. Hemsworth plays Tyler Rake, who is not an elite hacker this time, but he does get to travel around the world hiding out, shooting, exploding and stabbing because he's in the similar vocation of depressed ex-special ops very expensive black market mercenary.
One day while Tyler is minding his own business terrifying his buddies by spontaneously cliff diving and then meditating/contemplating death underwater, a nice young nerd kid in India named Ovi (Rudhraksh Jaiswal) is kidnapped by minions of a sadistic Bangladeshi crime lord named Amir Asif (Priyanshu Painyuli, ROCK ON 2). That's because Ovi's dad (Pankaj Tripathi, GANGS OF WASSEYPUR) is the biggest drug lord in India. But he's in prison and can't really afford the ransom or the humiliation of paying it, so instead he threatens the family of his henchman Saju (Randeep Hooda, MONSOON WEDDING, ONCE UPON A TIME IN MUMBAAI, JJANNAT 2). This happened on your watch, and you're a badass special forces motherfucker or whatever. Go get my boy back or die.
Painted into a corner, Saju calls up Nik Khan (Golshifteh Farahani, PATERSON: WAY OF THE BUS DRIVER), the manager of all the mercenaries I think, who sends Tyler (backed by a sniper played by Hargrave himself) to rescue the kid. But Saju doesn't have the money and they're not about to let him pay it off by washing dishes. So Tyler ends up stuck in Dakha (filmed in Thailand) with Ovi and nowhere safe to bring him.
Hemsworth never seems to struggle with accents, but it's nice to see him actually play an Australian and get to call people "mate" all the time. This is a pretty gloomy movie, though, without much of his humor. And honestly there was a point I was thinking it wasn't gonna be as good as CLOSE (the one with Noomi Rapace as the burnt out badass-for-hire with parenting issues trying to rescue an abducted rich kid overseas), because seeing her play a character like this was a little more novel.
Then all the sudden it goes full-on atomic blonde. Or maybe it's more CHILDREN OF MEN in this simulated long take that goes from an intense car chase to a foot chase and a fight with police that involves shooting, grappling, stabbing, falling over ledges, getting hit by cars. It has a beautiful ebb and flow to it, taking time to lag back with Saju pursuing him, or the police searching a building for him, and to do things like zoom in on Ovi looking back and forth at a fight happening in front of him, or branch off as he runs off on his own for a bit. And there's a great moment where Tyler and Saju have a knife duel on a crowded street and Tyler jumps back and winces as an innocent dude zips by on a scooter and almost gets hit by his blade.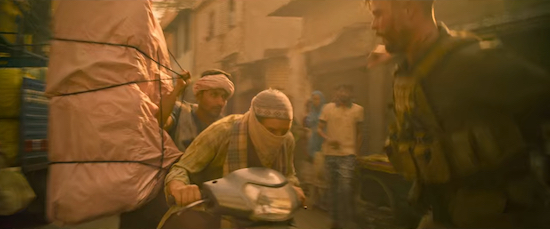 I'm not always a stickler for this, but it should be noted that this is one of those action scenes people demand where it's fully integrated into the story and characters. It springs out of the big turn in the plot, when it's revealed what Saju is trying to do. It illustrates what Saju is capable of. And it establishes Ovi's conflict of having to decide if he's safer with Tyler or Saju.
Definitely the action – with the type of camerawork that puts you in the middle of the chaos but respects your right as a viewer to see what's going on – stands out. It's very big on Michael Mann type realistic gun play, but not at the expense of the good shit. For example, he picks up a guy and swings him as a weapon against another guy. He kicks a table into a guy. He impales a guy on his namesake garden tool. It's cool that the director himself is up in a building shooting guys so the hero has the opportunity to do actual fighting.
But it's also during the course of that long scene that I really registered that this Saju character is something special. I think it happened around the time he reappears in a stolen police car, sideswiping and shooting at the real police while trying to catch up with Tyler.
I'm completely unfamiliar with the world of Hindi cinema, but I was not remotely surprised to read afterwards that Hooda is a popular actor that people were excited to see in the movie, the way I would be if Tony Jaa or somebody showed up. When I first saw his character as a calm but intimidating presence looking after the kid, I thought "Who does this guy think he is, Guy Pearce or somebody?" Then when he talked to his wife about having to do this dangerous thing to protect his family I thought, "Ah, a bad guy with a little humanity to him, I like those." And then as soon as he was geared up and going after our guy it was clear that he was somebody, not one of the cavalcade of forgettable, interchangeable bad guys in a million action movies, often scary foreigners. This guy has a presence, he commands your attention and fascination.
And you realize these are both ex-Special Forces guys (we learn that from a nice pan across the photos in his living room) who agreed to work for the same bad person. They're both trying to save the same kid. And the kid kind of looks at both of them in shock, not necessarily sure which one he should go with. He knows they both think of him "more like a thing than a person."
So when the movie takes a little time to follow Saju on his own, finding a hotel room, straightening his broken nose bone, calling his family clearly worried it will be the last time he speaks to them, it's been earned.
This Tyler character really grew on me too. He's cool from the beginning, because he lives on a remote patch of gravel in a corrugated metal shack with a dog, some chickens, a tractor, a dirt bike and a broken down station wagon, but he's not surprised when he comes home and somebody's helicopter has landed on his property. In fact, he nods politely to the pilot.
And his Riggs-style self-hating danger addiction is handled well. A gangster pretends he's going to shoot him and is in awe that he doesn't flinch – he says "There's no magazine in it," and we know he probly did notice that, but wouldn't have flinched anyway. The main theme of being broken from the death of a son and related regrets, and how rescuing Ovi changes his attitude toward life, is on the obvious side. But I like the irony that he's doing this because he lost a wife and kid while Saju is doing it because he has a wife and kid. Wherever your life goes, you have problems.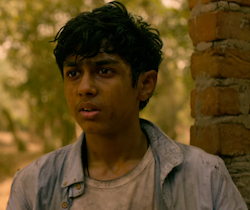 What's great about the whole theme is Tyler's weird chemistry with all the kids in the movie. When he first gets Ovi to safety and pulls him out of the trunk I expected the usual thing where they snipe at each other for a while. Instead Tyler calmly and emotionlessly hands him a bottle of water, a candy bar, tells him to eat it because his blood sugar is low. Ovi looks at Tyler's scars, his equipment, his manner, with big eyes that I interpreted as "who is this superman and how do I become one?" Tyler makes little attempt to be comforting or reassuring to him, just kind of bossing him around (and without warning throwing him out a window onto a roof exactly like Blade did to Karen), but Ovi is not very upset about it and at times I thought he even appreciated not being coddled, being expected to be tough, as he aspires to be.
There's a standout part of the initial rescue where Tyler has killed all the guys in the room except for one tiny kid who points a rifle at him. Tyler doesn't try to run or grab the gun or talk him down, he just stands and watches the kid try to fire it and fail. Then he non-threateningly takes the gun and gestures for him to leave. And he does.
But Amir, the fancy-dressing gangster responsible for the kidnapping, is the opposite. His Just how Evil Is He? involves threatening a bunch of kids because one of them allegedly stole from him, and throwing a random one off a roof to get them to talk. He singles out this kid named Farhad (Suraj Rikame), who already has a big scar across his face from some unspecified trauma, compliments him but then demands he cut off two of his own fingers.
Farhad lucks out and gets to keep the fingers for now, but there's this tragic mini-arc where reacts the way many do to abusive bullies: he tries to win his approval. Runs over and opens a car door for him. Becomes a gunman for him. In the middle of that story is the funniest scene in the movie, when Tyler gets ambushed in a dark alley and then realizes it's a bunch of kids. He has this little "I can't fuckin believe this" head shake and a "What the fuck?" before he's forced to beat them all up because they have guns and machetes. The scene has a perfectly uncomfortable sense of "Well, this isn't really fair" way bigger and stronger than all of them and he's a highly trained professional and they're just random kids handed weapons. It's like Lebron James playing basketball against a bunch of 12 year olds. So he's literally tossing them around, a little disgusted by the whole idea but not enough to stop him from, like, breaking a car window with Farhad's head. Then he slaps him and says, "Piss off. These fuckin shits!"
This is one of these movies that I knew I really liked, but as I write about it and rewatch parts of it I'm realizing I full-on love it. A compelling hero-and-kid relationship, an even more compelling villain-turned-not-villain character, a good hissable bad guy, some other interesting side characters and subplots, and lots of good action including that A+ showstopper. A straight-to-streaming action movie that's better than many theatrical releases and with equal production value. More Tyler Rake adventures, please.
P.S. I don't know how close this is to the comic book, but that takes place in Paraguay and he's rescuing "an attractive young woman" according to an Amazon review.
P.P.S. SPOILER QUESTION: On the bridge at the end were we supposed to think Niki was trying to kill him for betraying the company, and then it's a surprise when she helps him? Or did I misunderstand what was going on? Whatever it is, I like that she's loyal to him. I know it's corny but even though it's realistic for people in this world to turn on each other it makes me happy when movies let you believe in an unbreakable friendship like that.
P.P.P.S. The original version by Mike Judge was underrated, I thought, but this one is pretty different
APPENDIX: Other notable Sam Hargrave credits: