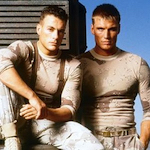 "Who the hell are these guys?"

When UNIVERSAL SOLDIER arrived on screens on July 10, 1992, it launched Jean-Claude Van Damme to a new level of movie stardom. DOUBLE IMPACT, with its wide release, increased budget and improved acting performance had been a big reach into the mainstream for the star of Cannon fighting tournament movies, but it just wasn't the big crossover hit he needed. UNIVERSAL SOLDIER was.
Part of the appeal was that it pitted JCVD for the first time against fellow action icon Dolph Lundgren (in his followup to SHOWDOWN IN LITTLE TOKYO). They tried to play up some sort of rivalry between the actors, even staging an argument and shoving match on the red carpet at the Cannes Film Festival. Produced by Carolco (FIRST BLOOD, TOTAL RECALL, THE PUNISHER, T2), distributed by TriStar Pictures, and featuring the sort of badass metallic title font one should expect from those origins, it was a $95 million hit in theaters, proving that these guys were more than just the stars of videos you rented to watch with your buddies.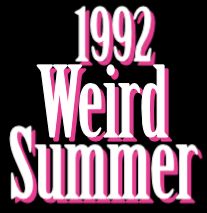 I already reviewed this one back in 2008, and it's a pretty good review, so check it out. But I figured it was worth another look in the context of '92. It's an interesting study in summer releases because it's in that sweet spot between a b-movie and a blockbuster. It was Van Damme's most expensive movie to that point, but that still meant only 2/3 the budget of LETHAL WEAPON 3, and less than half of BATMAN RETURNS or ALIEN 3. Director Roland Emmerich did not yet have a track record of making blockbusters – this was his second English language movie first Hollywood movie, and follow up to MOON 44 (1990) starring Michael Pare. The success of UNIVERSAL SOLDIER would get Emmerich in the door to do STARGATE which would hook him up to do INDEPENDENCE DAY, which would apparently give him a life long pass to make gigantic, very stupid movies that everybody complains about and swears are worse than the earlier one they like. (read the rest of this shit…)