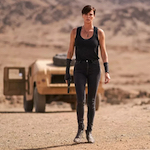 THE OLD GUARD is a pretty good Pandemic Summer blockbuster, because I'm sure it would've felt underwhelming if it had been advertised for months and played on the big screen, but as a movie I read mentioned once or twice and never saw promoted until shortly before it dropped on Netflix, it was enjoyable.
In the opening scenes it almost seems like another one in the tradition of CLOSE and EXTRACTION – militarized elite mercenaries or whatever, all geared up with their guns and armor and headsets, on a mission to rescue kidnapped kids in a Muslim country (South Sudan this time). But there are little hints that something else is up – wait, is that guy carrying a sword? They have a team, too, instead of one burnt out loner who's messed up about losing a kid. Their leader is Andy (Charlize Theron, with hair and physicality that reminded me she was AEON FLUX), who thinks they should be laying low, but reluctantly agrees to meet with this ex-CIA guy Copley (Chiwetel Ejiofor, TRIPLE 9) for intel.
It turns out to be a trap. They breach the place and the walls close in on them and some guys come out and machine gun them. A minute later is when we get to the real premise – the team wake up, the bullets drop out of their wounds, they heal and they stand up and kill those motherfuckers with that sword and a cool ax and some kung fu and shit. (Fight coordinator: Daniel Hernandez, xXx: RETURN OF XANDER CAGE, AVENGERS: ENDGAME, VENOM.)
It's based on a comic book published by Image Comics starting in 2017, adapted for the screen by its original writer, Greg Rucka. These guys are all warriors who are immortals. They don't know why, it just happened that way. They have dreams that lead them to each other, but unlike the immortals in the Highlander universe they don't kill each other. They team up and go around together and try to put their healing powers and centuries worth of combat practice to positive use.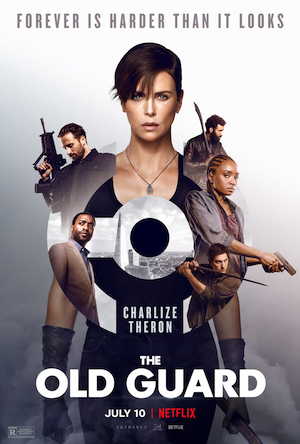 Andy is short for Andromache of Scythia. If I were her I would use the full name, honestly. Like X-MEN ORIGINS: WOLVERINE, they live so long they get mixed up in all the conflicts. At one point we see her in an American civil war photo, fighting for the Union, I believe. Her best buddy Booker (Matthias Schoenaerts, RUST AND BONE, THE DROP) fought under Napoleon. Joe (Marwan Kenzari, BEN-HUR, THE MUMMY) and Nicky (Luca Marinelli, THE GREAT BEAUTY, THEY CALL ME JEEG) fought on opposite sides of the Crusades before they figured out they were soul mates. There's a great moment where they get captured by shithead mercenaries and one tries to insult him with a "what is he, your boyfriend?" remark. Joe makes a little speech about what Nicky really means to him, far beyond a mere boyfriend, an epic description backed by hundreds of years of profound connection. The asshole has no retort.
(I was surprised just now to realize Kenzari is the same guy who played Jafar in the live action ALADDIN – I kinda liked that movie, but he has much more presence here.)
It's harder to be immortal these days without somebody figuring it out. For example this Copley guy, who records their death and resurrection and shows it to pharmaceuticals CEO nerd tyrant Steven Merrick (Harry Melling, Dudley from the HARRY POTTER movies). Merrick is immediately hateable for 1) his bug-eyed acting style and 2) wearing a hoodie under a suit. Not my favorite villain, but at least not a bland one. He gets a reaction.
He sends thugs to try to capture Andy and her team to be used as guinea pigs, believing it's ethical to imprison, torture and even kill them because it might help other people live longer. And make the stockholders lots of money. But Andy and friends are a little preoccupied because for the first time in forever they're aware of a newbie. Andy has to go to Afghanistan to pick up Nile Freeman (KiKi Layne, IF BEALE STREET COULD TALK), an American soldier who freaks everybody out when she quickly heals from a throat slashing.
They have some fun with their ability to get shot up and maimed and then walk it off. There's a good compound fracture. Otherwise the story is mostly made of familiar beats, but not bad ones. Andy shows Nile tough love to prove to her she's immortal, dragging her into a Jeep, shooting her in the head when she runs, fighting her in the cargo hold of a plane, threatening to crash the plane, etc. And by the end they really like and respect and are nice to each other. I like that kind of story.
I have seen some high praise for the action, as well as some pushback. I would say it's in the middle. Doesn't excel like EXTRACTION, but above average. It's shot pretty clearly, and Charlize gets some good moves. Maybe too much emphasis on the upper body without showing their feet.
To me the strength of the movie is the little character moments. I like the bonds shown between these people who share a lonely, weird existence, have known each other almost literally forever, and have died for each other. They meet up in new cities, hug each other, have their own jokes with each other. Without giving anything away, I especially like the way they deal with it when one of them has wronged the others. They've been through too much to just switch to being enemies.
Of course this reminded me of HIGHLANDER and some of what's fun about those stories. There's some overlap – jokes about what they've witnessed throughout history, flashbacks to different time periods, Andy having a Rodin sculpture in her secret stash cave. And the way they get in Netflix's beloved "haunted by the loss of a child" trope is by using Connor MacLeod's backstory from the earlier drafts, that he had kids and had to watch them grow old and die. Some sad shit! It's also different from HIGHLANDER in that it emphasizes their adaptation to modern technology – the sword and ax are there, but they (sadly) don't default to them.
The similarities made me think oh damn, Charlize would've been a good, uh… Connie MacLeod in Chad Stahelski's HIGHLANDER remake. As much as I enjoyed this, I'm assuming that will be better because undoubtedly the action will be better, and I think Stahelski's movies are stylish enough that there's a chance he'll recognize the importance of flashy technique when following in Russell Mulcahy's white Diadora Borg Elite trainer footsteps.
Director Gina Prince-Bythewood – who I know from LOVE & BASKETBALL, but she got some hype for BEYOND THE LIGHTS several years ago – isn't going for stylization like Mulcahy. But she also doesn't do the yellow tinting some people objected to on EXTRACTION. (There were apparently two cinematographers: HIGH ART's Tami Reiker, and Barry Ackroyd of THE HURT LOCKER and CAPTAIN PHILLIPS.) It's a decent looking film, but I think her strengths are more dealing with actors and characters than visuals. I guess I haven't seen enough Netflix originals to generalize, but of the action ones POLAR is the only one I can think of that's stylistically playful.
I'm wondering if we should call this category of movies DTV+ or something. They have Charlize Theron and a $70 million budget – doesn't seem fair to put it in the same category with Jesse V. Johnson, even if most of his are better than this. But they find that sweet spot in between the expectations of a theatrical movie and a TV show. I don't need to watch this every week, but I'm happy that it's clearly intended as a series, especially since the next one would likely revolve around the minor character played by the great Veronica Ngo (credited here as Van Veronica Ngo) of the Vietnamese action films FURIE and CLASH.
In addition to the pandemic, this is a summer of upheaval. Snowballing injustices and unrest have forced a long overdue season for us to collectively face and rethink some of the things we've been ignorant or complacent about. On that score, good for Netflix putting this budget behind a Black woman director, particularly for something that's just cool and fun, not looking for prestige. And for having a cool gay couple in it – again, just because it's part of the story, not because it's About Something Important.
On the other hand, I'm starting to be more conscious of how comfortable I've gotten over the years with the way modern action movies glorify militarism. I struggled with this in my upcoming book, because an effective, traditional way to explain someone's fighting abilities is to make them ex-military. In the '80s you could say they'd been in Vietnam, a war most everyone agreed was a mistake. But now it pretty much has to be related to the vaguely defined "War on Terror," still in progress, so it's often treated as a straight forward heroism, not a dark, complicated one.
Nile needs to be a modern day warrior, so she needs to be a soldier in Afghanistan. And she needs to be a good guy, so they make a point of showing that she's extra empathetic when entering someone's home (to save them from a bad man), and reminds her team to be respectful. There's more to it than that, and it's not what most of the movie is about (the bad guys are Big Pharma, after all), but I think it ends up leaving an impression of don't worry, there are some good people in there, we're the good guys. Don't worry about this neverending occupation. At least when combined with a hundred other movies doing the same thing.
I want to be respectful of veterans and the tricky dynamics of the situation, but maybe a military conflict that's old enough to vote should have to be depicted with a Verhoeven eye for the infuriating madness of it all. Maybe at some point it becomes immoral to unquestioningly push this assumption that sending our troops everywhere is the only possibility.
So anyway…
THE OLD GUARD is a fun movie. Andy is no Furiosa and this is no ATOMIC BLONDE, but I love that Theron is both a respectable Academy Award winning Great Actress and somebody who gets totally excited to train and do somersaults and look cool in some genre shit that could've gone to Milla Jovovich. I like these characters, I like this cast, I look forward to more at some point. My heart says don't make Ngo the bad guy, because what about friendship? But my fandom says I gotta see that battle. A great screen martial artist who's also a fine actress vs. one of our finest actresses who's also a great action star. Straight outta Scythia, into your living room.