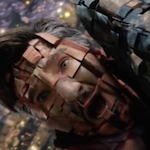 So far I have watched all the Marvelous Cinematical Unabomber motion pictures and related Disney+ streaming television works, and I have enjoyed the majority of them. But fuck all that. What's important here is that DOCTOR STRANGE IN THE MULTIVERSE OF MADNESS is the first movie Sam Raimi has directed since OZ THE GREAT AND POWERFUL nine years ago. I liked it quite a bit more than that last one, but my feeling about it is kind of similar: it's just fun to see him working on a giant canvas, putting his spookablastian spin on this other thing, even though I'd much rather see him working with his own creations.
MCU movie #28 with Raimi's fingerprints all over it is not as good as, say, an original western with Raimi's fingerprints all over it, let alone an original comic-book-inspired character he made up, but it is, at times, thrilling. MULTIVERSE opens mid-battle as ex-surgeon-turned-ex-Sorcerer-Supreme Stephen Strange (Benedict Cumberbatch, the guy in the dragon costume in THE HOBBIT) and a teenage girl named America Chavez (Xochitl Gomez, SHADOW WOLVES) are super-leaping across chunks of debris floating in space while a tendril-covered demon blocks access to a pedestal holding a magic book called the Book of Vishanti. It's the good counterpart to the evil Darkhold, which in this context suddenly I realize is the MCU equivalent of the Necronomicon. They're leap-frogging and parkouring and the camera is deftly moving around them in impossible ways, a natural evolution of all the groundbreaking web-slinging sequences in Raimi's SPIDER-MAN trilogy.
The score by Raimi's frequent collaborator Danny Elfman makes it feel extra Raimi-y. His long time editor Bob Murawski is also on board (credited alongside Tia Nolan, BEWITCHED), though it's a director of photography he's never worked with before named John Mathieson (Nirvana "Heart Shaped Box" video, Prince "3 Chains o' Gold" video, MATCHSTICK MEN, LOGAN). Most of the major technical people have worked on other MCU movies, except for sound designer Jussi Tegelman, who was in the sound department for SPIDER-MAN 2, SPIDER-MAN 3, DRAG ME TO HELL, OZ THE GREAT AND POWERFUL, Ash vs. Evil Dead and some of the Ghost House Productions. The script is by Michael Waldron, a writer from Rick and Morty and Loki, but it was developed with Raimi, starting over from other writers' attempts before Raimi signed on.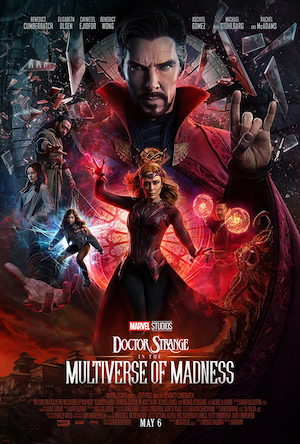 It does not reinvent the MCU, but it injects it with Raimi's particular energy and visual wit. Of course you've got some great camera angles and spins, point-of-view shots (monster eyeball POV, watch POV), lots of cameras swooping down from the sky and into windows, a zoom into an eyeball which then finds evil spirts wriggling inside, lots of cool superimpositions and dissolves in montages and scene transitions, and a particularly great scene of Stephen and America falling through multiple universes that's like a much more elaborate version of Ash falling through time or Oz travelling to Oz. There are several battles with really cool monsters, the most classically Raimi one I think being a street battle with a giant one-eyed squid demon from another dimension. It's a natural evolution from the great street fights with Doc Ock in SPIDER-MAN 2, smashing of building ledges and all. It's a beautifully goofy CG monster that seems to me inspired by stop motion puppets. And if you're an EVIL DEAD II fan obviously you're gonna smile when the thing gets its eyeball stabbed and yanked out of the socket with a comical popping sound effect.
The adventure pings and pongs between a few different strange universes and magical gimmicks, but the plot is pretty simple: America is being chased by demons who are trying to steal her ability to jump between different realities. Trying to find someone who can help her, Stephen goes to exiled former Avenger and powerful sorceress Wanda Maximoff a.k.a. Scarlet Witch (Elizabeth Olsen, OLDBOY remake, WIND RIVER). This is a SPOILER FOR SOMETHING NOT IN THE ADVERTISING but Wanda is quickly revealed to be the one trying to steal America's powers, thinking she can trade her tragic life for a universe where she really has the two young sons she created from magic in the Disney+ series WandaVision. So Stephen and America go on the run through some different alternate worlds with help from current Sorcerer Supreme Wong (Benedict Wong, LARGO WINCH).
So far Wanda seems to be the controversial part of the movie – some allege it to be a betrayal to use her as the villain. I sort of get that, for the same reason I sort of don't get it. See, I always thought she was the bummer Avenger in the movies, the only one who was never allowed to be fun or charismatic or experience joy or humor – just tragedies and mourning and anger while everybody else is joking around and having a good time. Finally in WandaVision she did get to be fun, while slowly revealing the many tragic and sinister layers underneath that facade, turning her from one of the least interesting characters to the opposite.
So by the end of that series we have all this sympathy for Wanda and want good things to happen to her, we don't want to see her backslide into super villain shit again. But this is a continuation of what happened in that show! As much as we liked her, she was the villain, and the last scene even set up this story, with her trying to live in peace somewhere while the Darkhold tempted her, making her think her (non-existent) kids were calling to her.
I mean I hope the poor lady finds redemption too, but these movies gotta have bad guys, and I like it better when they're bad guys with some layers and understandable motives. That's what I liked so much about the X-MEN series, and I think the MCU could use more of it. Also, I gotta slightly raise one eyebrow at anybody who has knocked these movies for their "fan service" now getting mad that they have been improperly serviced by Wanda's trajectory.
One thing I've realized from my Raimi rewatch earlier this year is that he enforces a strict morality in his movies. His protagonists must suffer and many of them must pay a price even when we wish they didn't have to. The characters in A SIMPLE PLAN absolutely tear open their lives because they can't resist the temptation of some money lying there. In DRAG ME TO HELL she chooses possible career gain over empathy and literally goes to Hell for it. Arrives early, too. In a Sam Raimi movie you might get dragged to Hell or be haunted by Deadites forever even after you learned your lesson. At least Wanda, being in Marvel movies, will surely get more chances for forgiveness. (In fact they already brought some of Raimi's Spider-Man villains back from the dead for just that purpose!)
I do have some discomfort with how often the major women characters in genre movies are motivated by a need to have kids, but these are the cards we were dealt in WandaVision. Plus those kids are very cute and remind me of my nephews. It works. If Doctor Strange has thought about using magic to get back with his girlfriend (not to mention majorly fucked up reality to undo some bullshit for Spider-Man) of course Wanda is gonna think up ways to get the happy life she dreams of. But just like when Peter Parker tries to do things the easy way, she will come to regret it.

Doctor Strange has already done his Darkman/Spider-Man style martyring-his-love-life-to-be-a-super-hero thing before the movie starts, but this does follow the SPIDER-MAN template of him fucking up his relationships and learning a simple lesson about it while battling a villain who was once his friend and has alot in common with him. In this case they're both geniuses of magic instead of science. Same thing, I guess, according to THOR. Once again, Raimi puts his protagonist at a low point (having nightmares every night, going to the wedding of the love of his life, getting shit from Michael Stuhlbarg for not saving the entire universe well enough) but there's no time to lay it on as thick as he did with Peter Parker, so it's not quite as funny or as uncomfortable. (Though this has some laughs, I do think it could use more of Raimi's humor.)
The things people will most credit to Raimi are the many horror elements – all kinds of spooky atmosphere, cackly demons, creepy sound design including Deadite-esque voices, and a really cool turn of events that's late in the movie so I'll save that for the spoiler section. Those looking harder will notice some classically Raimi story elements ranging from a character finding themselves prophesied in ancient graven images (like EVIL DEAD 2) to a chase scene where they slam a series of doors behind them but their pursuer just smashes right through them (like CRIMEWAVE).
Of course you can count on Raimi to pack in a ton of clever little ideas. There's a hint of his beloved evil-version-of-yourself-in-the-mirror trope, but it turns into a new one: a scene where they try to cover every reflective surface in a room (including puddles on the floor) because Wanda has the power to reach through them. Another part I loved was a magical musical battle, two wizards hurling glowing musical notes at each other, bursting into bits of famous classical compositions as they collide.

Lately many have commented on the volume of crossovers involved in the MCU, possibly making them indecipherable to newcomers. This is DOCTOR STRANGE part 2 so you'll want to see part 1, but also it ties into events from AVENGERS: ENDGAME, SPIDER-MAN: NO WAY HOME and especially WandaVision (that's nine episodes!). There's also a (NON-SPECIFIC SPOILERS) character from the non-MCU X-MEN movie series, one or more references to the Disney+ cartoon What If…?, a years-old internet fan-casting come to fruition, and a character I didn't know was from a show I didn't watch and forgot existed. But honestly I think most of that is not important to the story, and they give you all the information that is. Also, it's just a fact that this is the biggest, most mainstream movie series of our time. Clearly not everybody is alienated.

I suspect the real danger is this multi-verse business. They've done cool things with it so far, but the returns are already diminishing. I think digging in further will get confusing and make it feel like there are no stakes anymore. But I always kinda hated alternate dimensions. In my opinion alternate dimensions should mind their own business.

After the credits it says DOCTOR STRANGE WILL RETURN, which was not in doubt. The question is, will Sam Raimi? To me the best possible outcome would be if this gives him the momentum to get a mid-budget movie of his own creation off the ground. Or even a big budget one! He's revealed in interviews that Universal has talked to him about a DARKMAN sequel, but it's unclear whether he has an idea for one or even if he would want to direct.
I would much prefer that to him doing more Doctor Strange, but beggars can't be choosers. The days when I was concerned that he was spending too many years only making SPIDER-MAN movies seem silly after he spent more years making no movies. Also, that trilogy shows how he might be able to build on this with a sequel and then again with another sequel that everybody would hate even though it kind of ruled.
Still, I prefer my idea of hiring a different horror director for each DOCTOR STRANGE installment, and allowing Dario Argento to turn part 3 into a $200 million MOTHER OF TEARS type freakout, Claudio Simonetti score and all. Think about it, Marvel. People will watch it no matter what it is, might as well do the right thing here.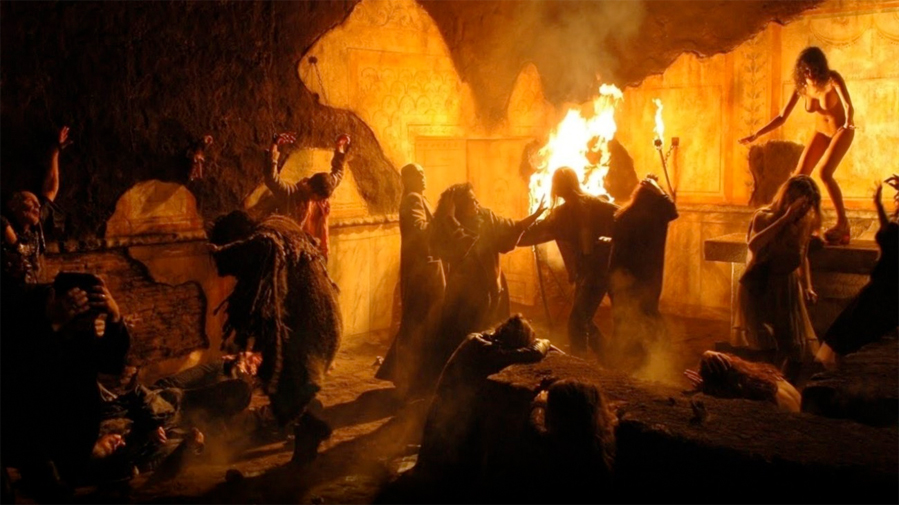 post-script: SPECIAL SPOILER AND NERD SHIT ZONE
Here are some spoilery notes I didn't want to include in the main body of the review
1. The cool turn of events I referenced earlier is when Strange enters our reality by possessing the rotting corpse of himself from a different reality. Like a fucking Deadite! I love his sliced open jaw and his cape made of writhing ghoul hands and ectoplasm or some shit. It's one of the most purely Raimi things in the movie but one that wouldn't have been achievable with the budgets and technology he's had for most of his movies. Evil Ash is definitely jealous of that cape.
2. Speaking of Ash, I assumed Bruce Campbell would have a goofy cameo here, and was not disappointed. It's nice that his character beats himself up as a reference to EVIL DEAD 2 and/or our knowledge that Raimi likes to torture him in movies.
3. If the trailer hadn't revealed Professor X was in this it probly would've got me pretty hyped. As a non-surprise, though, it's just fine. Might've been better to leave LOGAN as his farewell.
4. The other Illuminati members weren't super exciting either. Somehow I kinda had a hunch they would do Krasinski as Mr. Fantastic, and I guess it felt underwhelming since he looks just like the photoshops people made of him. Maybe it would've been better for him to look cool! Oh well.
5. I guess the one that kind of had the intended effect on me was Captain Carter (Hayley Atwell, PETER RABBIT 2). The concept of Steve Rogers' WWII girlfriend becoming Captain America instead of him comes from an episode of the cartoon What if…?, and I didn't like that show very much, but ever since her show Agent Carter I've been happy any time Atwell pops up as Peggy. That's about it, though – this appearance doesn't really allow her to exhibit what's likable about the character.
6. I didn't recognize Anson Mount (URBAN LEGENDS: FINAL CUT) as Black Bolt or know that was a character from the show Inhumans, so I just though "oh, who's this stupid looking new character?" and then he bit it. In retrospect this was probly meant as kind of a subversion of expectations to bring us these potentially exciting characters and then murder them, but I think maybe the storytelling rhythm is a little off or something. But it's fine.
7. I did not know that one of my very favorite actresses was gonna make her MCU debut in the mid-credits setup for part 3 or whatever. Historically I have enjoyed these sorts of surprises and teases, I'm not complaining. But I admit this didn't get me real excited. Part of it may be that I've never heard of the character and she doesn't seem real intriguing other than who's playing her. But also they soured me by bringing Angelina Jolie into ETERNALS and sidelining her in favor of blander characters and performances. I guess I'm skeptical whether they'll give Charlize a role that's a better use of her time than the mid-budget movies she could be doing instead.
So I think you can see by the above that I like this movie for the Raimi-specific stuff, and I'm colder on the more Marvel-y business. I'm not usually against that stuff, so this could be a bad sign. But jesus christ they've been making it work this long, I can give them the benefit of the doubt for now.
This entry was posted on Monday, May 9th, 2022 at 7:11 am and is filed under
Comic strips/Super heroes
,
Reviews
. You can follow any responses to this entry through the
RSS 2.0
feed. You can skip to the end and leave a response. Pinging is currently not allowed.