Steven Spielberg's WAR HORSE is the story of a horse named Joey. He is distinguishable because he is brown with a white mark on his head and above his hooves. Otherwise I'm not sure I could pick him out in a lineup. He's just a horse. Doesn't talk or do math problems or anything.
The story begins with Joey's birth and ends with his ascension to the stars like E.T. (note: some facts have been altered) and in between he goes through a harrowing journey in turnip farming, WWI, etc. His primary equine-human relationship is with a youth named Albert (Jeremy Irvine), who is there at his birth and later becomes his owner and trainer. Despite going way beyond anyone's expectations in his indentured servitude, the purchase of non-plow-ready pretty boy Joey financially ruins the family, their lives are destroyed and they have to sell him for cheap to the army for even more cruel and unusual treatment by different noble, handsome Englishmen.
During his tenure as a war horse the ownership of Joey's body, soul and dignity is transferred between the British army, the German army and a little French farm girl. So we briefly see the war from different perspectives and we see that the people on both sides and caught in the middle are all just people. They have different accents but they all conveniently speak English and all share a love of forcing this particular horse to nearly kill itself by carrying people around and dragging heavy metal equipment through rough terrain. So why do we have wars? We're all the same.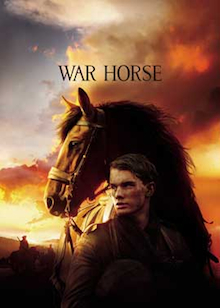 What I heard about this movie that I thought sounded promising was that it was about "war as seen through the eyes of a horse." What I should've realized is that that means through the emotionless, uncomprehending eyes of a horse. I mean jesus, we've seen a thousand movies about how man can't comprehend war. What, is a horse gonna figure out a new angle where it makes more sense? Are his simple animal ways gonna solve a puzzle we're overthinking? And then is he gonna stamp his foot in Morse code to explain it to us?
No, this horse doesn't radiate any kind of intelligence or feeling. I get nothing. In his defense, he is a horse. He probly hasn't gotten a chance to hone his skills on the stage or anything like that. In fact there is a play version of this and they used a puppet. Probly didn't even let this guy audition. Nobody gives horses a chance.
I guess the play itself is based on a children's book which is told in the point of view of the horse, giving him human words and thoughts. In the movie he doesn't talk, so he's just a horse. He doesn't even get a part where there's a girl horse and they flutter their eyes at each other because of love. He's not so much a character as a mcmuffin, a thing that everybody's trying to get because of its buttery English muffin bun. Yeah, he runs around, does a little horse parkour on the battlefield, but he doesn't have much in the way of thoughts or emotions and not too many deliberate actions. He's on a leash or in a barn, he's auctioned off a couple times, sold a couple times, found and claimed a couple times, gets rescued. He's a slave, used as a vehicle or a tool to pull cannons up a hill. Even in the hands of his true owner he's forced to nearly kill himself plowing a field full of rocks. And he's not the Cinque of beasts of burden. He never figures out how to say "Give us us free."
By the way Joey also has a horse buddy that goes through alot of the adventures with him. Like Morgan Freeman in AMISTAD he adds his dignified presence but doesn't get a huge amount to do.
I'll say this about Joey, even if it doesn't translate to film he's clearly got alot of charisma. For some reason Albert's dad willingly pisses off his landlord and sinks his whole farm to buy Joey, believing he's not the type of horse he needs, just because "he's something, isn't he?" Albert knows as soon as he sees him that he'll be "the one to save us," only Mom sees him and immediately thinks he'll be the end of them. When a guy in charge of war horses first sees him he's so impressed by him that he's sad that he has to use him for this purpose. The British captain loves this horse, so do the German soldiers that get him, and the little girl, and the two opposing soldiers that save him and then argue over who gets to keep him. Then the soldiers all come together to try to convince the doctor not to execute the horse. Yeah, sure, he's dying, but he's something!
Joey's something all right. He's lucky. Not wild desert horse lucky, but manages-to-survive-a-bunch-of-torment lucky, at least. He miraculously makes it through the horrors of WWI trench warfare, and then what does he do? Does he stop to reflect? No. While the soldiers ring a bell to commemorate the end of the war, and talk about how important it is to remember and appreciate all the brothers they've lost, Joey is in the barn eating hay like nothing happened. Because – and I cannot emphasis this enough – he is a horse.
The humans talk about Joey like he's a hero for making it through that nightmare, like war is as profound an experience for him as for them. But is the horse gonna have PTSD? Actually, he might. I wouldn't be surprised if animals could get that. I think I read something about pets being traumatized by Hurricane Katrina. But will he go to his grave with the guilt and shame of having taken lives, like Albert's father does? No. He's a horse. Even if he'd killed anybody I don't think he'd give it another thought. He'd just eat more hay, later casually take a shit right where he's standing, etc.
So I don't have the connection to the horse that I think you're supposed to have, and in fact having all the people linked by the horse kinda made it harder for me to relate to them, because their whole lives seem to revolve around a horse. What am I supposed to think about a kid who tries to enlist so he can go to war with his horse? One of the soldiers even seems creeped out by Albert's emotional farewell to Joey before he's old enough to go with him (it's meant as a joke though because he suggests that it wouldn't be weird if it was a dog).
Later Albert becomes a soldier and he carries a drawing of Joey that he looks at like it's a picture of his girlfriend back at home. Some dick makes fun of him, asking if he's gonna write a letter to his horse. I'm not sure if this is the case, but it makes it seem like the whole reason he's in the military is to look for his horse. Come on kid, I know it's sad that your dad gave away a horse you liked, but this is years later. You are just becoming a man. You are in a war zone. I'm pretty damn sure you've never been with a woman. You may very well die, and will definitely see your peers dying all around you. If you haven't already taken human lives, you're about to. That's your job. And you know how your dad feels about what he did in his war, he won't even talk about it. What I am saying to you is that if you're still mooning about your pet horsey you're a fucking idiot.
Yeah, I know, beautiful creatures, blah blah blah. A connection between a man and his steed. And not in a ZOO type of way. I get it. But Albert doesn't know he's in a movie about a horse. He should have, like, other shit that he thinks about sometimes. Girls. Baseball. Botany. Something. When the horse comes back into your life we'll be happy for you. But you gotta have a life first.
So this presented a problem for me as a viewer. I can't relate to the horse and then the humans aren't in it enough for me to build a strong connection to them. So when one character who has come in contact with the horse returns unexpectedly later it's a great turn of events but I feel like it doesn't have as much impact as it should because that seemed like just one short chapter earlier and not a full emotional experience.
Despite all this I still kind of liked this movie because it really started to click with me in the last third or so. It started with that shot you've seen in the trailer where Joey is running through a huge battle, leaping over trenches and dodging bombs. The first part of the movie is an old-fashioned, heart-on-its-sleeve, Walt Disney Pictures type feel. But then it leaves the idyllic BABE-like farm (complete with comic relief goose) for the grey skies of hopeless combat. A BLACK STALLION type movie gives way to a harsher-than-expected PG-13 version of SAVING PRIVATE RYAN type battle scenes. But for the most part Spielberg doesn't go for that Fubar/combat photographer style he popularized. The running scene especially has smooth pans through the gorgeously photographed horrors. It's pretty enthralling.
There is a harrowing SPOILER moment when Joey starts to get tangled in barbed wire, and he's dragging a bunch of shit and still hauling ass and I went from oh no, he's in trouble to oh wait, it's like the plow, he's gonna get through this! to oh shit, that doesn't look like CGI, how the fuck do they do that? And then I won't say what it is but this leads to by far the most compelling sequence of the movie, which is not so much about the horse but about two humans from opposite sides of the war having an odd bonding experience. That, at least, is a classic scene.
I guess in a way WAR HORSE is an animal version of EMPIRE OF THE SUN. Like Jamie he's not able to understand the uncontrollable forces at work around him. He just has to accept the shit life throws at him and try to, like, run through it really fast, and jump over some stuff. But we see what's going on around him so we have a little more of an understanding of it than he does, and also are able to see what the different sides have in common. He doesn't really worry about obtaining material possessions (unless you count hay) and doesn't learn as much as Jamie, but he does manage to keep transporting Albert's dad's war pendant, so that's sort of like his version of Jamie's box of mementos or Victor in THE TERMINAL's peanut can full of jazzman autographs.
Despite those similarities I'm very skeptical as to whether this horse will go on to the type of career Christian Bale has. I'd love to be proven wrong, but I doubt I will.