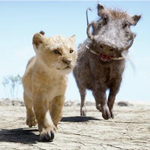 I honestly wanted to see the LION KING quasi-live-action remake in the theater, but never managed to. Turns out it did okay without my money. But by waiting until now to review it I missed out on timely discussions of related issues about a pioneering studio turned monolithic corporation treating their legacy of hand drawn animation as just a shitty licensing library to be resold (and possibly replaced in the imagination of new generations) with more realistic imagery. I guess I addressed it in my review of the (actually) live action ALADDIN. Basically, I'm open to to enjoying these remakes on their own terms, but the whole idea of them is a bummer.
Now let's get to a more controversial topic: I have never thought the original LION KING was very good. I know it's a beloved classic, one of the highest grossing animated movies of all time, etc. I watch it once every 5-10 years hoping to like it better this time, but I always strike out. I liked the dramatic stuff, like everything having to do with Mufasa's death, but I always thought the musical numbers, in addition to not being really my jam, were more of a distraction than a story. And I was not really into the farting warthog.
That's actually why I had higher hopes for this movie than most. I do like the original JUNGLE BOOK, but was really impressed how well director Jon Favreau's live-action-Mowgli/computer-animated-everything-else remake captured its playful spirit while expanding on its story (in part using material from the source material by Rudyard Kipling). I thought if he could do this with THE LION KING it could win me over.
Unfortunately, this is (from what I can remember) a much more direct translation from one form of animation to another. If there are major departures or additions to the story I didn't notice them. They kept most of the songs and didn't even change up the musical styles that much, despite having Beyonce and Donald Glover on lead vocals.
So, I guess I should just climb up on the gallows as I say this but it is my sincere belief that the problem with remaking THE LION KING is that you're stuck with the story of THE LION KING. Otherwise the movie is fine.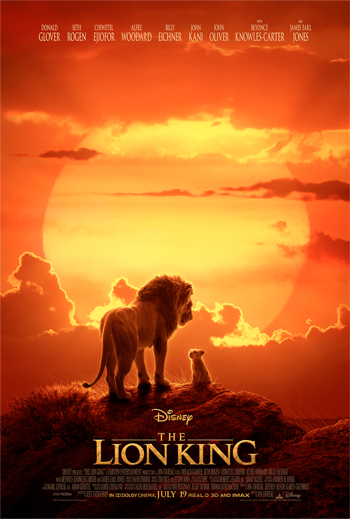 Let's start with the animation. I wish as much as anybody that 2D/drawn animated features would come back. It's especially crazy that Disney doesn't make them. And certainly that medium has many qualities that are impossible to achieve in the photorealistic form of animation they're using here. But, you know, let's allow room for a vice versa. It's not just astounding as a technical achievement that they can make fur and muscle and eyeballs and sun beams and grass and reflections and everything look this real. There's also subtleties like the darting movements of a mouse, the animal personality in the way the cubs run and wrestle and pounce, the art of communicating emotion on the face of an animal without being able to make them full-on smile or have eyebrows or something. I'm not saying it's a cheat that the original chose to put them on all fours but anthropomorphize their facial expressions and gestures – it's just a different approach to telling a fantasy story within the animal world. But I think this is a legitimate approach too, and possibly a bigger acting challenge for the animators to get across the same thing while generally sticking closer to real animal behavior. So those side-by-side "see, the one where they're drawn smiling looks so much more like a smile" comparisons are bullshit, in my opinion. You'd get those same results putting Fly from BABE next to ALL DOGS GO TO HEAVEN or something. I'm not convinced.
Of course this is no BABE or PIG IN THE CITY, but it does have some of that novelty of seeing "real" animals of different species interact and politic and what not. Of course, it's most exciting when they manage to make animal characters who are visually distinct. The droopy, emaciated Scar looks genuinely scary in a way I can only compare to Koba, the memorable villain from DAWN OF THE PLANET OF THE APES.
It's fun to see a familiar story translated into this different look. In scenes like the opening, where they mimic the original's sunsets and gathering of the animals for the presentation of baby Simba, it's stunningly beautiful and unlike anything that could be staged in reality.
And there is so much detail to make you feel surrounded by the Pridelands. One thing I kept noticing is that there are always bugs flitting around in the background, light reflecting off them, not bothering anybody, just doing whatever they do. Circle of life and all that.
The voice casting is mostly spot on. J.D. McCrary (Young Michael Jackson on an episode of American Soul) and Shahadi Wright Joseph (Zora from US) are compelling as the young Simba (son of the lion who is considered king of the area) and his best friend Nala. James Earl Jones (THE EXORCIST II)'s voice is noticeably weakening as he plays the king Mufasa, making me wonder if Simba was really his grandcub, but it was smart to bring him back. And Chiwetel Ejiofor (REDBELT) was a perfect choice for Scar, Mufasa's brother who is a total scheming asshole and tyrant even though technically he's right to be pissed off that a dumb little kid could become king instead of him.
He of course schemes to change that, first by reverse psychology-ing the cub into sneaking off to the elephant graveyard to be ambushed by his associates the hyenas, then by engineering a wildebeest stampede and letting Mufasa fall off a cliff. The first one not having worked, he guilts Simba into blaming and exiling himself. That's when he befriends and cohabitates with self indulgent meerkat Timon (Billy Eichner, WHAT HAPPENS IN VEGAS) and farting warthog Pumba (Seth Rogen, "Bob," one episode of Dawson's Creek), who he really is raised by more than his own parents.
To me this is the most improved section of the movie, just because Eichner's humor is more appealing to me than Nathan Lane's, and Rogen is very good at playing lovable oafs. They got actual laughs out of me, despite what I believe is an increase in fart humor. Also "The Lion Sleeps Tonight," with Timon's goofy vocals backed by a variety of life forms, is probly the best musical number in this one.
There's one big setpiece that I don't think is from the original (standby for me to be corrected) when a tuft of hair falls off of Simba and travels all the way back to the Pridelands, where Rafiki (John Kani, THE WILD GEESE) finds it. I hope Favreau sent a nice letter to Robert Zemeckis – that scene is a little like the feather in FORREST GUMP and alot like the ticket that blows out the window in THE POLAR EXPRESS. But in this one it not only blows in the wind and gets picked up and stuck to things – it actually gets eaten and shitted out at one point. Innovation. This is not a complaint – I think more filmatists, especially working in motion capture and projecting in 3D, should be learning from Zemeckis's innovations in those areas.
(Speaking of Zemeckis, I was dreading the possibility of a remake for my favorite Disney movie, PINOCCHIO, until they said he was doing it. Fingers crossed.)
Unfortunately, after Simba grows up (still in a dissolve while crossing a bridge) we discover the movie's most unexpected weakness: I didn't really like hearing Donald Glover and Beyonce as Simba and Nala.
Don't get me wrong – I love both of these people. Glover's FX show Atlanta and Beyonce's longform video of Lemonade are easily among my favorite non-movie pieces of art this decade. And I don' t think they're selling out by doing a Disney movie. I thought it was a major coup when I heard they were cast. But then you hear it and you realize that these characters don't give them much to work with. When Nala discovers Simba still alive living a life of fucking around while his people are starving under the tyranny of Scar, he sounds like a jackass raving to her about how cool the place he lives is. Then she convinces him of his responsibility and they spend the rest of the movie being Very Serious. Very Serious is the least appealing side of both of them.
And then the last act is so quick and simple it made me realize I dislike the story on levels I hadn't even realized before. It seems like a moralistic story, so what are its morals? In BEAUTY AND THE BEAST Belle is strong for not limiting her lifestyle for a sexist like Gaston, and for choosing who to love, whatever society may think. In ALADDIN, Jasmine is strong because she fights against arranged marriage and for marrying who she wants to. And Aladdin is fighting an injustice by finding love outside of his caste. But in THE LION KING our hero is a kid who knows nothing, who naively "just can't WAIT!" to inherit a completely unearned throne. Mufasa seems to be wise and all that, but it's still a monarchy, his family chosen to rule for some unknown reason, but surely in part by being apex predators. Simba does not fulfill the role given to him by society, and finds great happiness, until he's convinced that yeah, he has to be king. So I guess it's a moral about responsibility – one that's very relatable to so many of us who are kind of farting around being a slacker with our buddies when we should be asserting our status as the rightful heir to a monarchy to stop a humanitarian crisis.
And isn't it weird that Simba as a cub is told that he's expected to marry Nala and it's kind of cute that he doesn't believe it and then when they grow up it's true and they do get married? Are we okay with this being the system in the Pridelands? Where is Princess Jasmine on this issue?
But if none of that bothers you, and you don't have a problem with this style of animation, or with closely remaking a beloved family movie of the 1990s, then I would have to recommend this to you. Because I thought it was okay.
P.S. I noticed they gave Julie Taymor an executive producer credit! Presumably that has something to do with her directing the stage musical version. I always wanted to see that. They should've let her make a movie of it. This brings up an important question though: where the fuck is her e.p. credit on the SPIDER-MAN movies?
This entry was posted on Wednesday, November 6th, 2019 at 9:29 am and is filed under
Cartoons and Shit
,
Family
,
Reviews
. You can follow any responses to this entry through the
RSS 2.0
feed. You can skip to the end and leave a response. Pinging is currently not allowed.