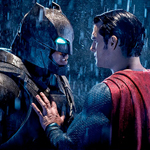 (HEAVY SPOILER REVIEW)
Here's a weird thing about gigantic blockbuster movies based on popular licensed characters: you can end up making a sequel aimed less at the fans of the first movie than at the people who saw it once and have still not stopped complaining about it. At least that's the fool's errand that director Zack Snyder and writer David S. Goyer (this time rewritten by Academy Award winner Chris Terrio) chose for themselves on BATMAN von SUPERMAN: DAWN OF JUSTICE, which selects as its primary theme the criticisms that people had of part 1.
To this day I don't feel like I understand the widespread outrage at MAN OF STEEL for having a comic book style battle between super beings where buildings were destroyed in the process. I still haven't noticed this standard applied to any other movie or comic book (including the cover of the very first issue of Superman!) and I stand by everything I said in this essay about how wild misinterpretations of MAN OF STEEL have become conventional wisdom. Still, I gotta thank all of you for doing that because I suspect it inspired the most intense and cinematic section of BATMAN vehemently opposed to SUPERMAN, in which we see the Superman v Zod battle from an even more human perspective than before. Specifically, from Bruce Wayne's point-of-view as he runs fearlessly into the destruction and tries to help.
We only see the Kryptonians in tiny glimpses, far away, high in the sky. Mostly we see raining glass and brick and glowing energy beams in their wake. They truly are gods. And now we specifically see that rubble landed on one guy and are told that a woman is missing. And Bruce Wayne doesn't like it.
(SPOILER: Bruce Wayne is Batman.)
The best part of that scene: the title, which I believe says "METROPOLIS – MANKIND'S INTRODUCTION TO THE SUPERMAN." For a minute I felt like I was watching a comic book movie unlike any other. I wish it had more of that type of pretentious bombast. At least the score (by MAN OF STEEL's Hans Zimmer v FURY ROAD's Junkie XL) keeps it up all throughout.
That's not the only scene to address Supergate. There's also an event called "The Superman Incident" in which we see Superman rescuing Lois Lane from terrorists, but the media, politicians and at least one civilian blame Superman for a bunch of people killed by said terrorists. And it makes Lois and later Superman question their actions, even though they know he just flew in and pushed a guy.
There are anti-Superman protesters. Some militant, some otherwise. You're only alive to hold that anti-alien sign because Superman saved you from the Kryptonian codex, you fuckin racist.
And there are at least two parts where they have a voice of authority (in one case Anderson Cooper) point out that an area where a superfight is happening is uninhabited. It comes across goofy, as if to say "Seriously guys? This is what you need us to do every time? Okay then."
I enjoy that type of corniness for a laugh, but it stands out in this movie, and I think we as a nation should be embarrassed that the visual cues (people leaving buildings, police helping people evacuate, buildings being shown to be empty) and story context (characters and news reports never mentioning massive casualties, nobody acting like there have been massive casualties, massive casualties not being depicted on screen, no piles of bodies or skeletons other than in a symbolic dream about the fate of the world that Superman needs to – and then does – prevent) weren't enough. We can't complain that Anderson Cooper is now explaining our movies to us. We did it to ourselves.
And there's more! For those who felt that the first half of MAN OF STEEL all about how he's spent his whole life rescuing people did not count as rescuing, he leaves an important event to fly to Juarez to rescue one little girl, and then there's a beautiful montage of various rescues, playing out under the sound of cable news talking heads arguing about whether or not he's doing a good job of rescuing.
Meanwhile, cinematographer Larry Fong (300, WATCHMEN, SUCKER PUNCH, SUPER 8) made sure to make his cape look real red all the time. There you go, people who loved that video where they second-guessed the cinematographer of MAN OF STEEL for not saturating the color to your preference. Merry Christmas. (It looks good both ways.)
Admittedly, most of this MAN-OF-STEEL-revisited business is the best stuff in the movie. But the argument feels redundant. When Ma Kent (Diane Lane, STREETS OF FIRE) and even the late Pa Kent (Kevin Costner, 3 DAYS TO KILL) return briefly to give advice it seems like they're continuing a debate that was already settled on screen, if not on the internet. And when the villainous Alex Luthor (Jesse Eisenberg, CURSED) is dragging Zod's dead body into Zod's dead space ship you kinda think you know what,  could we get to the new stuff?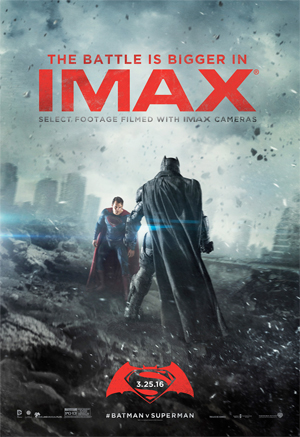 Which in fact there's plenty of here. There's a new version of Batman (Ben Affleck, SMOKIN' ACES) and his world, the first ever big screen Wonder Woman, this Clark Kent wearing glasses and pretending to be a nerd – but they're involved in a plot that truly feels like a work in progress, a bunch of scenes they wanted to do but haven't yet figured out how to make them make sense. Things that are unclear or raise questions, but not in an interesting way. Why did the world blame Superman for a bunch of guys being shot? Why did Alex blow up the capital, and why didn't Superman see the bomb, and why do the people think Superman was involved, wouldn't he just use his eyes, etc.
By the time Wonder Woman was sitting at a laptop clicking on files to introduce other DC characters in cheesy shot on video security footage it was good for a laugh since I had long since given up on sensible storytelling.
I still like Henry Cavill (HELLRAISER: HELLWORLD)'s version of Superman, but enough about him, let's talk about the guy he's v-ing against. Ben Affleck is excellent as Bruce Wayne, close to my favorite so far, or at least the most comic book like, and this is definitely the case with his more sculpted Batman costume. I like the little moment where he hops out of the Batmobile and pulls his cowl off like it's a hat. It's a total cheat (he could never do it with that thick rubber thing) but it's the first time in seven Batman movies that they thought to treat it like something he could take on and off without a whole ordeal.
This is a more tough-talking Bruce (with fake looking grey streaks in his hair) and a more manly Batman. The muscles in the suit look more real and more body-builder-like, and he does ROCKY IV style workouts hauling chains and tires (sadly without montage rock). He already looks like a tank before he puts on his giant Superman-piercing armor.
Much of his operation is similar to Christian Bale's: another combat-ready Batmobile, another space-ship thing, an Alfred (Jeremy Irons, DIE HARD WITH A VENGEANCE) who cops Michael Caine's wise, fatherly vibe. But his Alfred is more fashionable, and he has a dead Robin, and a distorted robot voice (dishonorable caving to the people who didn't like Christian Bale's Batman voice) and he's angry.
Not as angry as you've heard, though. I have been told that Batman murders a whole bunch of people and shoots everybody. Not true, of course. The only guns are
1. in a surreal dystopian nightmare scene
2. used by his vehicles to shoot inanimate obstacles, like in Tim Burton's BATMAN
3. his biceps
And #3 is moot because in my opinion Batman calls his biceps pythons, not guns.
I've also seen alot of anger that this is supposedly a Batman movie unfit for children, a seducer of the innocent, which of course is exactly what their parents said about BATMAN RETURNS. Batman is supposed to be for the children, like Wu-Tang, and I guess the belief is that six other movies, 75+ years of comics, hundreds of hours of cartoons and an upcoming children's Lego movie are not enough bat-stimulation to satisfy this generation. I get it but honestly DARK KNIGHT is as scary and more adult-minded. If they could handle that they could handle this, and I bet they'd (incorrectly) think it was better because it has a bunch of monster fights and shit.
(To be fair Martin Shkreli was 9 when BATMAN RETURNS came out, so the parental fears might not be as cowardly and superstitious as they seem on the surface.)
I do actually agree with the prudes, though, that having Batman be a guy who on two occasions has branded a bat symbol into criminals is too brutal for the character. I guess they had to do something to make you still root for Superman, and they show us through Alfred that the movie knows he's gone too far. But it's just a more sicko version of what Nolan already did with privacy invading batcomputer, done as a throwaway at the beginning instead of a developed theme. Not worth it.
A less obvious, way more troublesome departure from Batman tradition: he never outsmarts anybody. They forgot to do anything with him being a great detective who's six steps ahead of everybody else. He doesn't even bother to figure out that Superman is Clark Kent! And he gets tricked by a total douchebag.
In my experience the Batman pictures have had the best villains of the comic book movies. The Jokers, the Catwomen, The Penguin, one of the Banes, one of the Two Faces. Unfortunately, BATMAN violates SUPERMAN has easily the most annoying supervillain since Jim Carrey and Tommy Lee Jones's embarrassing turns in BATMAN FOREVER. Eisenberg is a great actor, and the cold-blooded intelligence he shows in THE SOCIAL NETWORK and other movies could be perfect for a billionaire prick who hates Superman and thinks he can take him out. Instead he tries to be… I don't know, funny, possibly?… saying every terrible line in some kind of sing-songy, high-pitched, condescending tone (allegedly inspired by AMERICAN ULTRA screenwriter Max Landis, since this version of Luthor is an annoying little shit who inherited the company from his dad). It seems unfathomable that Snyder or one of the producers or even one of the other actors didn't say wait a minute, are we sure about making people watch this character in a movie? Did these people seriously like what he was doing, or were they afraid that maybe they just didn't get it, like whoever it was that wanted to fire Johnny Depp off of PIRATES OF THE CARIBBEAN?
(In the case of Terrio it's the former, because he wasn't planning to write JUSTICE LEAGUE until he saw Eisenberg filming and "I really did feel like I was watching some strange, great performance in an independent film.")
In his first scene he's playing basketball in the Lexcorp office, and I didn't even notice but apparently he sinks a 3-pointer, and he had to do 30 takes before he pulled it off. So we can only assume all of his other scenes were shot that night when he was exhausted and wanting to go home.
Even with a good performance I don't think this character would work as written. He's this mastermind pitting Batman against Superman, but it seems like Batman was already gonna fight Superman, and also Luthor was already gonna make a monster to fight Superman. It's never clear what his motivation or point of view is, why he hates Superman. Also, why do the people of this world take him seriously? We see that he's just some weirdo pipsqueak who inherited a bunch of money. If he's a supergenius or something I don't remember them illustrating it at all. He just makes an embarrassing, nonsensical speech that everyone rolls their eyes at. Wonder Woman's look of disdain toward him is only one reason why she's the MVP of the movie.
Played by Gal Gadot (Giselle from FAST & FURIOUS through FURIOUS 6), and given a small and mysterious enough role not to be burdened by any ponderous self questioning, she handily steals the movie. Snyder, having given us SUCKER PUNCH and Faora in MAN OF STEEL, delivers on his responsibility to paint her as a great womanly badass, utilizing her iconic costume and glowing lasso, though in my opinion slacking a little bit by not having her deflect a bunch of bullets with her bracelets. WHAT ABOUT THE BRACELETS FUCK YOU SNYDER.
But she's not in the title. She's not v anybody. A major part of the movie is that Batman wants to kill Superman to protect the earth. He didn't even have to read all the essays about MAN OF STEEL, he was there, so we see at the beginning why he thinks Superman's a threat. But then it just sticks with that. It doesn't feel like there's escalation or mounting developments leading to the confrontation, except setups that should tip Batman off that he's being messed with.
The inspiration for the fight (especially Batman's armor) comes from Frank Miller's worshipped comic book The Dark Knight Returns (also turned into a two part DTV cartoon). In that story Superman was depicted as a naive sellout, a stooge for Reagan, so you could understand Batman's perspective on him. But also Batman wasn't trying to kill him (in fact, SPOILER, it's kind of the reverse). Those versions of the characters had a long history together, a friendship, a long-held disagreement, and also Bruce Wayne was on his last legs. It was an accomplishment just to give Superman a bloody nose.
This version doesn't have any drama like that. We already know Batman is being manipulated by Luthor to fight Superman. We can't root for him, he's being a sucker.
NOT MY BATMAN. MY BATMAN IS NOT A SUCKER. That's Green Lantern or somebody.
Of course they get over it. The fight is resolved in a melodramatic way that has been widely made fun of. I actually really like the idea, but agree that they don't really make it work. Anyway it's more fun when they suddenly become friends. See? Why fight each other when you could work together and fight a giant monster?
And then the ending. MAJOR SPOILER FOR ONE BIG THING THEY ACTUALLY KEPT SECRET. The death of Superman sequence is so good that even though it felt like it was edited in from a different, better movie it got me kind of emotional. First, the heroic act of using the Kryptonite spear himself even though it weakened him. But the aftermath is the great part. It took me back to those relationships in MAN OF STEEL and it was sad to see Lois and Martha in the little farmhouse mourning him.
I especially liked cutting between the humble Clark Kent funeral on the farm and the glorious Superman state funeral in Metropolis, the "circus back East" according to Batman. It was satisfying to see the military who fought him in MAN OF STEEL now honor him with a flag ceremony, and to see the giant statue (I think) replaced with a more tasteful plaque and an acknowledgment that "the monument is all around you" because YOU SEEM TO FORGET THAT HE SAVED THE FUCKING PLANET, INTERNET. Also, I loved Wonder Woman's comment that "they don't know how to honor him except as a soldier." She might turn out to be a bummer at parties but I think she is correct here.
* * *
BATMAN V SUPERMAN is not as good as MAN OF STEEL. Its ambitions may be higher, but its story is too haphazard for it to be as effective on an emotional level or a ramping excitement level. It's also not as good as most of the Marvel movies, which almost always manage to find fun, pleasing variations on super hero formulas with great central characters. And though I believe none of them have great villain characters, they also don't have any that are nearly as annoying as this Alex Luthor.
I'm sorry to say that I agree with the critical consensus that this is a bad movie. Where I differ is that I think it's bad in an interesting and ambitious way. It looks and sounds great, it gets a bunch of things right, then it slides into headscratchingly misguided or seemingly unfinished, then gets exciting again. BATMAN FOREVER, GREEN LANTERN and the THE FANTASTIC FOUR movies I think are just ugly and stupid from head to toe, this is not that. This is beautiful on the outside and misshapen in the middle. I wish they would've pulled it off.
The buck stops with Snyder, but all the non-Eisenberg problems with the movie come from the script by Goyer and Terrio. I wish it had more of the tight storytelling and badass action moments of Goyer's best work, less of the pondering. I wish it was more perfectly-constructed-badass-movie BLADE and less kinda-undercooked-best-picture-serious-movie ARGO.
But like MAN OF STEEL it also has a cinematic quality that the Marvel movies don't. It looks, sounds and feels epic. Operatic. It's not as grim or humorless as detractors claim, but I like its sincerity. I know it goes against the times, but I think it's okay to have some movies that don't undercut their melodrama with self-deprecating jokes. Sometimes humor is a defense mechanism.
The problem is that, with this one especially, the surface is far more successful than the insides. When Snyder made SUCKER PUNCH – a beautiful, crazy, one-of-a-kind movie that's hobbled by its insistence on also Having Something Real Important To Say About Things – I learned that I should stop wanting something smarter out of him and let him do his own, stupid thing. But Snyder didn't learn that lesson, and he keeps trying to prove that he's part Zack Snyder, part Christopher Nolan. He's, like, thoughtful about shit.
I hope he gives that up. Even if he was better at it I think we've done more than enough questioning about the ethics of being Batman or Superman. Let's have some where it's just about being Batman or Superman, doing what Batman and Superman do. I want to see them make it all the way through the movie without trying to quit.
And I know I'll be in the minority on this one, but bless Snyder for the (admittedly awkwardly inserted) crazy SUCKER PUNCH type dream sequence and/or future-predicting vision. It's the one scene that clearly only Snyder would ever think of putting in a Batman/Superman movie, the one that makes you confused and uncomfortable, the one you can't believe is in a $300 million movie that normal people are gonna watch. Everybody derides Snyder as a "bro" (his movies would go over way better if he didn't work out as much), but how are you gonna stereotype somebody who imagines shit like that? Let your freak flag fly, bro.
APPENDIX: Comments from my Nerd Issues Correspondent:
–"We don't know which Robin that is. I hope it's Jason Todd and that Dick Grayson also exists as a Nightwing because Dick Grayson is one of the all time great comic book characters and has never been done justice on film" (?)
–"That was fucked up what they did with Jimmy Olsen." (after he explained this to me I disagreed. Apparently the photographer killed at the beginning was Jimmy Olsen so in this version he was a CIA operative but also he's dead)
–"Cool way to foreshadow Darkseid"
–"They had Mercy Graves but she didn't do anything and then got killed."
–"I hope in the next one we meet Alex Luthor's dad and he's the real Lex Luthor and his bodyguard is Mercy Graves's mom also named Mercy and she's played by Gina Carano"
–"Batman is cool as a loner and reluctant member of the Justice League. It's interesting that in this version it's all his idea."
This entry was posted on Monday, March 28th, 2016 at 12:36 pm and is filed under
Comic strips/Super heroes
,
Reviews
. You can follow any responses to this entry through the
RSS 2.0
feed. You can skip to the end and leave a response. Pinging is currently not allowed.