COMIC CON EXCLUSIVE:
VERN HAS SEEN THE WATCHMEN DVD
(that came out last week)

My fellow Watchmaniacs: People like me and you, being huge comics book "geeks" and true fans for life, we could tell each other exactly where we were the first time we saw those historic Watchman comic strips in 1986, when they exploded onto the scene just like the explosion that happens at the end that Doctor Manhattan was blamed for or whatever it was that happened at the end. I remember LA Law had just debuted on TV, and Pinochet had escaped assassination in Chile. CHILDREN OF A LESSER GOD was capturing the national consciousness. I was wearing an anti-Khadafi novelty t-shirt, listening to Falco on my Walkman tape and solving a Rubik's cube when my eyes first fell upon its graphic novel cover at the graphic novel stand. And remember you were there too and we looked at each other like "uh huh" and we nodded because after seeing all those adventures that the Watchmen were having and everything, you knew this was history, this was the motherfuckin Hindenburg exploding into the moon on top of JFK's motorcade. In cartoon terms it was Josie and the Pussycats arriving in the U.S., or Elvis Pres-stone from the waist up on Ed Sullirock. It was Garfield eating lasagna for the first time on the Motown 25th, that was the kind of impact it had. It was a major sea change, you could feel it in your blood, taste it in your bones. The Archie Comics building would be burned to the ground, its artists and writers hunted down like Nazis in South America. Batman would be over. Superman would be dead. X-Men would be forgotten. Ziggy would be slightly less popular although still generally respected. Watchmen proved once and for all that comics drawings and children's super hero adventures had grown up. Because there's a rape scene. But also because Watchmen is sophisticated storytelling for adults, with adult ideas, an adult point of view. And we appreciate that so much that 28 years later we'll buy all the action figures, dolls and lunch pails.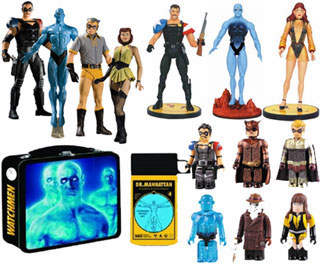 Nah, don't be mad fellas, you know I'm just jerkin your chains. No disrespect intended. I love you all and honor your nerd heritage. But I read some of the reviews when this movie came out and they all started with 6 paragraphs of origin story explaining the same crap about how early they read the comic, how many times they read it, how it changed comics and their lives forever, and Time Magazine chose it as one of the top 100 novels of all time. (Interesting, because Time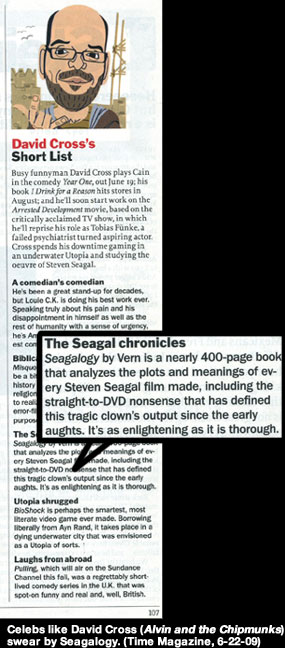 Magazine also chose my book Seagalogy as one of David Cross's 5 things that he writes blurbs about.) I don't know why we always gotta go into our background and our bonafides when we review certain movies, but oh well. Their main point cannot be denied: the influence of Alan Moore's Watchmen could never be blah blah blah etc. etc.
The WATCHMEN movie was examined cell-by-cell with a laser microscope on every other movie websight starting weeks before it came out (if not years), which is why I didn't review it before – I didn't know what to add. But I've gotten more requests to review this than practically any movie in my ten years of writing, and I aim to please. So if this review sucks it means I'm pandering. Sorry.
I probaly don't gotta explain what WATCHMEN is, but I already wrote it up so it's too late to stop me. WATCHMEN is an epic ensemble super hero movie. It takes place in an alternate 1985 where an American scientist was given super powers (and blue skin) in a lab accident. He was so powerful he won the Vietnam War, making Nixon so popular he's still president. All the other super heroes have no powers, they're weirdo vigilantes in costumes who know how to fight. But they've been outlawed (I'm not totally clear why). Everything is kind of different in this alternate history – super heroes are the biggest celebrities in the world, gangs have samurai hair cuts, Lee Iaccoca gets his head blown off. But some things are the same, for example the Cold War still exists, as does the song "99 Luft Balloons."
The best part of the movie is the first 10 or 20 minutes. A gruff old man is attacked in his penthouse apartment and tossed through the window. The police are suspicious but it's the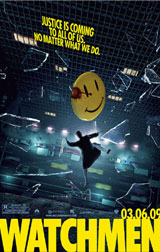 masked vigilante who snoops around a little later that finds the secret compartment where the deceased keeps his super hero costume. It's kind of like how you might worry that if you die your loved ones will find your porn stash, well this is kind of that way, you kick the bucket and then everybody's gonna know you were the right wing super hero and CIA assassin known as The Comedian. Not the type of guy that a random burglar would be able to off, so it looks like somebody's going after super heroes.
From here we go into an incredible opening credits montage where we seem to float through photos and footage showing this alternate history: the goofy early days of costumed super heroes punching out gimmicky villains, blue Dr. Manhattan in a suit shaking hands with JFK, the Comedian on the grassy knoll assassinating JFK. My favorite is a female super hero coming home from World War II, then grabbing a nurse and giving her a kiss. Don't feel too empowered though because I think that same heroine and her lover are the ones murdered in a hate crime. You see the crime scene and they do such a good job of creating this world that it feels like an infamous tragedy you already knew about, like the Helter Skelter murders or something. And all this is set to "The Times They Are A Changing."
The best character in the movie (and sort of the protagonist) is Rorschach, the one super hero who continues to operate illegally. He wears a fedora, trenchcoat and mask that's an always changing rorschach blot. So if you're fucked up you're gonna see some fucked up shit when you look at his face. Rorschach seems to be a statement that to really be a masked vigilante you'd have to be a complete lunatic. He rants like Travis Bickle about liberals, whores and scum. His Bruce Wayne type alter ego is not a billionaire playboy, he's a homeless street prophet. But you still kind of like him. His strength is complete dedication – he always brags that he never compromises. Also he's a dirty street fighter, he owns a grappling hook gun and he knows a few parkour moves. So he's as good as anybody to investigate why somebody is killing super heroes.
Rorschach's former partner and sort of friend is Nite Owl, a rich gadget user like Batman. He wasn't driven by family tragedy like Batman though, he's basically a huge nerd who did it for fun and without it his life is empty. Then circumstances cause him and a gal called Silk Spectre to suit up and be super heroes again, and it's kind of portrayed as a fetish. He actually can't get it up until they have had the costumes on.
The other most memorable character is Dr. Manhattan, an animated muscular naked blue man controlled and distantly voiced by Billy Crudup. He can see the past and future at the same time, turn himself giant, split himself into separate bodies, cause people to explode. I guess he's the opposite of Superman because instead of an alien who cares about humanity he's a human who doesn't. With his God-like perspective of the universe he ends up having all the warmth and charisma of HAL 9000. Appearing on a talk show he's accused of causing cancer and defends himself by saying that living and dead bodies have the same number of cells. Not the best defense, in my opinion, or at least not the most endearing one.
The movie is long – about 3 hours in the director's cut – and structured like a novel in that it will have sections that focus on one character or set of characters without worry about going back to the others until much later. For example, when Dr. Manhattan has a breakdown he doesn't go to Reno to gamble, he goes to Mars to float around in a yoga pose and create flying crystal castles with his mind. This part is set to Philip Glass music. And there is little or no farting jokes in the movie.
That said, it's not THE LIMITS OF CONTROL either, it's pretty accessible. There's some well-staged action here and there, a couple fights (maybe more kung-fu-movie style than some comics enthusiasts wished for) and some genuine badass moments involving Rorschach. My favorite part is when he gets caught and locked up. Under the mask he's Jackie Earle Haley, that kid from BAD NEWS BEARS and DAMNATION ALLEY. He's surrounded by criminals he put away, hungry to kill him, but after he dumps frying grease on a guy's face and grunts, "You people don't understand. I'm not locked in here with you. You're locked in here with me!" it's clear who's in charge of the situation. He's Miss Daisy, they're driving.
The one character I didn't like was this Ozymandias. He's the super hero who went public, became a celebrity and multimillionaire businessman. I think Matthew Goode is a good actor, at least in the overlooked THE LOOKOUT. But here he's pretty bad, overplaying the character's prissy coldness. By context it seems like the character is supposed to be really charismatic, but he's not, he's completely unlikable. He also has the worst costume, looking straight out of BATMAN AND ROBIN. He gets less screen time than the others so you don't really know what his deal is. This is a major flaw in the telling of the story, which seems to become more cluttered and less confident in the last part. It has the feeling of somebody trying to adapt something that's too big and complex to fit in a movie.
But when it's working it's really working, so I enjoyed it. It's kind of like watching a guy carry a ten foot tall stack of plates, or Will Smith trying to play Mohammed Ali. You know he's not gonna pull it off entirely, but you're impressed by how close he got.
The world of the movie surrounds you, it's packed with detail, and it's not one you've seen before. It's not just BLADE RUNNER with super heroes. It's 1985 New York remixed. And the characters who inhabit the world are interesting. Malin Akerman, the new-model Cameron Diaz who plays Silk Spectre, is occasionally iffy, and Carla (for God's sake where is KAREN SISCO on DVD?) Gugino sometimes overplays her old lady character. But for the most part the acting is good, which is important because for a movie so full of effects and artifice it really is about the characters.
In my review of 300 I said the verdict was still out on Zack Snyder. I was suspicious that he might be some kind of a lightweight because his movies to that point (300 and DAWN OF THE DEAD remake) were fun but all surface. It seemed kind of odd to me that he could make those movies without seeming to think at all about their subtext.
I'm not sure how much WATCHMEN proves, because the ideas in it from what I understand come directly from the comic. And I don't want to give him too much credit for just being a literalist. But this does improve my opinion of him, he's no dummy. To adapt the comic in this way was wise, there would've been a million ways to make it more like a normal super hero movie, or update it to 2009, that would've been stupid. He did a good job and he's much closer to earning that "from visionary director of" line that was on the trailer and poster.
I guess the director's cut on DVD is 24 minutes longer than the theatrical cut. I didn't notice all of it but I think this is the rare case where he had to cut it down to release in theaters and the longer really is the better cut. These days most of the "uncut" DVDs are a marketing gimmick where they put in stuff they should've left out. This one explains the mystery a little better and shows a little more reminiscing of the old days and makes more reason for the old Nite Owl to be in the story. Please note though – there's been a bunch of hype about the extras, well, that's the Blu-ray. I just saw the DVD which has no commentary and sorry but I did not enjoy the featurette on there. If I wanted to know how important the comic book was I would re-read the beginning part of this review.
There was some talk about this movie being a failure because it cost a ton of money to make and only made 1.3 tons back, but what the hell did you expect? This is not SPIDER-MAN or IRON MAN. It's a 2 1/2 hour R-rated movie about super heroes dealing with issues such as "my boyfriend doesn't understand why it's bad that he split apart and was working in the lab while having sex with me" and "my mom is acting weird because the guy who tried to rape her died." The premise is so complex they didn't try to explain it in the trailers, and I don't think they even showed you Nixon or any period detail. It's not the easiest movie to market. To me it's amazing – in a good way – that this movie even got made, let alone didn't sink an entire studio. If it made a profit of ten dollars I'm impressed and it was all worth it. It was a good way for a bunch of people to spend several years. It put food on their tables and a unique movie on our screens.
This entry was posted on Sunday, July 26th, 2009 at 1:45 am and is filed under
Comic strips/Super heroes
,
Reviews
. You can follow any responses to this entry through the
RSS 2.0
feed. You can skip to the end and leave a response. Pinging is currently not allowed.