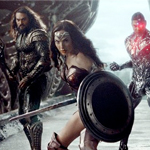 (SPOILERS)
Sometimes, you know, Superman dies, so a bad guy decides to conquer the world, so you have to put together a team of other super heroes to fill in for Superman, but then you decide to bring him back to life, but he seems evil at first and fights you, but then he chills out while you fight the CGI guy, then he shows up. JUSTICE LEAGUE is a perfectly watchable, okay super hero romp, with a hefty serving of the humor everyone thought was missing in the last two Superman pictures, but no more sense, and very little of the gravity or operatic style. Goodbye worshipful awe of Superman, hello green screened-in undercutting gags.
Oh, but don't worry, when Aqua-Man smashes through a building it's been painstakingly established that it's in an abandoned town. That's the most important thing, obviously.
The invasion foreshadowed at the end of BATMAN V. SUPERMAN: DAWN OF THE LIVING JUSTICE is at hand. Batman knows it because a Geonosian "Parademon" flies up while he's hanging a thief off a rooftop. I think he was using the poor guy as bait (the things smell fear), but possibly it's just a weird thing that happens while he's on the job. I like that when the creature appears Batman and the criminal seem to completely drop their conflict and have a conversation about how fucked up things are since Superman's death. A little bonding between fellow humans. A nice moment.
The thief assumes this is coming from space, but Wonder Woman's mom (Connie Nielsen, SOLDIER) knows the truth. It's Steppenwolf (mo-cap Ciaran Hinds [GHOST RIDER: SPIRIT OF VENGEANCE], a different design than the character's appearance in the BvS director's cut), an ancient god guy they fought off centuries ago in a LORD OF THE RINGS style truce between Amazons, Atlanteans (people from Atlantis, not Atlanta) and "the tribes of man" (could include people from Atlanta). So Bruce the Batman (Ben Affleck, SMOKIN' ACES) and Diana Wonder Woman (Gal Gadot, CRIMINAL) decide to find the guys she had videos of on her laptop in the last movie to stop Steppenwolf from getting the three "Mother Boxes" that he will use to turn the world to fire or open a portal to Leviathan or I don't know man they probly specified what the plan was but if not it doesn't even make a difference because let's not pretend anybody gives a shit have you seen what's going on in the world today I mean jesus.
So the new guys are The Flash (Ezra Miller, WE NEED TO TALK ABOUT KEVIN YOU GUYS), Aqua-Man (Jason Momoa, BULLET TO THE HEAD) and Cyborg (Ray Fisher, BATMAN V SUPERMAN was his first movie). The Flash kind of steals the show. He's a goofy awkward kid making Whedony quips and self-deprecations. His armor is very professional but seems to be strapped together with wire and he confesses that he's "never done battle," just pushed people over. I also enjoy Momoa's Aqua-Man, a brilliant casting move that says "whatever you have to say about Aqua-Man, why don't you say it to his face?" He's like a macho hard-drinking, fun-having sort of underwater king guy, seems fun to be around and thinks Batman's costume is pretty cool. (Also he openly talks about Bruce Wayne being Batman in front of a bunch of villagers, which seems like a breach of trust.)
Cyborg has the hardest job, as the least known character and actor, and the most questionable look. He's mostly robot parts due to an accident, and his growing powers include mental access to all databases and security cameras, plus built-in guns that act on their own when they feel threatened. I wish he looked cooler, but I like that he's able to hide it all under a hoodie. All except his face and the glow of his chest, anyway. I would be up for more of his character if the movies continue. I hope he doesn't get a virus.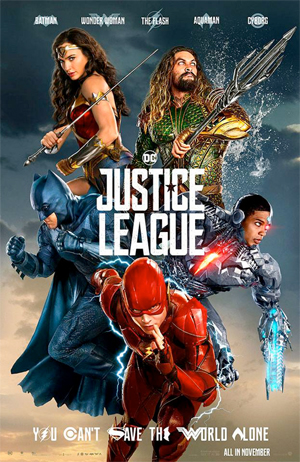 It would be nice if they had a villain to fight who had some sort of personality or point-of-view or interesting characteristics of some kind. And one thing about Steppenwolf is that he seems to have been summoned by the absence of Superman on Earth, yet he was around for thousands upon thousands of years before there even was a Superman. If you only wanted Earth because there was a brief Supered period where you couldn't have it, obviously you want it for the wrong reasons. Step off, Steppenwolf.
And come to think of it, isn't a big part of setting up the movie universe before-hand to have an ensemble of supporting characters to turn to? We see the team, Lois and Ma (Diane Lane, KILLSHOT), Alfred (Jeremy Irons, DEAD RINGERS: RISE OF THE WEIRD TWIN GYNECOLOGISTS), and the Amazons, plus a new Commissioner Gordon (J.K. Simmons, SPIDER-MAN 3) and Flash's dad (Billy Crudup, JESUS' SON). Why not utilize the villainous infrastructure? Captain Boomerang can't be in on the demon invasion?
This one had a difficult production, and not all by the studio's doing this time. Credited director Zack Snyder (300, OWL 300) stepped down due to a family tragedy, so Joss Whedon rewrote and completed the movie. On one hand it's weird that the guy who did the two AVENGERS movies gets to also do the DC team up movie. On the other hand it makes so much sense, because before he became so well known from TV shows Whedon was a sought-after script doctor for big productions including SPEED, WATERWORLD, X-MEN, TWISTER and THE QUICK AND THE DEAD. It's one of his specialties to take a pre-existing, not-quite-working movie and try to fix it.
Whedon's humor is all over the thing, leaving a stronger impression than anything Snydery about it (though there are some good action moments). It does seem like you can spot some of the things that Whedon added in reshoots. I suspect the scene where Lois Lane (Amy Adams, CRUEL INTENTIONS 2) confesses that she hasn't been herself lately is his way of criticizing her portrayal. And Cyborg's morphing armor at the end seems to suggest "Jesus, Snyder, that was really the design you wanted to go with? Here's what I would've done."
It still doesn't seem like as much of a sloppy mess as SUICIDE SQUAD. Its problems are more about blandness (if there is somebody out there excited to see a story about another magic guy with magic boxes getting punched around so he can't do a magic apocalypse thing, it sure as fuck isn't me) and playing cleanup for the last movie. Like, they killed Superman in the last one but they don't get much out of it before hastily undoing it through the questionable method of "I'm sure this magic box thing would resurrect his corpse." I bet that was frustrating for Whedon, who insisted on making Ripley's revival in ALIEN RESURRECTION as torturous as humanly possible so there would still be some stakes.
(Or did Whedon change how Superman was supposed to come back? It doesn't seem to match up with the final frames of BvS, or use certain scenes from the trailer.)
But its strengths are kind of the same as SUICIDE SQUAD: if you like the characters they're pretty entertaining to be around. I do like them – the new guys are all fun, Wonder Woman continues to be a delight, this Superman (Henry Cavill, HELLRAISER: HELLWORLD) seems to appeal to me much more than to most people, and I'm so proud of Batman for not, like, torturing anybody or anything. He even makes jokes and I think smiles in one part. I think Affleck is pretty good as gravely-voiced macho Batman, his mask is kinda scary, and the opening with him doing his thing in Gotham did make me want to see him on his own fighting weirdo criminals instead of gods. Also I would encourage him to stop using the robot voice. Nobody is gonna recognize Bruce Wayne's voice, dude. Even if it seems familiar it will be like when you hear a celebrity voiceover on a car commercial and you know you know it but you can't quite place who it is.
My favorite Wonder Woman moment is near the end, she has captured some thieves for the police and then a group of children approaches her so she walks over to talk to them, beaming like they're old friends. She's as much a goodwill ambassador as a super hero.
Her relationship with Batman is kind of interesting. It almost seems to be going for some "let me give you a massage" bullshit, but she just puts his shoulder back into joint. I think they're just buds. It's weird when Batman just casually pours some scotch without having to ask her if she wants it and they have a post-battle drink. I guess they must do this alot. They left that out of Super Friends.
Controversial statement to be taken with a grain of salt because I'm a dude: the internet's derision of side-by-side stills of the WONDER WOMAN and JUSTICE LEAGUE Amazon costumes is misguided. The idea is that the latter shows more skin because it's designed and directed by men, so it's good to show your outrage and then pat yourself on the back for doing such a good job spotting this stuff. But after seeing them in the movie I gotta question that take because all the main Amazons are still covered up, it's only specific briefly-seen warriors with their bellies exposed to show six packs you could grate cheese on. I would argue that they are not more sexualized, they are more badass. I think it's Snyder saying "that's right, women can be Sparta too."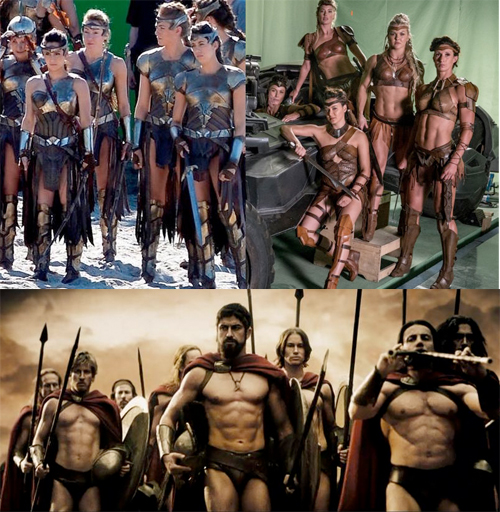 The score is by Danny Elfman, and you can tell. I'm not saying it's one of his best, but it sounds like him. You hear that old texture of those groundbreaking comic book movie of the late '80s, early '90s, and it's real refreshing to hear that in this age when so many big movies kinda sound the same. I was wondering what would happen when a Batman theme was needed, and sure enough he finds two occasions to quote his work from Tim Burton's 1989 BATMAN movie, which honestly believe is one of the most goose-bump-inducingly great pieces of movie score I know of. In my mind it's weird to associate that theme with this Batman, but I'd be lying if I said I didn't get excited when it came up. And I am not a liar so I won't say that.
Weirdly he does not use Hans Zimmer's outstanding MAN OF STEEL theme (the credits say he uses the track "Krypton's Last") but does give a second of the more famous John Williams SUPERMAN theme. Fuck it, we're mixing up our realities. Should've used the '60s Batman theme too. Or the "in her satin tights" TV Wonder Woman theme. Why isn't that in there?
There are a few Snydery song choices too. I'm not real fond of the choice to have a cover of Leonard Cohen's "Everybody Knows" by Sigrid, but I suppose it does kind of turn the trailer cliche of the warbly-female-singer-whispers-sad-version-of-popular-song trailer cliche on its head since no manic-pixie-song-girl voice could sound as bleak as Cohen's. There's also that White Stripes song (fine) and the not acceptable "Come Together" cover from the trailer, but at least they stick that on the end credits.
As much as JUSTICE LEAGUE fulfilled my low expectations, I think its mediocrity is a sad state of affairs. Consider what SUPERMAN: THE MOVIE means to so many people (if not me), and then how stunning Burton's vision for BATMAN and BATMAN RETURNS was at the time, and how fucking great Nolan's trilogy is. I don't think MAN OF STEEL is on the same level but I do like it alot and I think it fits into that tradition of giving a vision of the character we didn't expect. Certainly WONDER WOMAN has captured the imagination of the world and given us the first really iconic female super hero on screen. So it's depressing to see them floundering with these movies that don't have a distinct style or tone, and where the story seems like a connect-the-dots afterthought to all the other considerations – we gotta have these characters, and set up this spin-off, and we better add jokes because the internet didn't like the serious version, and they didn't like when such-and-such happened in the last movie so we better comment on that to show we agree with them. In my THOR RAGNAROK review I talked about the Marvel movies being a very high quality consumer product of a movie. I should appreciate that because here is more of a standard one, not as sleekly designed, not as sturdily manufactured, not as good.
Let me leave you with two points that cannot be made with words, only sounds. I want you to bask in two great pieces of music you've heard before, but that are worth listening to again. First, there is the aforementioned BATMAN theme by Danny Elfman. There's a part in JUSTICE LEAGUE where Whedon jokes about the "Tell me, do you bleed?" line from BvS. Superman says it back to Batman, and then punches him, and then there's a comical shot of Batman writhing around on the ground and grunting something like "Yep, something is definitely bleeding."
It's a funny joke. I laughed. But we get that same laugh dozens of times in every Marvel movie. What we never get is a hero glorified enough to have this theme song:
As much as I like laughing at the jokes and what not, I hope the DC movies forget about chasing what Marvel has already done so well, and what people think they want. The world already has plenty of great super hero movies with a likable, easygoing vibe. Is it so wrong to want a few with some fucking mood? I hope Matt Reeves or somebody can bring us one that deserves a stunning piece of music like the one above, or like this one by Hans Zimmer:
They could do it with a little more humor than MAN OF STEEL or a little less, but if they make something that can sustain the soaring emotions of that music then they'll be doing something that none of the other comic book movies are even trying to do these days.
P.S. Could've been George Miller, you fucks!
This entry was posted on Tuesday, November 21st, 2017 at 1:12 pm and is filed under
Comic strips/Super heroes
,
Reviews
. You can follow any responses to this entry through the
RSS 2.0
feed. You can skip to the end and leave a response. Pinging is currently not allowed.