There's this new movie about owls, directed by Zack Snyder. Turns out it's based on a series of children's books called "Guardians of Ga'Hoole." Warner Brothers didn't want to use that title because they were worried nobody would know what "Ga'Hoole" meant. And it's true, because to me it sounds like Ga'Hoole must be either a) the place where these "Guardians" are from, or b) a place that they guard, and they're from some other place. It's definitely one of those two options, but I don't know for sure which one, so obviously that's a huge, huge communication problem there, I'd just get so confused I'd never be able to watch the movie.
So they came up with the title LEGEND OF THE GUARDIANS. Completely generic and bland, not descriptive at all, almost sounds like a made up title. Perfect! But after the first trailer came out they must've got a call from the Weinsteins saying come on you pricks, you can't use a generic title like that, we need that to rename a Jet Li movie. You can't fuck us like this, do you know who we are? We own this fucking town! We did SHAKESPEARE IN LOVE. You don't know who you're fucking with you little pissants! Also the Dragon Dynasty series of DVDs, we did those also! We will crush you and make somebody else wipe you up, and then we will pointedly undertip them for their efforts! FUCK YOU WARNER BROTHERS YOU CAN'T DO THIS TO ME.
So Warner Brothers is like oh shit, those guys did the SCARY MOVIE series, they mean business. So they added the subtitle "The Owls of Ga'Hoole," so we know now Ga'Hoole must be a place where some owls live, at least according to legend. That makes the full title LEGEND OF THE GUARDIANS: THE OWLS OF GA'HOOLE: THE 3-D IMAX EXPERIENCE. Which is a mouthful of a title for a movie everybody is obviously gonna just call OWL 300.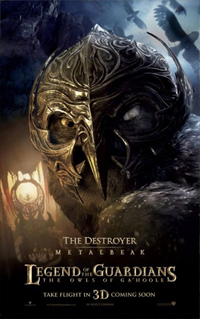 OWL 300 is a computer animated fantasy adventure in the world of owls. There are no humans or signs of civilization in the movie, just talking animals. There's a snake, an echidna, some bats and a couple other beasts, but mostly all types and sizes of owls.
The lead owl, Soren, and his dickish brother Claude, are practicing flying one night (like 15 year olds trying to drive in a parking lot after the mall is closed) when they fall out of the tree and almost get eaten by some dingos or something. The hungry animals get fought off by some big mean blood-stained owls. I thought it was some guys rescuing them but then it turns out no, it's fuckin owlnappers. These owls are part of a band of marauders going around stealing young owls to use for slave labor. They take them real far away where they will work for "the Pure Ones," led by the Evil Queen Nyra and the accurately named Metal Beak.
I don't think I ever saw an owl movie before, this might be my first one, so I went in wondering how they were gonna deal with the pellet issue. Are they gonna tell the kids that owls eat mice and then puke up their bones and fur in neat little bundles? The answer is "yes" and furthermore "right at the very beginning" and as a followup I would like to add "their slave labor involves sitting in a mine picking apart owl pellets looking for little specks of metal that were eaten by the mice that are now added to a pile that creates some sort of supernatural magnetic force that controls owls's gizzards (?)." I didn't read the books but the important thing is it looks cool.
Claude gets picked to be a soldier, but Soren and his new little girl friend Gylfie gotta pick through the owl puke. Which is totally for the birds, in my opinion. (no pun intended, I had no idea that was gonna happen.) But they manage to resist being "moonblinked," some type of zombification process done in owl society, and are taken under the wing (figuratively, although there is literally a wing) of a fucked up old soldier owl who wants to defeat these guys from within, Operation Valkyrie style. He helps them escape with instructions on how to get to Ga'Hoole, where the Guardians reside, and which it turns out is a huge tree.
The owls that live there are legendary but not a myth. They wear helmets (like a knight, not like a bicyclist) and some of them have metal claws and shit and they know how to sword fight even, which is weird to do with your feet but I'm not gonna insult their culture.
The only real shitty part of the movie is right here there's a montage where the owls go through 36 chambers type training in combat, metal shop, etc. It might be an interesting part of the story not to rush through in a montage, but oh well. The bad part is the out-of-the-blue pop song with those type of vocals one could only intend to be heard by children, like in an advertisement for some candy or cheese product that only airs during the cartoons. I mean, just fucking awful. You just want to find out who recorded this song (24 year old Adam Young, aka "Owl City", according to wikipedia), knock on his door and when he answers you just stand there with your arms folded and shake your head. And he's like "What?" and you say "You know." And he doesn't say anything because he can't lie. He knows. And you walk away and he tries to yell out "I'm sorry! I'm sorry, all right! Are you happy?" but you're long gone. And then he goes back into his house which is really nice and fully paid for and I go back to my little apartment that I rent and sometimes the radiator won't turn off during the summer and won't turn on during the winter.
The funny thing is I don't have kids, I should rightfully be able to live my life free of Radio Disney and Hanna Banana and all this, I should not even have to know about this shit. But then I willingly go see a PG-rated movie just because it has owl fights. I mean I should've known owl fights are not the same as cockfights. It's more wholesome. This is a kids movie, of course I might be exposing myself to "To the Sky" by Owl City. I gotta take responsibility for these type of lifestyle decisions. So I'm not blaming Owl City, I'm just saying jesus Owl City. I don't get you, man. I really don't.
Some of the elements of this thing are a little undercooked, still a little gooey on the inside which might taste kind of good but there might be some raw egg in there so you wanna be careful, you don't wanna get the shits. What I mean by this overly detailed metaphor is that the characters are decent but not great, the mythology is a little underexplained and gets confusing, and it made sense when I read that it was 3 different books simplified into 1 movie form. But none of this mattered too much to me and I must credit Mr. Zack Snyder with putting all of his talents to good use.
If you forgot the name this is the guy who did the remake of DAWN OF THE DEAD (enjoyable although empty action spin on untouchable masterpiece), 300 (stylish and refreshingly macho although I questioned why he wasn't interested in the obvious political implications of that story during war time) and then WATCHMEN (impressive and ambitious although it kind of flops over and dies at the end). I think with movie #4 here I'm really able to forgive whatever misgivings I have with his lack of substance and really appreciate his obvious excitement for the material and his knack for the cinematic. I mean this is a movie about cartoon owls that you immediately know is by the same director who did those three hard-R violent live action movies I just mentioned.
The animation is done by the Australian effects company that did HAPPY FEET for George Miller. (I hope for their next one they'll get John Woo to do a story about doves who live in churches.) Like HAPPY FEET it's very realistic, only slightly cartoonified animals, with photorealistic backgrounds. The look is Zack Snyderfied so it's full of gorgeous sunsets and sunbeams and stormy weather. The battle scenes, which of course use alot of slow motion, are crisper and more thrilling than most action scenes these days in live action. Which isn't saying that much, but still, come on people. You got beat by cartoon owls. Think about it.
Anyway it looks incredible because some poor Australian had to sit and adjust every muscle, every feather of these owls as they lurch at each other, as metal scrapes across metal, screeeeeecccching and shooting sparks.
My favorite things in this movie are two scenes where Soren is flying, once through rain and once through fire. The trademark Zack Snyder slowing down is perfect for showing this little guy's point of view. Our senses are heightened. We can see every rain drop floating there, because he can feel it all around him, that's how good he is at flying. Although I would like to see some eyeballs popping out like in FRIDAY THE 13TH 3-D this is also a great use of the technology.
(I gotta say, this is the first time I had a problem with Imax 3-D, there was alot of ghosting in the middle stuff, not close up or far away. I don't know if it was my eyes or a projection problem or what. When that wasn't going on it looked amazing though.)
Snyder's talent is more than just visual. In each of his movies he has a very consistent tone, he has a distinct vision of what he wants and stays very dedicated to it. He doesn't give a hoot if somebody laughs at him. (that was also not intended, I just say "give a hoot" alot, I'm sure you've noticed I use that all the time.) This heroic owl shit might not be the greatest mythology but he stays so serious about it that he kind of tricks me into buying it.
I'll even give him credit for having a little bit to say in this one. There was a scene I really liked where Soren realizes that Ezylryb (I had to look that up), the old goofball that's been teaching him to fly better, is the legendary warrior "Lyze of Kiel" (had to look that one up too) who he idolized his whole life for chopping off Metal Beak's original beak according to the, you know, legends of the Guardians. Instead of being impressed to meet his hero Soren is profoundly disappointed that the bad motherfucker he always heard about is just this ugly old dude. Ezylryb explains that yeah, people who fight in wars look like this, they get clawed in the face and they get fucked up and pathetic. He doesn't think fighting is heroic. He just thinks it's what you do when you really have to.
I get the feeling he really means this one, unlike the politics in 300 which he claimed were just people interpreting and not really a message he was trying to get across. If so I think he maybe lost control of the ball a little bit at the end, it leans a little more toward glorifying war than being sad about it. They say he had no choice but to bloodlessly rated-PG impale a guy, but I don't know if I buy it. Still, there's stuff to think about here. Snyder may be growing, putting a little more brain into his movies, at least his owl ones. He's not a genius but I like that he's out there throwing himself into whatever crazy nerd shit he gets excited about. I'm definitely gonna keep watching.
I guess you could also call it OWLVATAR, but I'm sticking with OWL 300.
This entry was posted on Tuesday, September 28th, 2010 at 2:13 am and is filed under
Cartoons and Shit
,
Fantasy/Swords
,
Reviews
. You can follow any responses to this entry through the
RSS 2.0
feed. You can skip to the end and leave a response. Pinging is currently not allowed.