Well, here's the thing…
(get it?)
Let's say you love John Carpenter's THE THING so much you want to make a prequel to it explaining what led up to the dog running from the burnt up base. And you're very careful to stay true to the tone and style of the 1982 movie, and to make all the little details match up. Then what do you call your movie?
Well, THE THING, of course. To mimic THE THING and take its place, like a Thing.
This new THE THING that could never pass the blood test is exactly what I predicted a long time ago: a well executed version of a movie I don't think should've been made. I was impressed by how they backwards-engineered everything from the real one. They get all the skirmishes that lead to a guy with his throat slit here, a fire there, an ax stuck in that wall. It's an interesting exercise but I think also a fundamental misunderstanding of storytelling. If there was some reason to know the details of what happened here then Carpenter could've opened his movie with the shit hitting the fan. Instead he chose to show the already-shit-covered fan, knowing it was more spooky to see the aftermath and have to fill in the blanks yourself. The very fact that his opening is great proves that this new movie shouldn't have been made.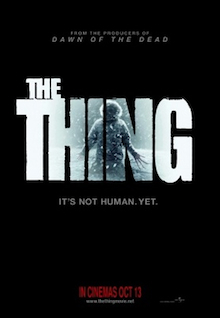 In this THE THING the spaceship is discovered under the ice near the Thing, who must not have been wearing his seatbelt. It's a Norwegian crew, played by famous Norwegian actors, but they call in an American scientist (Mary Elizabeth Winstead) for her expertise, so that's how we get some English in there. Joel Edgerton from WARRIOR and ANIMAL KINGDOM is also there, but he's not in charge, he's a blue collar guy that helps fly them in on a helicopter. So she's the brains, he's the muscle.
After they carve out a block of Thing on ice they leave it in the Frozen Alien Storage Room and go have a late night drinking session. I appreciate the camaraderie in this scene but I gotta question whether they really would be doing this after discovering proof of alien life. I kind of doubt they'd all be able to get their mind off the alien they know is in the other room. I think they'd all be standing around with blowdryers trying to melt that thing.
I thought Winstead would be out of place, but I think she does well glammed down and real serious. One of my buddies couldn't believe it when I told him that was Lucy McClane and the blue-haired dream girl from SCOTT PILGRIM and the cheerleader from DEATH PROOF. She's the lead, which is kind of smart. If Edgerton was the lead he'd seem like a Kurt Russell substitute. Winstead gives a Ripley-esque performance, and I don't mean that in the usual superficial sense but in the sense that she's figuring out what these goofballs haven't yet, she realizes the gravity of the situation, and she shows it all on her face. There is definitely a big ALIEN influence, especially when they go inside the ship.
Of course one of the most beloved aspects of John Carpenter's version is the crazy monster FX by Rob Bottin. These aren't as groundbreaking or original as those, because they're just expanding on his idea of human body parts lumped together in disgusting shapes, but I thought for the most part they did a good job. I saw on the blu-ray how the company from the later ALIENSes did the animatronic dummies – more of them than I expected, 'cause I assumed it was pretty much all digital. But they came up with some crazy Thing configurations and are able to make them run around and be more action-y.
There are some pretty good character moments. I like when the head of the expedition has to be defensive about calling the alien "fascinating." People have died, so everybody looks at him sideways for showing any enthusiasm for the science of it. "It is fascinating," he has to say.
One thing I didn't believe: that one of these guys would use the word "frickin'" when freaking out about the missing killer alien being. And it's an R-rated movie, it's not like they weren't allowed to use "fuckin'." I just don't buy that somebody would tone down their language in a situation like this. If anything they would be so freaked out they'd throw in a bunch of extra cocksuckers and motherfuckins and everything. When depicting people who are just realizing that they will probly be killed by a being whose very existence has completely changed their entire view of reality, err on the side of harsh language, I say.
The storyline mimics the first one. They even almost invent the same blood test, but then decide to create the same sort of tension by making everybody show their teeth and if they don't have metal fillings (which the Thing can't replicate) they're a suspect. Towards the end (SPOILER) they have the same type of 2-people-left-and-one-could-be-The-Thing dilemma, but they resolve it differently. By resolving it. Actually I like what they did (if I understand it correctly) but I think they threw in one little thing that sort of killed it.
SPOILER END DISCUSSION THIS PARAGRAPH ONLY. See, Winstead mentions Edgerton's earring, he reaches to feel if it's still there, but reaches for the wrong ear, according to her. So he's The Thing so she blowtorches him. When she does it he doesn't sprout a bunch of tentacles or anything, but they did put in a little bit of a Thing squeal. It would be perfect without that sound, which seems to definitely tell you that he's an alien. It would be great if we had no information at all and just had to decide for ourselves whether she saved the day or whether she burned an innocent man alive because he (or even she) had a poor memory about jewelry in stressful situations. That would put it more in line with the ambiguity of Carpenter's ending, but with a good spin on it.
OKAY, A LITTLE MORE SPOILER END DISCUSSION IN THIS PARAGRAPH ALSO. It's kind of cool though that she gets away, and there's more ambiguity there. Did she make it to safety? Just because we don't see her dead in the first one doesn't mean she didn't survive. Maybe she's out there somewhere.
In a way THE THING (2011) is sadly emblematic of modern pop culture: a whole bunch of talented people working really hard to try to imitate something from the past, filling in background details instead of blazing new trails. It makes you realize that it's not just the remakes and reboots and prequels and toydaptations. Even some of the things we love are Things, lavish re-creations of something that already exists. Tributes and homages and references. Think HOUSE OF THE DEVIL, for example. Good movie, but mostly because it seems so authentically made-in-the-early-'80s. One of my favorite movies of recent years was a fake blaxploitation movie. This year's Academy Award for best picture went to a fake silent movie. Shit is so bad now that we yearn for what we loved in the past, for the "old school," some kind of throwback. It's hard to think maybe something better could come along, so we want to aim back at the past.
A prequel to THE THING is so obviously a terrible idea that they had to constantly appease fans in the promotions. Don't worry, we're big fans of John Carpenter, don't worry, we're big fans of practical effects. That whole "fan = quality" myth again. I think the movie proves that they genuinely are big fans of the Carpenter movie, but the magic of fandom doesn't turn a bad idea good. Do you think Carpenter ever had to appease the fans of the Hawks movie, or the short story? Hey guys, don't worry, I'm a huge Hawksgeek. Probly not. The movie speaks for itself.
It's extra sad to do to this particular movie, because Carpenter's THE THING took a great Howard Hawks produced classic and showed that it could be re-interpreted with an entirely different sensibility and be even better. Carpenter worships Hawks and put THE THING FROM ANOTHER WORLD on the TV in HALLOWEEN and this was his dream project. But he didn't try to make it feel like the Hawks one or explain what happened before the Hawks one, he did his own thing. I feel like these filmatists got the wrong lesson out of that, though. Instead of "you can do a remake in your own way" they got "this is what a remake looks like."
I have no idea whether to recommend for or against this movie. It's a decent movie, just a terrible trend. Should you watch it? I don't know, it depends. And the way it leads into the beginning of THE THING (and then starts playing the correct music) just makes you want to watch THE THING immediately. It's a good thing if young people that never watched that one are co-erced into watching it because of this.
There is only one proper way to pay tribute to this THE THING, and that is to do another premaquel that explains how that ship got frozen under the ice. It will be called THE THING. It will be part of a trilogy, each one going further back into explaining. The other two are called THE THING and THE THING, or collectively "THE THING."
This entry was posted on Friday, March 9th, 2012 at 1:01 am and is filed under
Reviews
,
Science Fiction and Space Shit
. You can follow any responses to this entry through the
RSS 2.0
feed. You can skip to the end and leave a response. Pinging is currently not allowed.