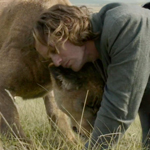 I've said it before and I'll say it again: THANK YOU studios for continuing to make these expensive old-timey adventure character movies even though they are always financially disastrous. I for one appreciate the gesture!
Of this type of movie, Gore Verbinski's THE LONE RANGER is far and away the most entertaining and masterful. THE LEGEND OF TARZAN is closer to the level of the last major Edgar Rice Burroughs adaptation, Andrew Stanton's JOHN CARTER. It's a little slicker than that one, but also a little more normal since it takes place on Earth with Earth type animals. Yet it's not what I expected at all. It knows that you already know the basics about Tarzan, so it tries to walk that delicate line of giving you a different spin without sacrificing the classic Tarzan shit you expect. It also tries to capture some of the feel of stories written a hundred years ago while looking at matters of race, gender and culture with today's eyes. And it does these things fairly successfully.
In the opening we meet Leon Rom (Christoph Waltz, INGLOURIOUS BASTERDS, THE GREEN HORNET), a cruel Belgian mercenary searching for the fabled diamonds of Opar, and Mbonga (Djimon Hounsou, AMISTAD, LARA CROFT: TOMB RAIDER: THE CRADLE OF LIFE), a menacing cheetah-masked Chief willing to trade the diamonds for the capture of his greatest enemy, name-withheld-but-cut-to-the-title-THE-LEGEND-OF-TARZAN®.
But then we go to Tarzan (Alexander Skarsgard, MELANCHOLIA) and he's not a shirtless dude swinging through the vines. We are already later in his life, when he's an official Lord and living in a castle in England wearing fancy clothes. He's hearing a pitch from Belgians who want him to take them to the Congo, so we don't hear him talk for a while. And then when he does, he doesn't say "Me Tarzan, you representative of King Leopold," he is actually quite eloquent. And when American envoy George Washington Williams (Samuel L. Jackson, FRESH) brings up the Lord's past as "Tarzan the Lord of the Apes" he insists that his name is John Clayton III, street name Lord Greystoke.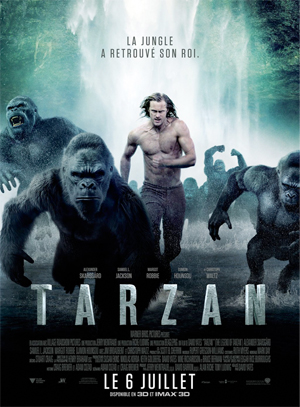 Williams is a civil war veteran, ex-mercenary and now politician with a secret agenda to stop the slave trade that he believes is going on in the Congo. That's how he convinces Tarzan to return to the Motherland, and why they're partners throughout the movie. I'm not joking when I say that this Tarzan is always referred to as John. So I had no choice but to keep thinking of it as APE MAN WITH A VENGEANCE. John Tarzan is forced to run around with Samuel L. Jackson, riding on top of a train, jumping off of things, etc. because of a guy whose family member he killed long ago.
And some of the best movie magic in the whole thing is that I totally accepted Jackson with hair.
There's a weird contradiction in our popular culture right now: on one hand there is a movement to have movies be more inclusive of different races, genders and etc., on the other hand everything has to be based on an old popular brand, which means mostly things created a long time ago, which means they're mostly about white men. TARZAN is a classic pulp tale that comes off a little different to a citizen of the 21st century because it's a white hero in Africa and some of the bad guys are savage African natives.
I'm not sure you could get around Tarzan being a white dude shipwrecked in a foreign land, but you can improve the depiction of the natives and his relationship with them. In LEGEND, Jane (Margot Robbie, THE WOLF OF WALL STREET) grew up in an African village, she is a member of the community, and it's basically a family reunion when she returns. Although we need more movies specifically about Africans and African Americans, not about their stories told through white characters, I think we should still respect the sentiments of a movie like this in which the white heroes love and respect people from vastly different cultures as family. Although John is the main character he never acts like he's their leader or anything. He's an old friend, they have mutual respect, they work together using their own talents and resources.
And, I mean, you gotta figure his apeness is more exotic to them than his whiteness. Getting over racial differences is nothing after you get over that he talks to animals and does that weird yell and does circus acrobatics way up high in the trees. That is one eccentric dude.
The issues of race are placed in context with American history. Williams talks about his pride in fighting in the civil war, but also his shame about the Indian Wars. I didn't realize this until reading up on the movie afterwards, but George Washington Williams is an actual historical figure who really did fight in those wars and then travel to the Congo to expose abuses of the Congolese by the Belgians under King Leopold. But without the aid of an ape man. I wish Warner Brothers would sink even more money into a series of financially unsuccessful sequels, but then I'd want to see this team back, and in reality Williams died of tuberculosis while returning from the trip depicted here.
The effort to modernize Jane seems a little more self conscious to me, but it may just be because when Rom kidnaps her and tells her to scream she asks "Like a damsel?" A little on the nose. When she does get to go into action it's more effective than when she's just talking tough.
John returns to the hood and reverts to his old ways, including running across branches, elaborate digital vine-swinging, and literally butting heads with dangerous animals, who to him are just the kids he grew up with. The animals don't talk, but he somehow communicates with them, and for the most part they're realistically animated much like the modern PLANET OF THE APES series.
Although we've seen Waltz play a much better villain in a movie one time, this is one of the rare non-Tarantino roles where he doesn't feel out of place in the movie. He reminds me of the villains in THE LONE RANGER and the modern ZORRO movies, but scarier. And Honsou is the more interesting antagonist, the one with more layers to him.
Here's a funny story I read: producer Jerry Weintraub was convinced that because Olympic swimmer Johnny Weissmuller famously played Tarzan in the '30s and '40s, 18-time-Olympic-gold-medalist Michael Phelps was the man to play him now. But then he saw two minutes of the Saturday Night Live hosted by Phelps and dropped that whole idea. I like Skarsgard in the role and I bet he also would do better on Saturday Night Live. And there is no swimming in this movie. So it was a good choice.
Skarsgard is all muscled out and holds his shoulders like a gorilla. At first he's more of a convincing presence than a compelling one, but the more he matter-of-factly shows Williams the life of a former Lord of the Apes, explaining the way of the animals, the more I like him. The main thing that won me over to this movie is that there are two major confrontations that are resolved in more interesting ways than expected. Skip the next paragraph if you don't want one of them spoiled.
When John brings Williams through ape territory he explains that he now has to fight a huge gorilla that was once his brother but now considers him a deserter. This is the scene with the money shot from the trailer, of Tarzan and a gorilla flying toward each other in slow motion. I was wondering how the hell they were gonna convince me that this guy could beat up a gorilla. Instead, he gets a few hits in, including a Tony Jaa style elbow to the head, but the gorilla beats the living shit out of him. And he's laying there moaning and broken and the gorilla calms down, gives him a little shove, and leaves. Like, It's over. You manned up. I got my aggression out. We're good. Tarzan knew he was gonna get hammered, and he did it anyway, because that's what he had to do. And now they're brothers again. There's alot of fight brotherhood in this movie!
The conflicts build to a climactic battle that involves all of John Tarzan's friends. Although I would've liked a more excessive version of this idea it was enough to put a big grin on my face of the exact type I hope to have when I go see this type of movie.
The director is David Yates, who did the last four HARRY POTTER movies and the upcoming spin-off one. I thought he did a fine job on those, and he brings those skills here, giving a grounded look and feel to a fantastical special effects world. The script is credited to a guy named Adam Cozad but also Craig Brewer, the director of HUSTLE & FLOW, BLACK SNAKE MOAN and FOOTLOOSE who had at one point intended to direct. I have read that both were hired by Warner Brothers to write competing scripts, so I imagine they merged them together in some way, but I have also read that the film stays close to Brewer's version, and it seems to fit his descriptions in interviews about what he planned to do with the movie.
Anyway, thanks again Warner Brothers, your generosity is appreciated and nobody can say you don't give back.
p.s. I'm not well versed in the history of Tarzan, but someone who is is Joe Lansdale, who wrote the Hap and Leonard book I'm currently reading but also Tarzan: The Lost Adventure, based on a fragment left behind by Burroughs. So I was interested in what he had to say about this movie on Facebook: