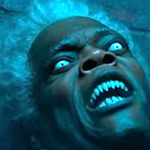 MISS PEREGRINE'S HOME FOR PECULIAR CHILDREN takes place in a quirky, goth-y world of young outcast monsters, a story for young people who enjoy the macabre, a premise that sounds like X-MEN but plays more like THE ADDAMS FAMILY. It seems tailor made for a Tim Burton comeback film. Maybe that's the problem. Maybe he needs to find something off the rack that looks good on him. No, actually that's probly what he did here. Maybe he needs to sew something himself. I don't know. This metaphor got away from me.
Asa Butterfield (HUGO) plays Jake, our protagonist and first person narrator, who lives a boring life in a Scissorhandsian Florida suburb until one day he finds his Grandpa (Terence Stamp, ELEKTRA, THE PHANTOM MENACE) dead in the woods with his fucking eyeballs plucked out. (The police soothe him by explaining that dogs ate 'em.) Also he sees a giant.
Kinda like BIG FISH, he finds himself tracing the seemingly-fantastical tales Grandpa told him and left behind in letters, journals, photos and maps. (Burton has been past his prime long enough that he's harkening back to movies from past his prime.) He convinces his dad (Chris O'Dowd, CALVARY) to bring him to Wales to see this children's home where Grandpa once lived.
Long story short, it turns out to have been bombed by the Nazis right after he left. But also the kids inside all had "peculiar" abilities, and their headmistress used hers to create a time loop so they can continuously live inside the last day before it was destroyed. GROUNDHOG DAY rules seem to apply. They know what's going to happen, but they retain their memories. And they don't physically age.
Jake enters the time loop, meets the kids and learns their gimmicks. His guide is Emma (Ella Purnell, who played young versions of the leads in NEVER LET ME GO, MALEFICENT and THE LEGEND OF TARZAN), who is "lighter than air" and has to strap on steampunk style weighted boots so as to not float away like a lost balloon. It's classic Burton imagery when they walk around together and she's tethered to him, floating behind like a kite.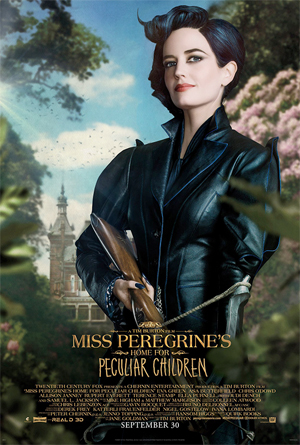 There's an invisible boy, a firestarter, a boy with bees inside him (the white Candyman), a girl with a monster mouth on the back of her head, etc. The obvious fan favorites are "the twins," two kids in terrifying burlap sack clown costumes whose powers are vaguely explained. My personal favorite is Bronwyn (Pixie Davies, NATIVITY 2: DANGER IN THE MANGER!), just a little girl with super strength, but it's funny every time she carries him around or throws a couch or something. And the actual coolest ability goes to Enoch (Finlay MacMillan), who can puppeteer things by putting a disembodied heart inside them. This leads to a a stop motion sequence of creepy misfit toys fighting each other and also marionetting dead bodies.
It turns out the police were wrong, Grandpa's eyeballs were not eaten by dogs. I would say the police unions might boycott the movie, but luckily for them it turns out it was a black guy, Samuel L. Jackson (THE LONG KISS GOODNIGHT) as Barron, a mad scientist or whatever who is up to some kind of experiment thing where he has to capture an "Ymbrine," which is what headmistress Miss Peregrine is, a lady who creates time loops who also turns into a bird. (You know. An Ymbrine.) He gets his strength from eating eyeballs and his henchmen are giants like the one Jake saw in the woods, who are basically just Jack Skellington if he existed in the movie SILENT HILL.
One problem with these giants: they're called "hollowgasts," which is pronounced "hologaust" in the movie. I find it surprising that the author of the book it's based on, Ransom Riggs, or his editor, or screen adapter Jane Goldman (KINGSMAN: THE SECRET SERVICE), or Burton, or any of the producers, didn't think maybe call these monsters something else. They do tend to abbreviate it to "hollows," at least.
There are a bunch of cool things in this movie, and probly the one most of us will remember is the scene where Barron slurps down a bowl of children's eyeballs. And they're extra gross because they have the ocular nerve thing hanging off the back. And the movie turns fun when there's a big battle where the kids work together and use their abilities to fight Barron and his skellingtons.
The problem is that's pretty much the end of the movie. To me the movie feels hollow because it spends more time explaining its world than living in it. Here are these kids and these are their names and these are their abilities and this is the time loop they live in and this is how it's made and this is what you call the person that makes it and this is how that works and here is this guy and this is what he's trying to do and this is what you call those monsters and this is what they do…
Fine, but when the tour is over can we have a story? So these kids have survived for decades inside this home, but what exactly do they do in there? I like the part where Emma catches a baby squirrel that she knows falls out of a tree every day. And they all have meals together. Otherwise, what do they do? Do they have some purpose? I don't know.
I'm not the world's biggest Harry Potter fan, but I get Harry Potter. They go to school to learn about wizardry, they make friends, they play sports, there's also a prophecy and they end up fighting the bad wizards and we know what those guys are trying to do. They get to exist in the world, not just tell us what the different things are called.
I guess it's kind of like THE LEAGUE OF EXTRAORDINARY GENTLEMEN if they weren't an investigative agency, they just lived in a house together.
These peculiar children who are the fun part of the movie don't get much chance to become real characters, which would be fine if that didn't mean they're in the background most of the time. Butterfield is likable but a little stiff with all this explanatory dialogue he has to do, and since he doesn't even think he has a peculiarity we're focusing on the least interesting character of the bunch. (Eventually he figures out that he has the ability to see the hollowgasts, which is narratively important but the least exciting super power.) And I could not get invested in his love story with Emma. They have no reason to really fall for each other except that she's another of Burton's unnatural blond angels like Winona Ryder in EDWARD SCISSORHANDS or Cristina Ricci in SLEEPY HOLLOW.
I didn't mention that Eva Green plays Miss Peregrine. I love Eva Green, who could've had a career just being a sex symbol, but she quickly became a great actress, particularly good at playing seductive and crazy and funny and evil (not all of those used here) and who understands the power of mega. She's great in Burton's DARK SHADOWS (which I enjoyed) and she's great in this. Miss Peregrine is obviously supposed to be a plucky, unflappable, magical woman who inspires and protects the children, holds her head high at all times and is never less than super awesome. In the style of Mary Poppins, Mrs. Piggle Wiggle or Adele Blanc-Sec. Green absolutely gets that across, but if not for her performance, what would this character be? What is she about? She has big hair and she turns into a bird and she makes time loops and has a crossbow. A list of attributes in search of a soul.
I still like Burton's style and humor, but he needs better scripts than this if he's ever gonna be great again. His cool monsters and gags aren't enough to give life to off brand Harry Potter. And it doesn't help that he seems to have broken up with Danny Elfman again. I think this is his only movie besides ED WOOD not to have an Elfman score, and poor newcomers Michael Higham and Matthew Margeson are no Howard Shore.
Burton has been caricatured as just a stylist who created cartoon goth fodder for Hot Topic back before they switched to whatever it is they sell now. But he was once much more than an identifiable visual style; his best films felt intensely personal and operatically emotional. This summer I saw what suburban Burbank looked like and I felt like I understood him better. He had been a shy kid growing up there feeling out of place, finding solace in drawing and watching monster movies. Something about that youthful emotion haunted him as a young man and he captured it vividly in a unique type of modern fairy tale. He deeply felt characters like Edward Scissorhands, Jack Skellington and his version of Ed Wood, so people relate to those feelings and recognize parts of themselves in them.
Here he revisits some of those themes, but it just feels routine. I think he's kinda grown out of that outcast weirdo thing, as you might too after decades of being a celebrated Hollywood icon and merchandising cottage industry. Or he's been over it enough that it doesn't make his heart beat fast anymore. I hope one of these days a story comes to him – probly something small and scrappy, probly not another remake or adaptation – that speaks profoundly to how he feels today, not just how he remembers feeling as a kid. He's too talented to keep spinning his wheels like this.
This entry was posted on Friday, October 7th, 2016 at 5:16 pm and is filed under
Fantasy/Swords
,
Reviews
. You can follow any responses to this entry through the
RSS 2.0
feed. You can skip to the end and leave a response. Pinging is currently not allowed.