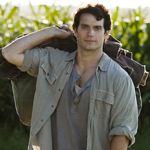 (contains THE SPOILERS)
I cannot tell a lie, I was really fuckin excited for the new Superman movie. I went to the midnight show and everything. I showed up way too early. I passed a guy dressed as Superman going into the john and might've given him a high five if I knew he'd washed his hands. I'm down for this. I wanted this to be great.
I'm not one of those people who shits on SUPERMAN RETURNS. I liked it, I just didn't love it, mainly because I think it was shackled by nostalgia, held back by trying so hard to recapture the old Richard Donner movies. I know this is considered blasphemy in many circles (you're gonna be hearing that a couple more times in this review) but I just don't like those Superman pictures that much. They were great in the '70s and early '80s but to me they haven't held up the way the Spielberg and Lucas joints of the era still do and will continue to. So as good of a job as Bryan Singer did of imitating that old version of Superman and goofball Lex Luthor and re-using the same font and music and all that, I feel like what I want to see now is start over and do a different take on Superman that's made for the futuristic year of 2013. That's what director Zack Snyder, writer David S. Goyer and producer Christopher Nolan have done with MAN OF STEEL and… well, I like not love this one also. But maybe like it a little more. Maybe a smidge closer to love on this one. I don't feel high off it like I did off the Batman movies. But I am still thinking about it, and already want to see it again, see how it plays without all the baggage of expectations.
Henry Cavill plays Kal-El aka Clark Kent aka Superman aka The SZA. Like Christian Bale this guy is a Brit, unlike him he wasn't in AMERICAN PSYCHO so to me he's a total unknown. He's a great find because he looks like how some people would draw Superman with a perfect balance of manly-man and pretty boy. In his most manly scene, rescuing oil workers while on fire, his bearded shirtlessness makes him look like Wolverine. Other times his big open face and kind eyes tell us he's not jaded like Wolverine, even though he faces alot of the same life challenges.
The scope of the movie is pretty epic, beginning with Kal-El's birth on the alien world of Krypton shortly before its destruction, then spanning his rural childhood with adoptive Earthling parents Kevin Costner and Diane Lane, his youthful struggles with discovering he's a powerful being and that what he can do scares people, his later discovery of his origins and public outing when he has to defend the world from the space general Zod, who may be able to rebuild the Kryptonian race but at the expense of human life on Earth. Like BATMAN BEGINS much of this is shown in non-linear flashbacks while the young unshaven man travels the globe under an assumed name taking on different shitty jobs and trying to find himself. (As a capital w Writer I gotta say I wish we saw him jotting down some shit in journals throughout his adventures so that he didn't seem like a poser at the end when he becomes a reporter. We never saw the guy write a god damn word in his life, now he's going pro? If he just has to use the power of the yellow sun for that it's not fucking fair.)
(On second thought it could be a commentary on the decline of print journalism that they're just hiring some dude with no experience or education to be a reporter at a major newspaper.)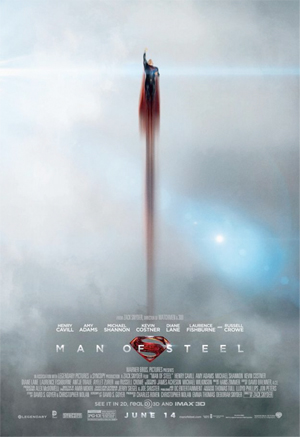 Snyder's version of Kryptonian culture is less crystal-based than the old one, more fantastical. There are Star Warsian creatures and bizarre electronics out of a European comic book Jodorowsky would write. About 1 minute into the movie you're going all right people, you seriously want the DARK KNIGHT police procedural Batman to be in the same world as this roaring space buffalo here? Come on fellas. But it does follow some of the same philosophy of trying to honor the comic book traditions while giving them new explanations and contexts, for example the Superman costume is now made out of a sort of chain mail and we see this is the layer Kryptonians wore beneath a larger suit of armor. And they put the family crest on that layer rather than an Under Armour logo like we would do.
I think my favorite thing I haven't seen done with Superman before is in the childhood portion, when we see what a nightmare it is for a kid to be in school and see everybody as x-rays and hear every tiny sound in the room and outside of the room. Also he can hear people whispering about him, it's bad for the self esteem. Later, when Zod and the other Kryptonians come to Earth they can face that same horror of sensory overload (minus the whispering, because they don't care what humans think of them), giving Superman the an advantage over them.
Superman grew up as an outsider on Earth, but he would've on Krypton too, since he was the product of an illegal birth, born to decide his own destiny. He is truly a Kryptonian-American, and this is a story about cross-culturalism. Jor-El saw Kal as the bridge between Kryptonians and Earthlings. Superman is the combination of Kal and Clark, of the nature of the Els and the nurture of the Kents. He stops the genocidal colonialism of the race he was born into, and serves as a beacon of hope for the one he adopted. He is more powerful as an individual than the American miltitary is as a whole, because he's an alien. But he reminds them that he grew up in Kansas. Melting pot and all that.
That said, Krypton and Kansas are very white. It's not like there's no color in the cast, 'cause Laurence Fishburne and Harry Lennix both have important supporting roles (I thought they were gonna start fighting over Niobe again), but I think we all know how part 2 can use its comic book roots to bridge cultures and get some more diversity going: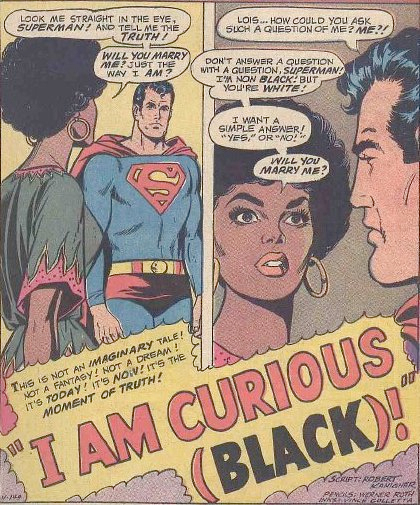 Until then, Amy Adams is good for the role, for sure much better than poor Kate Bosworth, and in a better interpretation of the character. There's lots of room to explore her further but she's established from her first scene on as a smart and accomplished woman who asserts herself and gets her way without people disliking her for it. She uses her reporterly skills to trace her mystery man from Antarctica to his parents' house in Smallville, which is a double whammy considering it both makes her more than a scooper with connections and saves us from ever having to face that "How the fuck does she not figure out he's Superman?" question. In this version you could say she figures out he's Superman before he does.
In fact, the whole approach to the secret identity is pretty different now. If I understand correctly the military knows Superman is Clark Kent. Also the manager of an IHOP knows. He doesn't worry all day about hiding that, he just tries not to spread it around too much. (I got the same thing, the government probly knows my secret identity, 'cause I use hotmail.)
I like how he tells the government to quit spying on him, but don't they already know where his clubhouse is? They were the ones who found it, after all. I guess he moved it but it must be still in Antarctica, right? I bet they could figure it out pretty easy.
Michael Shannon as Michael Ironside as Zod is not a scene-stealer like a Joker or a Bane, but he's a cool villain because he has a consistent goal and point-of-view. I mean, he's definitely an asshole but more like Patton or somebody than Loki. We understand what he's trying to do and why. Not a bunch of wicked cackling. Antje Traue gets to be more traditionally villainous as Zod's sidekick, apparently named Faora-Ul. She just has to look mean and be a badass, but she's good at it. She seems more like an actual evil person than Zod, but maybe she just enjoys her job. I can respect that.
The visual style of the movie is top notch, but in a way I think Snyder is pulling a Clark Kent and hiding his true self. I can't remember a single slo-mo or speed ramp in the motherfucker. Some people may hate his sense-heightening filmatics, but fuck 'em. That stuff would've been dead-on perfect for a movie about a superman doing supershit. Did you see that owl movie, where he showed how the owls could sense every single drop of water in a rain storm as they flew through it? I would've been down for some of that. Snyder restrains himself and sticks with the mimicry of (believe it or not) Terence Malick visuals and Christopher Nolan tone. At the beginning he even pays tribute to Nolan's biggest weakness by shooting a close up and shaky fist fight. Most of the action is subtly staged to seem objective. Not fakumentary or Greengrass style but with lots of shots where the camera can't get close to or can't keep up with the super-beings, you see it from a distance, with an occasional sloppy zoom, like a cameraman coming up with an idea on the fly. It looks great but by trying to extend Nolan's grounded-super-heroes approach into super power land I think Snyder denies us his usual emphasis on strength and impact, which would've so clearly been a good match for the material.
But maybe I'm wrong to complain, because the simulated verite certainly makes it different from the other more digital looking comic book fantasies. Snyder's natural talents can't help but shine through in a ton of crazy flying and superpunching and destruction during act number three. It looks and feels different from what he's known for (much more real and less painterly) but it's still something only he could've done like that. None of the other movies with super-powered fights have made it look this good.
Yeah, there's a sense of mild disappointment, because my hopes were set to the sky. The Batman movies set the bar real high, and the trailer for this thing gave me honest-to-Christ goosebumps every single time I saw it before a movie. I guess that trailer spoiled alot of the emotional beats, and condensing them along with Hans Zimmer's excellent theme was a kick more powerful than they could manage in the actual movie. Or at least it didn't connect with me the way I hoped it would.
Unfortunately a quick glance finds others in this dilemma of liking this movie when they thought they would love it, and trying to put a finger on why. I disagree with other peoples' findings that it's too long. It obviously follows the BATMAN BEGINS template, but that movie was so absorbing in the story of putting together every piece of the Batman methodology (training as a ninja, setting up in the cave, building the costume piece by piece) that when the big Batman vs. monorail setpiece at the end was kinda underwhelming it didn't matter at all. In fact I remember before DARK KNIGHT worrying that it might not be as good because it would have to be more Batman and less Bruce Wayne.
MAN OF STEEL needs to have more time for the super so it speeds through the part about the man. I think we could've used more Jor-El on Krypton too. This works a little different from BEGINS because the becoming-Superman story is more familiar from the previous movie and the new additions are not as striking. It's mostly a new version of the Superman story instead of a part of the story we haven't seen before. The third act, the Superman stuff, is far and away more impressive and exciting than the Batman stuff at the end of BEGINS, but since the earlier part feels rushed through more than Batman's we (or at least I) feel less deeply connected to the character and what he's trying to do. Even though I like him. I mean, he seems like a really nice guy.
And come to think of it there are some ideas that I believe are new to Superman, having to do with how Kryptonian society functioned, why Kal El represented a new hope for them as much as he does for Earth, how he and Zod are in opposition in their plans for continuing the legacy of Krypton. These are high points of the movie, but in some cases they don't find the time to weave them in subtly, they make them come out bluntly in dialogue.
(SPOILER: Wait a minute, what did Jor El want him to do when he grew up? He wanted him to re-grow Kryptonians on Earth but help them to get along, or did he not want him to do it? I'm sorry, it was pretty late at night and I don't remember if this was made clear in their conversation about it.)
On the other hand, the way Goyer establishes an ancient connection between Krypton and Earth is very smart and is mostly explored visually. Cape's off to that idea and the possibilities it adds to the Supersaga.
Blasphemy #2 according to most people I know: I count myself as a Zack Snyder fan. Of course I've had problems with him from the beginning. I forgave DAWN OF THE DEAD for being hollow compared to the original and 300 for bringing up timely political themes while being too superficial to really mean it. I had fun with those movies but I wanted to see a smarter Snyder. I got that with WATCHMEN but I get the feeling that just came from literally translating the source material.
SUCKER PUNCH seemed to show his strengths and weaknesses more than ever before, and really changed my view of him. Blasphemy #3, considered an abhorrent view to many of my friends and loved ones: I kinda love that big ol' mess. It shows his mastery of visual storytelling and flights of fancy (there's still no other movie that looks like that or is as ambitious in its fantasy action imagery) but also showed how hard he can stumble just by reaching for meaning and depth. SUCKER PUNCH is when I realized I was wrong all along. Zack Snyder should absolutely not be trying to make smarter movies. He should just be making Zack Snyder movies.
I'll have to revisit this at a later date, but my day-after feeling is that MAN OF STEEL is held back by a mild case of that SUCKER PUNCH syndrome. Instead of just giving us himself Snyder's trying to give us his version of what we like about Nolan's movies. I think the gorgeous, poetic imagery, the stirring wall-to-wall score by Zimmer and the Nolan-esque seriousness put us in mind of something with a little more emotional depth than what we're actually getting. So it feels good but just slightly off. I think you would be crazy not to acknowledge that this looks way better than any of the Marvel movies. It feels like something bigger, something more real, something more amazing, a higher class of super hero movie. But that's all on the surface. THE AVENGERS, IRON MAN, maybe even CAPTAIN AMERICA beat it at least in the story department. They pull you in more and take you for more of a ride. I mean, I'd take it over THOR for sure, but that's not what it's aiming for. It's aiming for Batman, and that's one tall building it can't leap over for american justice and truth, it's a bird it's a plane etc.
Now, as I've just said I've been wrong before about what Snyder should do with his movies. But if I could give him and Goyer advice for a potential part 2 it would be to stop worrying about being like Nolan. If you try to make the Superman version of DARK KNIGHT you're just gonna disappoint everybody. Instead why not the Superman version of BLADE 2? Concentrate on iconic characters, cool gimmicks, badass set pieces, funny lines, some surprises, some twists, a fun time for everybody. This is what both Snyder and Goyer excel at. They might as well do it some more.
* * *
NOTES
regarding credits:
Everybody seems to think these gotta follow the Marvel thing, have a little part after the credits where Batman and Robin break into Superman's snow cave or he accidentally crashes into Wonder Woman's invisible plane or whatever. They're not doing that and I think that's cool. I mean that stuff is fun but it has already turned into a formula. It's better for the Superman people and for the Marvel people if it doesn't get overused.
And by the way, I am a credit watcher. I know you're trying to be helpful, but you don't gotta come up and break it to me there's nothing at the end of the credits of this or FURIOUS 6. I figured there wasn't, but sometimes a man likes to let the movie soak in, listen to the music, maybe check who played this character or what was that song or whatever. Leave him alone and stop blocking his view and acting like there's something wrong with him for not getting up to wait to slowly waddle out of the door with the rest of the crowd.
regarding 3D:
I saw it in Real D because I wanted to see it at the Cinerama, and that's how they're playing it (except on Tuesdays – they do "2D Tuesdays" now – cool policy). This is not my preference for MAN OF STEEL because it's fake 3D, but I didn't have a big problem with it. It does look fairly dimensional for a while and never caused darkness or blurriness problems. The only issue I had is in some of the early Krypton scenes it seemed to be a bad match with the handheld cameras, though not to the extent of the eye-hurting opening of converted 3D Imax STAR TREK INTO THE STAR DARKNESS.
One question it brings up is how much shit the 3D conversion crew gave to the poor bastard that got stuck 3D-ifying baby Kal El's junk. I bet he never heard the end of it. Sorry about that buddy I hope they paid you extra or something.
2013 summer movie rankings so far:
4. STAR TREK 2 WRATH OF STAR TREK
3. IRON MAN PART THREE
2. MAN OF STEEL
1. FURIOUS 6
This entry was posted on Friday, June 14th, 2013 at 6:41 pm and is filed under
Comic strips/Super heroes
,
Reviews
. You can follow any responses to this entry through the
RSS 2.0
feed. You can skip to the end and leave a response. Pinging is currently not allowed.