BEST OF THE BEST 4: WITHOUT WARNING finds our hero Tommy Lee (still Phillip Rhee, also directing again) wandering into yet another action movie subgenre – this time he's the reluctant badass who gets stuck trying to stop a plot by heavily armed, highly organized commandos. So it's DIE HARD in a BEST OF THE BEST. In the three years since part 3 Tommy's had a daughter and had a wife pass away. All he wants to do is bake his daughter a cake for her birthday, but coincidentally his friend at the mini-mart who he asks for baking advice has a computer expert daughter who's fleeing from Russian counterfeiters with a disc they just stole. And of course Tommy ends up stuck with the disc and everybody trying to kill him.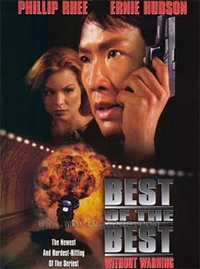 These days Tommy does what Seagal used to do in Jefferson Parish – he teaches cops how to knock knives and guns out of people's hands. So he's got contacts with the police department, but doesn't know who to trust because it's known that a cop is helping the Russians. Also Ernie Hudson is a real asshole and doesn't believe in "that chop socky stuff." So Tommy leaves his daughter with a preist (Paul Gleason, not really getting to do much).
The bad guys are led by Tobin Bell (typecast as a counterfeiter after IN THE LINE OF FIRE, I guess) and the main thug is the always reliable Sven Ole Thorsen. The best parts of the movie are just the thugs trying to kill Tommy. Like in part 3 he breaks into their compound and steals a motorcycle, and this leads to a big DIE HARD 3-4 style scene involving a tunnel, a tanker truck and a helicopter. I won't say what happens. Maybe they all park safely.
My favorite part is a Bruce Lee-esque scene where Tommy's sneaking around a private estate, goes into a room and finds about 9 guys with scary padded training gear practicing stick fighting. Not really the practice room you want to sneak into – if it was tapdancing or ribbon dancing it would be no big deal, but stick fighting… that's a problem. They see him come in, he shakes his head like, "Ah, shit," and then leans a chair up under the door knob. (After a long fight he leaves and Thorsen and some other guys show up… through a different door.)
This isn't a great movie, but it's way above average for DTV and especially for part 4s. Although it goes more in a DIE HARD rip-off direction Rhee still manages to put alot of care into several martial arts sequences. And there are plenty of weird touches to give it character, like the scene where a girl drugs him (geez guys, stop accepting beverages from women while people are trying to kill you) and he hallucinates animated butterflies behind her. In the BEST OF THE BEST tradition there's a bad guy who turns good, but not surprisingly Tommy has mostly abandoned his pacifist ideals and has no problem blowing the villains to kingdom come in a hilarious airport climax where he drives a fire truck out onto the runway, raises himself in the arm and tosses a bomb into the plane's landing gear exactly as it's closing. And the best part is one of the villains casually asking, "What was that he threw?" just before exploding.
Even though part 2 is the only one I really loved, this series is an impressive achievement. None of them follow the same template, they're four different types of movies (serious sports drama, underground fighting, saving a small town from Neo-Nazis, DIE HARD sequel rip-off). None of them have similar villains (honorable Korean athletic competitors, vain German gladiator, redneck Neo-Nazis, vicious Russian criminals). But they all have little BEST OF THE BEST trademark touches: they have one or more "bad" character who sees the light or finds some kind of redemption, they have uncomfortably corny scenes involving poor child acting, they have a little dry humor from Phillip Rhee, they depict a world where different races and nationalities can and do get along.
I especially like that Tommy has new family members revealed in each installment. Part 1 the dead brother, part 2 the Native American grandmother and brother, part 3 the sister and brother-in-law, part 4 the daughter and deceased wife. At least they don't all get killed like Paul Kersey's friends and family in his sequels.
And as of part 2 it looks like Tommy has been official best of the best. He needed that Native American training to defeat Brakus, but ever since then he's been qualified to beat anybody he's come across without stopping for a montage. My only regret is that we never found out who those other two were who could train him to beat Brakus. I guess that's kind of a useless skill now that Brakus is dead, but still, it would've been nice to meet them.
This entry was posted on Friday, July 30th, 2010 at 1:36 am and is filed under
Action
,
Martial Arts
,
Reviews
. You can follow any responses to this entry through the
RSS 2.0
feed. You can skip to the end and leave a response. Pinging is currently not allowed.