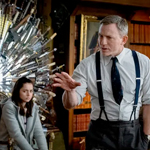 I was a Rian Johnson skeptic for years. I can't deny it. I recognized BRICK as original and well directed, but couldn't swallow its stylized world of teen noir ("in my day a dude walking around with a duck cane was in for a serious ass beating, he would not be running a drug empire," I wrote), skipped the second one because I thought it was gonna be bootleg Wes Anderson, liked LOOPER but recoiled at people talking like it was the Second Coming ("I feel a little out of step here. I mean I like it, but I don't want to fuck it"), and this may be out of line but I have always thought his credits should read "Written and directed by Rian [sic] Johnson."
Then STAR WARS: THE LAST JEDI came along – a movie I didn't think he was qualified to direct, but it turned out to be so much better than I expected, and so reinvigorating to a trilogy I thought was going in an emptier, more obvious direction. All the sudden I wanted to hear everything the guy had to say, listened to interviews, started spelling "Ryan Coogler" as "Rian Coogler," and even considered maybe seeing THE BROTHERS BLOOM some day.
So I was much more open-minded for his new laughdunit mysteryblast KNIVES OUT, which sure enough is a fun time for all without anything that felt too corny, forced or self conscious for me. Only in the last shot did I think "oh, this is kind of Wes Andersony." And by then it wasn't gonna bother me much.
This is the story of the rich family of famed mystery author Harlan Thrombey (Christopher Plummer, ROCK-A-DOODLE, MALCOLM X), who has just died of possible suicide, but police detective Lieutenant Elliot (Lakeith Stanfield, THE GIRL IN THE SPIDER'S WEB) and hotshot private investigator Benoit Blanc (Daniel Craig, LARA CROFT: TOMB RAIDER) have gathered them at the house to question them about his 85th birthday party that preceded his death. Since many of them had arguments with him, some involving money and inheritance, it seems like one of them could've killed him.
What I did not get from the trailers is that the actual main character is Marta (Ana de Armas, KNOCK KNOCK, BLADE RUNNER 2049), Thrombey's longtime nurse. She lives in a small apartment with her undocumented mom (Marlene Forte, "Transport Chief," STAR TREK) and sister (Shyrley Rodriguez, The Get Down), and knows more about what happened than she's letting on. She also has a condition that causes her to vomit if she tries to tell a lie, so it's hard for her to cover things up when Blanc pressures her to be his "Watson" during the investigation.
The story is twisty of course, but not always in the spots or the ways that I expected. At times it's a whodunit, other times the question is what exactly was even dun? I found the story satisfying, feeling somehow traditional and fresh at the same time, keeping me guessing and surprising me in the right spots.
In the tradition of Agatha Christie's adaptations and/or CLUE: THE MOVIE it's a highly qualified ensemble cast playing colorful characters, and it's fun just to watch them bounce off each other and transparently look after their own interests, regardless of the way it turns the gears of the mystery plot. Linda (Jamie Lee Curtis, ROAD GAMES) is the successful and responsible daughter, who resents Walt (Michael Shannon, KANGAROO JACK) for being a major "publisher" just by having access to their dad's books. Richard (Don Johnson, DEAD BANG) is Linda's country club husband, and Ransom (Chris Evans, BATTLE FOR TERRA) is their do-nothing playboy son who everybody hates. "Lifestyle guru" and Instagram influencer Joni (Toni Collette, xXx: RETURN OF XANDER CAGE) ends most sentences with a question mark, was married to a deceased Thrombey, and is still embraced by the family along with her college-going daughter Meg (Katherine Langford, deleted scene, AVENGERS: ENDGAME).
Also, Johnson regular Noah Segan, who I will always know as the gringo villain in Mark Zaror's REDEEMER, gets some laughs as Trooper Wagner, the lieutenant's dorky backup.
For me, three of these characters and performances stand out the most. First of all, de Armas as Marta pulls off a real tightrope act – she has to be the pure and innocent one who we all root for, but she's also the one we know is lying and trying to hide her actions the entire time. And getting in over her head makes her a comical goof, like when she has to act oblivious while intentionally trampling her own incriminating trail of footprints.
Secondly there's Evans, who comes into the movie late and insinuates himself into the center of the plot. Since CAPTAIN AMERICA: THE FIRST AVENGER he's been our favorite boy scout, but do you remember when he was in FANTASTIC FOUR and his whole thing was being the cocky smart ass? Here he blends the two personas because he's an arrogant dick but he seems to be helping Marta outsmart his shitty family.
And thirdly there's the show off, and the highlight, Craig. I gotta imagine Johnson saw him in LOGAN LUCKY and knew the world needed to see him doing more Southern accents. Sticklers for realism in regional dialect representation will have to go out to the lobby while we enjoy James Bond doing Colonel Sanders as Hercule Poirot. Some might say he's chewing the scenery, but it's more like the scenery is an alligator and he's wrestling it. I would be down for more Benoit Blanc Mysteries.
You know what though, I gotta give an honorable mention because also Motherfuckin M. Emmett Walsh (STRAIGHT TIME, HIGH NOON PART II, BLADE RUNNER, BLOOD SIMPLE, MISSING IN ACTION, CRITTERS, RED SCORPION, THE MIGHTY QUINN, THUNDERGROUND, PANTHER, WILD WILD WEST) shows up for one scene. I haven't seen him in anything in ten years (admittedly my fault for not seeing SCORPION KING 4 yet) so I was delighted the second I heard his voice. He plays a character that's not required to be anything special at all – he's the guy who lets the copes watch a security tape! – but he makes every frame of his screen time a joy to behold.
This type of movie is old fashioned, maybe timeless, but Johnson very gently and organically folds some of-the-moment themes into the mix. Though Marta is repeatedly told she's loved as a member of the family ("I thought you should've been at the funeral. I was outvoted."), no one seems to know which South American country she's from. Asked his opinion about immigrants by the police, Richard quotes Hamilton (the musical, not the actual guy), but at the party he drags everybody across concrete with a rant about immigrating "the right way," cluelessly dragging Marta into it as his proof of a "good" immigrant. The bastard forces us to side with idiotic Joni in this argument. Her hysterics are correct. But none of them are aware of the struggles of this so-called family member, not even young Meg, who rages at police when they ask if Marta is with "the help."
There are repeated discussions of what constitutes "self-made" by these people who were given millions by birth or marriage. They strongly believe that everyone must pull themselves up by those famous American bootstraps, and also that they are entitled to their family fortune and "ancestral home."
And in the tradition of Rose Tico's "fight for what we love" philosophy in THE LAST JEDI, Johnson promotes a warm, positive ethos that rewards characters for being kind and doing the right thing regardless of personal interest. The person who SPOILER gets the money is the only one who's not expecting it or trying to get it. Harlan probly deserves blame for what a bunch of snakes his family turned out to be, but in his final days he's discouraging greed and sacrificing himself for others. And his decorative knives are retractable.
If I have one complaint about this one, it's that Curtis (who I love seeing treated as a marquee star again) and Colette (who seems to be having a blast playing a cartoon) aren't in it enough. But in my capacity as Mr. Above It All I wrote that when LOOPER "was over I felt like that was enough, I don't feel like I'll necessarily want to watch it again." So congratulations to Johnson for leaving me wanting more.
This entry was posted on Monday, December 2nd, 2019 at 7:34 am and is filed under
Comedy/Laffs
,
Mystery
,
Reviews
. You can follow any responses to this entry through the
RSS 2.0
feed. You can skip to the end and leave a response. Pinging is currently not allowed.