Last year I honestly couldn't remember which one was LET ME IN and which one was NEVER LET ME GO. It's similar to the great "A ______ MAN" onslaught that made it easy to mix up A SINGLE MAN, A SERIOUS MAN, A SOLITARY MAN, THE EXTRA MAN, etc. And Denzel made a movie called UNSTOPPABLE even though Wesley already had a movie called that, and Seagal made BORN TO RAISE HELL around the same time as a gay porn of the same name came out. It's all so confusing.
But now I've seen LET ME IN and NEVER LET ME GO so I got them marked in my brain and I think I can keep them straight for now on. LET ME IN is the one that takes place mostly at night, this one is in the sunshine.

NEVER LET ME GO is one of the best movies from 2010 the year we made contact, but it's hard to get the word out because it's hard to explain what the hell it is. I mean, this is accurate: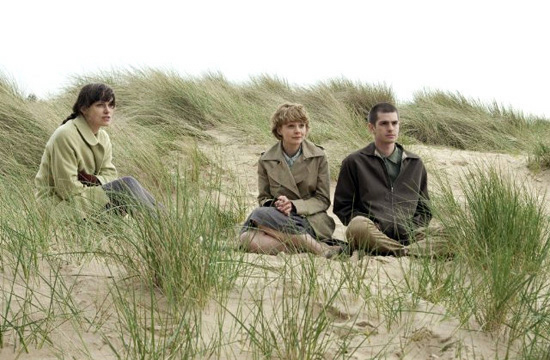 And that's not the type of picture that gets me excited to see a movie. But yes, it's mainly about those three good looking Brits, originally played by some younger actors and then by these three. And it's about their relationships and fears as they grow up and what not. It's adapted from a novel by Kazuo Ishiguro, who also did the book The Remains of the Day. The script is by Alex Garland (SUNSHINE, 28 DAYS LATER) and the director is Mark Romanek, the video director who did ONE HOUR PHOTO and who wasted a couple years working on THE WOLFMAN with Benicio Del Toro before he had to quit.
I just knew it was Romanek and it was supposed to be good and I knew one other thing that I'll get into in a minute. But first I would suggest just taking my word that it's pretty good and seeing it fresh, because that's what I did (only with somebody else's word) and it worked out for me.
It's not built on big twists and surprises, but it's best not to know what it's about. It's actually a sci-fi movie, but if you watched it with the sound off you wouldn't know that. There's no action in it, no robots or lasers or even futuristic looking buildings to show in the trailer. I didn't notice any special effects. It takes place mostly in 1985 and 1994, in a boarding school and some cottages with a bunch of fields of grass. No flying cars either. No computers. Nothin.
You can turn back now, because I'm about to tell the one thing I knew about it going in: clones. I didn't know any specifics, just that it was about clones. But I gotta write a review here, so I'm gonna have to say more than that. This review is strictly for the Already Seen It or the Completely Unconvinced.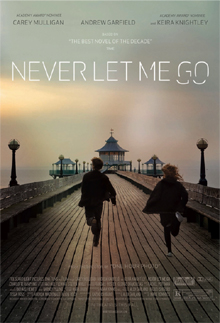 These clones seem like ordinary kids at a British boarding school. They have crushes and jealousies, they learn about the arts, get picked last for teams, wonder about kissing and sex and the world outside of their school. And like any kid they have a blurry understanding of their future. They hear stories and theories from other kids and accept them as truth. Some of the teachers at the school have qualms and disagreements about the ethics of what they're doing, and what they should be teaching the kids. Don't spread this aorund, but the reason for these clones existing is to be harvested for their organs. They won't grow up to do anything else, and then they'll "complete" – calling it something other than "dying" makes it even creepier.
The movie is very true to what it's like to be a kid and what it would be like to be in this situation. You would yearn to see the person you were cloned from. You would want to believe rumors about ways to delay your "completion." You would sometimes be angry about your lot in life, and sometimes accepting. You would want to fall in love.
Since I've seen one or two sci-fi movies in my time I thought maybe they could bust out the lasers and make an escape. Try to rebel, at least. That's what usually happens in a dystopia, right? Even at least one version of BLADE RUNNER, if I remember right. Somebody tries to take the system down or at least tries to make a run for it. But this isn't that type of movie.
I think technically it is a dystopia, because this entire class of living beings is being oppressed, and there's another nasty secret in that they are apparently only cloned from the lower classes. Like maybe it's supposed to make it more acceptable to use them to harvest organs. Oh, heavens no, we wouldn't clone a doctor for organs. Just a hooker. And we don't know what the cloning process is. Maybe it damages you. Maybe it's done against your will. We don't really know.
But it doesn't really feel like other dystopias. To the rest of the world, the part of it we don't really see in the movie, everything is great. The world is the same as we know it, except that everybody is healthy enough to live to 100, thanks to the sacrifice of these clones.
And you know what, they get a raw deal, but not as raw as plenty of people get in the real world. For a time they get to live a good life. They don't live in cages or nothin. They get to paint and have friends and lovers. They get food and shelter. At least they're not child soldiers or homeless people or chickens on a factory farm. So how much worse is this dystopia than the real world we live in?
That's the beauty of this story, it's about a crazy alternate history but it's also about just regular old life. The clones are like anybody, they gotta play with the cards they're dealt. They don't like it anymore than anybody likes getting a disease or getting their leg blown off in war or getting paralyzed in a car accident. But that's what they're stuck with, so they try to find happiness where they can.
I'm surprised Romanek didn't throw a couple wolf transformations in there to get it out of his system, though. THat's the one thing that could've improved it.
.
.
If you liked NEVER LET ME GO you may also like TRON LEGACY
This entry was posted on Friday, February 4th, 2011 at 2:54 am and is filed under
Reviews
,
Science Fiction and Space Shit
. You can follow any responses to this entry through the
RSS 2.0
feed. You can skip to the end and leave a response. Pinging is currently not allowed.