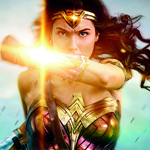 Remember when they first announced Gal Gadot would be playing Wonder Woman, and people complained? I remember, because to those of us of the Fast & Furious faith, we knew her as Gisele, and it offended us that they would disrespect her like that. We knew she could be good.
Turns out she's great. I can't imagine a more perfect actor for this interpretation of the character. She's the best thing about an overall sturdy movie.
In a quick prologue, young Diana – they never call her Wonder Woman, but I will, because I don't feel like I'm on a first name basis with her – gently defies her mother Queen Hippolyta (Connie Nielsen, SOLDIER, DEMONLOVER, 3 DAYS TO KILL) to train with her badass aunt General Antiope (Robin Wright, BEOWULF, MONEYBALL, THE GIRL WITH THE DRAGON TATTOO) to become a great warrior. She lives a good life of training montage and power discovery on the all-female island of Themyscira, until one day a fuckin dude floats up on shore.
It's Steve Trevor (Chris Pine, SMOKIN' ACES), a WWI flying ace and Allied spy shot down while trying to escape with stolen plans for a deadly chemical weapon. German soldiers attack and feel the wrath of the Amazons, a great action scene where Antiope gets the most badass move: a flip and mid-air simultaneous firing of three arrows that hit three different foes. So clearly Wonder Woman learned from the best.
Afterwards Wonder Woman is like you know what, you say there is this World War I going on, this sounds like the work of my no good uncle Ares the God of War, who we have been tasked with defending the earth from, so why don't you and I go find the motherfucker because we have a magic sword here called the Godkiller and it's not just named that for show in my opinion.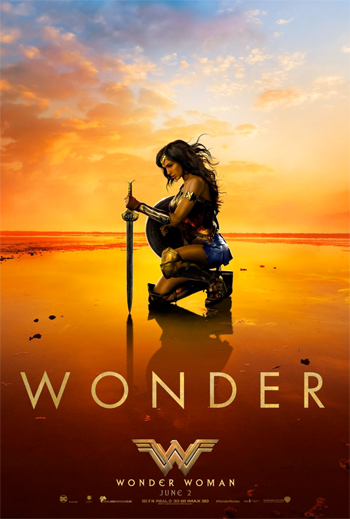 It's easy to compare this to CAPTAIN AMERICA: THE FIRST AVENGER, especially with the wraparound showing us that our heroine has survived into the modern day. She even has a colorful backup squad like the Howling Commandos, and it has been pointed out that the actor playing soldier boy Steve Trevor is, like the one playing Steve Rogers, one of the hunky blond Chrises that people who mix up white people can't tell apart. But it's a great setting because WWI does not invoke our old fashioned sense of banding together to fight the clear bad guy. This is a murkier war that shows Wonder Woman the tragedy of men battling each other. Her goal is not to win the war but to end the concept of war altogether.
Director Patty Jenkins (MONSTER) – working from a screenplay by Allan Heinberg (writer from tv shows like The O.C. and Sex & the City!?), story by Zack Snyder, Heinberg, Geoff Johns (Blade: The Series) and Jason Fuchs (PAN) – takes a dead-serious approach not too tonally different from the two Snyder-directed Superman movies it connects to. It doesn't have that much more humor than MAN OF STEEL, but seems to be going over much better with audiences, and I haven't even heard any charges of comic book heresy yet.
A major difference is that they were trying to reinvent Superman and Batman after 5-7 previous big screen incarnations each, while Wonder Woman is getting her SUPERMAN: THE MOVIE moment. So while MAN OF STEEL and DAWN OF JUSTICE sometimes find their heroes disillusioned about being Superman and Batman, Jenkins doesn't need to waste time questioning Wonder Woman. She's free to be glorify her as someone special, someone without cynicism, someone for us all to aspire to be like. Wonder Woman is a bright light shining through the darkness of humanity, the fog of war, even the gloomy colorlessness of the movie around her.
I respect the sincerity. Fantasy conceits like a hidden island of Amazons and a glowing rope that makes people tell the truth are introduced without shame or self-sabotage. When Diana explains to Steve that she was made out of clay and Zeus brought her to life, his scoffing is limited to a "That's… interesting," and then it's never questioned again. Rather than the common "Well, we better try to come up with a better explanation than this" approach to updating comic books, Jenkins goes for "you got a problem with it, sorry – you came to the wrong movie."
(They don't mention the invisible plane, but there's an easter egg where you don't see it in the background.)
Yes, Wonder Woman is the daughter of a god, unique even on her island of magic, so she inspires awe. Though Snyder chose not to use his usual slow-mo/speed ramping filmatistic style to introduce his Superman, Jenkins (with Snyder's stunt coordinator/second unit director Damon Caro) wisely cops it for action scenes that show the majesty of Wonder Woman's powers. We can study and savor the combination of aerial grace and raw strength – a force of invincible goodness marching solemnly through the ugliest horrors of man's brutality. We've all heard that idea that super heroes are our Greek gods, but this is the rare comic book movie that refuses to undermine the mythology with layers of cynicism or sarcasm.
That said, there is definitely some good fish-out-of-water humor here, the awkwardness of a demigoddess hanging out with regular humans, and of the product of a pure matriarchy trying to navigate a male-dominated society. She notes some of their sexist ways the way a Canadian jokes with Americans about everybody having guns.
Don't worry guys, there is one area in which our society impresses her. One of my favorite moments is when Wonder Woman experiences her first ice cream cone. I hope this will come up in future DC movies. Superman could keep some kind of rare alien ice cream flavor for her in the Fortress of Solitude.
There's a funny scene in a boat that sums up a particular side of Wonder Woman's personality. She thinks she and Steve, who she just met, should sleep curled up together for warmth, and he gets flustered and stumbles all over himself. She may or may not understand the sexual connotation of "sleep with me," but we know she has read a 12 volume book about sexuality and determined that men are mostly useless. When he hesitates, she rolls her eyes incredulously and laughs at his hang ups. It's a small thing to her, a silly thing, to either be uptight about sex or to be preoccupied with it. She really is above it. She just wants to sleep comfortably.
I believe the conventional wisdom is that DC Comics has the better villains than Marvel Comics. Mostly I think that means Batman villains, since some screen interpretations of The Joker, the Penguin, Catwoman, Bane, Two-Face, the Scarecrow and R'as Al Ghul, have been more memorable than the villains in Marvel movies. (On the other hand, Jesse Eisenberg's Lex Luthor, Jim Carrey's Riddler, Tommy Lee Jones's Two-Face and Uma Thurman's Poison Ivy are in my opinion more embarrassing than any performance in any Marvel movie).
Here the most intriguing bad guy, if only for her look, is a secondary one. Dr. Maru (Elena Anaya, VAN HELSING) is also called Dr. Poison, because she's the toxins expert that Steve stole the plans from. She wears a partial ceramic masquerade type mask to cover a disfiguration, making her more visually exciting than the other people Wonder Woman faces, primarily just German soldiers. She doesn't get very much to do, which I don't think always has to be a criticism. We need look no further than Star Wars for examples of great characters who are left largely in the margins, but I don't think Dr. Maru is Boba Fett level cool, nor does she have a big pay off like Darth Maul. She's arguably more of a Zam Wesell.
I realized going into WONDER WOMAN that unlike with most comic book movies I didn't even know who the villain was gonna be. Turns out it's mainly Ares, the God of War, and the actor can't be emphasized because it's uncertain at the beginning what form, if any, Aries has taken in the modern world. (Not that it's an exciting reveal when it happens.) There are two fine character actors doing their thing in adversarial roles, neither really allowed to be a truly fun or original character like you hope for. Ares is a strong villain from a story perspective because of how he represents Wonder Woman's belief that the evils of the world are personified as gods that just need to be killed, and her realization that it's not that simple. But without a more memorable personality it's hard to deny that Wonder Woman's defeat of the bad guy is the weakest and most generic part of the movie, hardly distinguishable from the climax of KING ARTHUR: LEGEND OF THE SWORD.
But if you think about it, Wonder Woman has always been more famous for blocking than for hitting. Recently IMDb had a feature on different interpretations of Wonder Woman, and they showed Lynda Carter, Gal Gadot and a cartoon, all in the same pose with bullet proof gauntlets crossed into an X. Until seeing them lined up like that it had never occurred to me how cool it is that Wonder Woman's iconic pose is a defensive one.
The X is her ultimate move here, so it's saved for special occasions. But that subtly different take on super-heroism carries into the movie's most elating scene, when Wonder Woman refuses to accept Steve's human-truth that they can't cross a certain combat zone because it's in a permanent stalemate – a No Man's Land! She slides out of her cloak, painting red, yellow and blue across the grey background with her uniform and glowing lasso of truth. And she runs in, shield up, deflecting a storm of bullets, turning them into sparks.
By the way it would be cool if she stopped to help War Horse out of some barb wire during this scene. (There actually is a scene where she question's man's treatment of animals.)
Oh yeah, and in case nobody has mentioned it, this is the biggest movie ever focusing on a woman or directed by a woman. Maybe some day it won't be a big deal to see a giant special effects movie about a woman who has her own point of view and controls her own destiny, but right now it's amazing. Yeah, she meets a guy and I think she likes him, but she doesn't put him in charge. When he disagrees with her judgment he says, protectively, "I can't let you do this." But she informs him, "What I do is not up to you."
It's easy to imagine modern dudes who would get their ego bruised by a woman overruling them and calling the shots. They would get belligerent, go home and pout and complain about women on Reddit. But Steve is not that guy, he mans up and does his part to help Wonder Woman stop the war. He knows what up. He recognizes a Wonder Woman when he sees one.
This entry was posted on Wednesday, June 7th, 2017 at 10:08 am and is filed under
Comic strips/Super heroes
,
Reviews
. You can follow any responses to this entry through the
RSS 2.0
feed. You can skip to the end and leave a response. Pinging is currently not allowed.