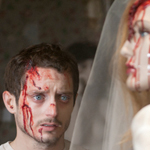 It's been a while since I've seen William Lustig's MANIAC, but its memory lingers as a favorite movie somewhere in the scummy part of my brain. It's not a slasher movie by my definition because it follows the killer the whole time, but that makes it more upsetting. Played by GODFATHER I-II supporting player Joe Spinell (who also co-wrote the movie), this maniac is a sweaty, disgusting mess living in the shadows of the flea-bitten New York City of 1980, the era of peep shows and grindhouses. He was the weirdo women had to worry about following them on the subway. He was literally the guy you didn't want to run into in a dark alley, partly because he might be dumping a body in the garbage, and you don't want any part of that.
To me the most memorably fucked up scene is the one where he's handcuffed himself to a mannequin that has a real woman's scalp attached, and he's crying and he says, "I'm so happy." And then later there's one of my all time favorite turnarounds where this sicko leaves the private world of his dingy apartment, he goes into the city in the daylight, and it turns out he knows people. He's wearing sunglasses and he's hanging out at a photo shoot. They think he's cool! Great movie.

So why do a remake, and why hire li'l Elijah Wood as the maniac? I don't really know, but I had faith in the team of WRONG TURN AT TAHOE's Franck Khalfoun behind the camera and HIGH TENSIONers Alexandre Aja & Gregory Levasseur on the keyboards. This team did the underrated Christmas-Eve-stalker-in-a-parking-garage movie P2, so I look forward to anything they make. And with MANIAC they don't disappoint.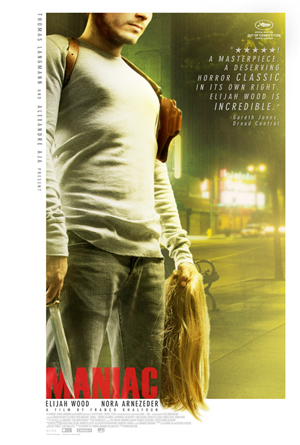 In this version the scalps and mannequins take center stage. Frank (Wood) lives in the back of a shop restoring antique mannequins. He's tormented by memories of his mother turning tricks in front of him. He's obsessed with women's hair and high heels. He finds women on dating websights, and some of them he stalks, at least one he goes on a date with, but if he wasn't planning to kill her… well, things turn out different.
We see how his sick mind operates and then all the sudden he meets the girl he'd meet if he wasn't a maniac and this was a romance: a fun, slightly eccentric French artist named Anna (Nora Arnezeder) who photographs mannequins and has never seen any like his. It was bad enough watching what he did with those other poor women, now he's sniffing around this one that we're getting to know a little better, and we want him to stay the hell away! Yeah, her boyfriend's a dick, but still. Try to make it work, lady. Trust me.
The two things that make this hugely different from the original: location and style. Instead of New York City it's downtown L.A., and it doesn't look like the same places you always see in other movies. It's a world of twenty-somethings, the clubs, restaurants and galleries they go to, the apartments they live in, the sidewalks in between. They're good looking people but not like standard issue actors or models. They're modern women who have tattoos, piercings and flaws, which makes them all the more real and all the more upsetting as horror movie victims.
But the style is what really makes it stand out. Of course seedy 1980 NYC and modern L.A. look very different from each other, aside from both having subways. And the dark, grainy Super 16 film is replaced with slick, shiny digital. The one welcome retro touch is a simple, early-'80s-evoking synth score by Rob. (You know, Rob. No last name. What is with these people? What about the SEO?) There's also some pop songs that remind me of the ones in DRIVE. The soundtrack's not on CD, only downloadable file licensing. Death Waltz did put it on vinyl, but they aren't licensed to sell it in the U.S. or France.
Anyway the music and all that's kinda incidental, the real stylistic kicker is that about 90% of it, I'd guess, is done from Frank's P.O.V. Yeah, it's Elijah Wood, but you mostly hear his voice, sometimes see his reflection. I had a feeling it was really his stubby, cut-covered hands we keep seeing, but I wasn't sure, he could've not been there most of the time. Thankfully my trusty Fangoria magazine delved into that. It turns out Wood was initially pitched it as a sweet deal where he wouldn't have to be there much, but he ended up being there the whole time to be the hands and have the other actors talk to him and everything.
It's a well-executed gimmick that works great for the movie because forcing you to identify with the Maniac that closely is almost cruel. You feel guilty, like you watching is causing murders. Especially painful is the long sequence where he goes on the date. It's like one of these Japanese date simulation video games of legend, you're on a date with this girl and she invites you up to her place and is all over you but you have to figure you know what, I don't think this is gonna end well. You question it more than a normal horror movie. "Am I wrong to want to watch this? Do I want to watch this?" I really wondered that. "This is really good, but should I turn it off?" He's strangling this poor girl and I'm like "No, it's not me! It's this guy! I swear, I'm just watching from his point-of-view! I'm innocent!"
The counterintuitive casting of Wood really works for the movie. When you see his face he has those big blue hobbity eyes, but they look soul-less. In one scene he's looking for a photo to use on his dating profile, and there's a gallery of him throughout his life, at all different ages that we remember seeing because he was in movies his whole childhood. (Reminded me of xXx STATE OF THE UNION when we saw a file photo of Ice Cube's character and it was jheri curl Cube from the N.W.A. days.) But you don't see Wood that much, mostly you hear his timid voice, which gives off a boyish innocence vibe that is not exactly truth in advertising. This guy is trouble, in my opinion. I don't agree with what he's doing out there.
There are some real nasty gory parts, and a pretty incredible effects-heavy punchline to the whole thing, but it wouldn't be enough for the CANNIBAL HOLOCAUST type people who are only looking for that. It's much more deeply unsettling than it is gross.
I think this is a really smart way to do a remake because it's so different from the original that I didn't find myself having to measure the two against each other, and yet it's so disturbing and uncomfortable that it really honor's the sleazy spirit of the original in its own fucked up way. Truly an impressive achievement.
trivia: Mic Rodgers, director of UNIVERSAL SOLDIER: THE RETURN, was the stunt driver and appears as "Old Man."
I watched this in HD from my cable's on-demand, but it is playing in a few theaters. If you're here in Seattle it will be at the Grand Illusion on Friday.