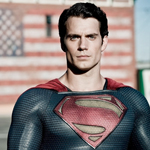 (spoilers, of course)
Last week I decided I wanted to see MAN OF STEEL a second time. (Don't worry, I saw FURIOUS 6 twice too, so this is not a sign of disrespect toward its reign as Best Summer Movie 2013.) I already liked MAN OF STEEL but the second viewing raised my opinion of it. Going in already knowing what it was, all my minor quibbles faded away and I was able to focus on what I loved about it. It wasn't one of those movies where looking at it again brings out all kinds of flaws you never noticed before. I mean, a few odd things came to mind:
* I wonder if they ever had a meeting specifically about the decision to have chest hair poking out of the neck of the supersuit. That looked a little odd but I can see how they were trying to remind us how manly he is. Not just super.

* Although Lois Lane is a good detective I noticed one journalistic error in her story about the alien spacecraft. In narration we hear her say that the military guys "surmised" it was a Soviet sub, when it fact it was "much more exotic." This is a misrepresentation – in fact she asked them if it was a Soviet sub and they explained to her why it couldn't be. I want a retraction, Lois.
* I'm still not clear how/why the supersuit was there ready for him. There's gotta be an official answer to that. I'm leaning toward it being created specifically for him when he put the command key in, but if so I don't know why they don't show it being created.
I've heard a whole lot of complaining about this movie, and I was worried that some of these things that I've heard repeated by so many people would start to nag at me now that they were pointed out. But it's actually the opposite. Watching the movie with those criticisms in mind only made me more sure I disagree with them and their understanding of what the movie is trying to do.
#1 complaint: collateral damage
It has been alleged by many prominent writers and podcasters as well as various random editorials in non-movie forums that this is a Superman that just fights the bad guy, doesn't bother with saving people, and destroys things with reckless abandon, a complete disregard for human life. This is not true.
Saving people is actually this guy's main interest in life. For an unspecified amount of time between childhood and the age of 33 he actually travels around the world under assumed names, looking for people to save, and saving them. His father taught him to hide, worried that the world wasn't ready to know about him. Why does he argue with dad about this? Because it makes it harder for him to fucking save people.
When he battles fellow Kryptonian Faora in Smallville they have a philosophical debate – about saving people. When she tells him his love for humanity is his weakness, it implies that he is holding back or directing their fight to avoid hurting humans, something she doesn't have to worry about. She taunts him that for every few he saves she'll destroy many more. This is visualized when he flies up to rescue one pilot from her attack only to see the other soldiers on the helicopter crash. Later, he's forced to fly around the planet to destroy the world engine before it completely terraforms the world, something that only he can do. To do this he has to leave Metropolis vulnerable to attack, something that some comic book fundamentalists have said He would never do.
I believe that we're playing by a certain amount of comic book rules here – that we are to accept that when the Daily Planet staff is shown escaping the destruction, when the buildings that Superman and Zod crash through are clearly shown to be empty, that this means most of the people did somehow manage to evacuate. That might be harder to swallow than you want considering the quasi-realistic tone of the movie overall. Fair enough. But I believe it is the intent of the filmatists because if we're supposed to think Zod is killing humans by the thousands here then why is his trump card to threaten one family in a museum with his heat vision? In context, this has to mean that this threat is taking hostilities to the next level.
But even disregarding that, I think the complaints are missing one of the major ideas about this take on Superman: that he's not a fucking god who can make the world spin backwards to travel through time. He's an amazing being, but there are limits to his powers, especially at this point when he's still learning what he's even capable of. For as long as I can remember people have complained about Superman being a boring character because he's too powerful, that it's not dramatic if he can just do anything. So we have kind of a careful what you wish for/Goldilocks type situation here. You don't want him to be too powerful, but you don't want him to fail too much. I think the filmatists made a deliberate decision – one that I agree with – to make things harder for him. When he saves the kids on the bus, when he fights Faora, when he stops Zod, he is struggling with his instinct to save everyone and the reality that he can't. He can't but he'll try his hardest because he's Superman.
#2 complaint – he killed Zod. Superman doesn't kill.
Well, he killed Zod in SUPERMAN II, the movie that we all know Zod from in the first place. Come on, people.
But in MAN OF STEEL it's different because this time it's portrayed as a failure instead of a victory. In a sense Zod beats him, because he tells him one of them is gonna have to kill the other, and he turns out to be right. The movie doesn't argue that sometimes you have to kill people. Zod is the one that argues that. He gets his way but from Superman's anguished cry I'm pretty sure he's not taking a "sometimes you gotta break a few eggs to make an omelette" type lesson out of this.
#3 complaint – too much action and punching
Well, I can't argue with that if that's what you think, but I like the amount of action. And it's another Goldilocks deal here, considering the universal complaints of SUPERMAN RETURNS not having enough action or punching. While most Superman movies have Superman dealing with a human threat, here he battles his genetic equal or superior (but with the technology to illustrate this more spectacularly than when he fought Terence Stamp's Zod in a small town). I like this for two reasons:
one: it's fun to watch fully fleshed out super being fights, something that really hasn't been explored enough in comic book movies despite some instances in BLADE II, the X-MEN pictures and THE AVENGERS.
B) it's fulfilling one of the main themes of the movie, Clark's struggle between his childhood on Earth and his Kryptonian heritage. Both he and Zod have the powers given to them by being Kryptonian on Earth. Zod has some advantages from being raised on Krypton: he was trained to battle since birth, he has a bunch of Kryptonian technology with him, he has Kryptonian minions with him.
Shouldn't he be able to beat Superman then? Well, our boy has some advantages from being on our team. He's had 33 years to adjust to the atmosphere, to learn how to focus his powers and to practice using some of them. And that respect for human life that Faora said was a weakness? It's what taught Christopher Meloni that "This man is not our enemy." It's what gave him the trust of human kind that he and his father worried about for so many years. So working together, using Jor-El's plan, communicated by Lois, executed by Superman, Lois and the military, they were able to literally save the world. And that's why the movie had to force Superman to abandon Metropolis to fly around the world and fight a giant space machine. It's not a movie about one guy that can solve all our problems. It's a movie about one of us who will help us to do it.
(I mean, admittedly he does most of the heavy lifting, both literally and figuratively.)
Anyway, I dug the movie, and if the Nerd Community ultimately decides they don't then I'm claiming Superman for myself. Sorry boys, go find something else then. Star Trek is fine, you can keep Star Trek if you want.
This entry was posted on Wednesday, July 3rd, 2013 at 7:34 pm and is filed under
Comic strips/Super heroes
,
Reviews
. You can follow any responses to this entry through the
RSS 2.0
feed. You can skip to the end and leave a response. Pinging is currently not allowed.