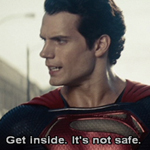 I already wrote about MAN OF STEEL twice. First a review, then a second-viewing followup. Now here I am again, and for that I am truly sorry. But Superman is kind of like a new Batman, one of the inescapable topics in movie nerd discussions. With news stories about BATMAN VINCENT SUPERMAN popping up weekly, and internet bitterness (or binternet for short) toward MAN OF STEEL still lingering, I keep getting slapped with this persistent conventional wisdom that I just can't abide. This is my attempt at a definitive rebuttal so I can get it off my chest and finally let it go and say "fly away, little Superman movie. Be free!"
MAN OF STEEL, The Internet says, is not true to the beautiful historic American history of the holy Superman, because this version doesn't bother to rescue people, and he kills thousands of innocents. When I first heard this complaint, right after my first viewing of the movie, I wasn't sure which part they were referring to where he kills all these people. I thought maybe I missed something. When I saw it again I looked for it and decided that whoever said that just wasn't paying attention, or maybe it's one of those easter eggs where you gotta look up on the internet the exact spot where they stuck it in there for the true fans to notice when they pause it and look at it upside with a magnifying glass. It's not visible to the layman's eye, I thought, so it must be some shit only Superweirdos would know about.
But then I started to hear it more. It comes up in every Badass Digest post about super heroes (especially in the comments), it came up in GODZILLA reviews, it comes up in the comments here, one of my buddies even said it to me in person when I started to tell him about what I was working on here. So this is like the end of the book I Am Legend. (spoiler for the end of the book I Am Legend.) It turns out I was the Superweirdo the whole time.
But let me plead my case. I'm not gonna convince any of you to like MAN OF STEEL, but I want to illustrate in detail why I don't think this popular interpretation is supported by the actual movie.
(no disrespect intended to any of the websights, writers or commenters quoted or referred to here)
Me and you, it seems like we're really reading this movie in drastically different ways. In my view, Superman unequivocally stops Zod from wiping out the entire human race and replacing them with resurrected Kryptonians. But people keep talking about a movie where Superman is no hero. For example the commenters on these two posts here and here when Badass Digest (which I bring up because I like it and read it daily) reported about a statue of Superman that apparently is gonna be seen in the upcoming movie. The majority of the commenters are (or at least pretend to be) confused why Superman would be treated as a hero in the sequel. They refer to him as "genocidal," say that he "leveled half the city" and "killed thousands." One commenter says "He actually pretty much completely fails to save anyone until the villain outright forces him to."
I've seen other people saying that, that this is a Superman who doesn't rescue people. Maybe they're purposely exaggerating, maybe they're only referring to the big fight at the end where they believe he shoulda thrown in a couple side-rescues while being pushed to the limit saving the entire human race through epic physical feats. If they really mean he doesn't rescue people then it seems like they couldn't have seen the movie or heard anything about what happens in it, because, jesus.
In MAN OF STEEL, rescuing people is Kal's #1 passion in life long before he even knows he's Superman. The first half of the movie is devoted to non-linear glimpses of some of his various rescuing. While he travels the world as a young man rescuing people he flashes back to childhood incidents where he also rescued people. All of his memories of his adopted father revolve around their conflict over whether or not it's safe to be seen rescuing people. He thinks it's his moral imperative to do it, Pa thinks it may be too risky to call attention to himself at a young age, that it will endanger a "greater purpose" he will have when he's older. In fact the old man believes in this so much that he asks Clark not to save him from a tornado. That he listened seems to be Superman's greatest regret, which gives him even more pressure to become something great. Which means rescuing more people.
I mean, saying this guy doesn't rescue people is like saying Tiger Woods doesn't play golf. For the record…
He saves a bunch of oil workers from a fire, explosion and collapsing platform (no, not from Forest Taft):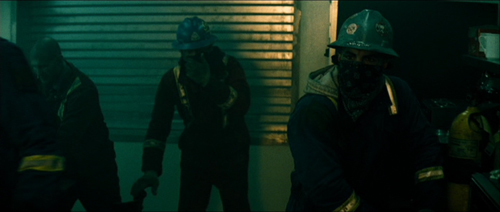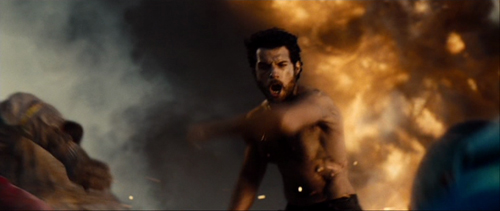 He saves a school bus full of kids from drowning: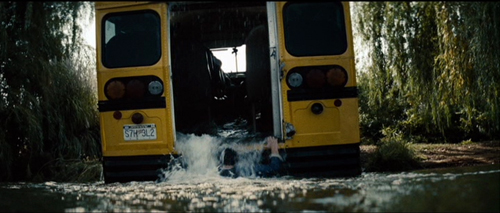 And I think we can safely assume that this is just the childhood rescue that got him into the most trouble, which he's reminded of by seeing a school bus drive by. I doubt it's the only thing like that he did growing up.
As an adult he saves Lois from this Kryptonian security robot: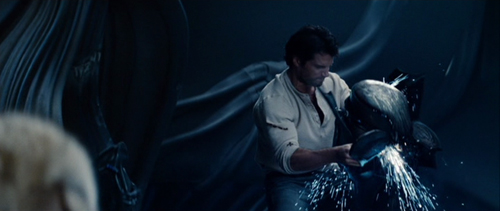 And also from her injuries: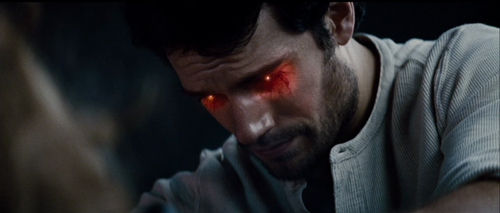 He tries to save the humans from the Kryptonian invasion by turning himself in: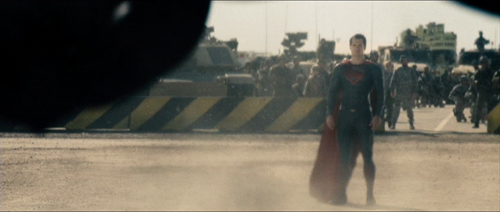 But that doesn't work and he has to save Lois again:
And he saves a pilot from the badass Kryptonian lady Faora: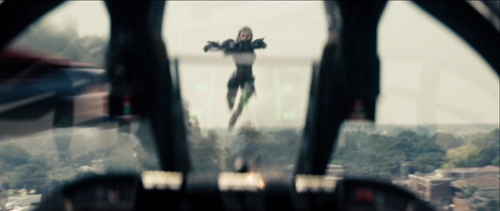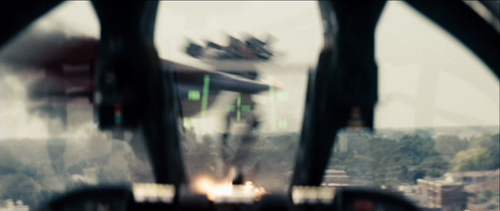 And catches a falling copter gunman who had just been shooting at him. Kinda in the selfless tradition of Babe saving the pitbull that was trying to eat him.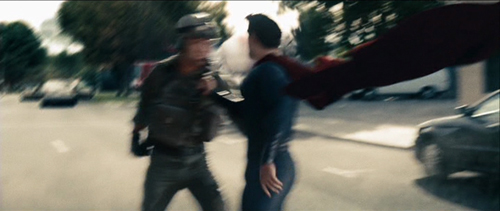 Just when Christopher Meloni resigns himself to "a good death" at the hands of Faora, Superman zips in and drags her away from him: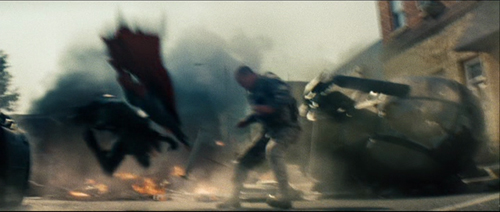 And later he saves Lois again: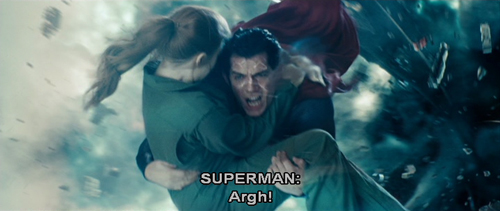 Admittedly, that's probly less rescues than Christopher Reeves' Superman did in SUPERMAN: THE MOVIE. In the beloved, supposedly definitive first Superman cinematic adventure Mr. El saves Lois from a bullet, saves Lois and a pilot from a helicopter crash, gets a cat out of a tree (though as this is not a life threatening situation it is technically more of a community service than a rescue; also, the cat's owner gets slapped by her mom for "lying" about Superman), saves Air Force One, rescues Lois from smoking, arguably saves a school bus, stops a train from derailing (one of his powers is that trains can be tricked into thinking his body is shaped like a train track), asks a guy if he's all right (he is), and pulls Jimmy Olsen off a dam before it breaks. Whether or not this is way more than MAN OF STEEL depends on how full that train was. You gotta assume 1978 Superman wins, unless the train and Air Force One only had a couple people on them. Also you gotta respect that he lifted a full sized school bus instead of a short one like Man of Steel did, that boosts his total a little assuming they really were safe after he put them back on the broken bridge.
But it bears repeating that Man of Steel saves the entire human race before he even gets to the final battle in his movie. 1978 Superman saves the west coast of California, which is only 1 (one) smidgen of the human race.
So I guess the issue is the timing of the rescuing. In MAN OF STEEL most of the first half is rescue-related, but the climax is about that "greater purpose," the larger tasks of destroying a doomsday device and defeating an attacker as powerful as himself. Some people don't like that he's portrayed as too taxed by these challenges to fly around and catch a couple people as they fall off of stuff. Devin Faraci writes in his influential piece "Why the Destruction in MAN OF STEEL Matters," "It would have been as easy as having Superman save ONE baby in a stroller to show his concern. That's all that was needed."
Okay, I guess a baby rescue scene wouldn't ruin the movie, I wouldn't have a problem with that. Everybody loves a good baby rescue, it is the foundation of modern cinema. HARD BOILED for example. But I think the detractors are missing the intent of this different interpretation of the Superman story. That type of flying-around-rescuing-people business is the climax of the original SUPERMAN movie. Instead of rehashing the same approach, MAN OF STEEL moves from there to the visual depiction of a type of super-powered fighting and epic battles that have been done surprisingly little in the modern age of super hero films.
While in secret, Clark flies around pulling people out of trouble and then disappearing. As Lois tells him, this is something he will never quit doing.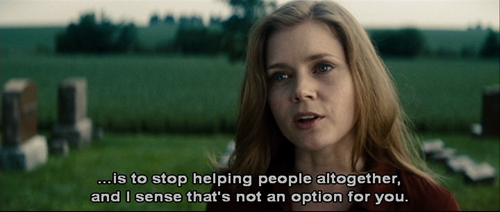 But once he's public as Superman, he fulfills Jor's hope of a bridge between Earthonians and Kryptonlings.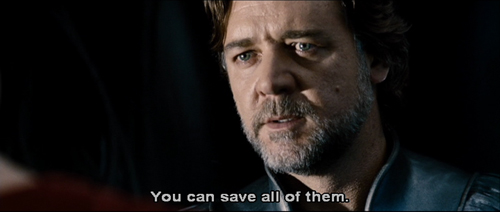 He works with the people to accomplish things they can't do separately. Lois says "We've got a plan," not "He has a plan." They propose their plan to the military brass and together they agree on who does what. Superman destroys the World Engine over the Indian Ocean that they can't get to fast enough, even though this might kill him. Meanwhile they drop his ship to create the "singularity" and send the Kryptonians back into the Phantom Zone. Other problems come up that they have to solve for themselves, for example Richard Schiff's character figuring out how to rotate the drive and get it to accept the "House of El" key. Superman has to fly above the clouds battling robotic octopi and shit.
On the ground there are other types of heroes: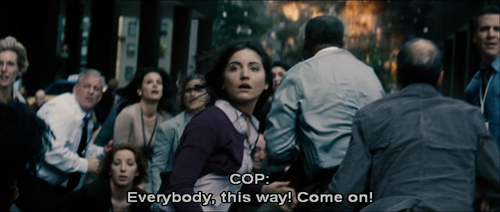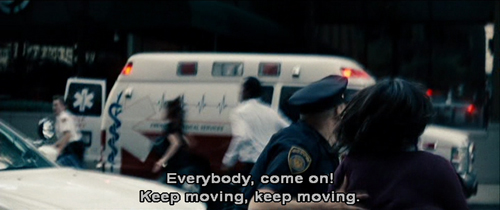 Which, if you think about it, is a more efficient use of the available resources than having the one guy who can destroy the World Engine before it changes the shape of the earth and kills everyone on it flying around individually carrying each person out. In my opinion. I think they got a good system figured out here.
Jor said his son would inspire people, and that's what he does. Not just pick up a few strollers. It's a different version of Superman, and that's intentional, and valid, and personally I like it.
This Superman can't be everywhere and do everything. But he can do an awful god damn lot, and I can't agree with the common contention that he has a reckless disregard for the humans around him. Yes, civilians are in danger, I'm glad you noticed. That's the tension running throughout all of these scenes and making them scary. In SUPERMAN: THE MOVIE you never think anybody is actually gonna be hurt by goofball Lex Luthor and his wacky sidekicks. In MAN OF STEEL there's always a gulp… oh shit feeling when the Kryptonians show up. Supey has to be very careful to keep this situation from getting out of hand. He tells people to get away…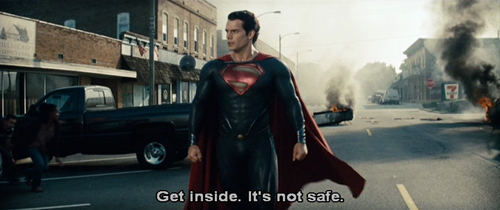 …and they lock themselves inside the stores, but they're right there. And then the military starts shooting into the street!  (At him.) Same shit they did to HULK. How can he keep this under control?
Not only is it clearly established that Superman needs to protect the humans who are cowering around him, but Faora even taunts him about it, calling it his weakness. This regard for human safety that you say he doesn't have is actually a major theme of the movie, and spelled out not so subtly in dialogue.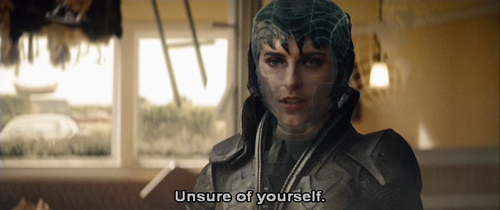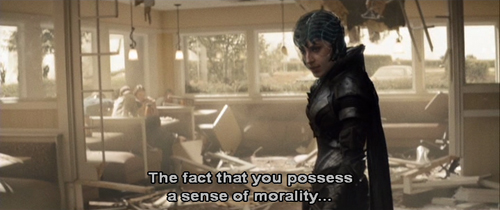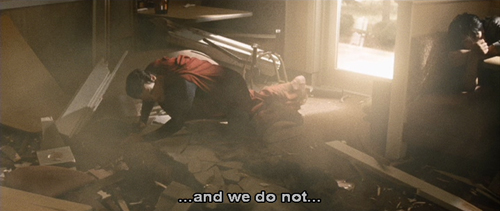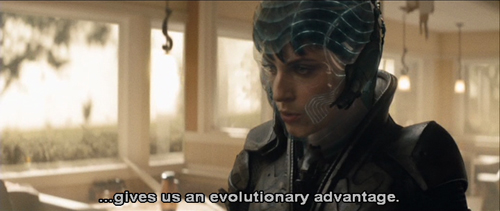 And later: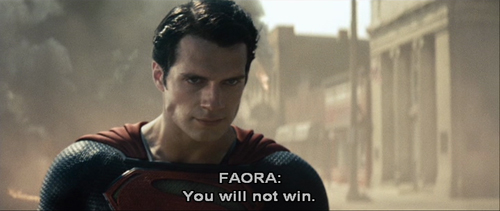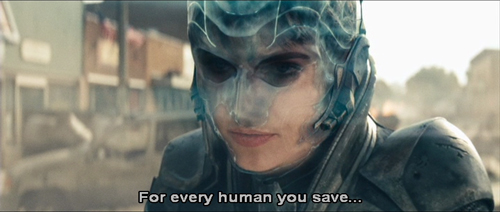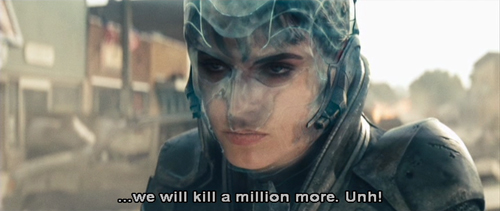 I read the "Unh!" in that subtitle as Master P's trademark grunt. Still, Faora is right. If Superman goes around trying to save each person as they fall out of different vehicles these guys are gonna fuck the whole world up over the Indian Ocean or somewhere. He has to think bigger.
This tug of war between Superman saving humans and the Kryptonians killing them is set up as his challenge for the rest of the movie. Maybe Snyder could've had something more to spell it out to people that he feels pressured to save the whole human race. Something like, he could go inside his mind and see himself standing on a field of skulls, visualizing his fear of what will happen if he fails.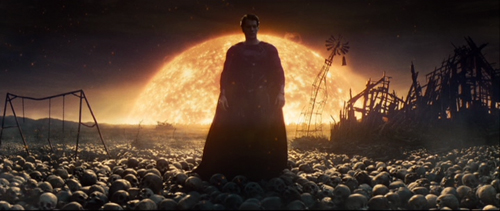 Oh yeah, they did do that. He spends his young life rescuing people and now has fulfilled his destiny, foreseen by both of his father figures, to rise up against a deadly force and save everybody on earth. But other than that he has a total disregard for humanity, because he throws an alien through a train and breaks a bunch of walls.
By the way, this vision also proves that he saw T2 growing up. Of course he's one of us!
For me these things are more than enough to get the point across. We've learned that he can see through walls, through skin, can diagnose and treat wounds, can hear heartbeats all around him. Is it really that ridiculous to think he's paying attention to which buildings he's flying through? To assume it's not a coincidence that we only see him smash through empty ones?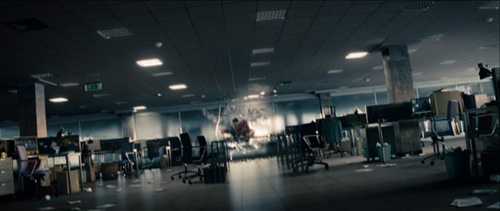 And as a side note, are you sure Superman isn't supposed to smash shit when there are civilians nearby? Because I feel like I might've seen him do that before at some point.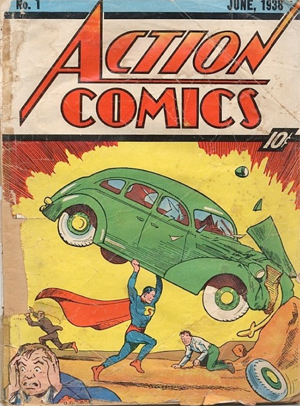 But I'm probly confusing him with Mighty Mouse or somebody. You guys are the experts.
Another common complaint is that after Zod's terraforming is thwarted, and after Superman has managed by the skin of his teeth to stop Lois from plummeting to her death, the two of them kiss. Faraci called it "one of cinema's most inappropriate kisses."
You got that, alien? We human men don't kiss women after they don't die in a horrible disaster. I don't care what you saw in TITANIC. Affection in the face of danger = too soon. We got rules around here, space boy. You gotta wait at least 24 hours after the harrowing near death experience for hugging, 48 for kissing.
I have to admit, I didn't notice until really studying the movie that a bunch of people do get catapulted into the air along with the cars in the scene where the World Engine is "initiated." So it's true, there are some apparent onscreen casualties. But these aren't victims of Superman, they're people he couldn't save, and this brings us to what may be the main philosophical/supertheological difference we're dealing with here. Some people think Superman is more fun if he can never fail and can travel through time and do anything no matter what. I think he's more interesting if he's extremely powerful, but not all powerful. That's what this take is and that may be why some of the backlash feels like religious zealotry.
Matt Singer of The Dissolve, in his recent revisit of the movie, brought up the line where Daily Planet intern Jenny (after escaping the falling buildings) says "He saved us!" While he is definitely not a Superman fundamentalist, Singer seems to buy their dogma that the character can only be an all powerful savior who requires no help from the humans:
"Except Superman didn't save Jenny; her boss, Perry White (Laurence Fishburne), and his assistant, Steve Lombard (Michael Kelly), did, with a timely assist from the U.S. military. And even if Superman had saved Jenny (which, again, he didn't), he clearly dropped the ball for almost everyone else."
But of course that's not what Jenny was talking about. She started by asking "Are they gone?" She was saying that the marauding maniacs from Krypton had been defeated, and were no longer changing the planet and atmosphere in a way that will kill everybody on it. "Us" doesn't refer to a couple people being pulled out of rubble, it refers to the entire human race being saved from intergalactic genocide. He did save Jenny, and "almost everyone else." He didn't drop the ball. They all ran a good play together and he made a crazy three-pointer on the buzzer.
And I don't think we're supposed to believe that it was, as Faraci writes in his original review, "clearly a massacre of thousands upon thousands of people." Yes, I know that co-writer David S. Goyer said in an interview that people "probably" died, but other than that one shot it doesn't imply any deaths. It doesn't show piles of bodies everywhere, or any news reports talking about casualties, and it does do plenty to show people getting the hell out of there.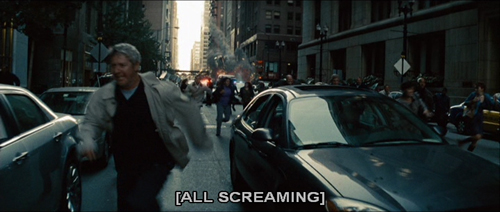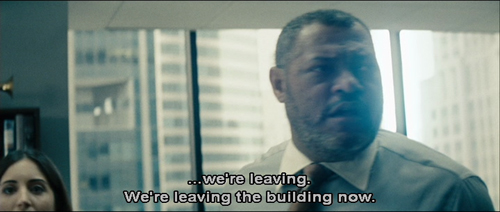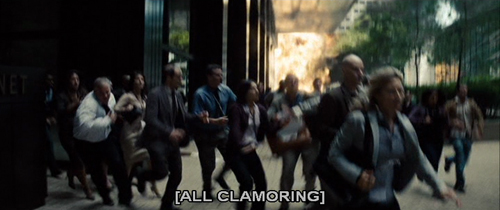 Realistically of course alot of people probly would've died during this attack. But realistically alot of people would've died in the earthquake from SUPERMAN too. In that one Superman flies around and saves people in a handful of locations, but initially loses the one person he's keeping track of. Surely other people would've died in this coast-wide quake (not to mention the negligence of putting a school bus back on the crumbling Golden Gate Bridge and saying "Okay kids, it's safe now!") Also note that this Superman knocks out chunks of a roof that almost smooshes Miss Tessmacher and fails to stop the water from a dam until after it's crushed a row of buildings and/or houses.
MURDERER! Right? No, of course not. As a fictional movie we accept that it's using a storytelling language, a shorthand developed over the history of cinema. Since the movie shows this handful of people safe we know that means Superman saved the day. We don't assume that there are thousands of dead people crushed beneath all the shit that must've fell in the rest of the huge chunk of land affected by this devastating earthquake, because we know the movie would've shown us that if it was a thing. And the same goes for MAN OF STEEL. Maybe when both Zod and Superman act like turning his heat vision on a family of four is an escalation it's because it is. Maybe we should believe them about what's going on in their own movie.
Let me put it this way. Don't you think if Snyder meant for there to be people dying all over the place that he would've shown them? Think about what you're telling me here. You're saying he's got a story with thousands of awesome deaths, and he's gonna resist showing them. In your view, Zack Snyder – and I cannot emphasize this enough, Zack Snyder, the director of 300 and SUCKER PUNCH – is not gonna show people tumbling out of buildings in slow motion, not gonna show people getting zapped and burned to ash, he's not gonna show bodies piled up dramatically, their mouths hanging open, eyes rolled over, nothing? Yeah guys, there is mass death in this thing! Completely off screen, never shown or referred to, but if you read between the lines it's SO FUCKING AWESOME!
That's where you get into conspiracy theory territory. I just can't buy that one. If Snyder meant for a massacre, he would've shown a fuckin massacre, rubbing his hands together excitedly the whole time. What he shows is that shit got crazy but luckily people worked together and got out of there and stopped the aliens together with Superman.
But why does it need so much fighting and destruction? Because this is a movie based on mythic, larger than life characters who have god-like powers. Because the director likes that kind of stuff, and is really good at it. Because they didn't have the technology to do scenes like this when they started the first Superman series. Because there's already a movie (2 different cuts of it, in fact) where these characters fight without much stakes or sense of awe. Because the last Superman movie was widely panned for bringing Superman into the digital age without even having him punch anybody. Because you couldn't do this stuff in a Christopher Nolan Batman movie. Because Snyder wanted to outdo the other super hero movies and give us something they didn't have. Because it's cool. How many reasons do you need?
I like Christopher Nolan's Batman movies better than MAN OF STEEL, and same probly goes for CAPTAIN AMERICA AND THE WINTER SOLDIER. But I also think the fight scenes in those movies should be alot better. I can only think of two super hero movies with arguably better fight scenes than MAN OF STEEL, and they both have the word "BLADE" in the title. As a connoisseur of the art of screen-fighting that's no small thing. Since these things are taking up the big summer movie slots that used to belong to straight action movies, maybe we could get some good action out of them once in a while, huh? (Prediction: Snyder's about to make the first Batman movie with great fight scenes.)
Is it such a sin to finally do one that shows powerful beings as bulls fighting in a china shop? If you'd rather the ultra-beings from another world come down to a podunk town with a diner, a general store and like seven people and walk down a street and shoot a couple lasers then by all means rent SUPERMAN 2 or THOR again. Meanwhile I'll watch this one.
I've even found some people straight up saying they thought Superman should've somehow lured all of the fighting and destruction to a corn field. For example a piece called "Captain America ruined Superman for me" on cinesnark.com says, "It bothers me that Superman punches Zod through buildings when he could have just as easily zipped to a corn field and thrown down in relative seclusion." In fact he does drag Zod through a corn field, but they don't stay there because of an eleventh hour eureka moment where Snyder said "You know what I'm thinking, maybe we should have various thrilling battles in different locations with exciting imagery rather than just doing it all in this one corn field as originally storyboarded."
Alot of times it's better to be thrilling and cinematic than for the characters to do the best possible strategic thing. Especially in a Zack Snyder movie.
I mean sure, your cornfield idea is good, don't get me wrong. Good job on that one. Way to imagine. But I'm glad they went with something more epic, more visual, more mythic. And you know what? More like a comic book, I bet you. Or do they draw him always tricking the bad guys into staying in a corn field?
I like to extrapolate from the plots of movies, and go beyond what's on screen to the logical conclusions. It's fun. But these arguments have gone far beyond "oh come on, you can't evacuate a building that fast" and into some kind of MAN OF STEEL Truth Movement where they're ignoring what is shown, what is said and what is implied because it doesn't fit their theory that Zack Snyder and/or David Goyer are enemies of the nerd community determined to smear Superman as an unheroic genocidal murderer with limited powers.
Is MAN OF STEEL perfect? No. Are your children perfect? Hell no. Not even my book Seagalogy is perfect. It still says that Andrew Davis was nominated for best director for THE FUGITIVE when he was actually one of those suckers whose movie was nominated for best picture but he didn't get nominated for director.  Get the fuck out of here with that perfect shit. Only DIE HARD is perfect.
But MAN OF STEEL is innocent. Free MAN OF STEEL.
This entry was posted on Monday, July 28th, 2014 at 11:45 am and is filed under
Vern Tells It Like It Is
. You can follow any responses to this entry through the
RSS 2.0
feed. You can skip to the end and leave a response. Pinging is currently not allowed.