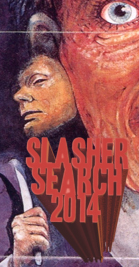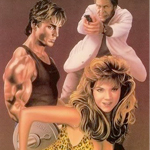 KILLER WORKOUT is low budget fitness club horror made by fringe action auteur David A. Prior, so it has by far the most punching I've ever seen in a slasher movie. I gotta respect that, at least. Prior did this between KILLZONE and DEADLY PREY. Unlike his horror debut SLEDGEHAMMER it's not shot on video, which means it meets my rigid standards of a slasher movie I am willing to try to watch.
When a muscley blond guy (Ted Prior, HARDCASE AND FIST) starts working at Rhonda's Workout the musclier brunette guy (Fritz Matthews)  jumps him in the parking lot and they have a bare knuckle brawl. Then it happens a couple more times. Lots of old cowboy style ducking and swinging and getting tossed and knocking over furniture. The blond guy is clearly up to something, it seems from our viewpoint like he must be undercover, but other people suspect he's there to stalk and murder them.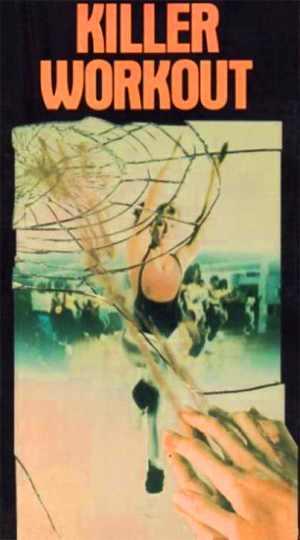 See, there's an unseen killer on the loose, who may or may not have been involved in the deadly tanning bed accident shown during a prologue. He or she keeps attacking people with an oversized safety pin. Nothing safe about that. One stab is instant death. A rugged homicide detective guy (David James Campbell, SCARECROWS) is investigating, and he gets to do the action cliche of a speech about how his father was a good cop killed on a routine traffic stop.
The women are being watched by a mysterious figure in the dark, but you never know if it's the killer, some weirdo with a crush or another weirdo trying to protect her from the weirdo with the crush and/or the killer. Suspicion is thrown all around.
This is way cheesier and sloppier than the similarly themed DEATH SPA, which I'll be reviewing next. But I'll give them this: there's a scene where somebody pranks the club by spraypainting "DEATH SPA" and "AEROBICIDE" on the window. AEROBICIDE is the title of the movie in some countries (also "AEROBIC KILLER"). So basically they thought of three good titles for this and the other guys had to use the one they rejected.
One thing to note, this is completely unironic about glorifying the exercise fanatics. Most of the men in it are bodybuilders (or a fat guy who you're supposed to laugh at because he's trying to lose weight, ha ha). It seems like maybe a third of the movie is just musical montages of girls with headbands and legwarmers doing aerobics routines, with occasional emphasis on butts and boobs (which were shaped different back then, I think). Even toward the end of the movie when they all know that several people have been horribly murdered here just within the last few days attendance does not seem to falter at all. The classes are completely full. These ladies fucking love aerobics.
I mean if they didn't do aerobics then that would be letting the killer win, in my opinion.
It's weird to think that organized fitness was so new and popular in the '80s that it spawned a wave of exploitation movies just like breakdancing did. The music is perfect for this, very sincere and slickly produced '80s dance pop anthems about "the hunger in your eyes" and stuff like that. Kinda FLASHDANCE-esque. A couple of them have lyrics that can be read to fit with the themes of stalking and murder, like this one:
(warning: spoilers, this is a video somebody made out of the movie)
…but at least one of them is just straight up about "you gotta work out." Not even a sex double entendre like Olivia Newton John's "Physical." Just a song about exercising.
Club owner Rhonda (Marcia Karr, MANIAC COP) is kind of a funny character. She has dramatic scenes in front of an LA Gear poster. In one scene she comes into working wearing her Rhonda's Workout shirt and a headband and says "Oh, I'm not staying, I just stopped by to get my keys." So that's just how she dresses normally!
Most of the joy comes from unintentional strangeness like that. Another one is the scene where somebody played a prank with a rubber hand in a locker that happens to be discovered for a fake scare right before an actual dead body falls out of another locker nearby. When a cop is investigating the murder and is startled by the hand he immediately pushes it aside like "Oh, the old rubber hand next to an actual murder gag," and doesn't give it a second look. He just automatically knows they aren't connected.
I guess you could say this is one of them, uh, artisinal movies. It is not a good horror or action movie by anyone's definition, but you can enjoy it by puzzling over what exactly they were going for. Or you can just aerobicize along with its many montages and it will be good for your circulatory system. As far as '80s "KILLER" movies go it's nowhere near as good as KILLER PARTY, but maybe a funnier combination of elements.